Other chapters can be found here: One, Two, Three, Four.
January 3rd, 2020
Here's an exciting development: The Syrian-owned Suezmax tanker formerly known as SANDRO is now an Iranian-flagged vessel known as LOTUS. This is what's coming out of her AIS messages. After having traveresed the Suez Canal from the east Med Sea, the crew switched off her AIS transponder as she navigated for a good two or so weeks. We caught her loading up on crude oil at the Kharg Island terminal on the first day of the year. The Iranians realize that if they're going to make the northbound journey back to Syria with this oil, they're going to have to wave the Iranian flag in order to avoid an arrest by the Egyptian navy.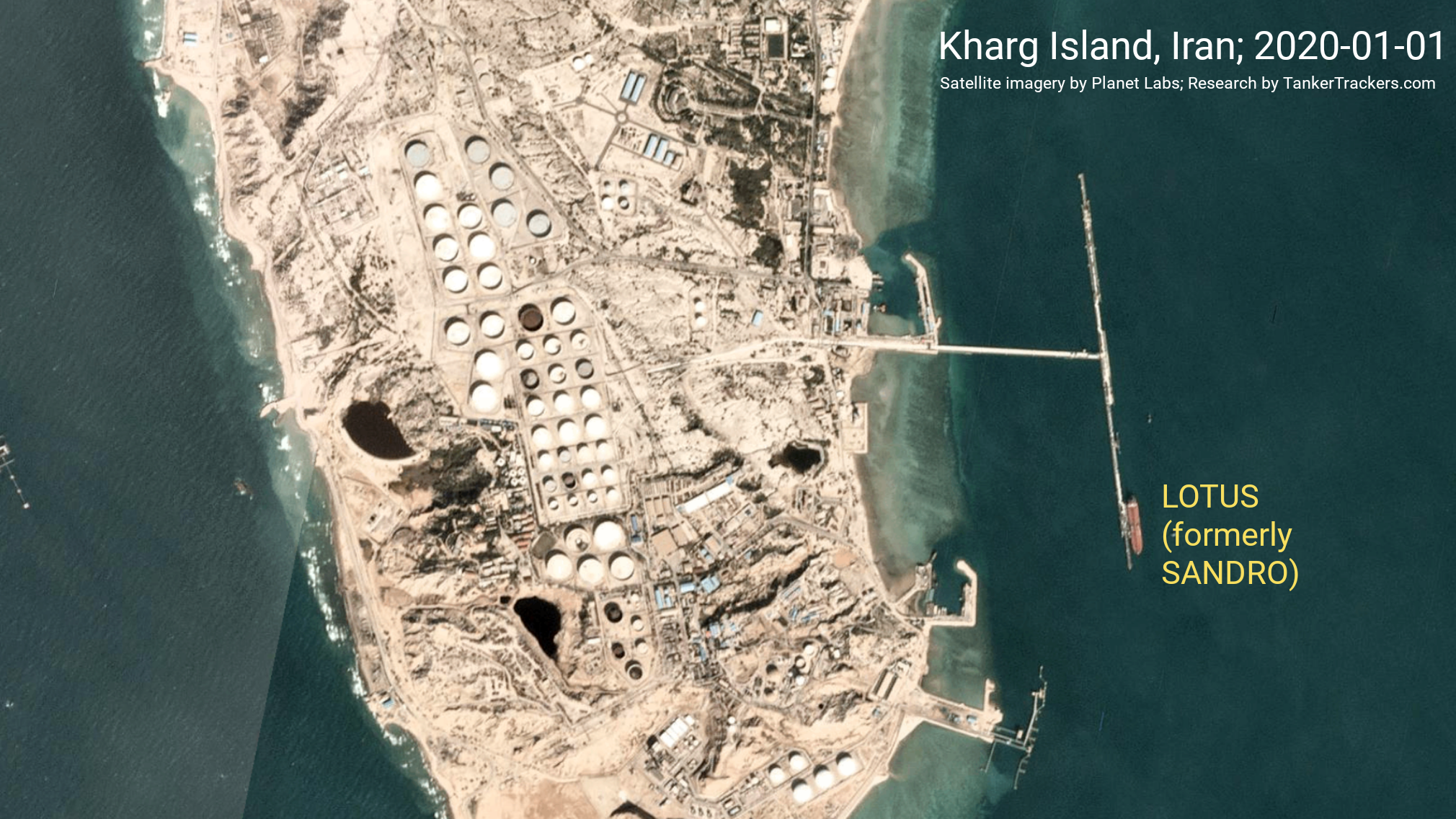 Meanwhile in Syria, we can see that an Iranian-flagged Suezmax tanker called SILVIA 1 is on her second day of discharge at the Baniyas SBM delivery point off the coast of the refinery. In addition to that, another sister ship called SARAK spent the day traversing the Suez towards Syria. She should reach anchorage by January 4th.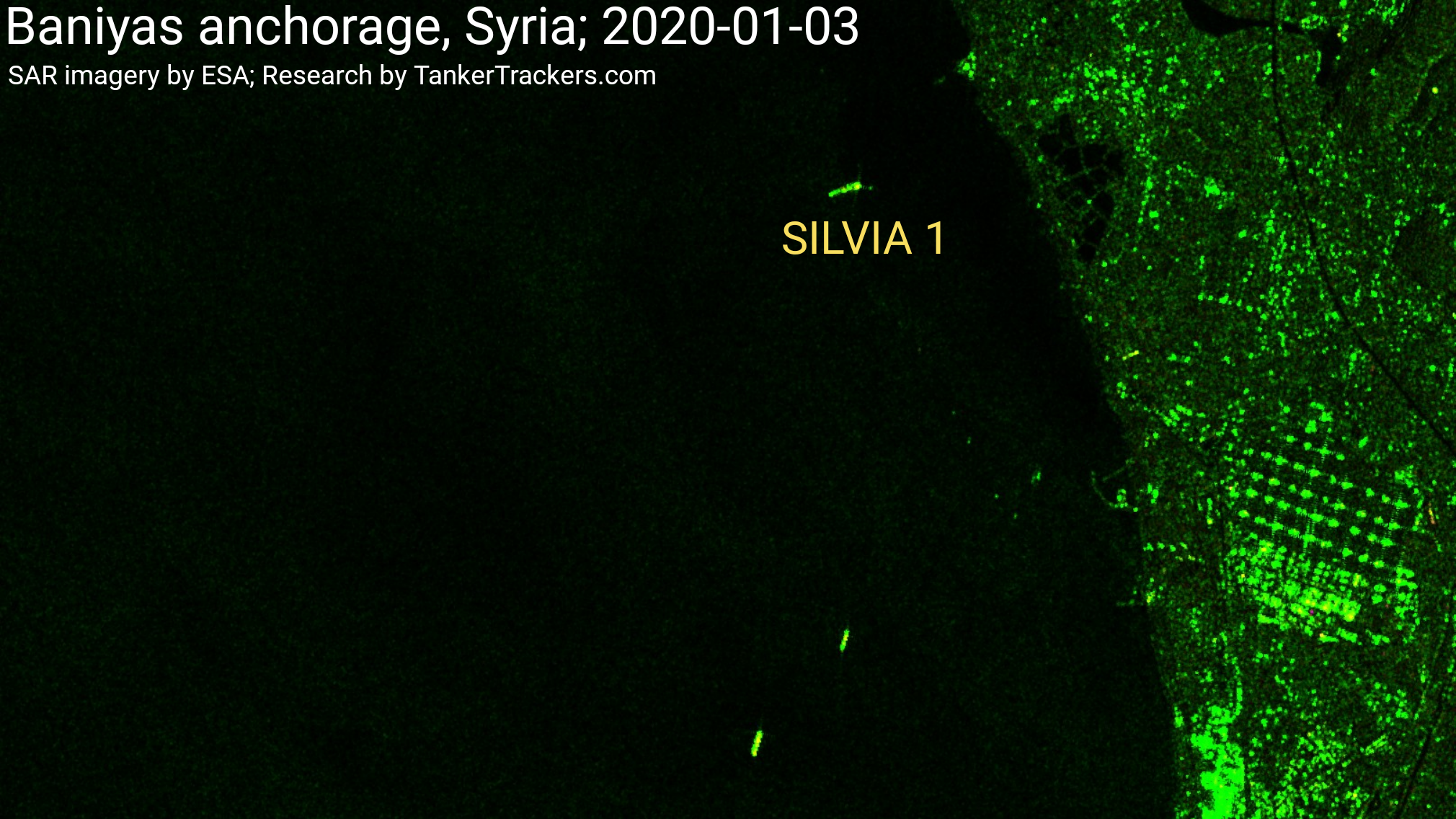 Analytical comment: In light of all these transfers to Syria, it is now well worth mentioning that it is in our educated opinion that Iran has no plans to close the Strait of Hormuz as a retaliatory strike in vengence of last night's assassination of the Islamic Revolutionary Guard Corps (IRGC) Quds Force General Qassem Soleimani. Over the past decade, China became the world's largest importer of oil, doubling to its current level or 11 million barrels a day. Also, Syria's oil product has almost completely collapsed and the Assad regime really needs the oil to continue arriving from Iran.
January 7th, 2020
It looks like Syria's imports of Iranian oil are going to end up close to 100,000 barrels per day for January. Yesterday's satellite imagery shows the SARAK at the SBM delivery point off Baniyas. We also see that the SINOPA has finally re-appeared back on AIS after spending a month offline. The vessel is about to approach the Suez Canal with a fresh million barrel load for Syria. She kept her AIS offline for the entire duration to and from Iran from the Suez when she was returning home from Syria. These deliveries are physical evidence that Iran won't be inclined to shut down the Strait of Hormuz amid current tensions. We pointed that out in our CNBC TV interview yesterday.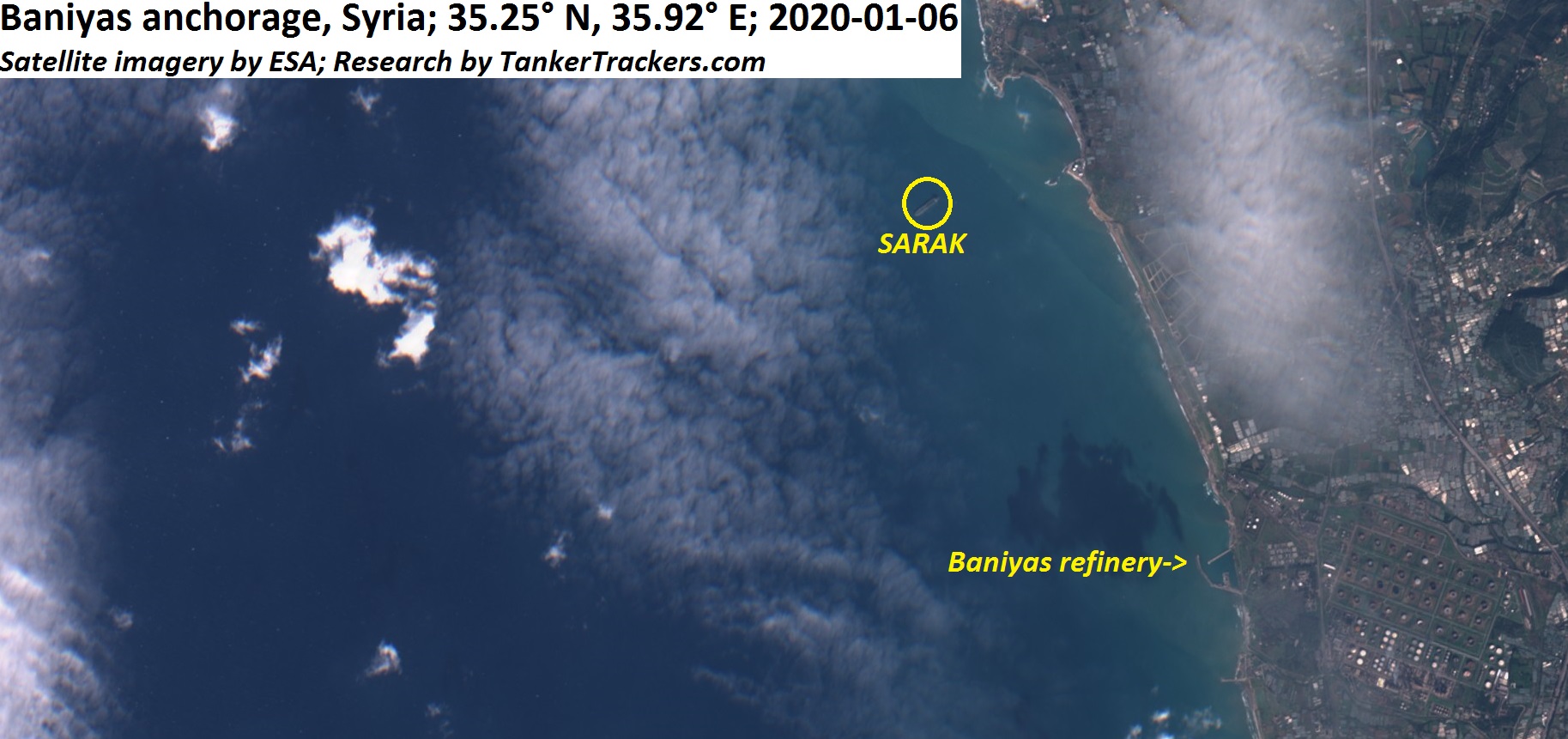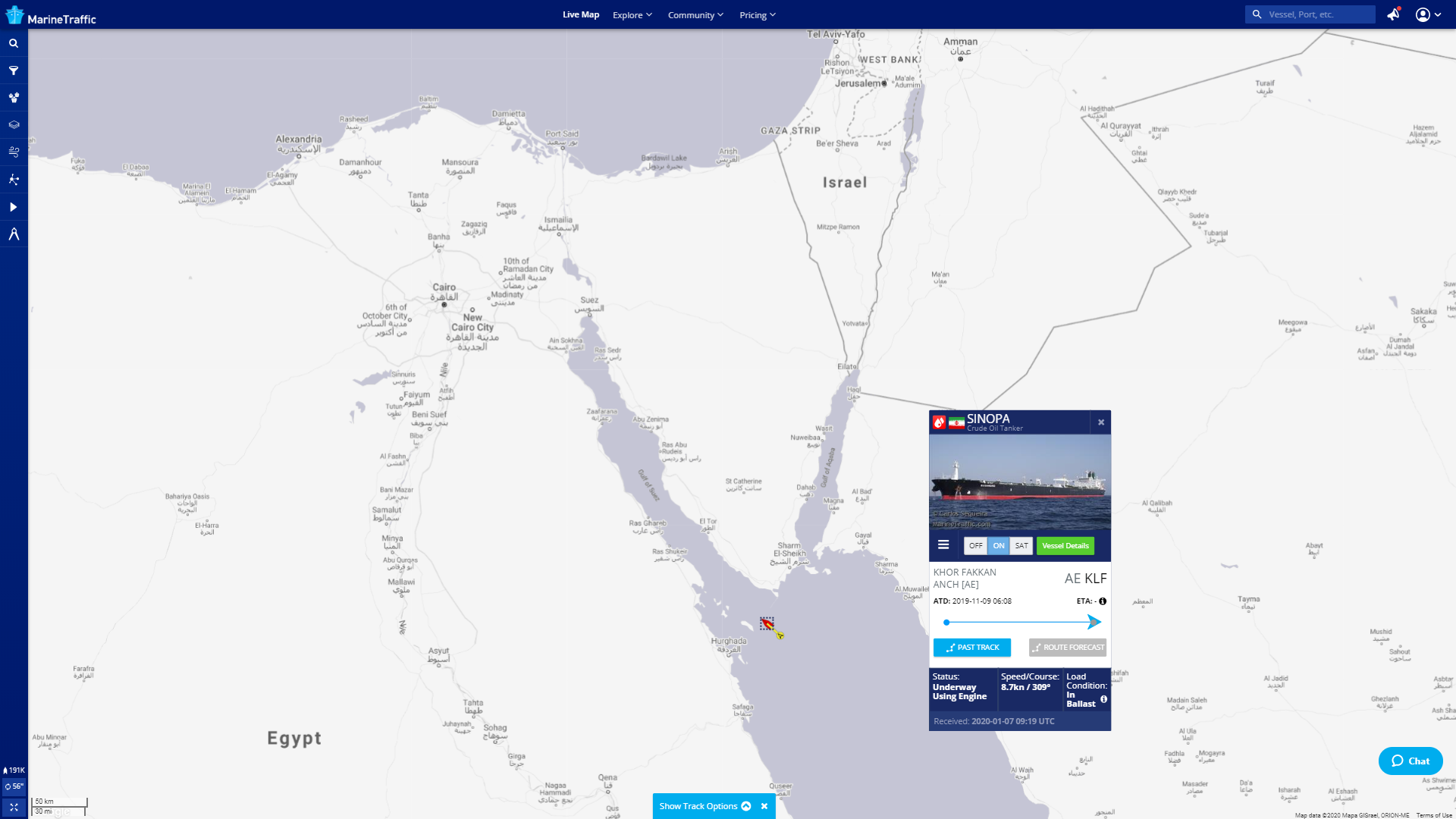 January 27th, 2020
After the SINOPA made her delivery on January 20th, the imports looked fairly strong for the month, landing at 94Kbpd for the first 27 days of the month. Then came the news a few hours ago via Reuters saying that Syria's Petroleum Minister had claimed that it's submarine pipeliness off the coast of Baniyas were once again attacked by divers, as what happened last summer. We dialed up the satellite SAR imagery and were able to isolate what seems to be a spill this morning. We'll be confirming it in the next few days. If the damage is as bad as it was during the summer, then we can most likely expect imports into Baniyas either halt or delay for a while. The other option may be to deliver via Tartous to the Homs refinery via pipeline, and/or possibly send it over from Tartous by land to Baniyas. In addition, we also see that SANDRO (now called LOTUS; scroll to the very top) is back in the east Med Sea after having visited Iran early on in the month to pick up another million barrels of crude oil at Kharg Island. Her AIS transponder switched back on before entering the Gulf of Suez towards the canal from the Red Sea. We expect her to reach Syria over the coming 36 hours. If by any chance that tanker does manage to deliver within January (not that we expect it to at this point), then Syria's imports would land at 127,142 bpd for the month. It will most likely become a February import instead. Now that we're in Q1, Syria is facing colder temperatures and there is a need of things like cooking gas, heating oil and fuel in general. They had serious shortages during Q1 of last year due to the initial impact of sanctions of these deliveries.
SAR imagery captured by the European Space Agency on 2020-01-27, showing a possible spill of residual oil found within the pipeline from previous deliveries.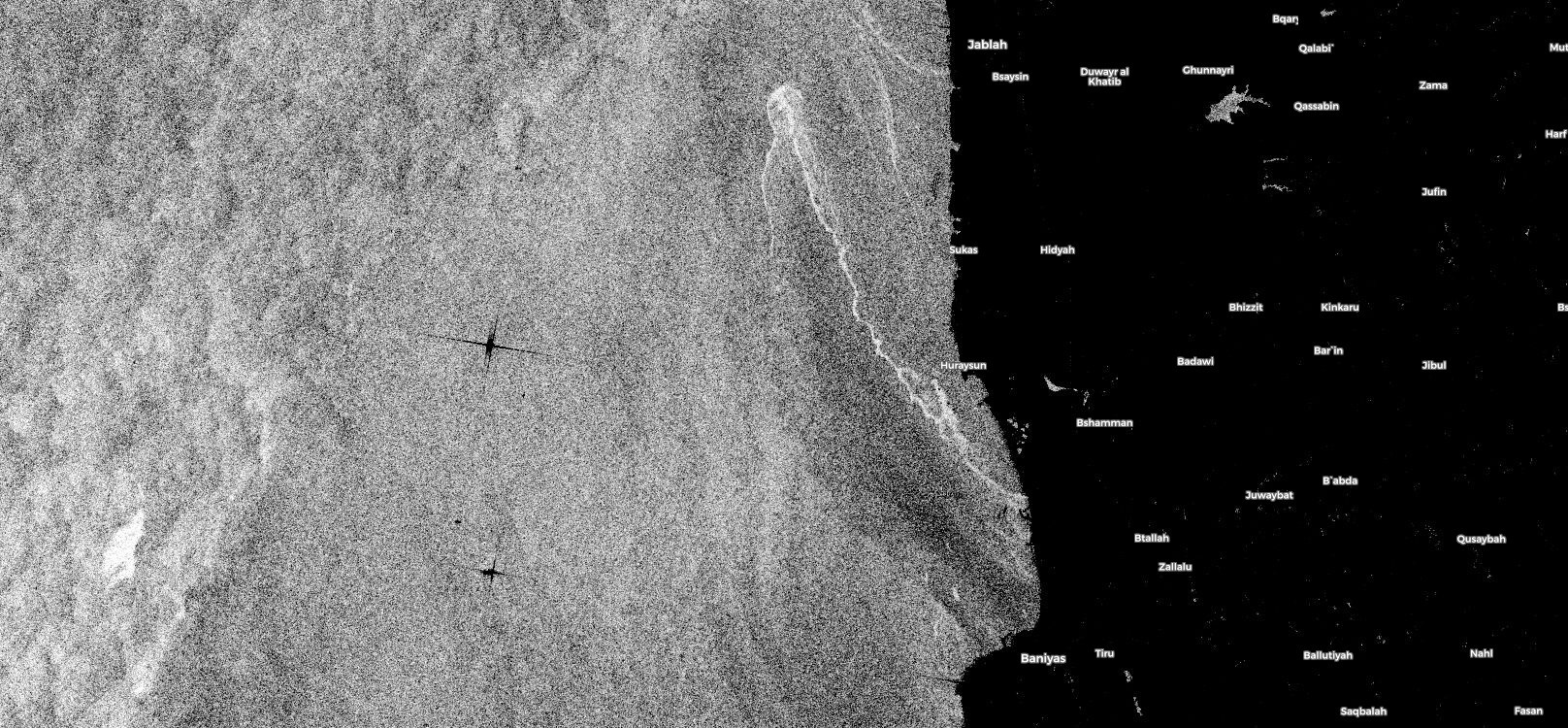 AIS data coming out of the SANDRO shows that the transponder aboard the vessel is only enabled when using the Suez Canal due to the fact that it is mandatory and enforced there, even though we have seen exceptions previously.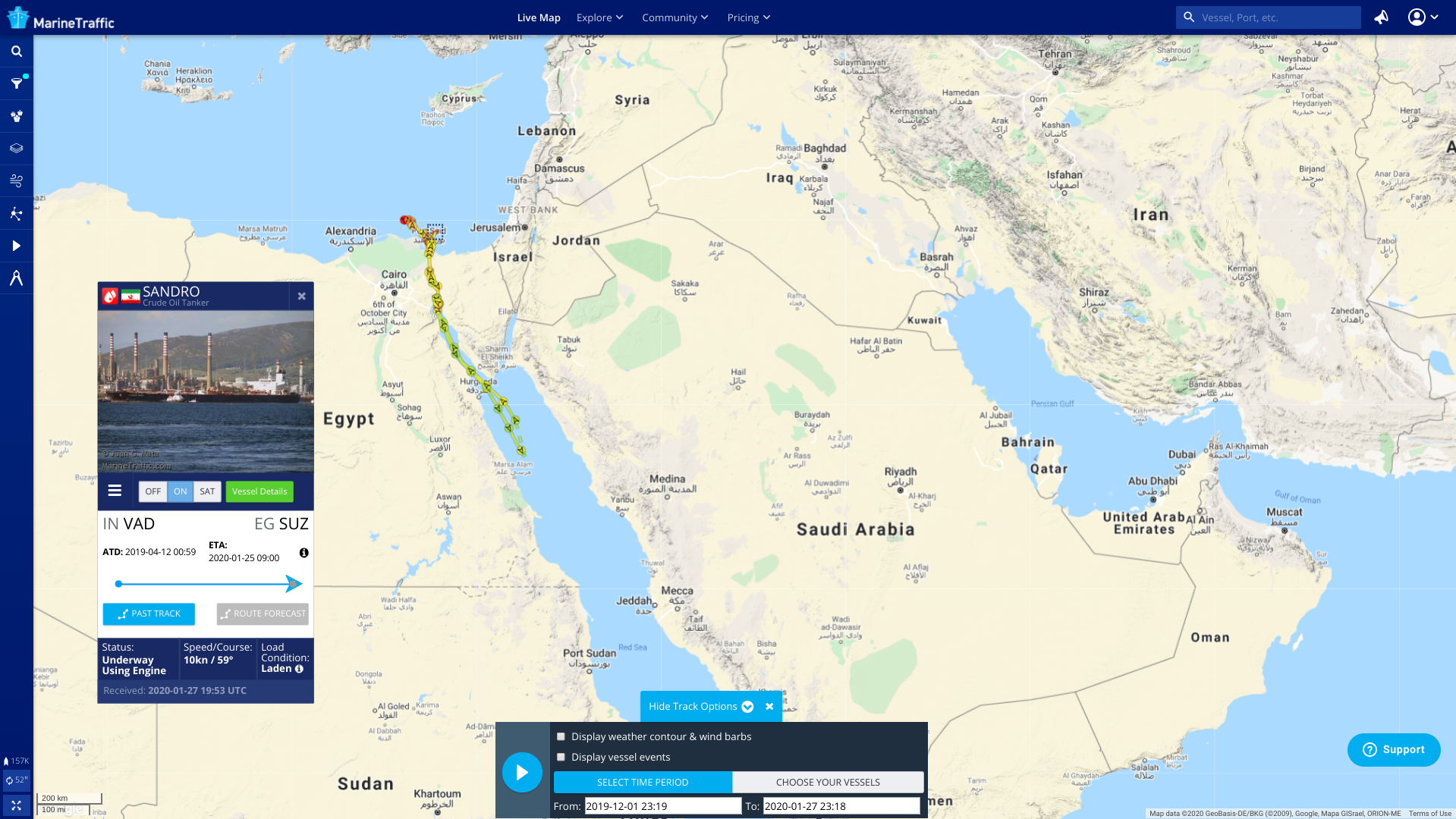 February 4th, 2020
The LOTUS (formerly SANDRO) has still not delivered to the refinery in Baniyas after the purported attack on the submarine pipeline connecting the offshore SBM (Single Buoy Mooring) with the onshore refinery. Instead, we see that on the morning of February 2nd, the LOTUS got closer to the ADRIAN DARYA-1, and the next possible scenario (which we have yet to confirm) is that LOTUS might offload her entire 1 million barrel cargo onto the AD1 and then head back to Iran for more. In the meantime, we see that the small Handymax tanker KADER (formerly UPMAN) has shown up, and will probably take on some oil from either LOTUS or AD1 in order to deliver 300-350K quantities at a time to the refinery as soon as the pipeline gets patched up. If those scenarios don't work, then it won't be entirely impossible to consider that KADER might deliver to the SBM further south in Tartous; feeding the refinery in Homs.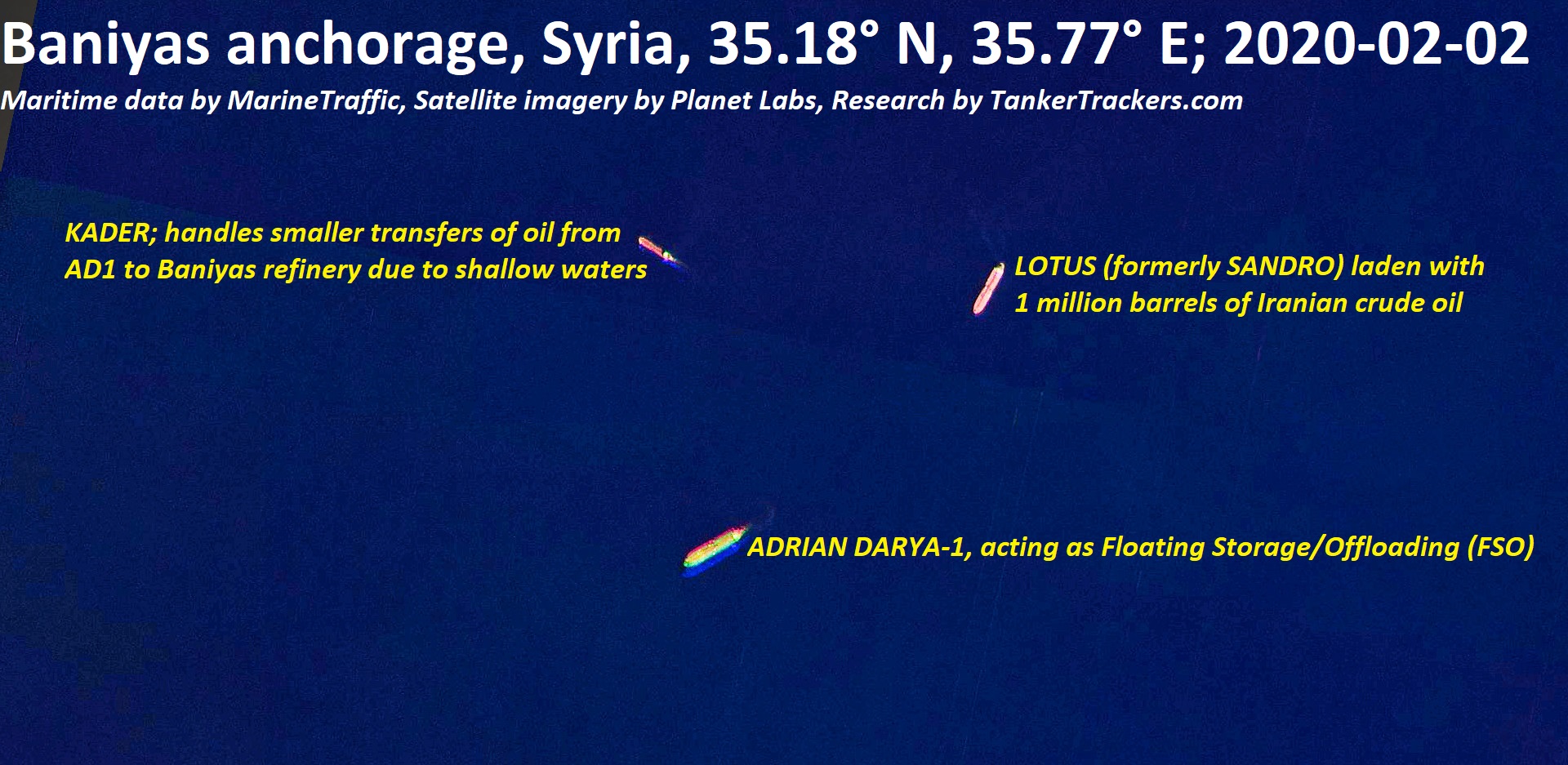 Furthermore, we see that yet another tanker is northbound in the Red Sea, carrying approximately 655K barrels of Iranian crude oil, and that would be the SAFOORA (formerly BONITA QUEEN). She popped up on satellite imagery this morning.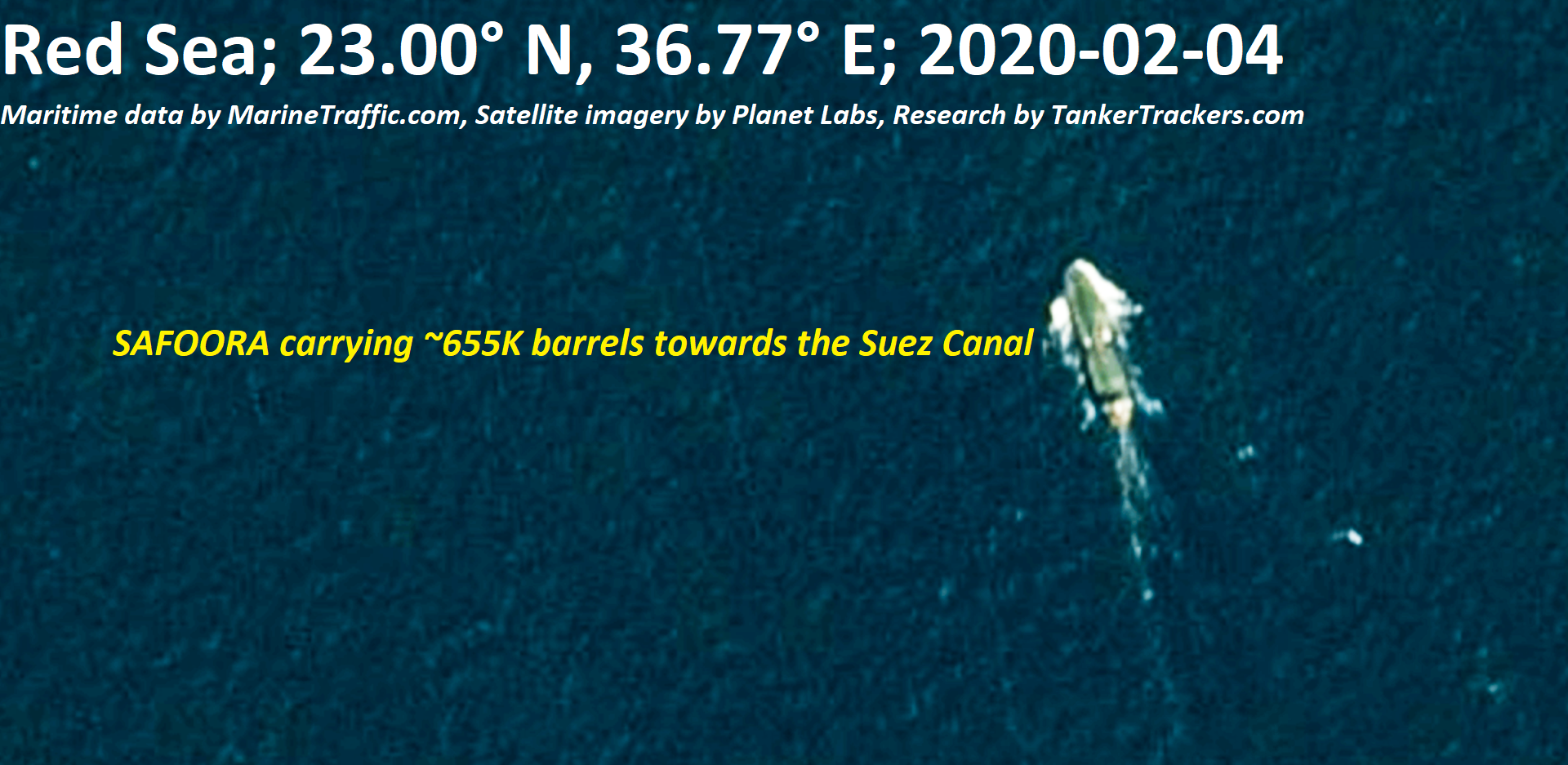 Here's an updated chart showing imports of Iranian oil into Syria. The LOTUS is considered a February import and not represented in this display. The key takeaway from this is that Syria needs to continue importing oil as domestic production is probably in the neighborhood of 25Kbpd, therefore imports account for the overwhelming majority of the country's demand. Given that this oil comes from Iran, it further reiterates our analysis that Iran has no ambitions to shut down the Strait of Hormuz.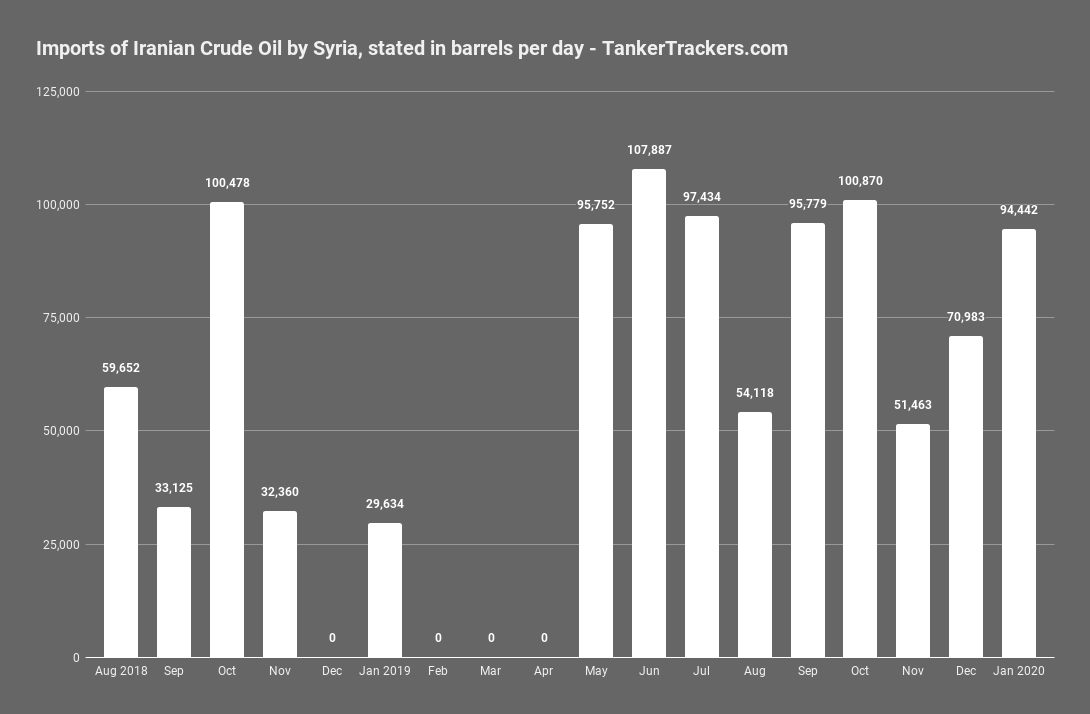 February 5th, 2020
The Iranian Suezmax named TOUR2 is back in action! She's finally departed the dockyard in Tuzla, Turkey after spending half a year in repairs following the beaching incident in mid-January 2019 off the coast of Latakia, Syria. TOUR2 was later joined by SAVIOR, a Suezmax tanker we reported on previously for having delivered Iranian oil to Syria during late September 2019. TOUR2 is broadcasting "P.SAID" (Port Said) as her destination, but in the incorrect AIS format. We are expecting her to sail home via the Suez Canal so she can resume her business of shipping oil.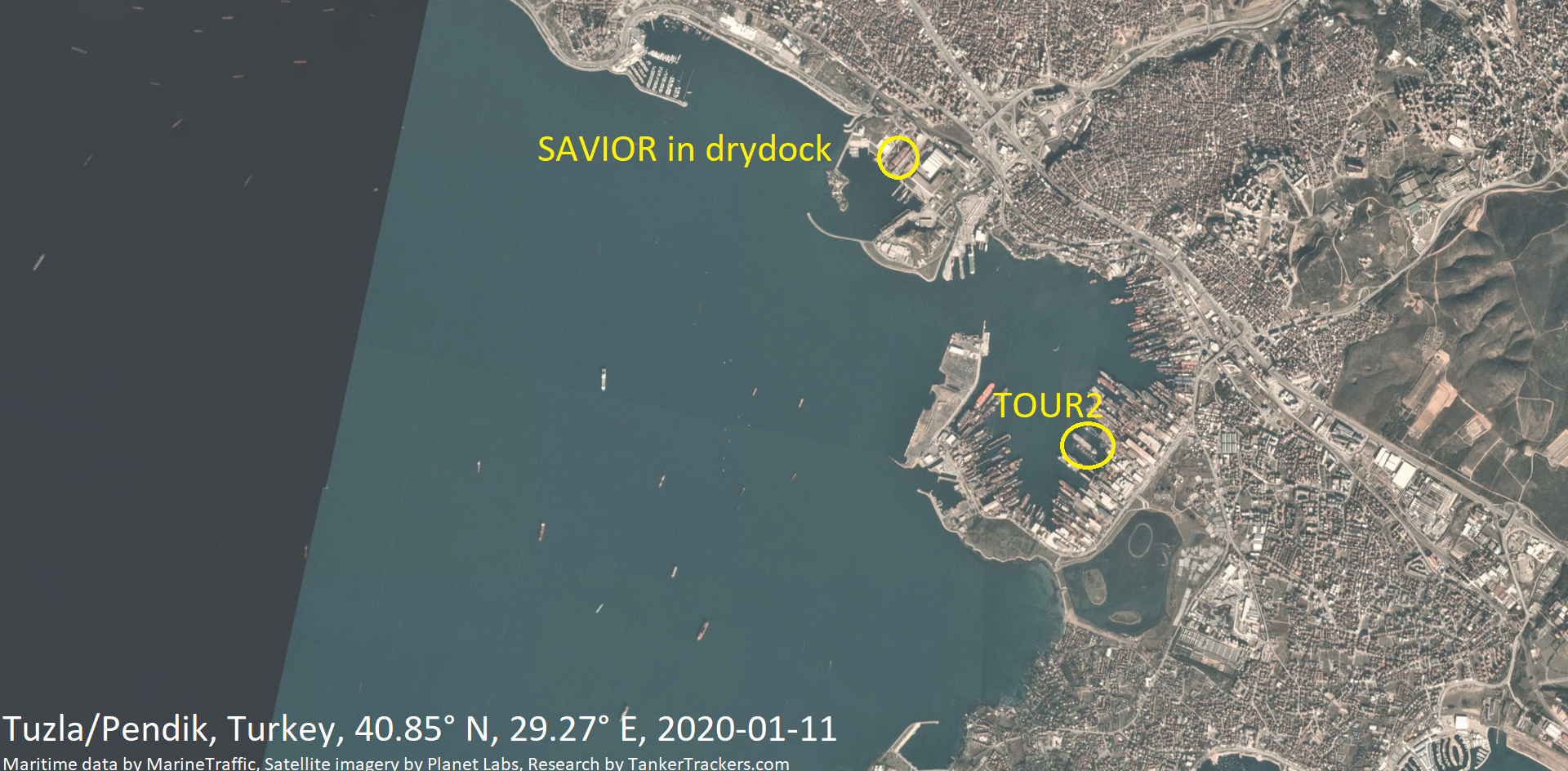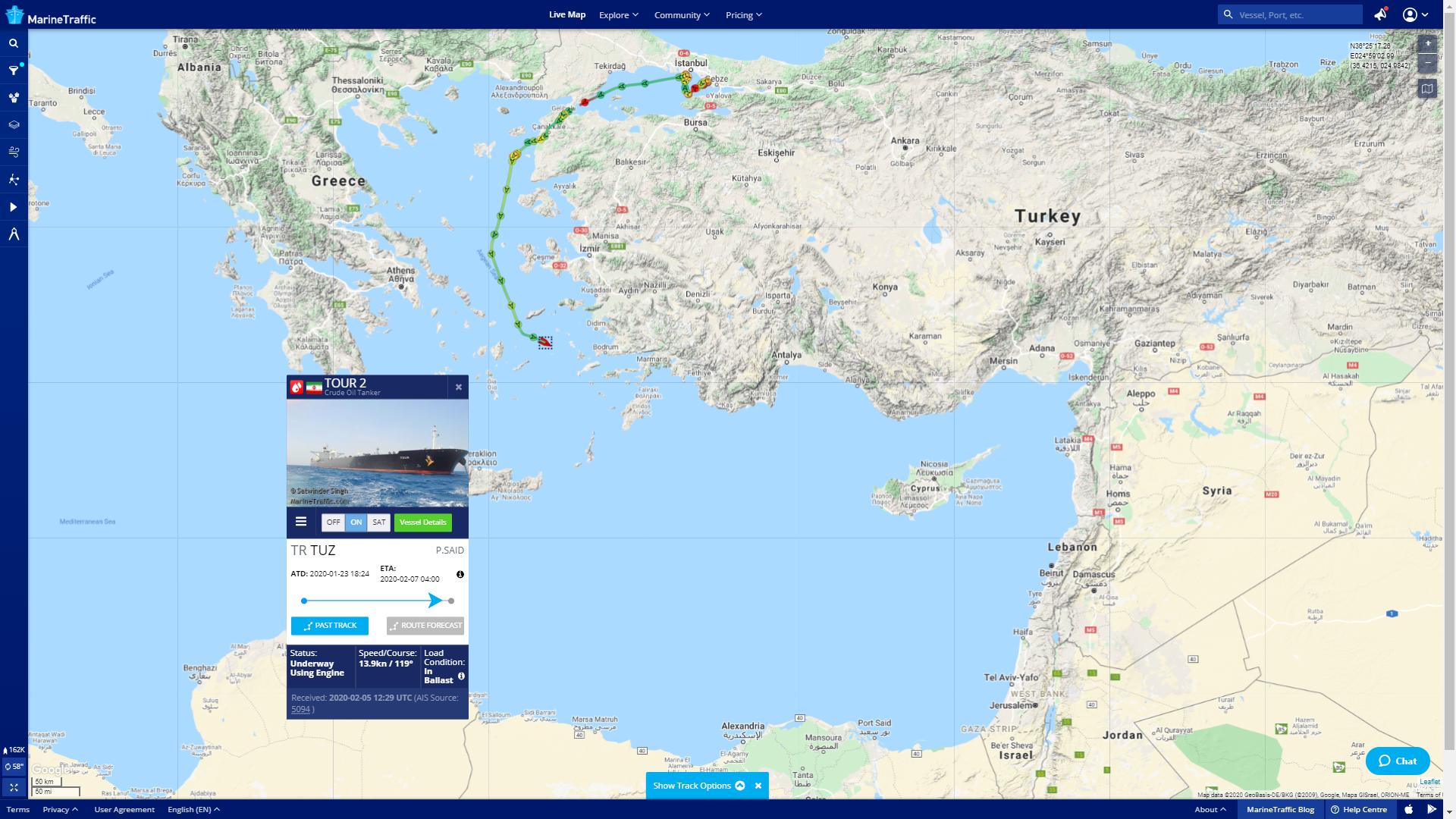 February 18th, 2020
No slowdown in Syria, it seems. On February 12th, we spotted the TOUR 2 heading south down the Red Sea and then stop close to the Iranian (purported) navy "spy ship", the SAVIZ. TOUR 2 continues to sail on to Bandar Abbas and has now entered the Strait of Hormuz. We'll see where TOUR 2 ends her voyage as she's been away from home for more than a year after her beaching incident in mid-January (2019) off the coast of Latakia, Syria. Yesterday however, we saw a fairly large presence of tankers off the coast of Baniyas. At the SBM is the newly-arrived SANAN (Suezmax carrying 1 million barrels), whose AIS was switched off on February 13th as she headed up the west coast of Cyprus. We saw this exact same maneuver last summer during the height of the ADRIAN DARYA-1 saga. Even here, her last broadcast displayed Mersin, Turkey as destination. It seems from the shadow analysis that she's almost done delivering oil to the SBM. Also present is the LOTUS (formerly SANDRO), and she actually pretty full, so it doesn't seem like anything's been discharged yet to the SBM. With that said, the SAFOORA was in Baniyas on February 14th to deliver 655K barrels as well. All in all, should no further vessels arrive/discharge for the rest of February, the month's average will end up with 55,693 bpd, however we think the LOTUS might end up next in line following the SANAN. This would therefore result in 90,035 bpd for the month.
As for the ADRIAN DARYA-1 which is in an STS formation together with an unidentified Handymax tanker, we believe this may be a domestic tanker most likely from Tartous. It doesn't seem to be a foreign vessel.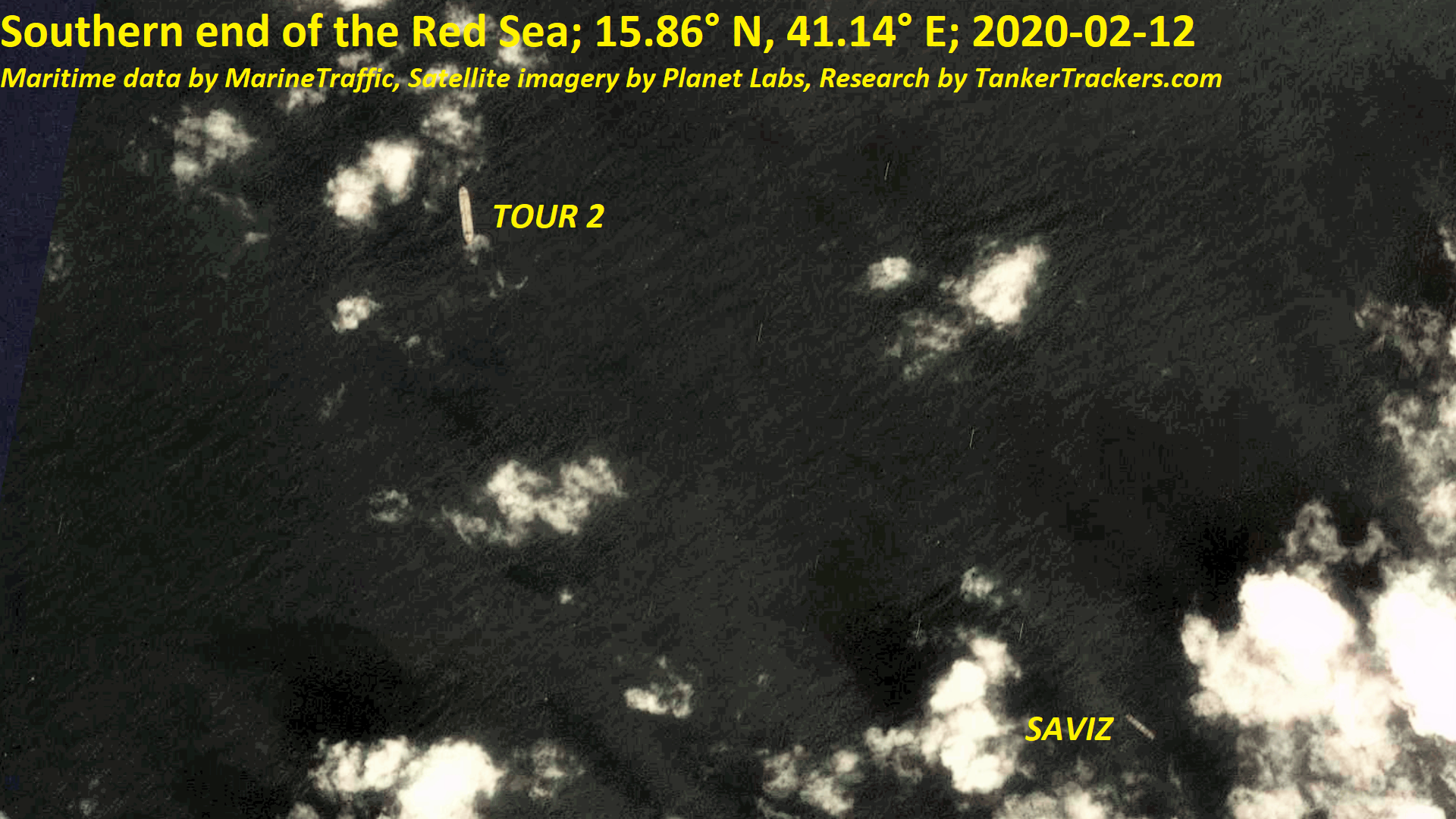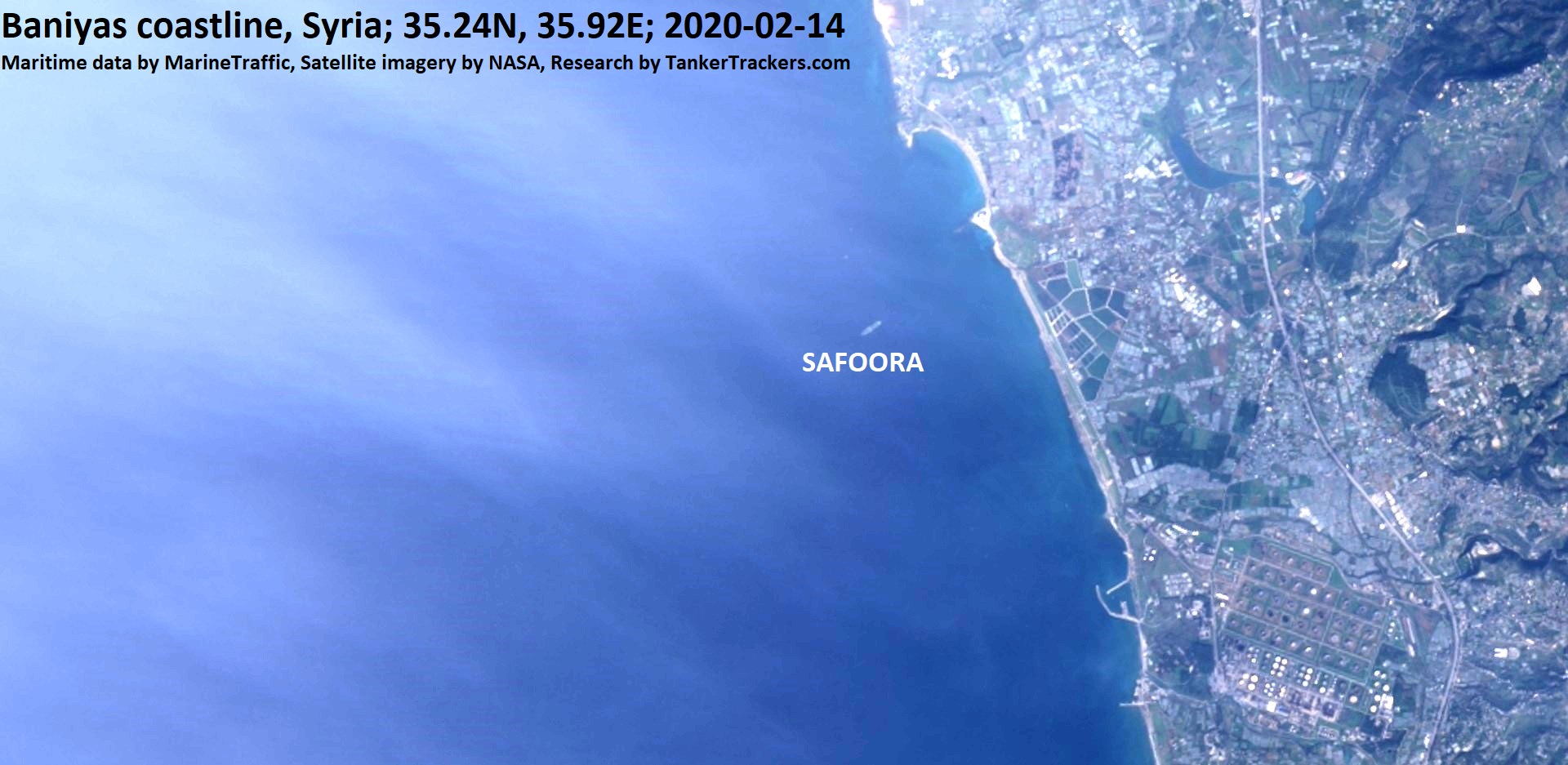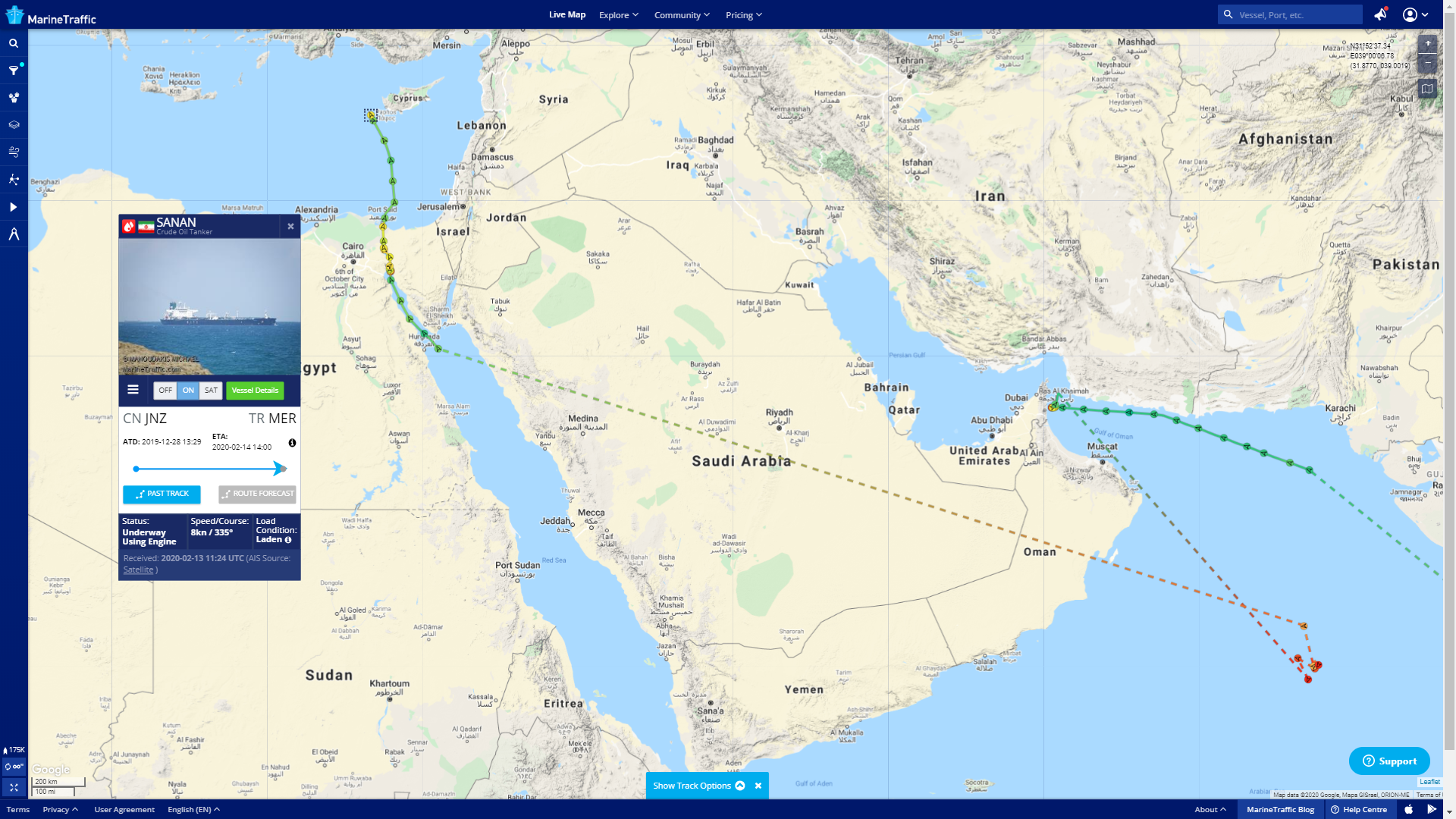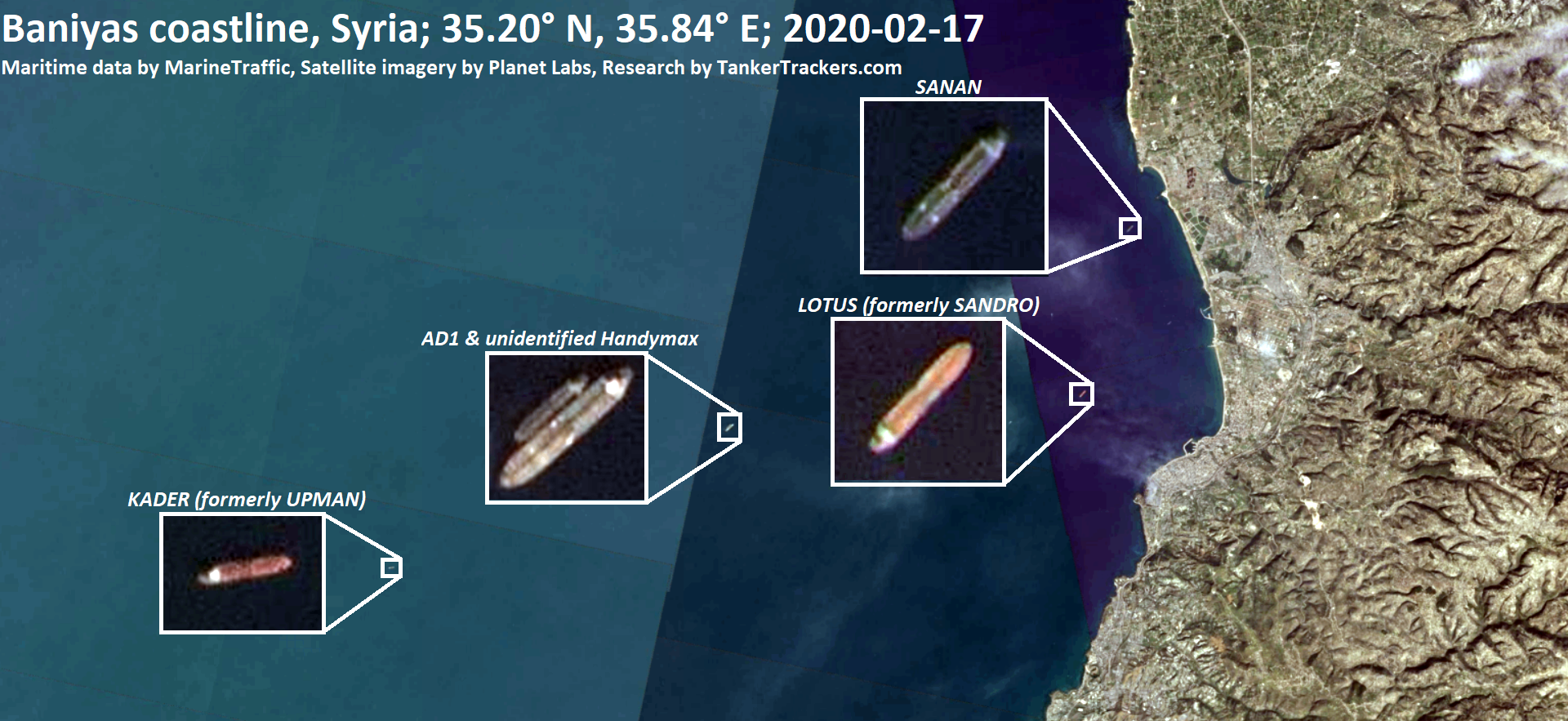 February 25th, 2020
We can now see that the LOTUS is discharging its million barrel cargo via the SBM at Baniyas. With that, we would like to conclude our coverage of this saga until/if something significant happens. Going forth, we shall only be publishing aggregated import figures in the same manner we do for Israel. Thank you for staying tuned all these months!
/TT