May 1st, 2019 - Please note that this article is a work in progress as we await for further details to arrive. Certain details are subject to change.
Background
Multiple sources this morning reached out to us to inform about a possible leak from an Iranian tanker in the Red Sea.
First source said it was a leak, but had no further details. Naturally, this could also mean water was leaking in rather than oil leaking out.
Second source said it was due to a (torpedo?) missile that struck the hull, and we found one Telegram app post about it. The post says that the missile hit the engine room and that water had flooded it. From there, the crew was transferred to another vessel.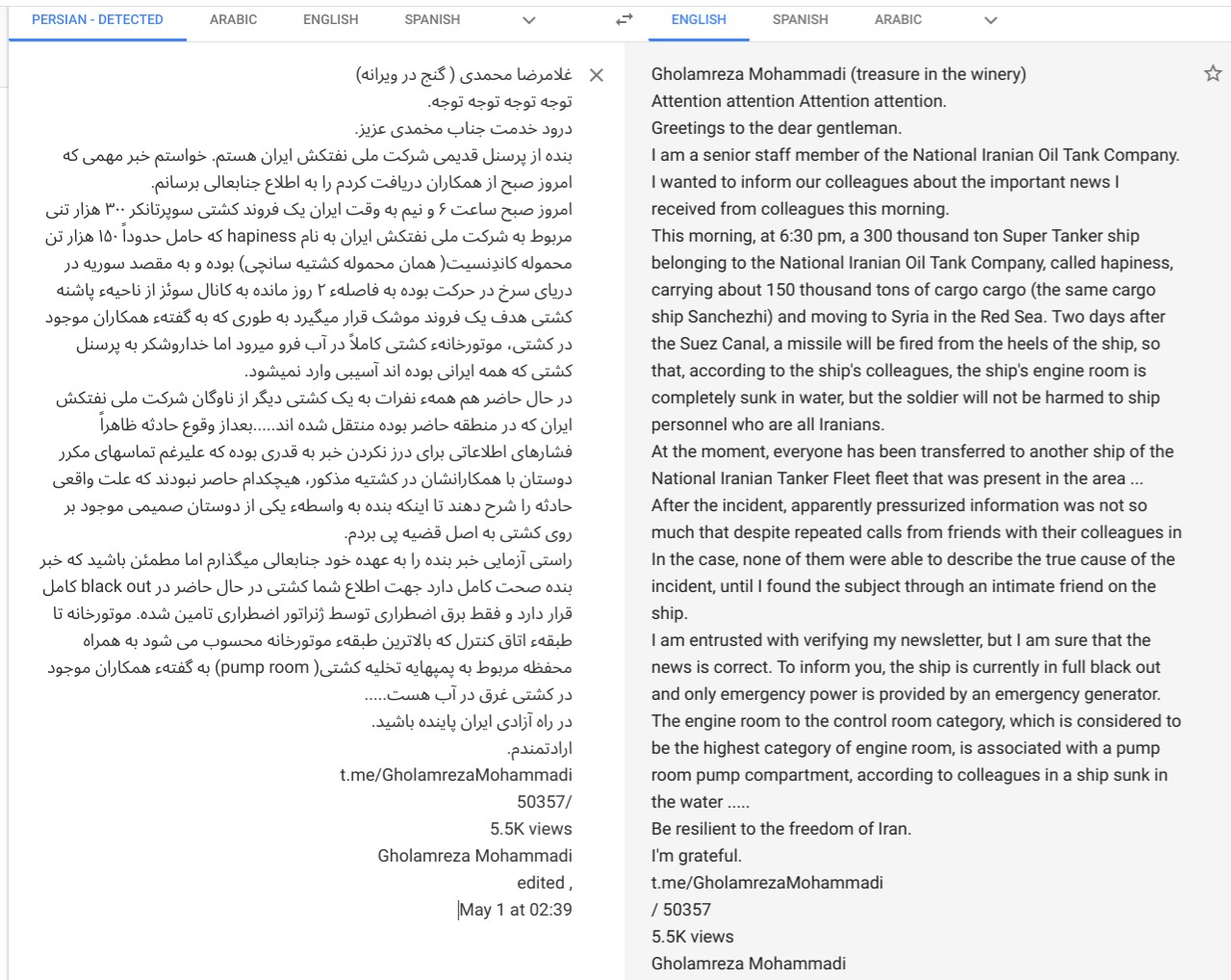 This meant that we had to look for not one, but TWO vessels; and two vessels we found!
Discovery
What we saw were that both vessels made a very sudden south-eastbound turn from the shipping lane on the morning of April 30th, 2019. At 04:53 UTC, the NITC VLCC (2 million barrel capable Very Large Crude Carrier) by the name of HAPPINESS I had an abrupt stop in her engines. For now, we believe that she is laden with around 1.1 million barrels of fuel oil, but it could turn out to be 1.22 million barrels of crude oil once our audit is done ahead of our coming Iran report. What is a bit unusual about all this is that an NITC VLCC is showing up for the first time in a very long time within the Red Sea following the unilateral US sanctions which took effect in November 5th, 2018. Most usually, we see the smaller Suezmax (1 million barrel capacity) and Aframax (750K barrel capacity) tankers. As of late, we see fuel oil shipping off to Turkey as well.
Satellite image captured on April 30th, 2019 by Planet Labs. Position: 20.35° N, 38.76° E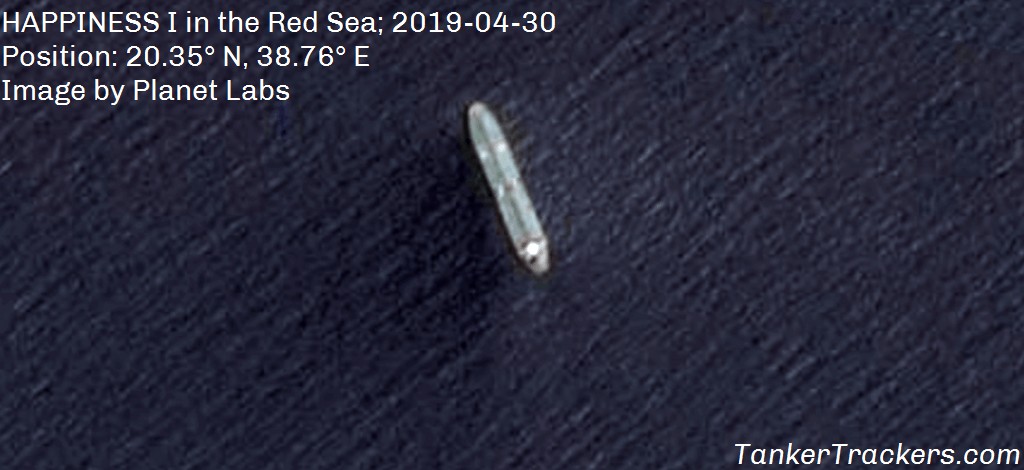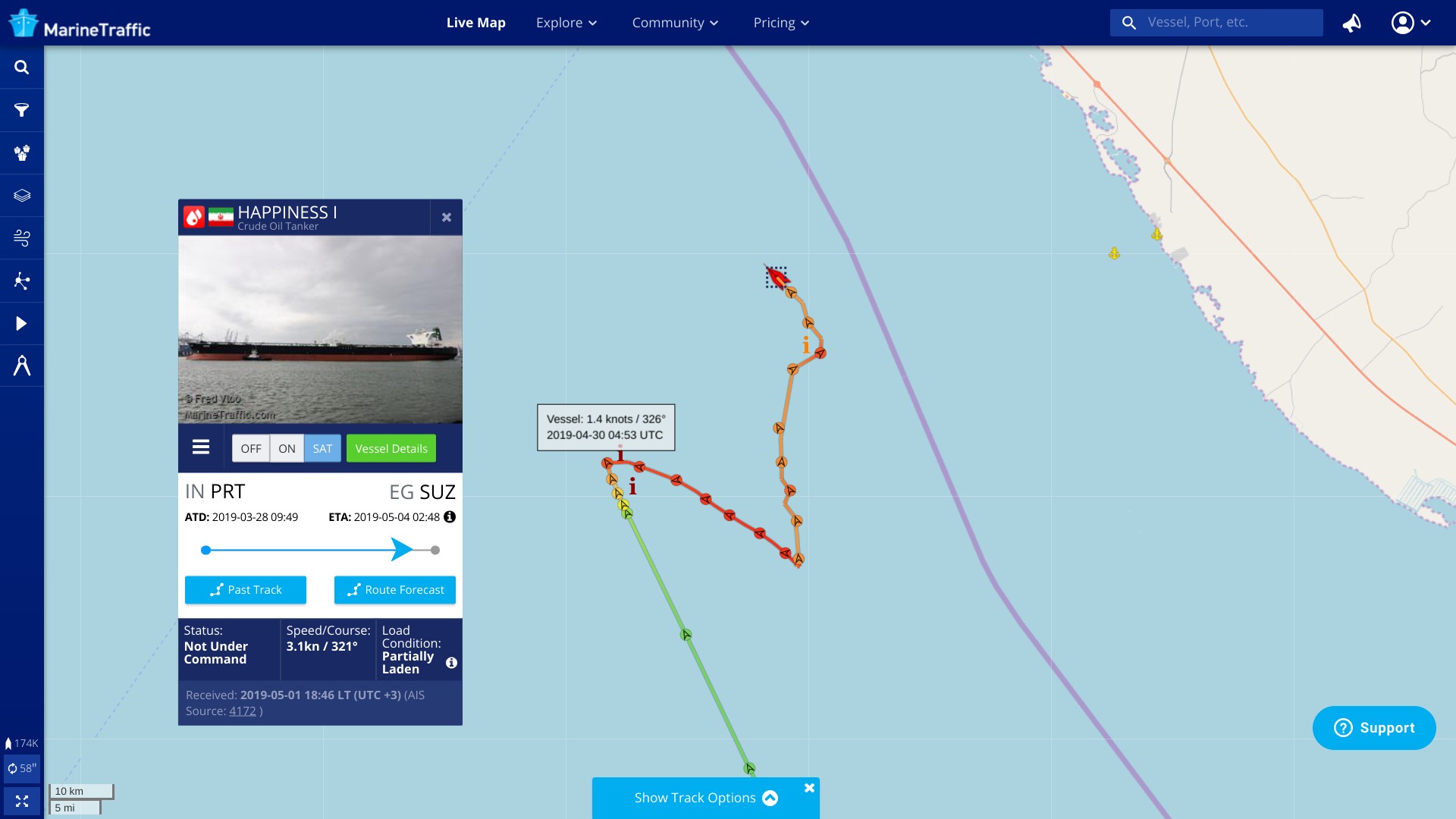 Sailing in tandem with HAPPINESS I, we spotted her smaller sister ship called SABITI. She is carrying a million barrels of crude oil, and all indications are the oil is bound for Turkey as well. During the past year, the SABITI has visited China once, India 5 times and now Turkey for the 6th time. That's roughly a trip a month.
When we play back the GPS traces of the AIS transmissions from April 30th, 2019 (yesterday), we see that the two kept close enough distance for a crew transfer to take place.
We then saw that SABITI continued onwards to the Suez Canal while HAPPINESS I was approached by at least two tugboats from Saudi Arabia for assistance. They must have picked up her distress call, if one was made. The HAPPINESS I continues to sail (with assistance) up the Red Sea just off Saudi Arabia's maritime border. We'll know more in the morning.
Our closing notes until confirmation comes through:
Given what we have gathered till now, if this was an oil spill, the vessel wouldn't have moved at all, but waited for a flotilla of vessels to arrive and contain the oil spill. One doesn't usually sail off while leaking oil. SO WE DO NOT BELIEVE IT IS AN OIL SPILL.
As for the leak, it definitely seem probable that water is leaking in given a crew transfer purportedly took place; and AIS playback suggests it. We can not conclude what caused the leak, but given how abruptly things happened, it does seem like something surprised them otherwise we would have seen the vessels slow down or deviate in an attempt to avoid an incident. Inconclusive for now.
Past Mention of HAPPINESS I
HAPPINESS I made a name for herself in the past few months in our reports when she successfully transferred fuel oil via STS (Ship-to-Ship) to GRACE 1, back in December 10-12th, 2018. Months later, Reuters published the story about her on March 20th, 2019, but we noticed we were the only ones who were aware of where she picked up the fuel oil from. It was in the anchorage of Kharg Island. Once the STS was complete, GRACE 1 transported all that fuel oil to smaller vessels off the eastern coast of the United Arab Emirates, which then transported it to other ports; one of which was Singapore. We follow the oil all the way.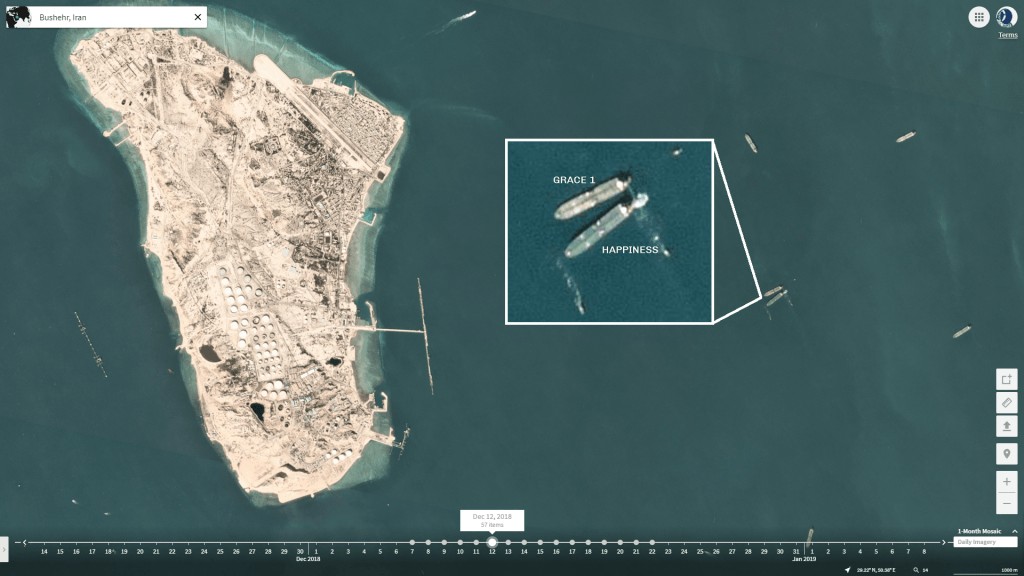 For those of you who may have missed it, here is our Extensive Export Report for Iran during March 2019.