And here it is: The most elaborate series of Ship-to-Ship transfers for just a single two million barrel parcel of oil.
1- The oil departed Iran at the end of May 2019, nearly a month after the unilateral US sanction waivers had expired. It was first picked up by an Iranian VLCC supertanker and handed over to a Chinese vessel called the TIAN YING ZUO in Iranian waters.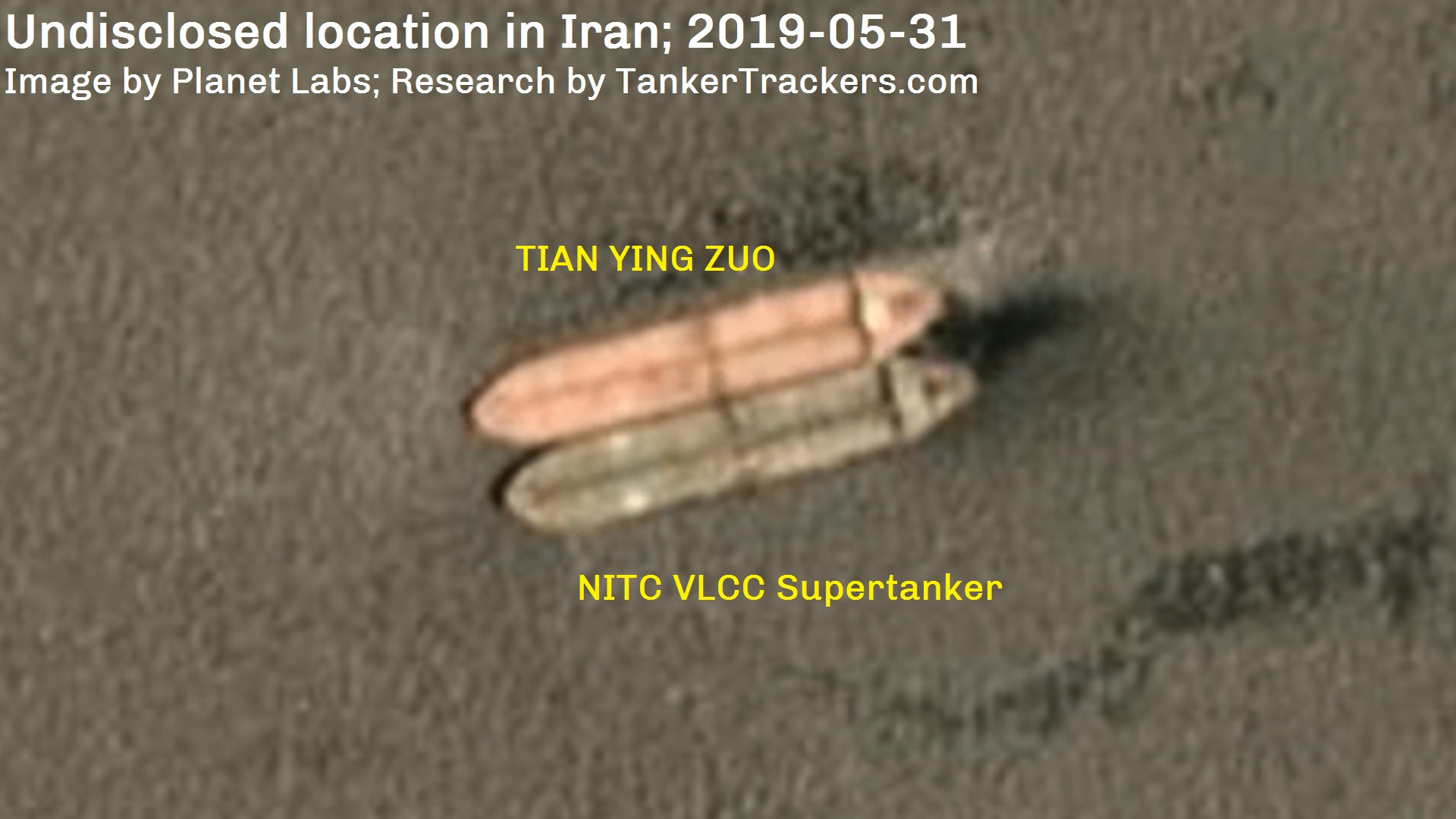 2- TIAN YING ZUO then sailed down to Sri Lanka and switched off the AIS transponder on June 16th. Two weeks later, the vessel's AIS transponder was re-activated on July 1st, except this time, the vessel was broadcasting that it was empty of cargo. The 2 million barrel cargo of oil was suddenly gone!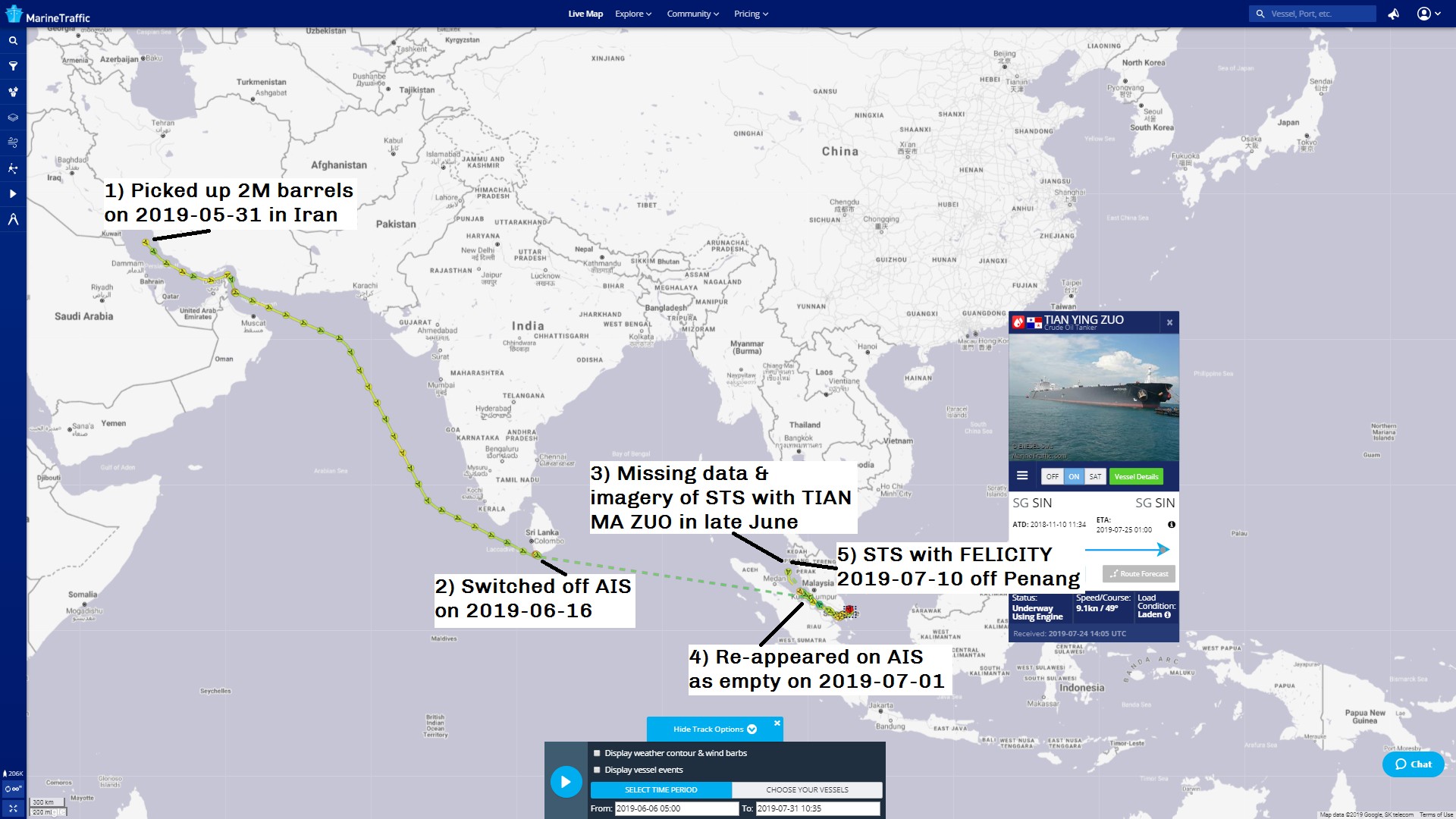 3- Just days prior (June 27th), a sister ship called the TIAN MA ZUO re-appeared on AIS (after a data gap of 8 days) heading south from the Penang Island area off the western coast of Malaysia towards the Strait of Malacca, and was suddenly broadcasting that she was fully laden with 2 million barrrels of oil.
Comment: We checked satellite imagery and AIS data and found nothing due to cloudy weather and infrequent revisits by satellites. The only visual we have is of TIAN MA ZUO was on June 27th, when she was sailing away fully laden from the point of collection. However, TIAN MA ZUO has previously picked up oil at Kharg Island in Iran on December 17th, 2018 and also handled at least one STS transfer in the Strait of Malacca with an NITC (National Iranian Tanker Company) VLCC supertanker called HORSE on January 18th, 2019.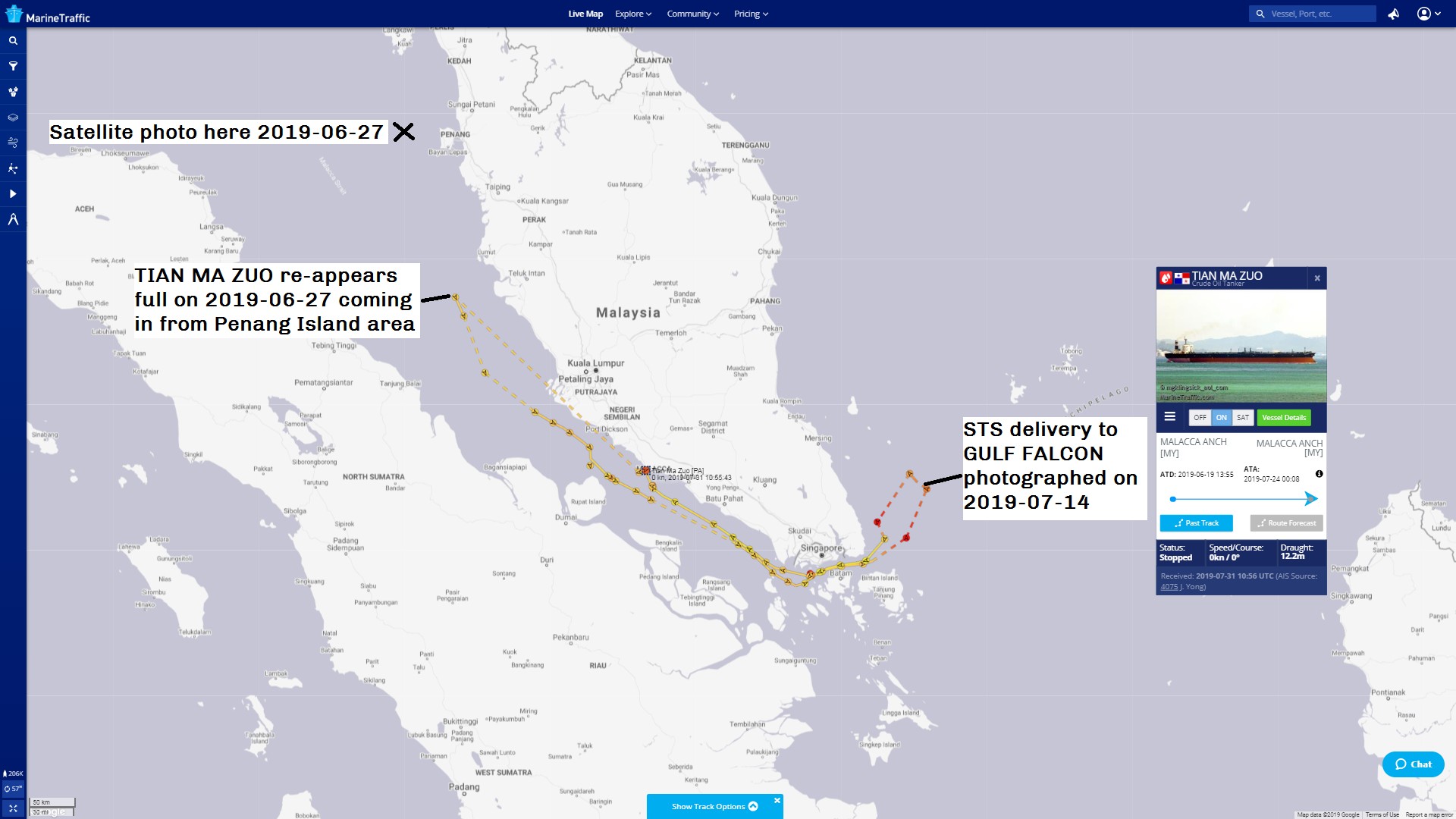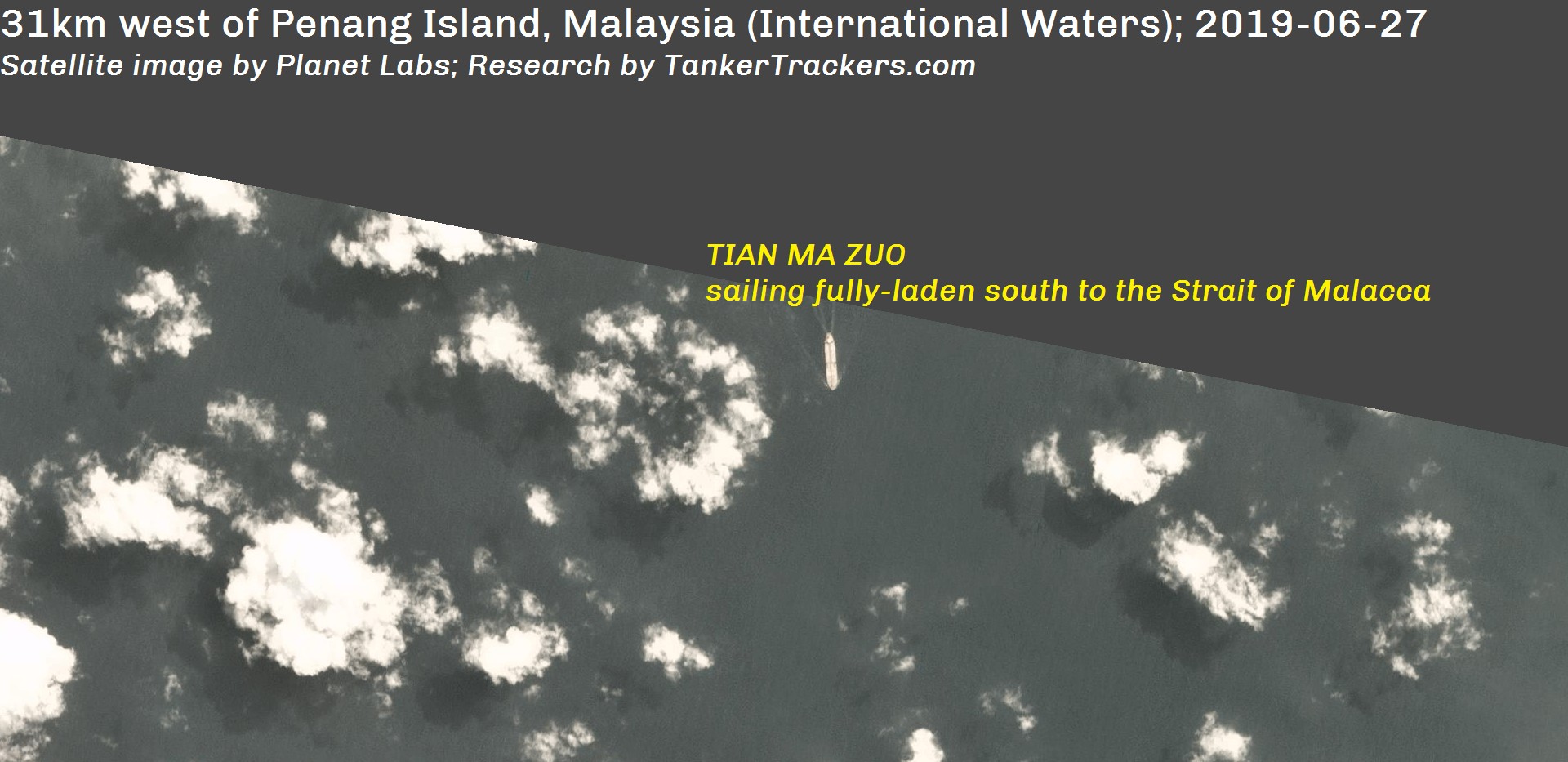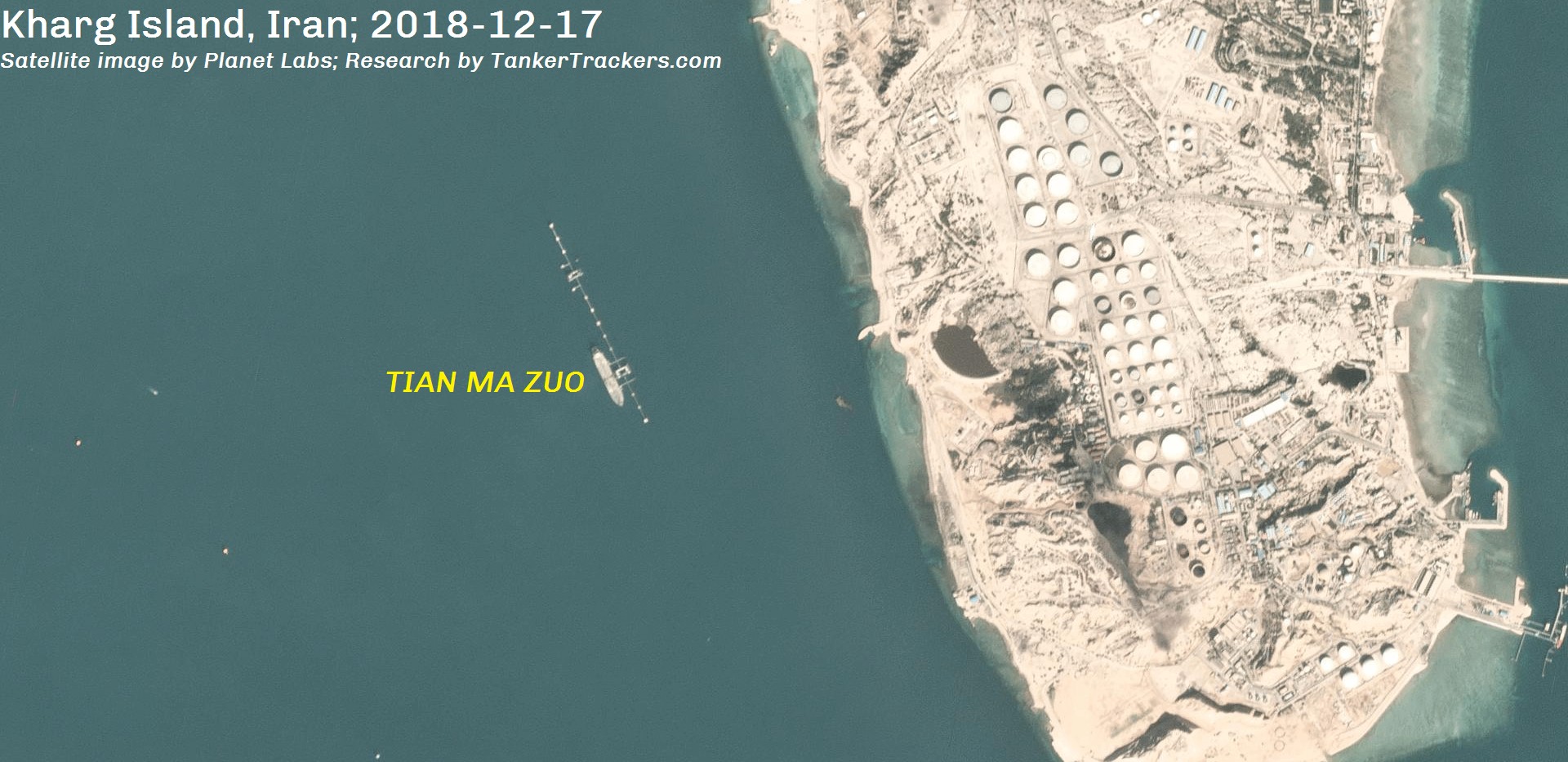 4- TIAN MA ZUO took the two million barrels of oil and sailed through the Singapore Strait to the South China Sea, at which point she delivered that oil to yet another sister ship called GULF FALCON.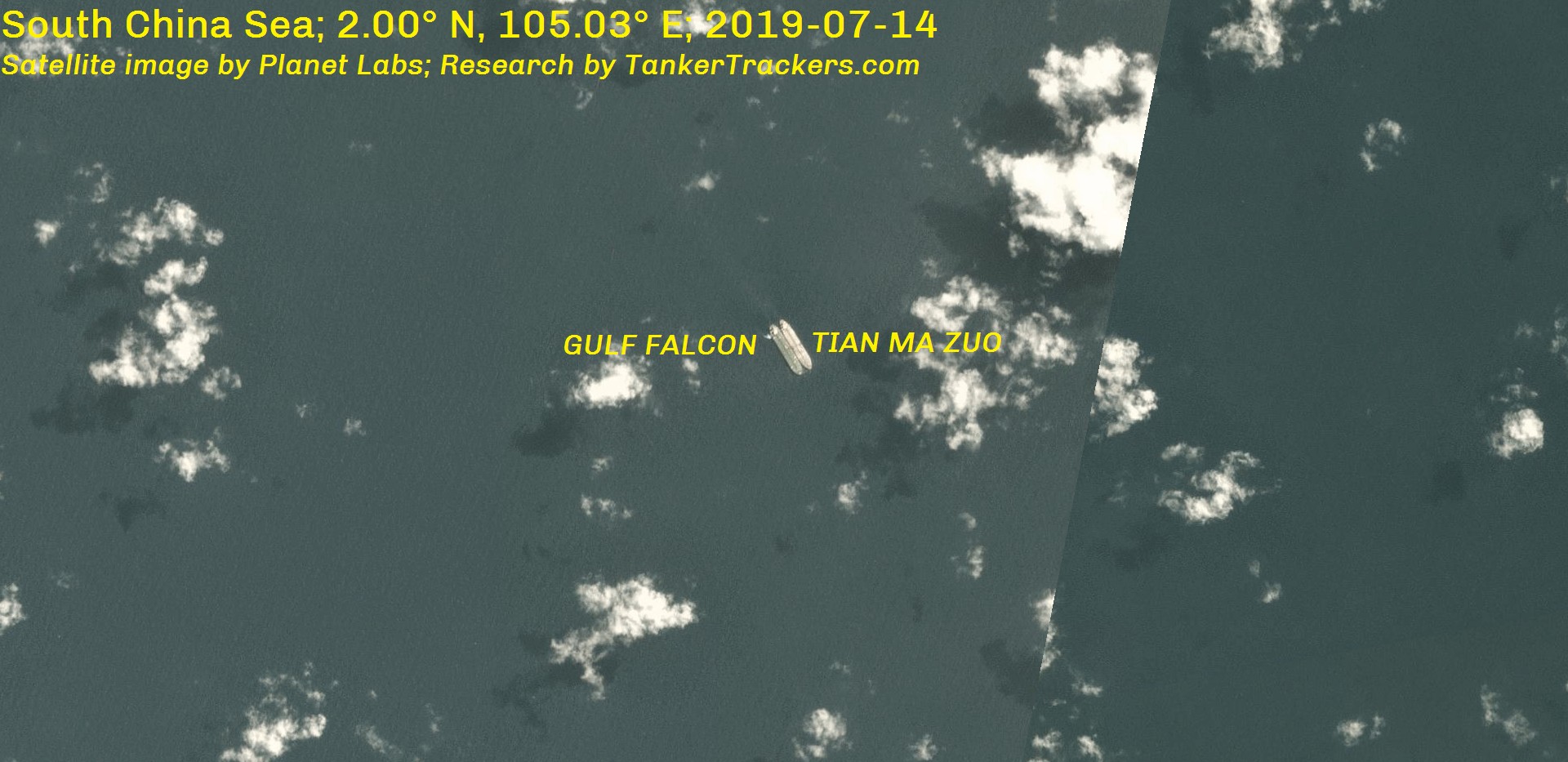 5- GULF FALCON then sailed off with that same 2 million barrels to the anchorage of Rizhao, China. That's where she's currently situated.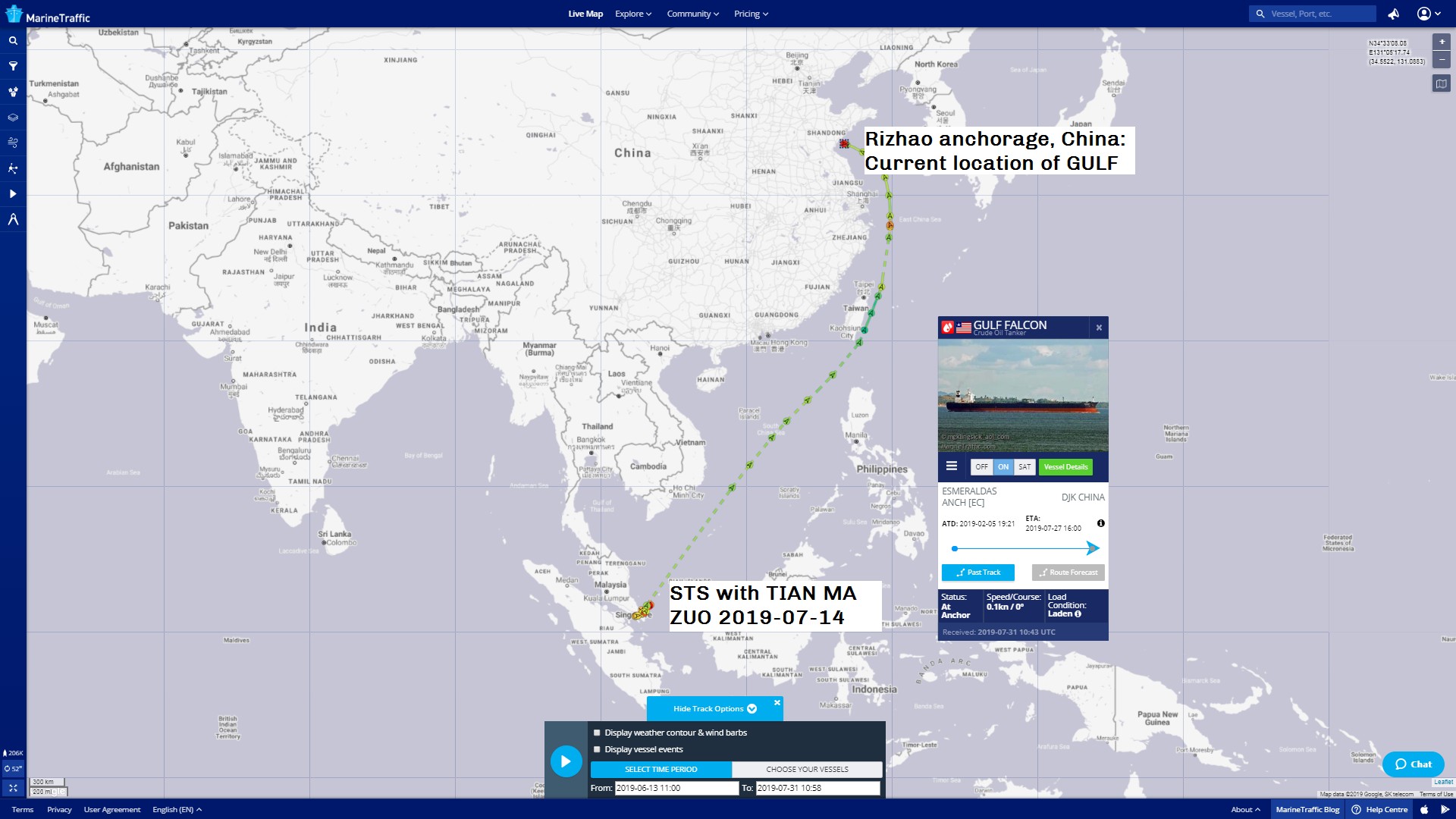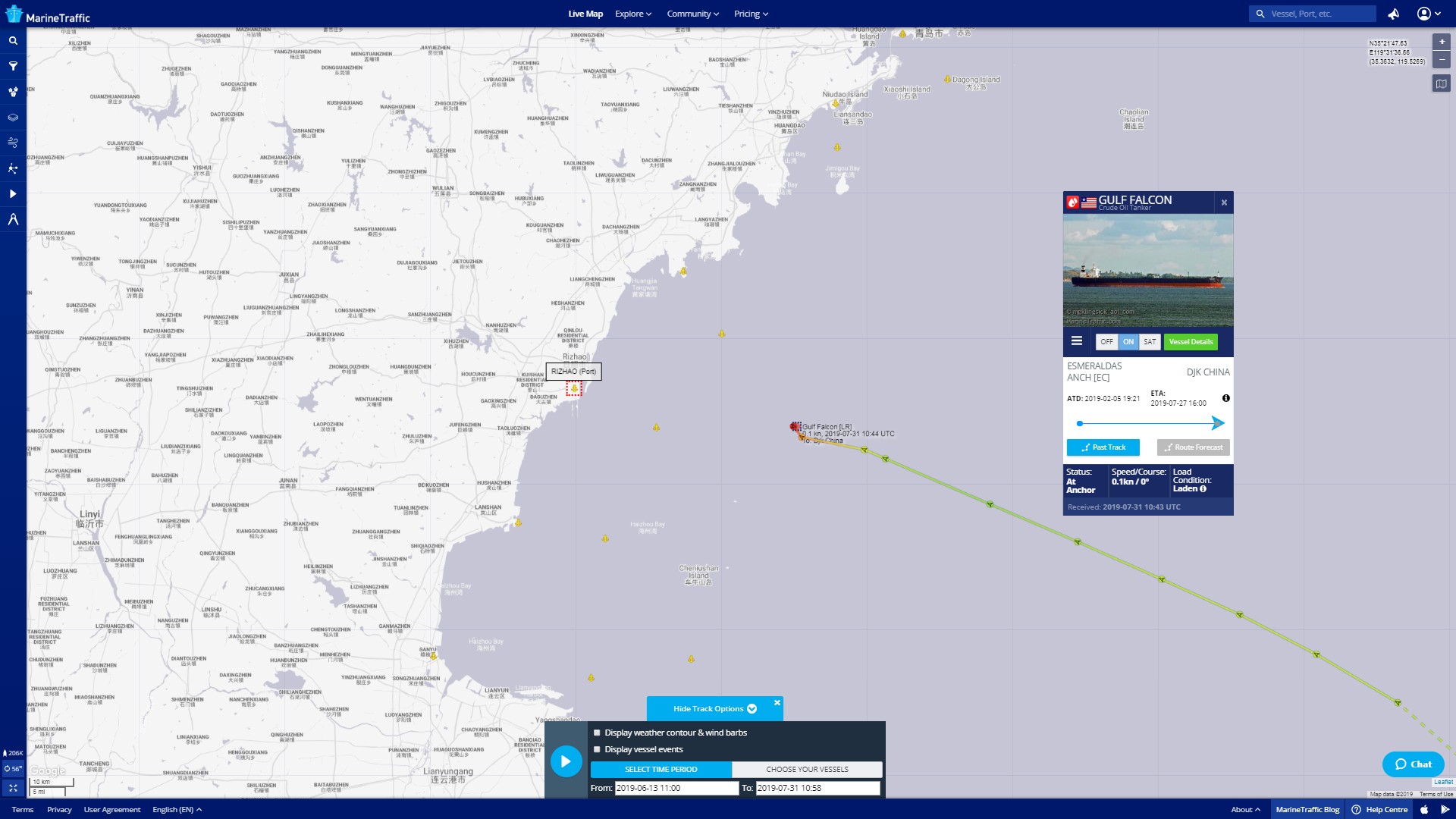 Comment: Days prior to the STS from TIAN MA ZUO to the GULF FALCON, the TIAN YING ZUO had been seen picking up another 2 million barrels from an Iranian VLCC called FELICITY; off Penang Island. Full story here!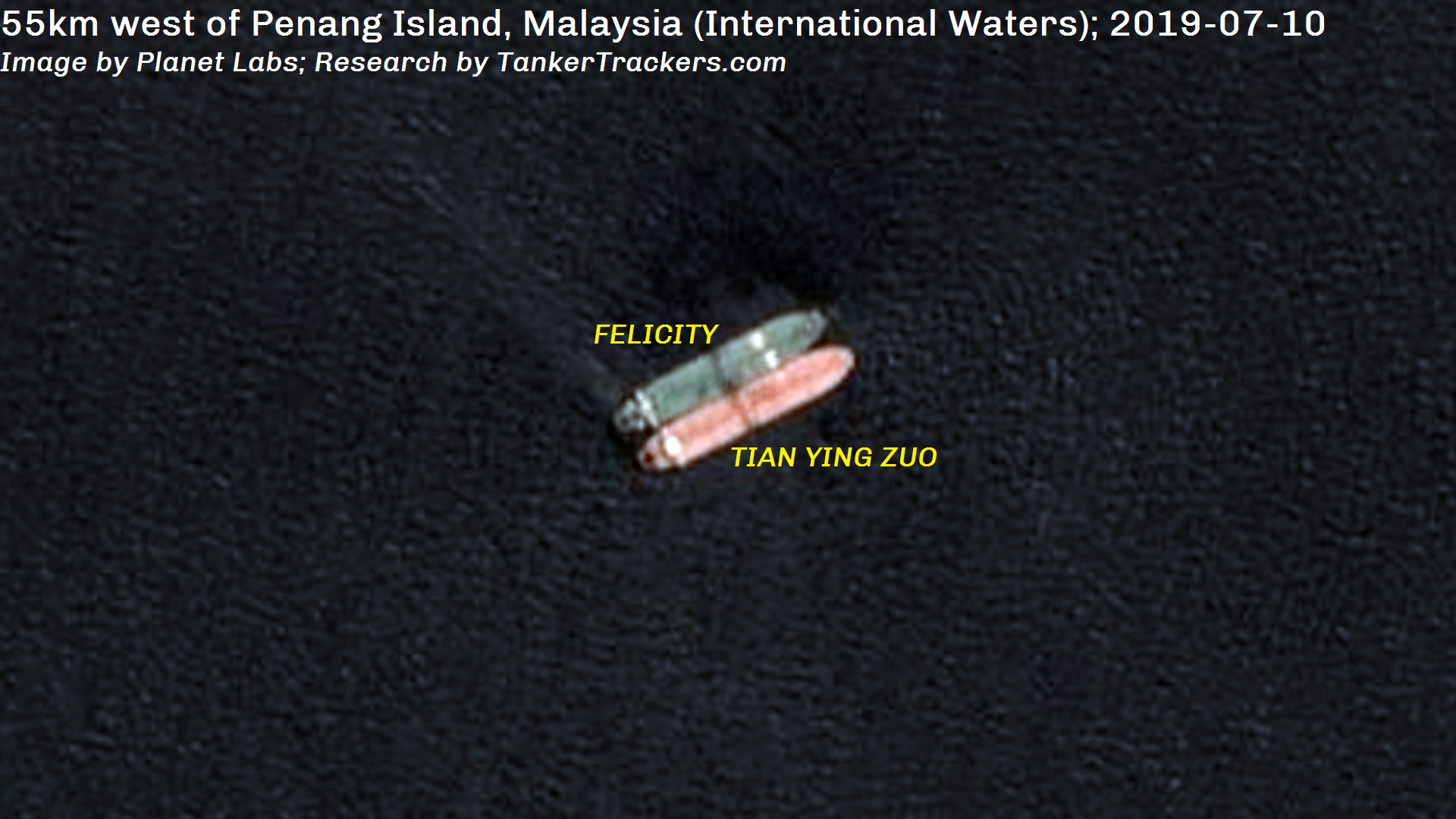 All in all, it took 4 vessels and two months to transfer two million barrels from door to door, and the voyage isn't even over.
UPDATE 2019-08-06
We have managed to task a Planet Labs SkySat satellite to capture a sub-1 meter per pixel (high quality) resolution photo of the GULF FALCON in Dongjiakou, China. According to the AIS update, the vessel has delivered 1.1 million of its 2 million barrel cargo of Iranian oil and has now departed for Bayuquan with the other half after berthing three days ago on August 3rd, 2019. As you can see in the photo, the VLCC's red hull is now visible, meaning that the vessel has risen higher due to that it has discharged part of its liquid cargo to the terminal. Dongjiakou is a recently-upgraded import terminal with expanded storage capacity and is expected to receive a VLCC load every 2.2 days as it takes roughly 2 days to discharge the oil from what we just witnessed. From Dongjiakou, there also seems to be two sets of 216km long pipelines which will connect the terminal to a range of "teapot" (independent) refineries in the cities of Weifang, Dongying and Binzhou. The pipeline construction was initiated on December 27th, 2018. The winning bid for the pipeline went to Qingdao Yueyang Engineering Consulting Co. Ltd, according to their website announcement on October 29th, 2018. The port of Dongjiakou will reach its full glory by end of 2019.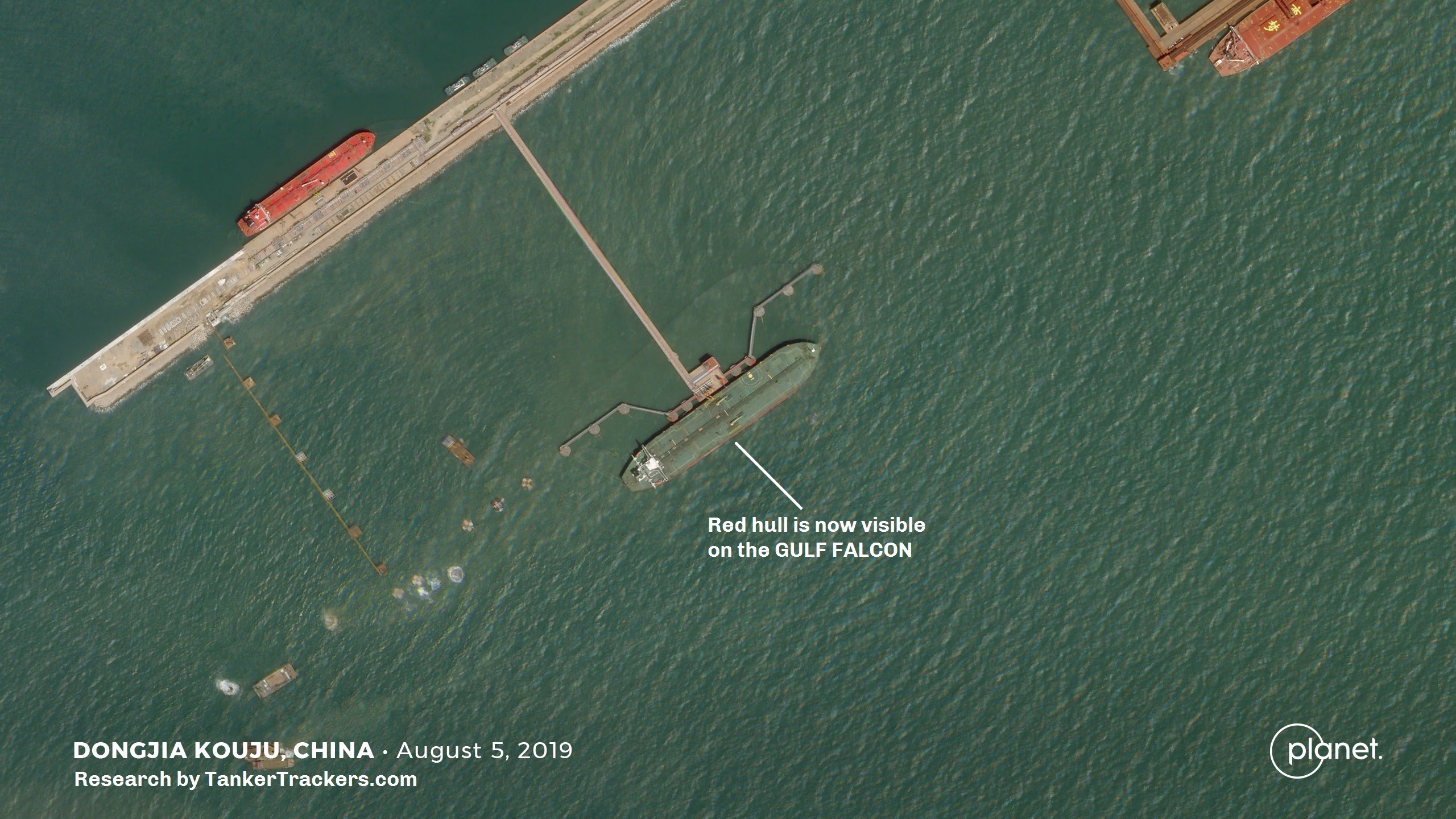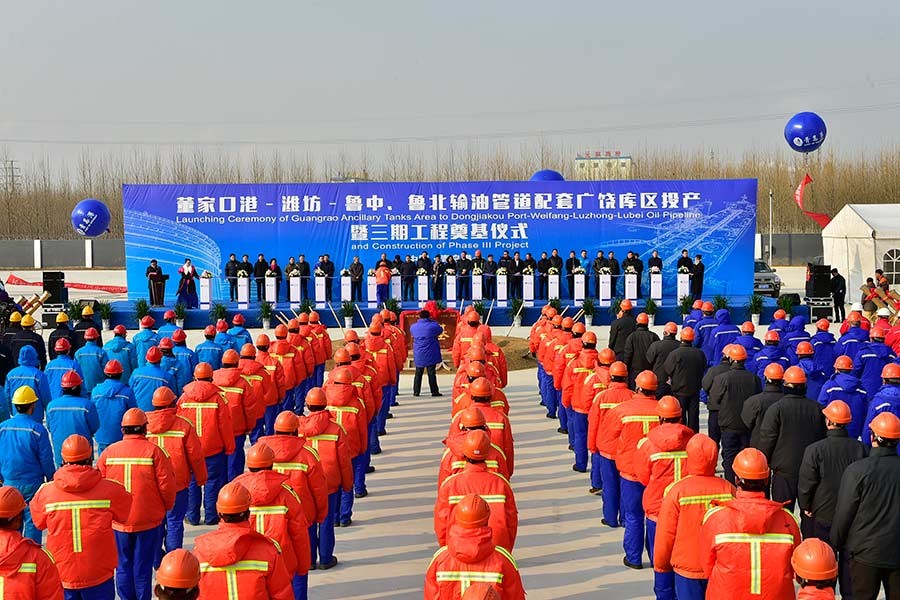 UPDATE 2019-08-21
After nearly three months, the remaining 900,000 barrels of this 2 million barrel parcel of Iranian oil has finally reached the end of the road. This morning we were able to attain satellite imagery (captured by Planet Labs) of the GULF FALCON delivering the remaining amount of Iranian crude oil to the terminal in Bayuquan. From what we can see on Google Maps, this terminal has a pipeline that feeds the Yingkou Xianrendao Energy and Chemical Industrial Zone.