Yesterday (2020-05-28), the Wall Street Journal published an article called Wielding Sanctions, U.S. Disrupts Iranian Fuel Shipments to Venezuela which states that two Greek-owned, Liberian-flagged tankers, the BELLA and BERING, had picked up Iranian gasoline for delivery to Venezuela.
We can say that we are familiar with BERING, but only by "face" and not name. As we do not normally track refined products (our focus is mostly crude oil and gas condensates), we happened to sight her in early March near Iraqi waters when we were doing our broad scan of the region for cloaked STS (Ship-to-Ship) transfers. We didn't log that STS as crude oil, but definitely looked like refined product, most likely fuel oil, which is normally transported to ports for fueling up vessels with; also known as bunker fuel. Below, you can see her engaged in that 2-day long STS with an Iranian VLCC called HENNA.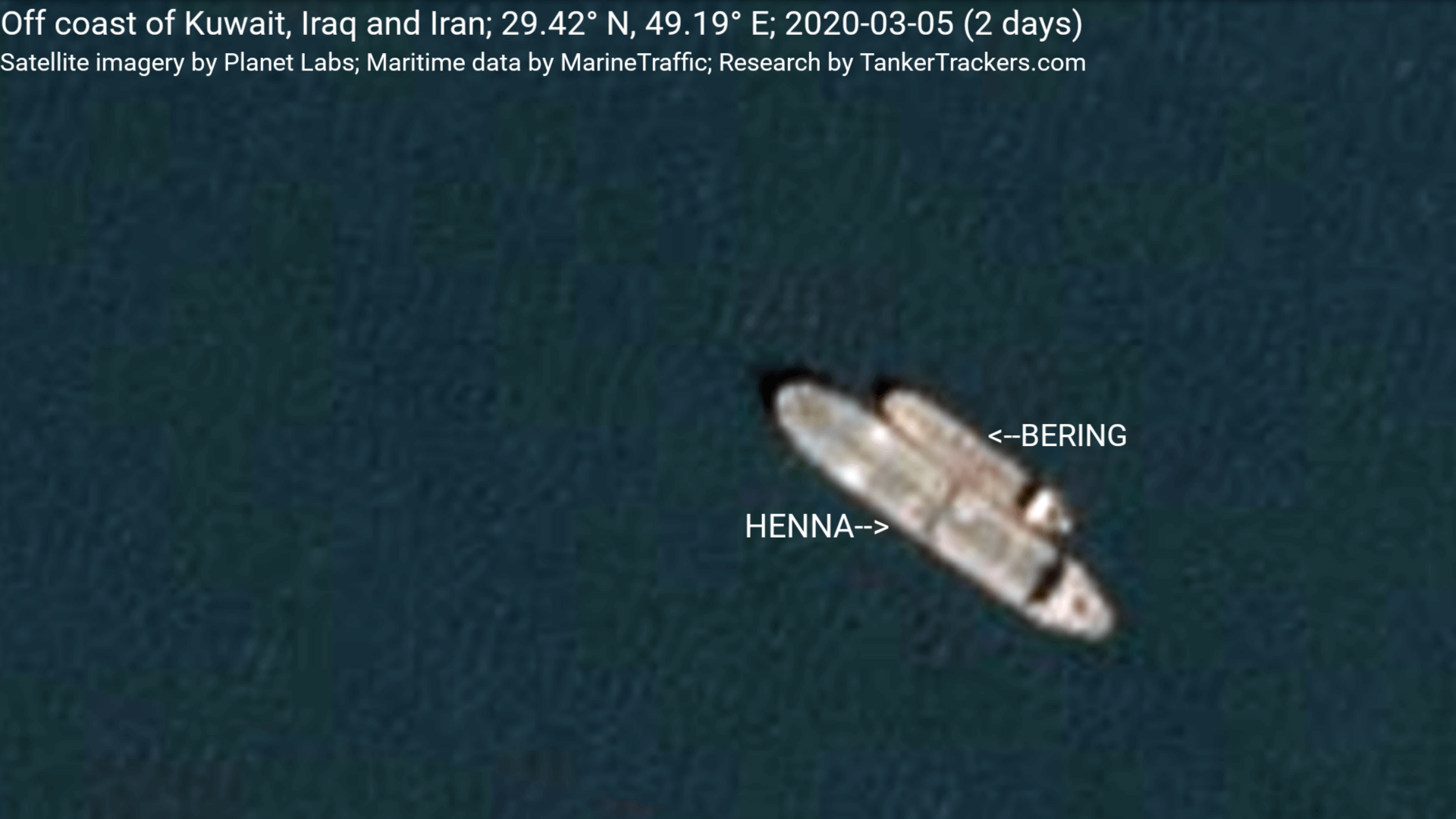 In any case, our findings show that the BELLA did an STS with another known (to us) tanker called PANDI off the coast of Sharjah, United Arab Emirates. We first spotted PANDI back in January 2020 when she was engaged in an STS with an Iranian VLCC called DESTINY.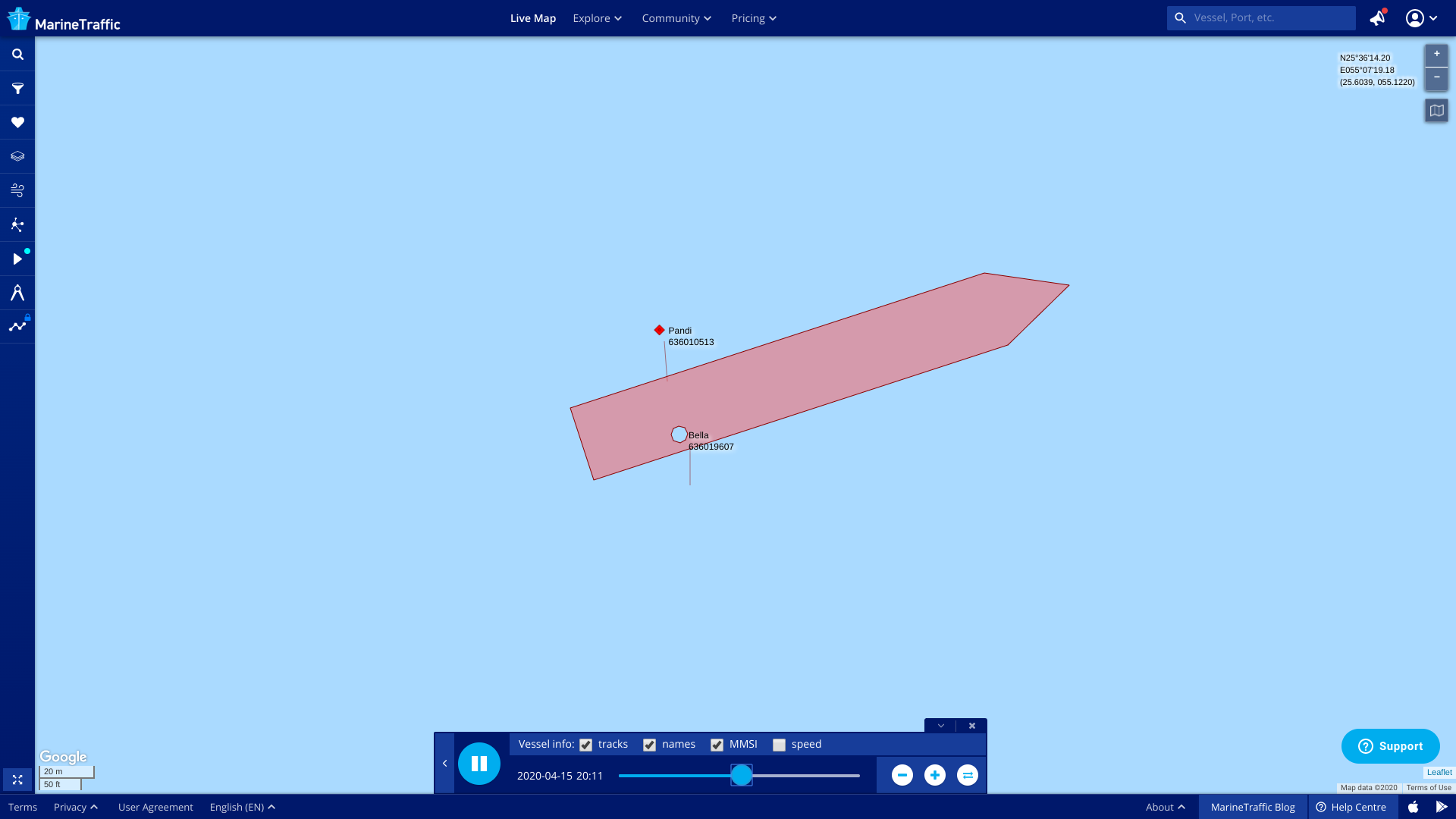 As for the BERING, her STS was inside the UAE port of Sharjah, during the same week as BELLA did hers just directly off that port. BERING tethered with SPLENDOUR, a Ukrainian-owned and Panamanian-flagged tanker that routinely picks up Iranian hydrocarbons off the coast of Iraq and hands it over to other vessels at the port in Sharjah.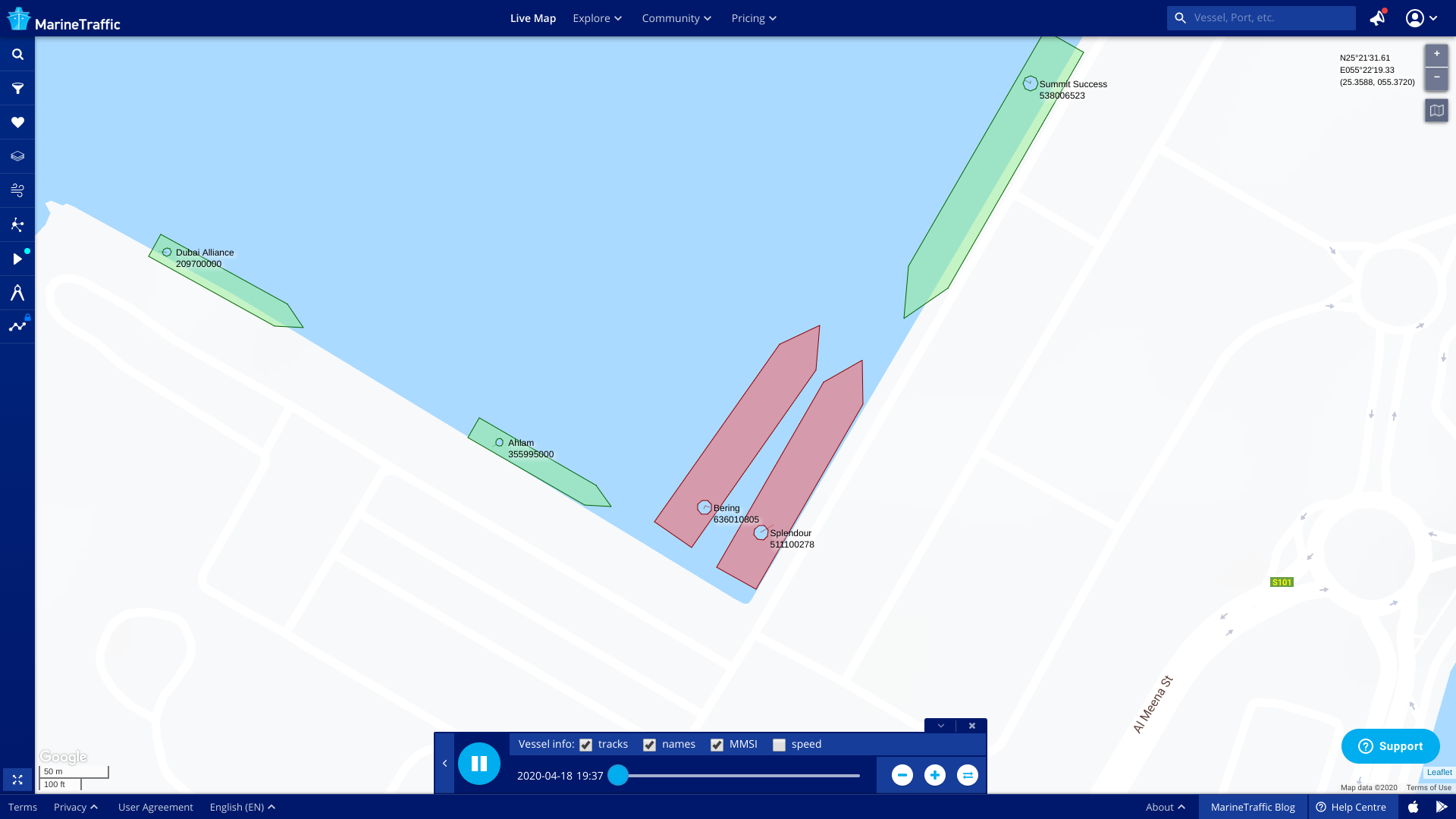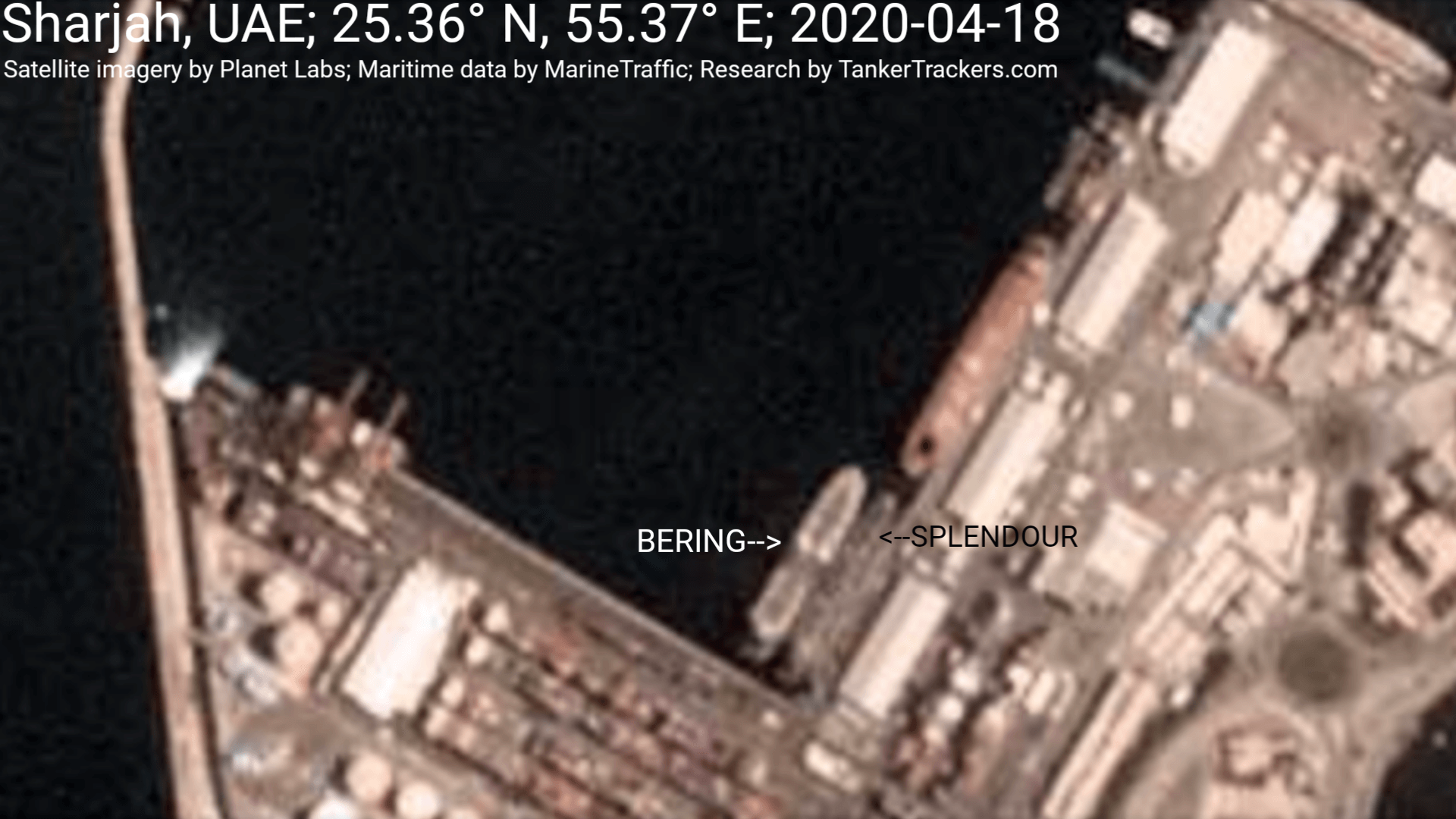 Interestingly enough, according to AIS data (as imagery wasn't available on 2020-03-31), the SPLENDOUR did an STS within the port of Sharjah with a tanker called SABELLA, which then shipped fuel to Aden, Yemen. She is a Hong Kong-owned and Panamanian-flagged.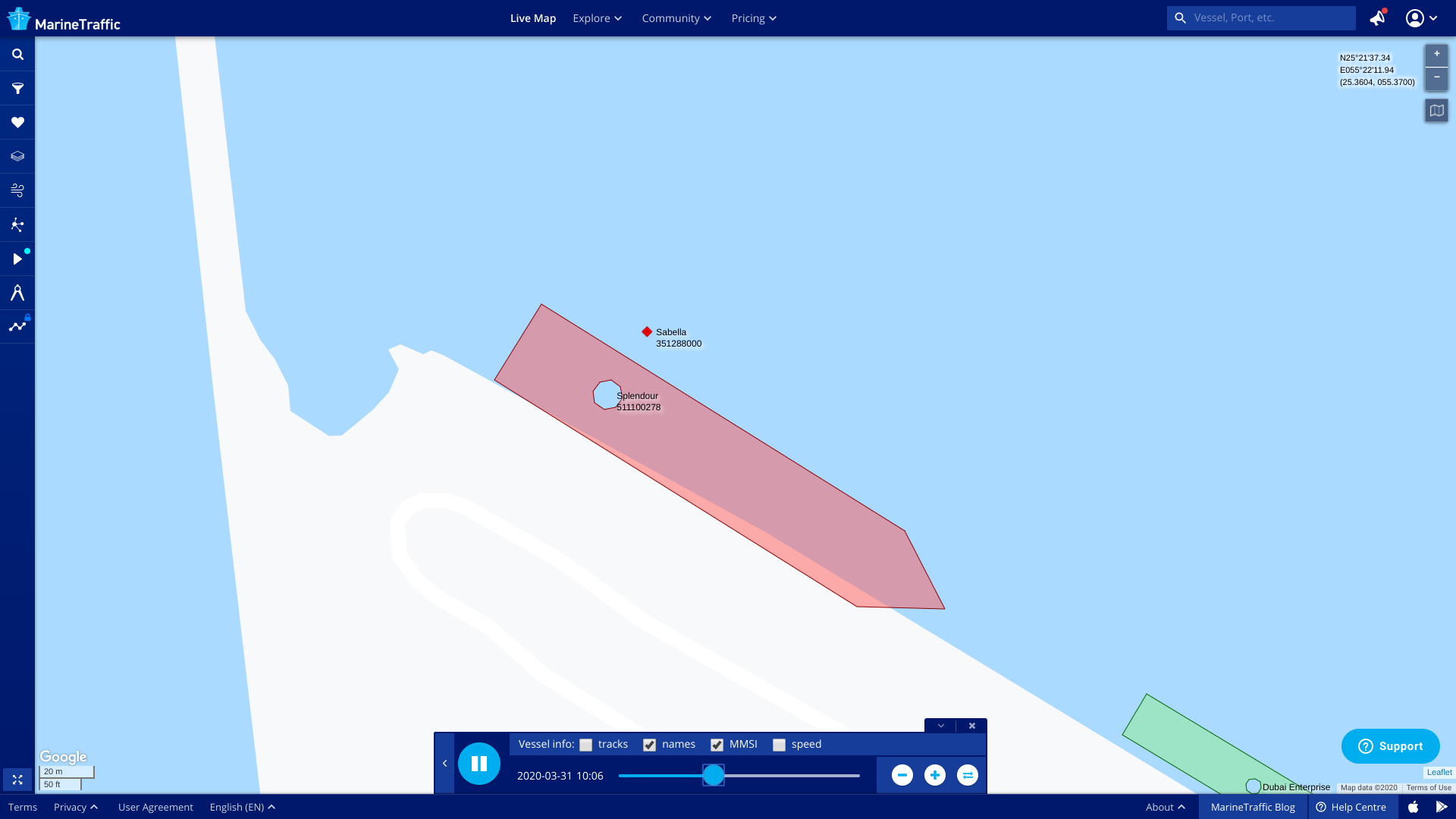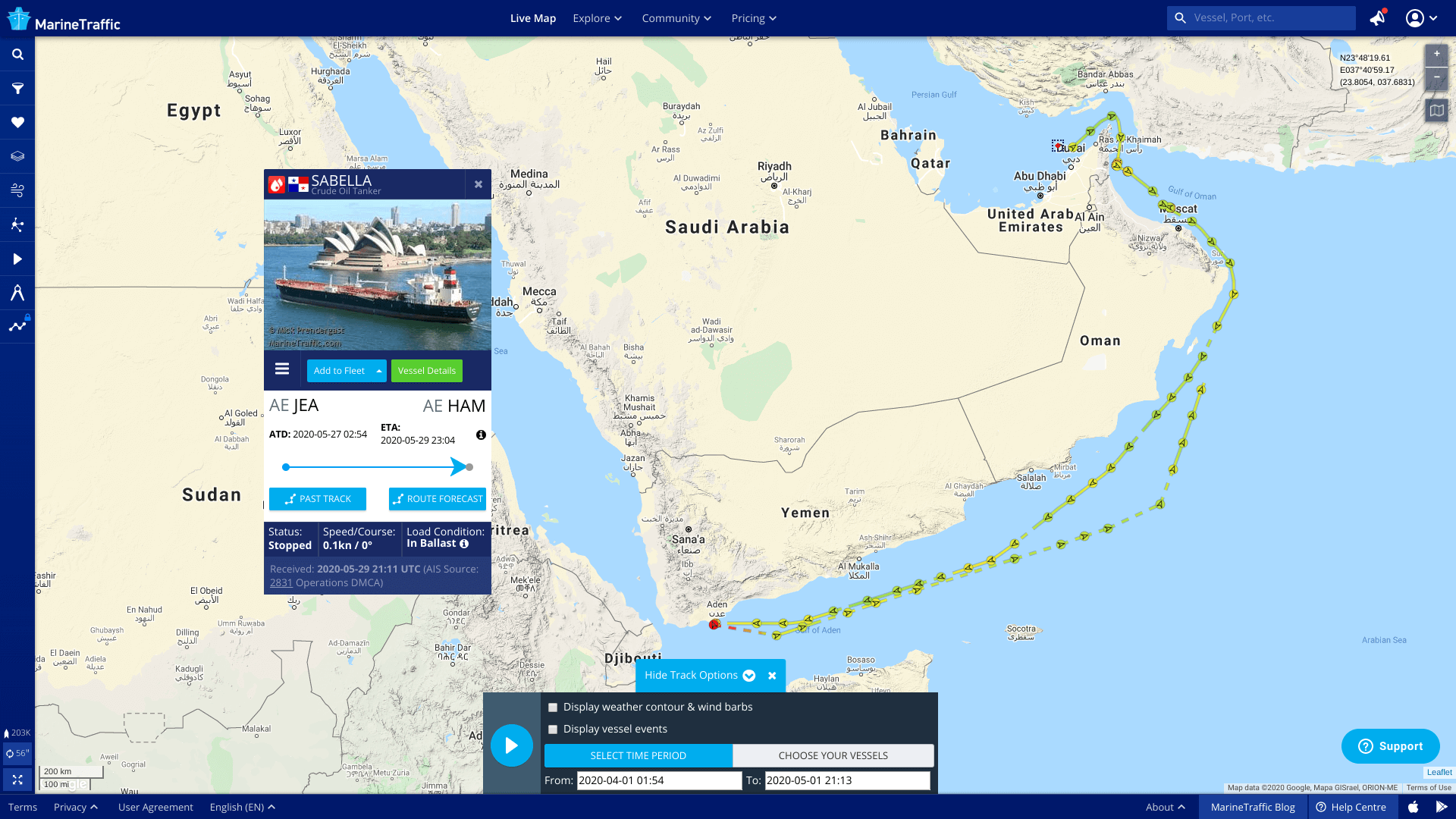 Back to the original BELLA and BERING duo. Both are owned by seperate Greek companies based in Piraeus. After having picked up said cargo from Sharjah, they both departed for the anchorage of a tiny island in Greece called Antikythera. After they arrived there in early May, the BELLA switched off her AIS on May 6th and BERING did the same on May 11th. According to reports, the US State Department threatened with sanctions on both companies as well as the nation of Liberia for allowing their use of the Flag of Convenience (FOC).
Two Liberian-flagged, Greek-owned ships that "were en route to Venezuela carrying Iranian fuel, scrapped their deliveries after the U.S. threatened sanctions," a senior U.S. official told Fox News.**
What's odd is that these two vessels are still offline in regards to AIS. You'd expect them to be pinging by now after what they've reportedly been told.
BELLA (Handysize) is laden with 245,721 barrels while BERING (Handymax) is laden with 323,293 barrels according to our estimates.