Over the past month, three VLCC supertankers departed Venezuela fully laden with crude oil for Togo. The first of these vessels, the VOYAGER I, crossed the Atlantic and arrived in the anchorage of Lomé, the capital city of this tiny west African nation. Anchoring herself just 15km off the coast on December 6th 2019, the VLCC waited around to rendezvous with an empty VLCC called RIDGE A. On December 10th, we were able to secure a satellite image of the two vessels tethered together in a Ship-to-Ship transfer formation. You can see that the RIDGE A has a thicker shadow, meaning that she is floating higher above water because she is receiving oil from the fully laden VOYAGER I.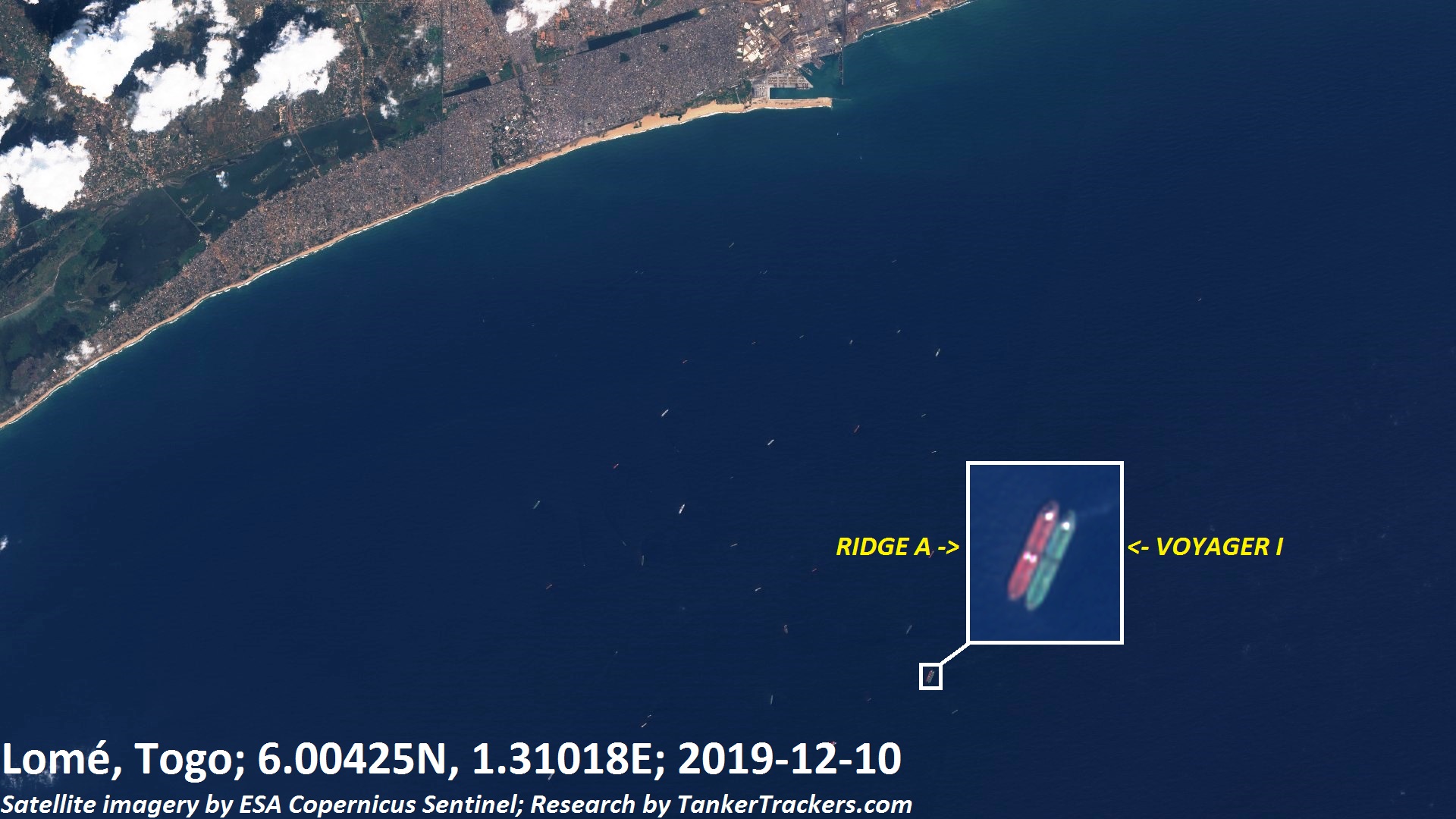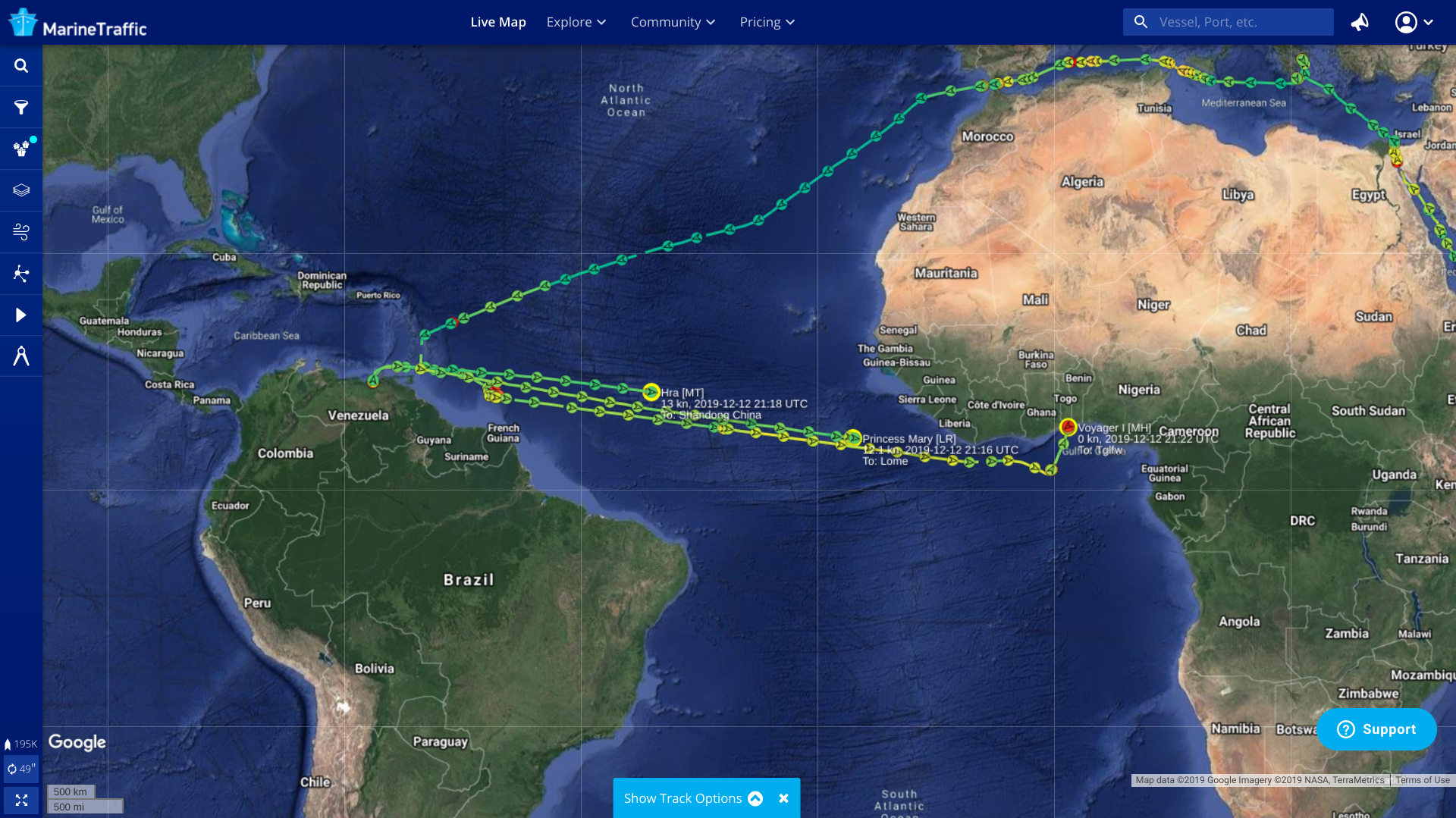 According to the ownership information on MarineTraffic's website, the VOYAGER I is owned by NGM ENERGY, a shipping company based in Piraeus, Greece. However, more recent sources have her owned by SANIBEL SHIPTRADE LTD; which shares the exact same address as NGM ENERGY, and in fact says "c/o NGM Energy". The VOYAGER I made the news very recently on account of the oil spills in Brazil, in where she was suspected of being linked to that spill, however according to the article, the vessel was anchored in India between June 20th 2019 and August 21st 2019, so it couldn't have been involved. The article also goes as far as saying that the maritime administration in the Marshall Islands (VOYAGER I's Flag of Convenience country) was able to verify via LRIT (Long Range Identification and Tracking; a sort of AIS transponder used by FoC authorities) that the vessel was in fact in India. Satellite imagery and port documentation were also used as evidence to prove that. It seems that the STS session between the VOYAGER I and the RIDGE A has concluded today (December 12th 2019) off Lomé, and we're waiting to see where they'll both end up sailing to next. RIDGE A has delivered Middle Eastern oil to Japan, South Korea and Thailand this year.
Well worth noting that when the VOYAGER I departed Venezuela, she was first broadcasting Singapore as her destination prior to changing it to Lomé.
The next VLCC is the PRINCESS MARY. She is very interesting because she is one of many vessels lately to cloak their visits to Venezuela. Since August 2019, she's already completed two pickup rounds at the José Terminal near Puerto La Cruz. The first delivery went to Sikka, India; which is home of Reliance Industries; said to be buying this Venezuelan oil via the Russian energy company, Rosneft. Given the fact that the PRINCESS MARY looks like she never visited AIS (due to port calls that are registered via AIS), the crew had no issue stating Lomé as destination because it looks like the vessel came from India, yet fully laden. The latest ownership information we have on this vessel is that she is owned by MARINE CROWN SERVICES SA; which falls under care of EXECUTIVE SHIP MANAGEMENT PTE LTD in Singapore, however the vessel's protection & indemnity (P&I) is no longer covered by the JAPAN P&I Club as indicated by MarineTraffic.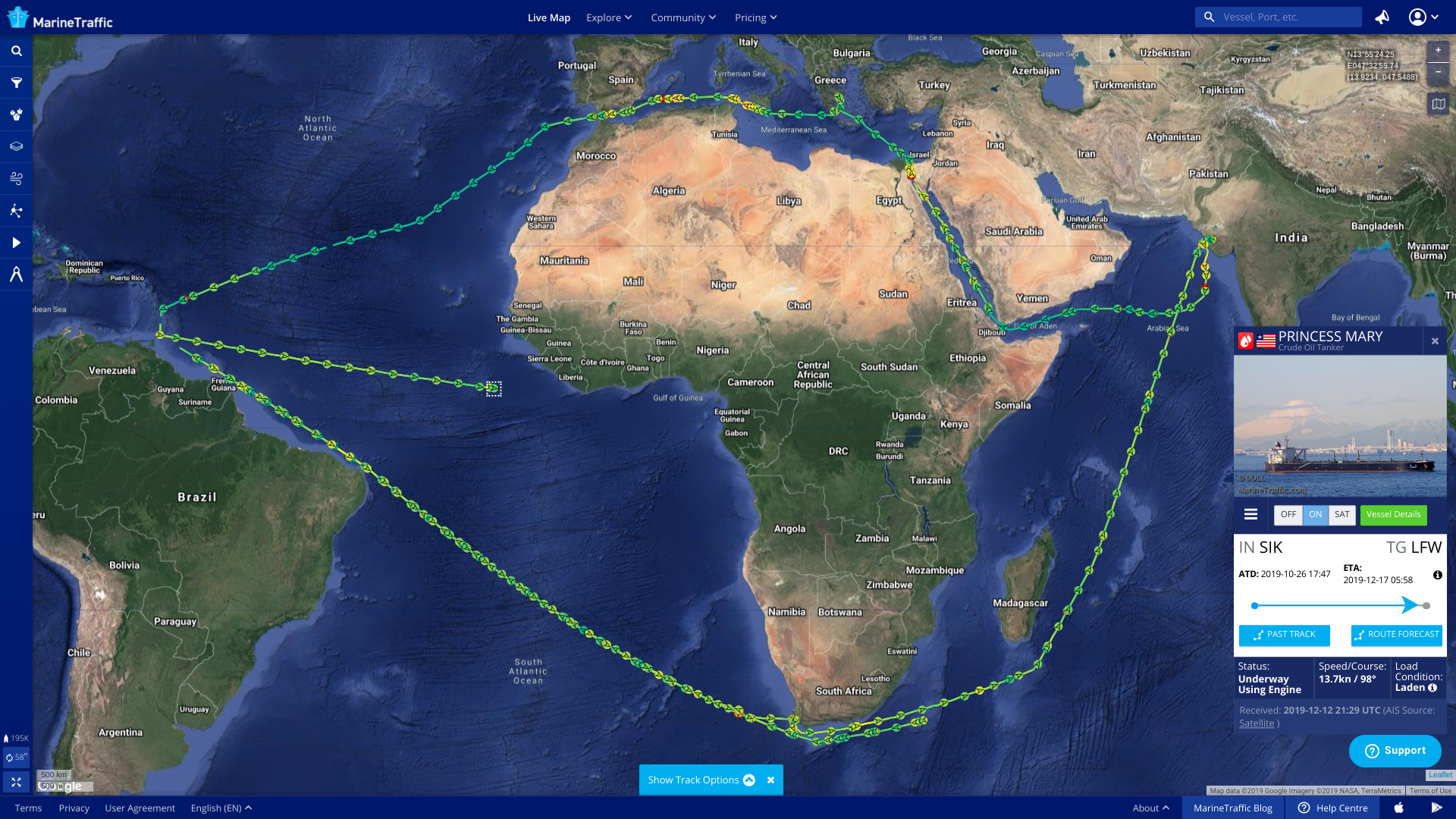 The third and (currently) final VLCC is the HRA. Although this vessel did make a port call in Venezuela for all to see on a MarineTraffic map, she is broadcasting Shandong, China as her destination. We see Shandong as a temporary placeholder and bogus destination for many (but not all) shipments which end up diverting to northwest India (Sikka and Vadinar). The HRA is currently halfway across the Atlantic and is sailing towards west Africa. We'll see what she does next. According to our search, the HRA is registered to a Greece-based company (via the Marshall Islands) that has been recently established in July 2019, called VANDA MARINE CORP. When we looked up the vessel via their P&I club in Norway (GARD), it popped up as being owned by RELUC VENTURES INC, which is in care of VANDA MARINE CORP according to the IMO.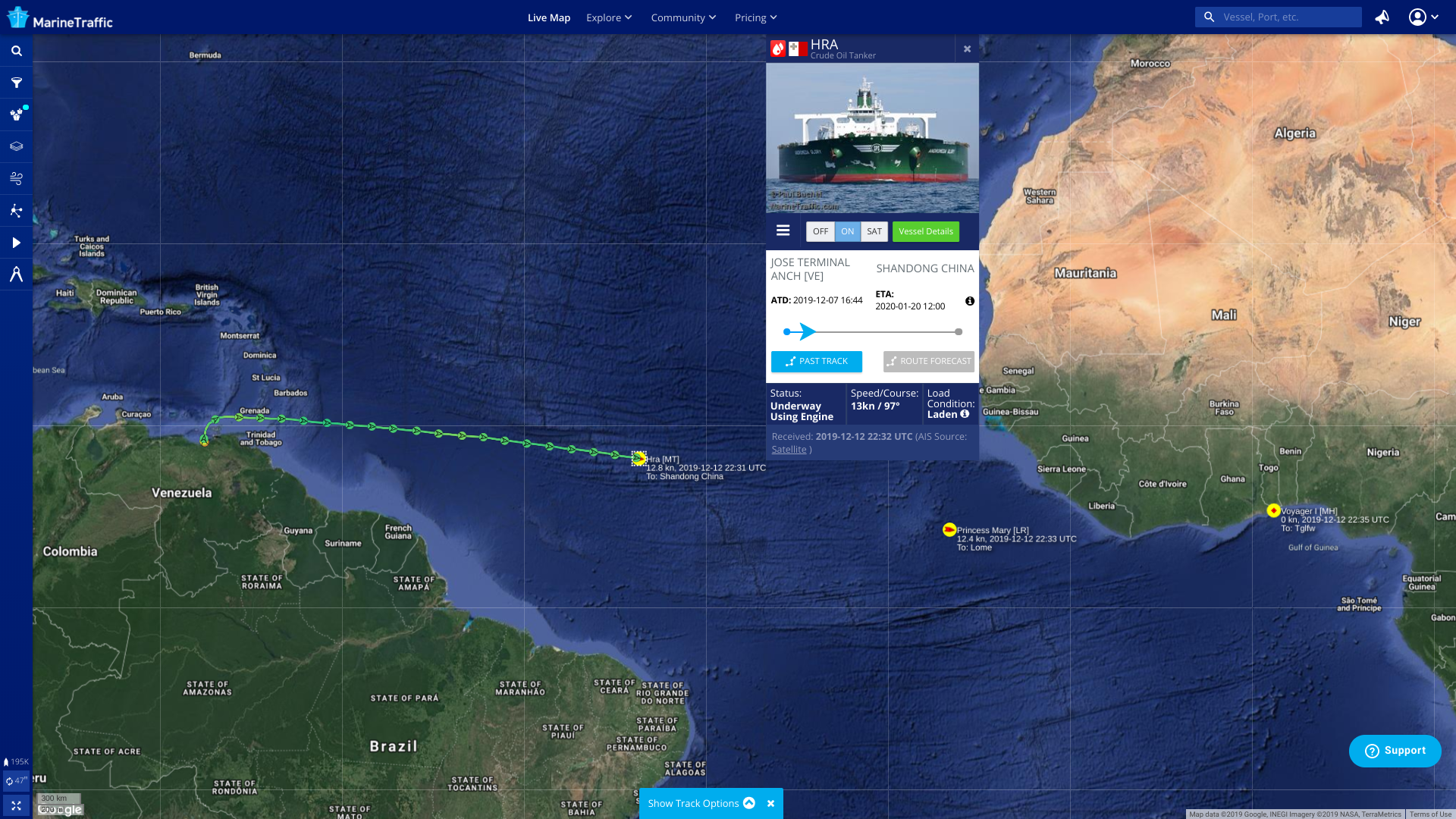 All in all, it is beginning to look like Togo is the place to go for Ship-to-Ship transfers of Venezuelan oil, much like the way Malaysia has accomodated such activity for oil en route to China. The difference however, is that although China has reported a drop in oil imports from Venezuela and Iran, they have reported a record boost of imports of oil from Malaysia; and this is due to STS and blending activities. Is it possible that whoever imports this oil might be stating that the oil came from a west African nation that doesn't produce any oil?
UPDATE 2019-12-13
The RIDGE A has now departed from Lomé with the entire VLCC cargo load from VOYAGER I. The vessel is now broadcasting Shandong province (China; usually Qingdao port) as destination. This may change over time (though we doubt it), but we'll know for sure in a couple of weeks time.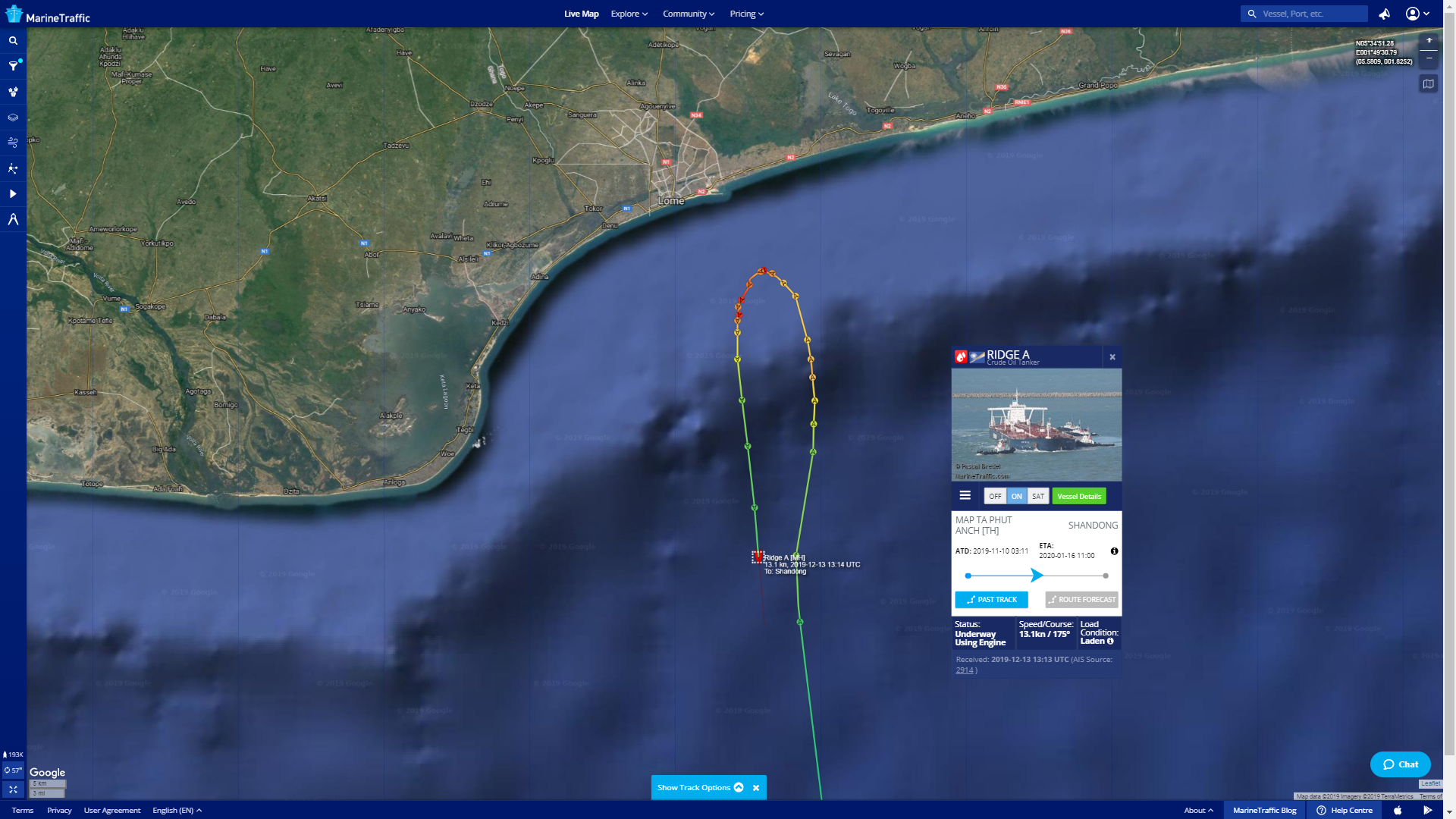 UPDATE 2019-12-26
The RIDGE A seems to be sticking to the original course; China. The vessel is sailing east of Madagascar towards the middle of the Indian Ocean.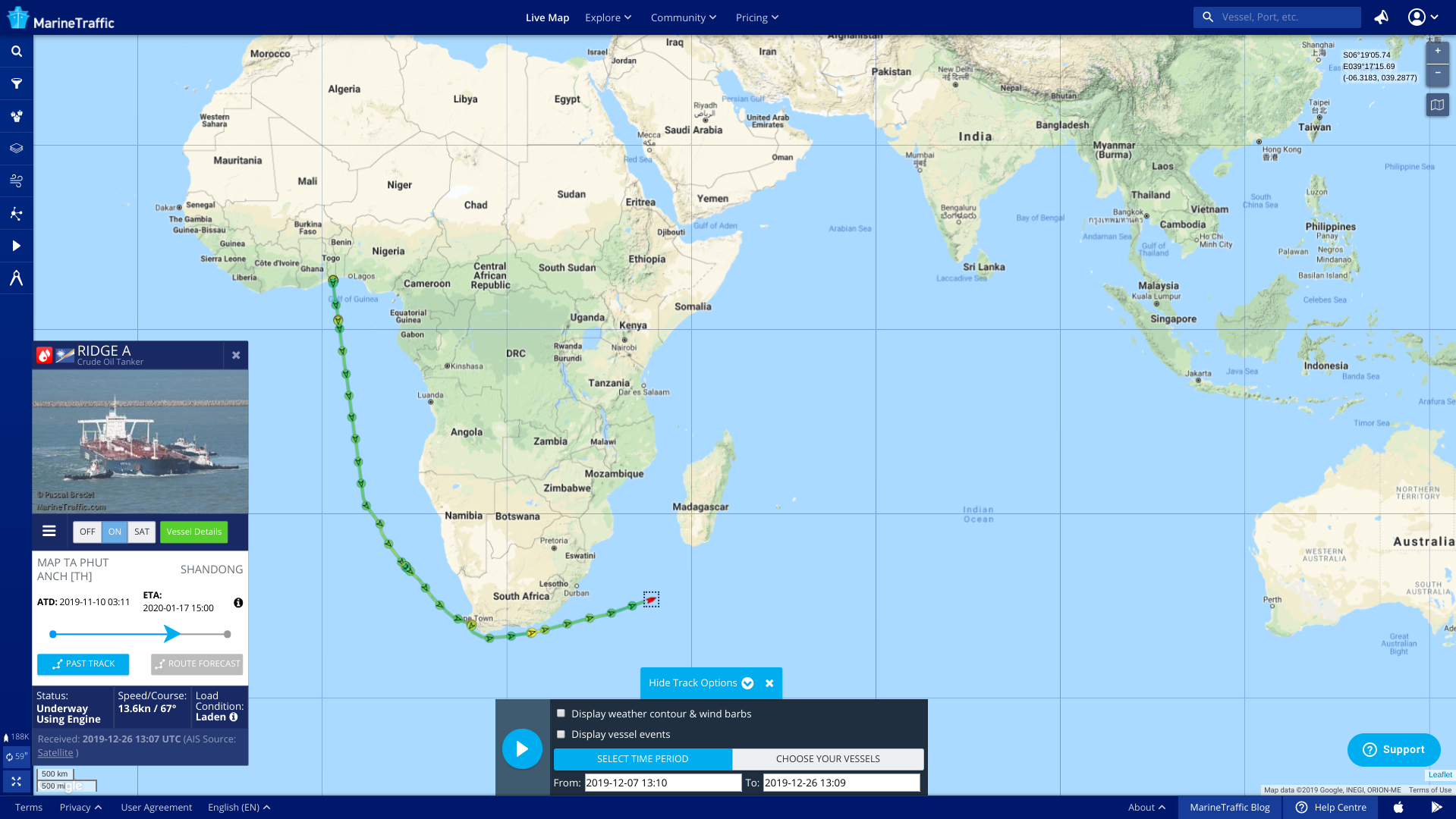 In the meantime however, the HRA is locked in an STS formation together with a VLCC called RIDGE S in the anchorage of Lomé, Togo. We'll wait and see what she's hail as her destination.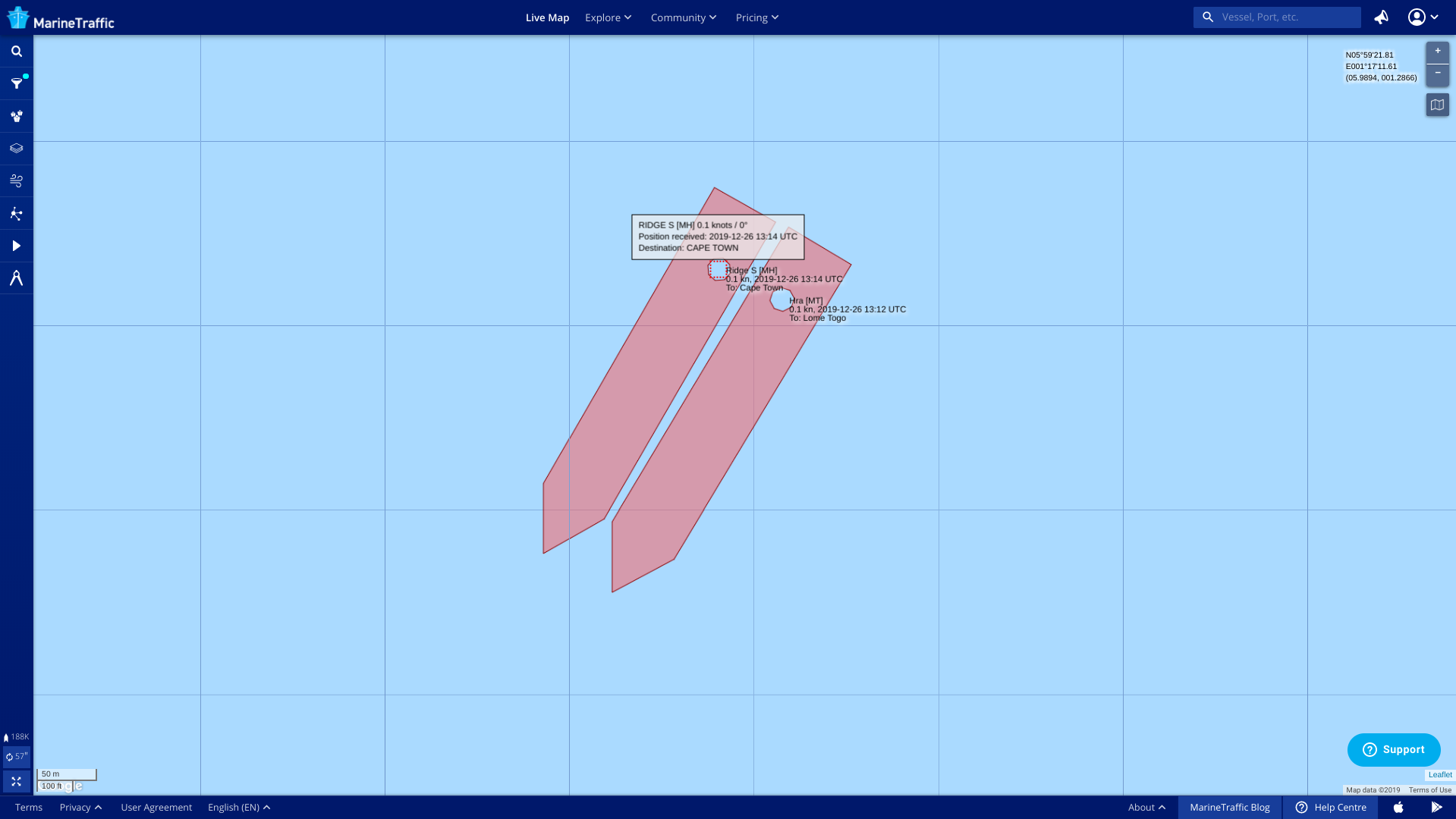 As for the PRINCESS MARY, she has recently concluded her STS engagement with yet another RIDGE ship, called RIDGE U. They were together for a period of 80 hours, according to AIS data gathered by MarineTraffic.com between December 21st and 24th, 2019. Neither vessel has their new draft depth, but PRINCESS MARY is now broadcasting Port of Spain, Trinidad & Tobago as her next destination. This is typically "code" for Venezuela.