Mexico has a serious issue developing lately, and that is a shortage of fuel at the gas pumps. The reason for this is because criminal gangs have tapped into gasoline pipelines, forcing the national oil company PEMEX (Petroleos Mexicanos) to halt all pipeline transfers and use trucks instead in order to make sure the fuel doesn't get stolen in larger numbers. Fuel theft has gone from $500,000 a year just a decade ago to $3B in the past year allegedly due to complicity within PEMEX, according to newly-elected President Andres Manuel Lopez Obrador. He has also communicated that supplies are available, so there shouldn't be any panic in the streets.
We checked the streets just a few minutes ago on the social network Snapchat, and it seems that the shortage has hit the capitol, Mexico City.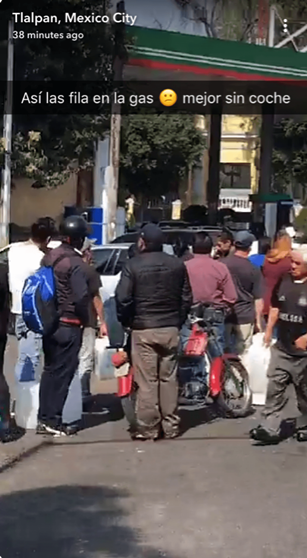 Then we took a look at the import terminals in the Gulf of Mexico where gasoline is imported from the United States, and we counted 4 million barrels of US-produced fuel parked off the southern terminal in Coatzacoalcos along with an additional 1.57 million barrels off the coast of Tuxpan further north. All in all, 20 tankers floating idle for the past week. We're talking about 234 million gallons or 885 million liters, which is enough to fuel up nearly 15 million cars.