In regards to crude oil imports into both Syria and Israel, December 2018 sticks out as one of the most interesting months in terms of geopolitics.
Based on all of our maritime tracking as well as satellite imagery, we were able to confirm that during the month of December 2018, Syria did not import any crude oil by sea. And although there was a tanker available only 36 hours sailing distance away, it did not go to Syria this time. However, a tanker did show up at the end of the month but began discharging the oil on January 1st, 2019. This tanker is the TOUR 2, a tanker which has been thrown back into rotation after sitting idle nearly the entire year in Limassol, Cyprus. More about that coming in our Extensive Iran Report.
When we review the storage situation at the Baniyas refinery in Syria, we can see that there's not much crude oil available in the storage tanks. The latest delivery round (918,991 barrels) was on November 9th, so it's been running low ever since.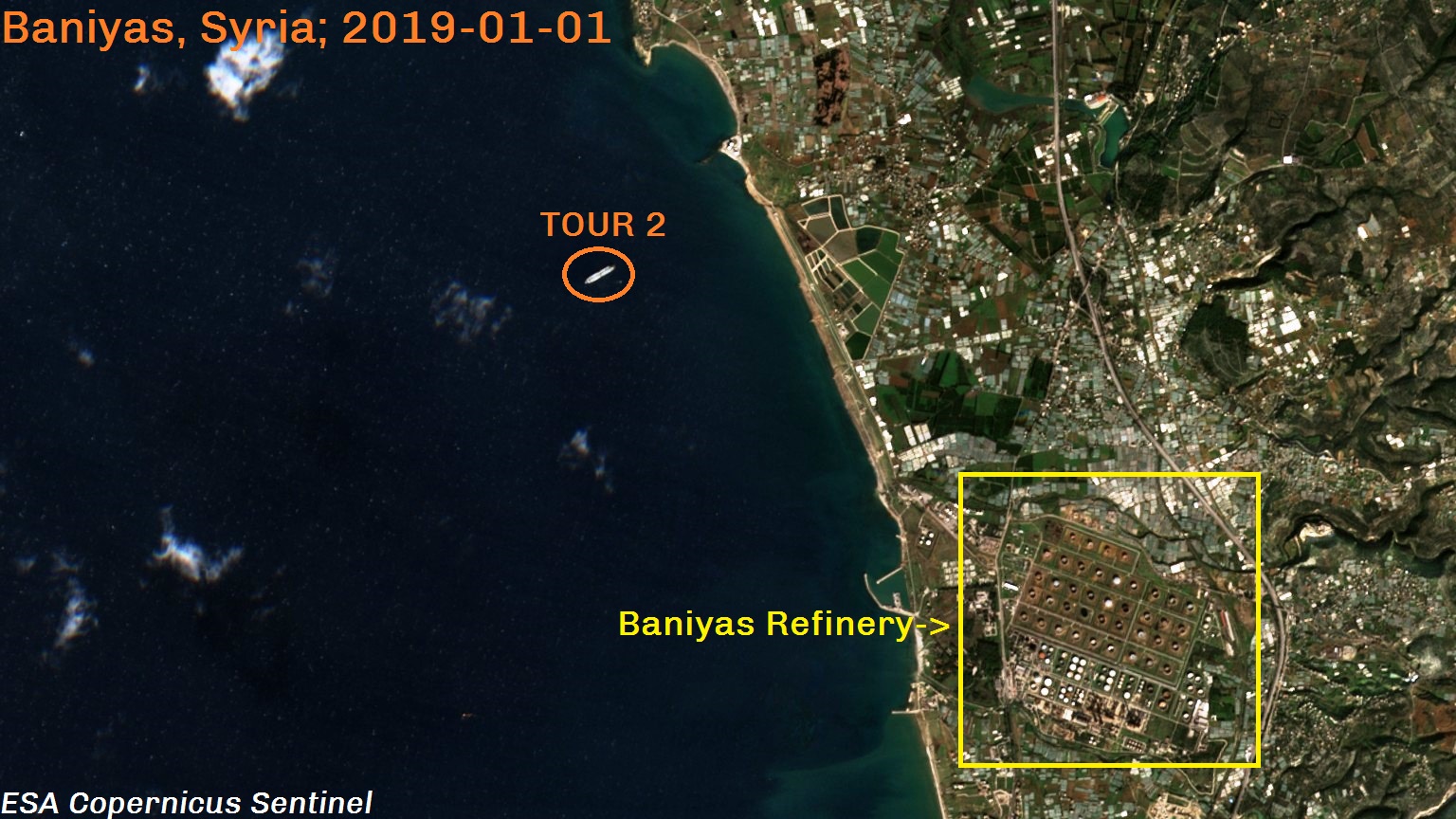 Israel had a slow, but exciting month in crude oil imports!
For the first time ever, we spotted a supply of crude oil coming out of Egypt's SUMED (Suez-Mediterranean pipeline) storage terminal in Sidi Kerir, just west of Alexandria. All of the oil stored in that terminal comes from Arab Gulf countries; mostly represented by Saudi Arabia, Iraq and Kuwait. Our full story covers the details of that delivery.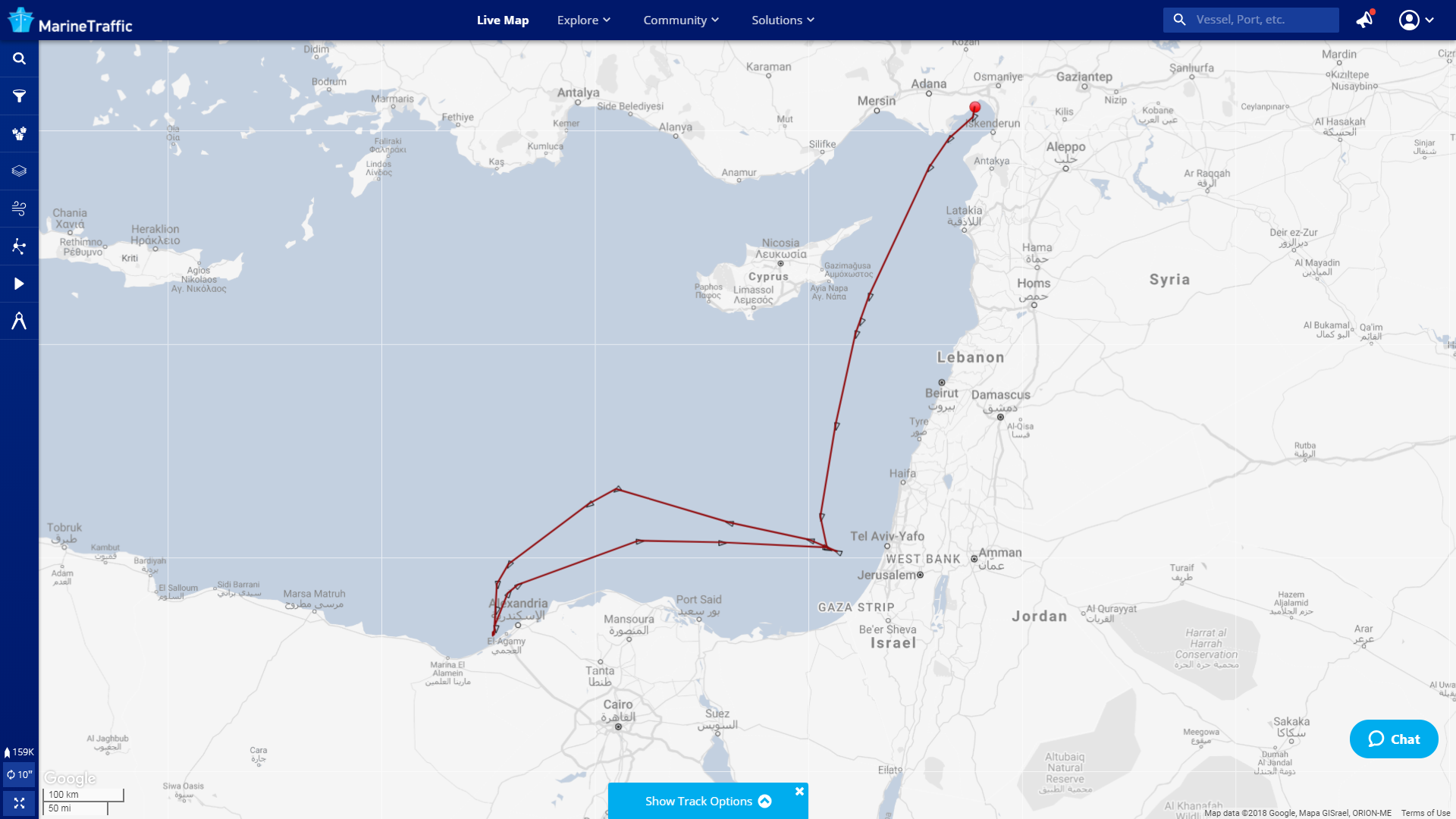 We also spotted a Turkish Suezmax tanker (OTTOMAN TENACITY) departing Turkey's port of Ceyhan with almost exactly a million barrels of Iraqi Kurdish (KRG) crude oil for Ashkelon, Israel. Obviously, what's odd about that is that Turkey and Israel are not on good diplomatic terms, but the barrels keep flowing back and forth in where crude oil departs Turkey for Israel and Israel exports refined products back to Turkey.
As soon as the OTTOMAN TENACITY approached Israeli waters, the AIS broadcast from the vessel switched its destination to Port Said, Egypt even though it continued to Ashkelon. This is routine protocol for crude oil imports into Israel. We normally don't see such efforts being made on refined products. In disguising the destination, they are able to fool most automated tracking systems not just for themselves, but for the vessel operators who work in the region; a region in where many nations do not recognize the legitimacy of the state of Israel. And just like Syria, this tanker reached its destination in late December, but did not discharge its oil until January 1st, 2019; so we are filing it under January imports instead.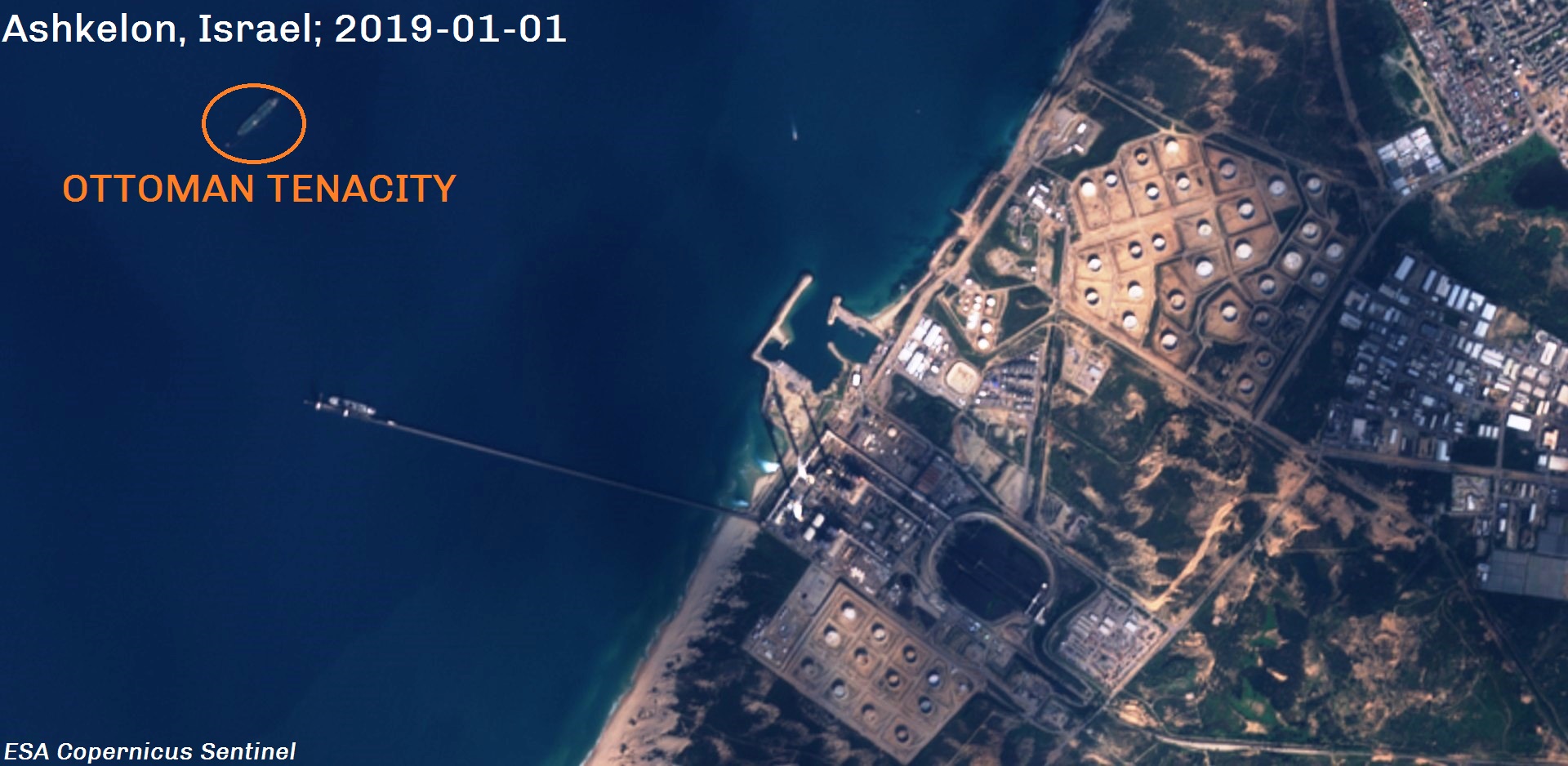 The map on the left shows that the OTTOMAN TENACITY was first broadcasting Ashkelon, Israel upon departure from Ceyhan, Turkey. Based on that, MarineTraffic was able to forecast the route. The map on the right shows the actual trip the tanker took, and how it changed the destination name upon approach.

Israel December 2018 Crude Oil Imports in Barrels Per Day
| Source | Barrels / Day | Total Barrels | Percentage By Source |
| --- | --- | --- | --- |
| Azerbaijan | 93,738 | 2,905,889 | 43.23% |
| Russia | 56,108 | 1,739,358 | 25.88% |
| Kurdistan Regional Government | 48,667 | 1,508,670 | 22.44% |
| SUMED Pipeline | 18,315 | 567,753 | 8.45% |
| Total | 216,828 | 6,721,671 | 100.00% |
| Value ($53.80/barrel) | $11,665,346 | $361,625,900 | |