Yet another tricky month of tracking Iranian oil exports! Not only that, but we also spotted several VLCC supertankers (2 million barrels each) which were completely foreign to our database of Iranian tankers. We would also like to inform you that based on our experience in tracking these cloaked exports, our results require frequent updating as more vessels appear on the AIS networks with a delay of several weeks at times. Please consider these numbers preliminary now.
Iran's December 2018 Crude Oil Exports in Barrels Per Day (updated on 2019-01-15 to 1,100,725 bpd from 1,001,520 bpd and initial 941,565 bpd)
| Destination | Barrels per Day | Total Barrels | Percentage by destination |
| --- | --- | --- | --- |
| ? | 307,421 | 9,530,058 | 27.93% |
| China | 306,740 | 9,508,927 | 27.87% |
| India | 302,983 | 9,392,478 | 27.53% |
| UAE | 94,498 | 2,929,441 | 8.59% |
| Turkey | 32,397 | 1,004,295 | 2.94% |
| Syria | 29,677 | 920,001 | 2.70% |
| South Korea | 27,009 | 837,271 | 2.45% |
| Total | 1,100,725 | 34,122,471 | 100.00% |
| Brent Average Value ($53.80/barrel) | $59,219,005 | $1,835,788,940 | |
Please note that the daily average is divided by 908,635 bpd of crude oil & 192,089 bpd of gas condensates.
Suezmax Tanker Observations (1 million barrels)
Two Suezmax tankers (each capable of carrying a million barrels of crude oil) dropped their Panama Flag of Convenience (FOC) and have switched back to the flag of Iran. In doing so, they also changed their names.
The first case was the RISE GLORY. The vessel is owned by FarEast Group, based out of Hong Kong, China, and is not on the list of vessels under US sanctions. She departed Kharg Island on October 23rd, 2018 according to our tracking. Carrying 878,278 barrels of crude oil, we saw a failed attempt to deliver to Baniyas, Syria during mid-November just days before the US Department of Treasury announced sanctions against Iranian deliveries to Syria on the basis of supporting Assad regime of Syria, Lebanon's Hezb'Allah (The Party of God) and the Palestinian HAMAS (Islamic Resistance Movement).
Instead, the RISE GLORY spent a month off the coast of Port Said, Egypt until switching off her transponder on December 18th. Ten days later, she was transponding again in Aliaga, Turkey. Once there, the tanker changed name to SOLAN as well as switched out her flag on December 28th. SOLAN completed her October 23rd export in Turkey on December 31st at the Tüpras Oil Refinery.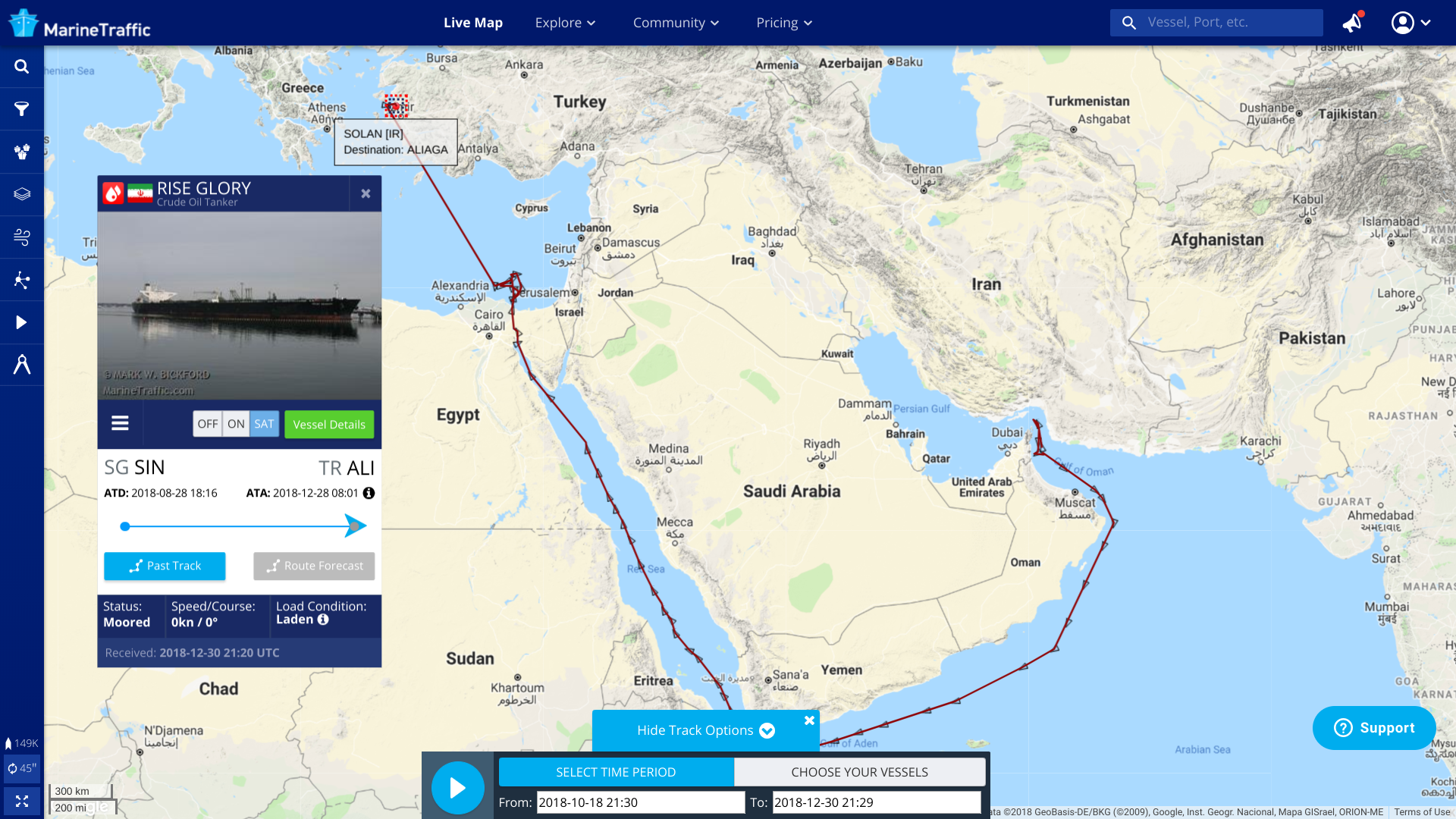 Below is a satellite photo of the RISE GLORY (now SOLAN) floating idle north of Port Said, Egypt. Captured on December 15th, 2018 by Planet Labs.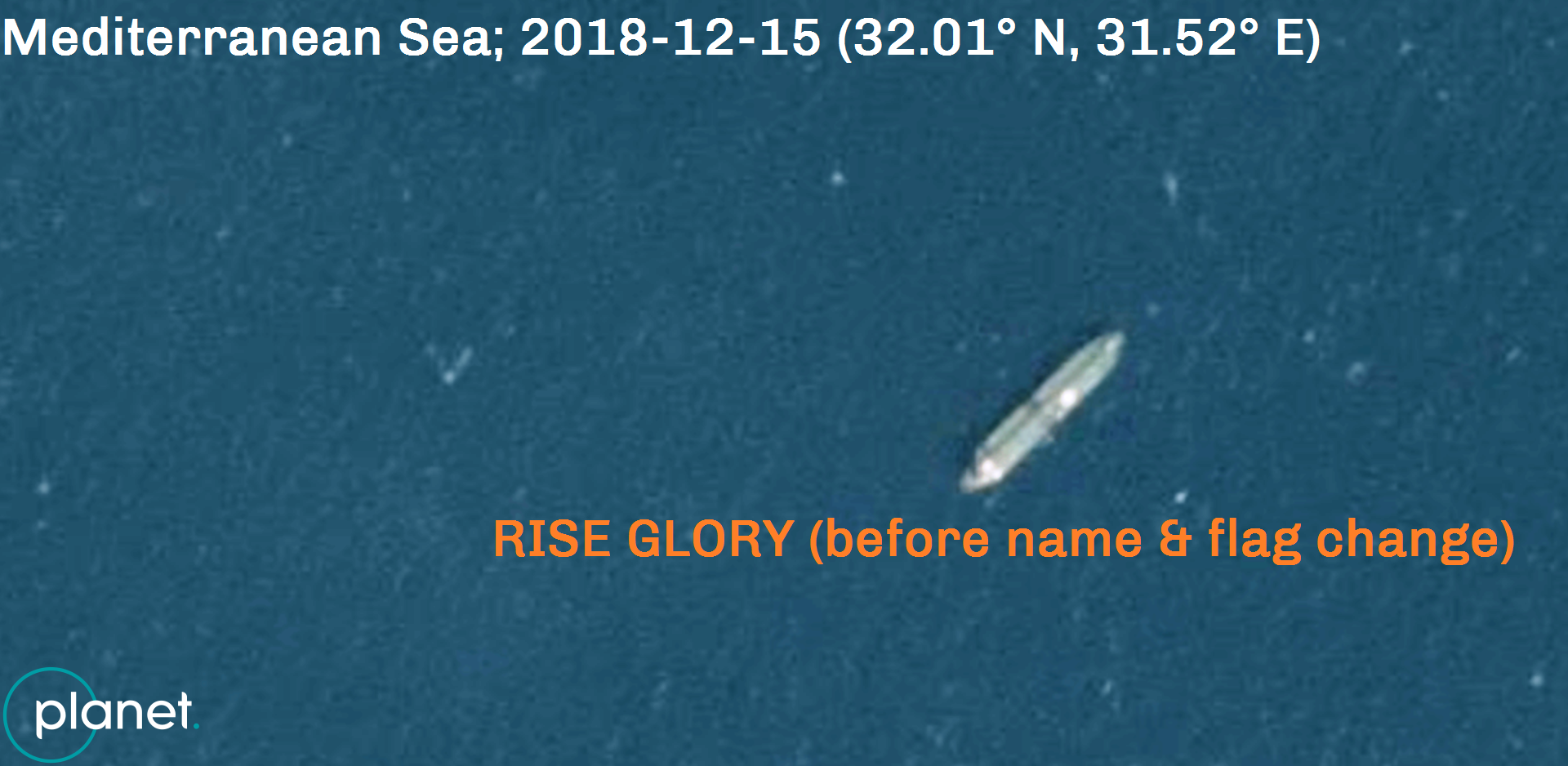 Above, Planet Labs satellite photo of SOLAN at the Tüpras Oil Refinery in Aliaga, Turkey. Image was captured on December 30th, 2018.
The second case was the tanker called RISE DIGNITY. Owned by FarEast ShipManagement, this tanker is also not under US sanctions. And much like the (now) SOLAN, the RISE DIGNITY changed her name on December 30th to SOBAR and her flag to that of Iran. Having departed Iran on November 2nd, the tanker hasn't had any success in delivering the oil anywhere, so has been floating idle off the eastern coast of the United Arab Emirates, near Dibba and Khor Fakkan. She finally departed on January 3rd, 2019 for New Mangalore, India. This means that we have to remove her from our November 2018 exports and place her in January 2019.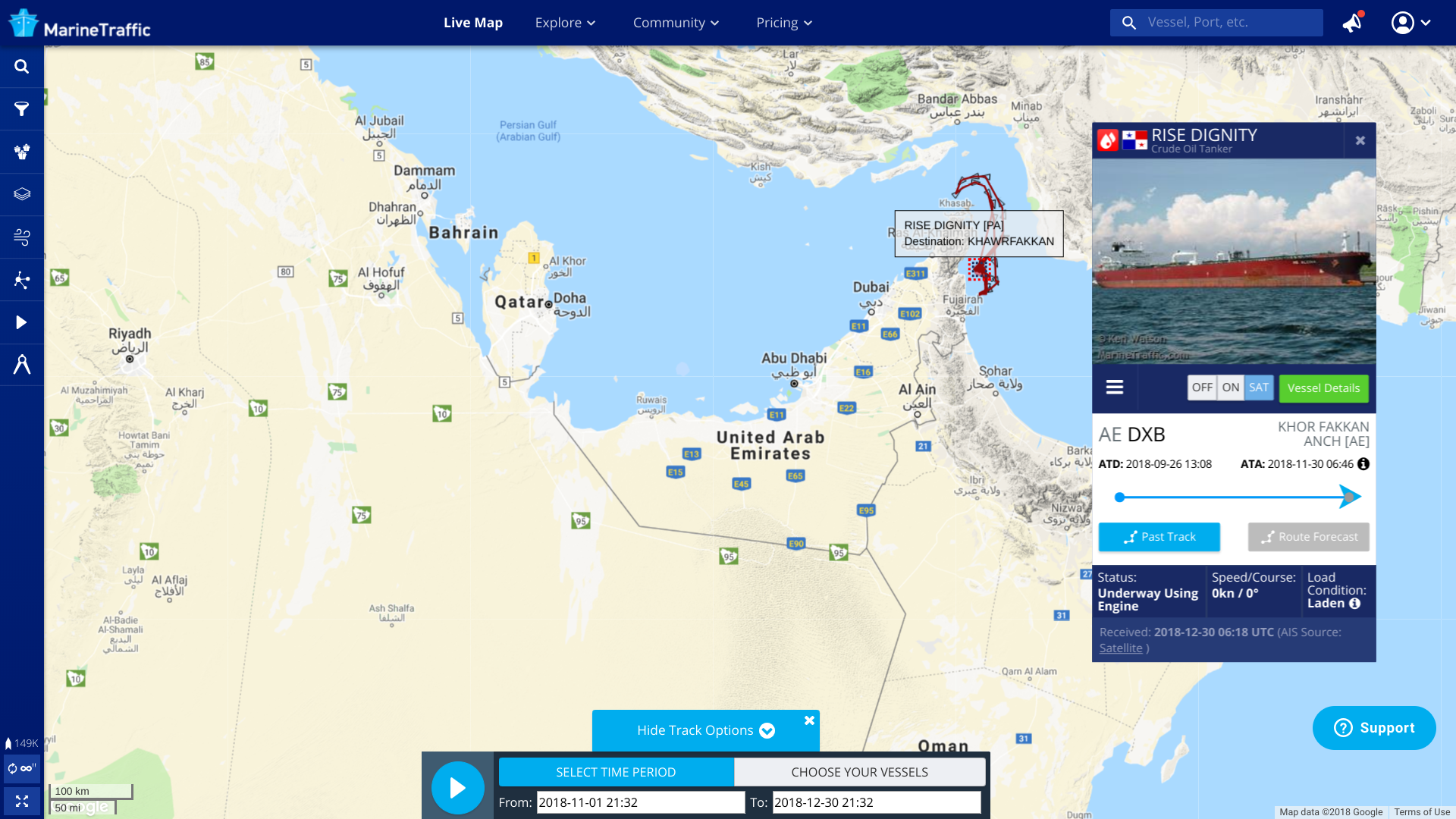 Moving on to other tankers of interest, we have the SEA SHARK; known for its frequent shuttle deliveries of crude oil to Syria. Her routine is to traverse the Suez Canal (when sailing towards Syria) and then switch off the AIS transponder after leaving Egypt's waters. After that, she remains offline for up to a week as she spends 2-3 days at the SBM (Single-Buoy Mooring) delivery point outside the refinery of Baniyas, Syria under the protection of a battery of surface-to-air missiles nearby. According to MarineTraffic, the SEA SHARK is owned by a UAE-based ASCA Maritime and is also not on the US Treasury's list of sanctioned vessels.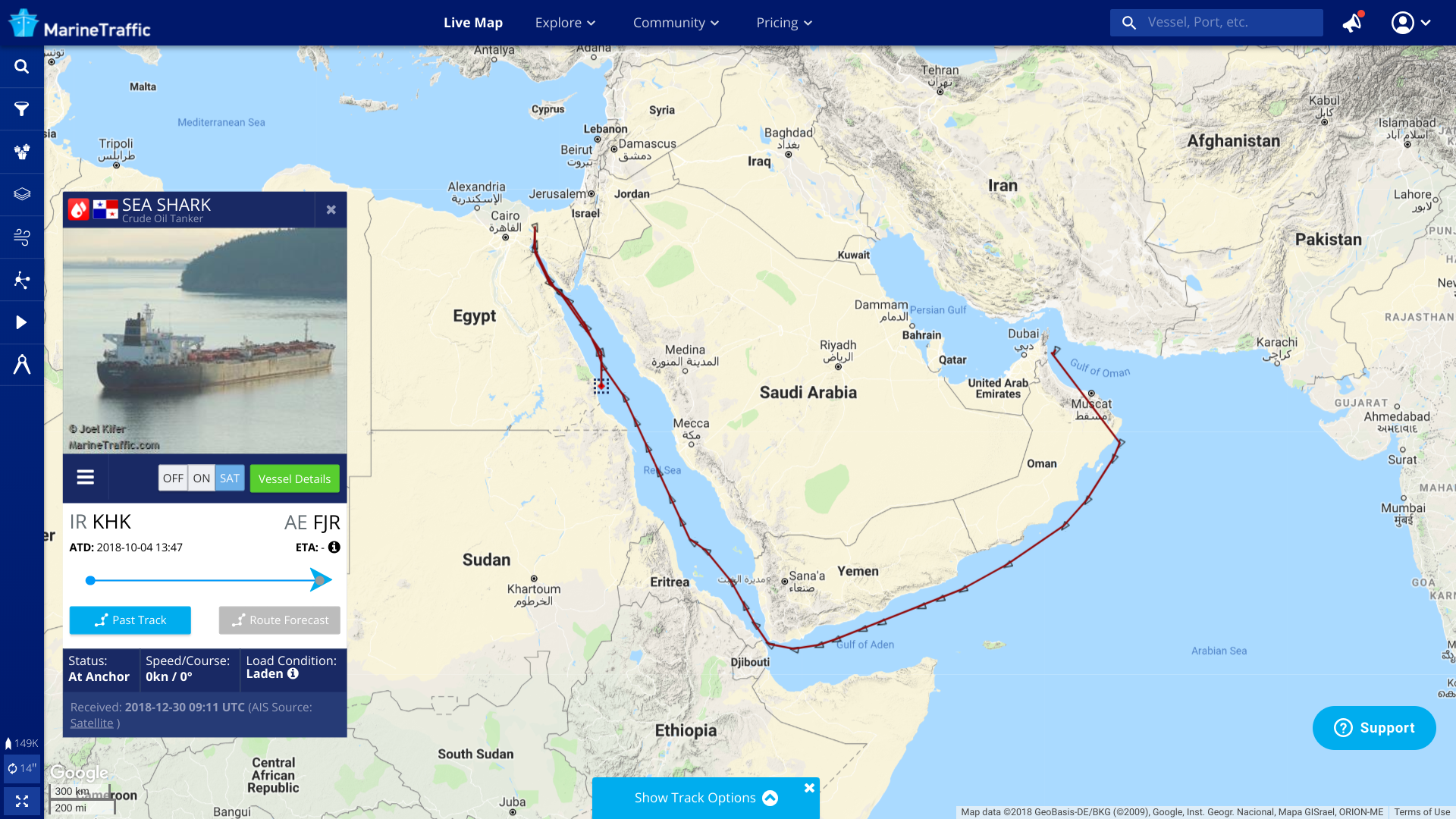 The SEA SHARK departed Kharg Island, Iran on November 12th, and less than three weeks later ended up making a u-turn in the southern end of the Suez Canal back towards the Red Sea. We have never seen this tanker (or any others carrying Iranian oil) do this on our watch, so it definitely caught our interest. The tanker sailed south for a couple of days and then went offline on December 2nd, 2018. SEA SHARK resurfaced back on the AIS grid on December 24th in the anchorage of Ras Banas, Egypt; just 4km from shore. We can however see from satellite imagery that she was there since at least December 19th; just 5 days before the AIS transponder was switched back on.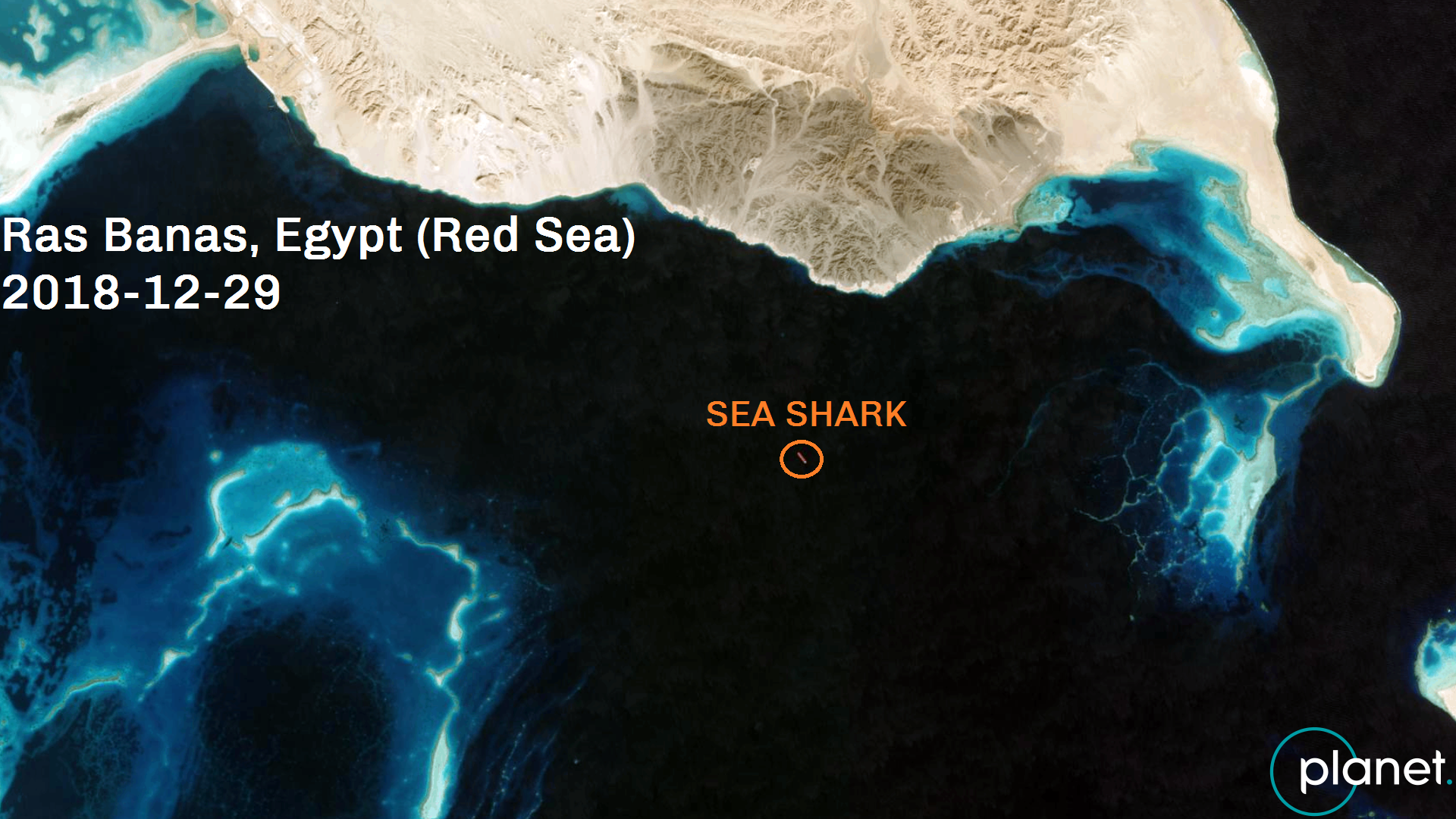 Another UAE-owned tanker carrying Iranian oil was the SEA TOPAZ 1, which had departed Iran on October 12th under her former name, GP T2. We covered her in the our past two extensive Iran monthly reports, however can say that two months after departing Iran (one of which was spent floating idle between Cyprus and Lebanon for a month), she finally managed to complete a delivery of 730,471 crude oil barrels to the Tüpras Oil Refinery in Korfez, Turkey.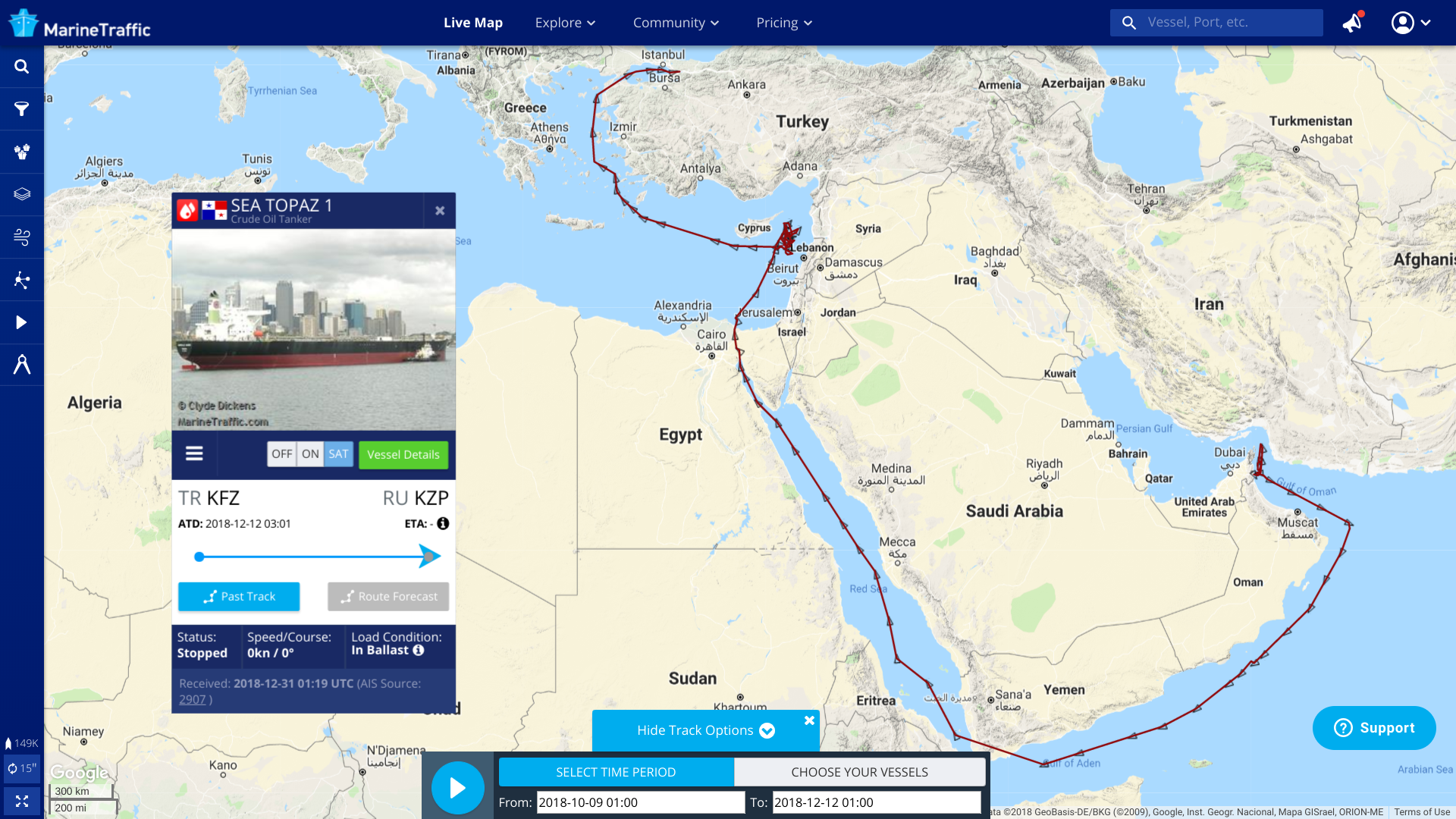 And then there's one of our favorites of the year, the TOUR 2. This is the tanker that spent nearly the entire year in the anchorage of Limassol, Cyprus under Greek management of Marvin Shipping. The tanker has a history of delivering Iranian oil to Syria, and did so prior to its January 2018 arrival in Limassol. We checked on her regularly as we suspected she'd be thrown back into rotation at some point. Just two days after the Iran sanctions took effect, the vessel departed for Iran. On December 24th, the tanker had traversed the Suez Canal on the northbound with 920,001 barrels of crude oil. The vessel repeated the modus operandi of its sister ships by switching off the AIS transponder en route to Syria.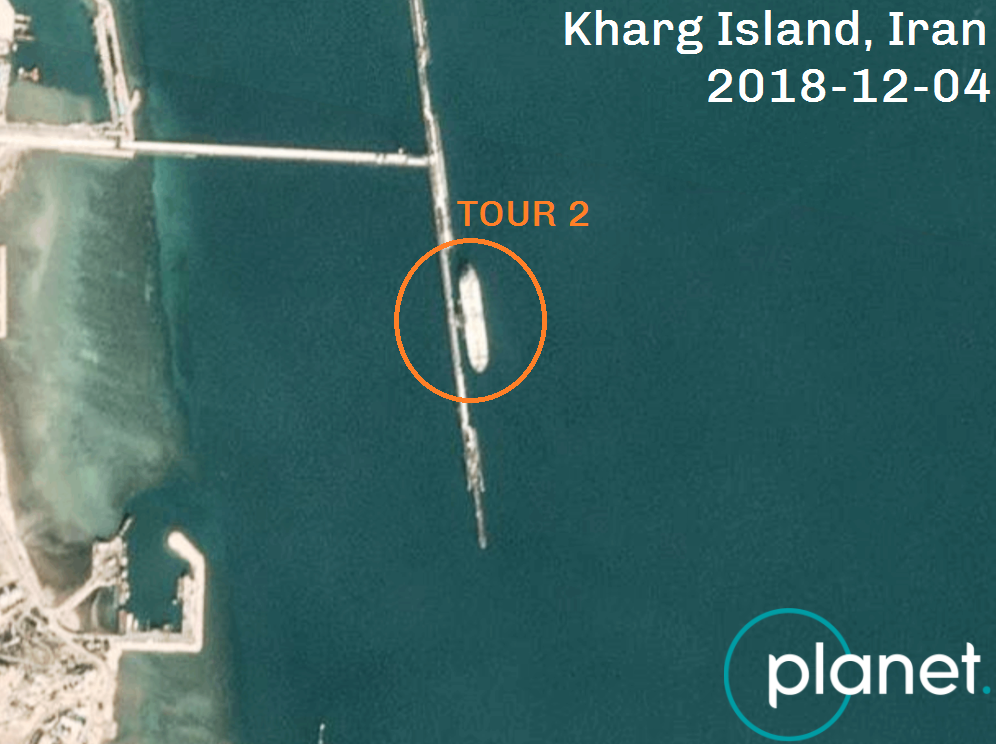 Satellite photo below captured by ESA Copernicus Sentinel on January 1st, 2019.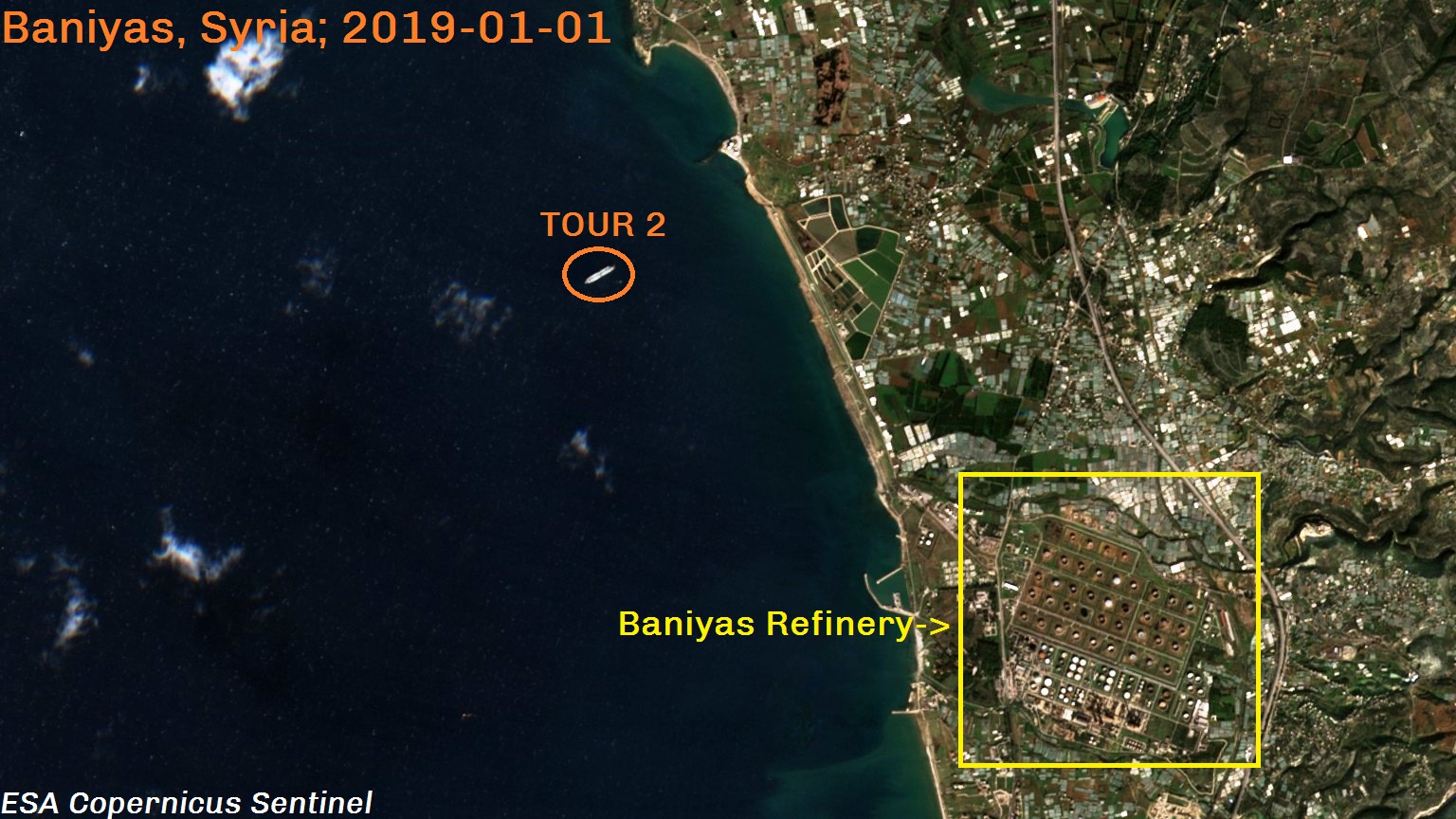 VLCC Tanker Observations (2 million barrels)
The VLCC scene has been pretty fascinating as well during December. The first thing that speaks to us is the large number of supertankers parked in the anchorage of Asaluyeh, where gas condensates are exported from. The unilateral US sanctions on Iran have slowed down the exports, but not entirely halted them. There are however a number of supertankers among them which are just empty of oil after having returned from their voyages to the Far East. The anchorage is big enough as well as away from international shipping lanes. We don't believe gas condensates production has been impacted by sanctions, which is why it is being stored aboard these supertankers.
In the satellite photo below captured by Planet Labs, we can see that on January 1st, 2019 there were 10 VLCC's, 2 Suezmaxes and 3 product tankers; which is more than double of what we saw in the end of November.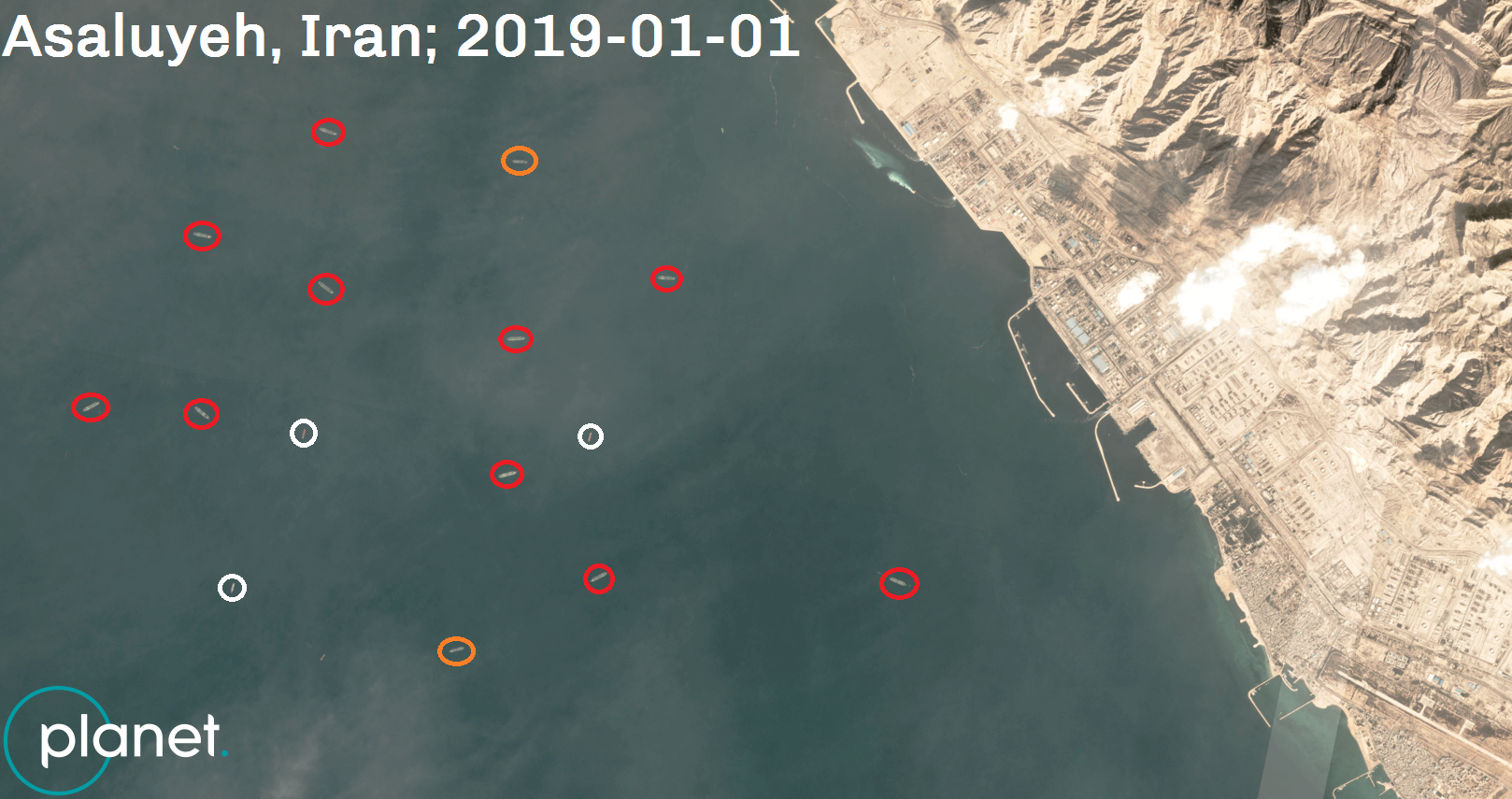 Moving further up north, we have Kharg Island; where most of the exports are crude oil, with the exception of a couple of tankers that bring in gas condensates from Asaluyeh for STS transfer to vessels that pick up mixed-cargo as tankers store their liquid cargo in partitioned storage compartments. We counted on December 29th (last good pic of the month) a total of eleven VLCC's, which is two more than on December 2nd.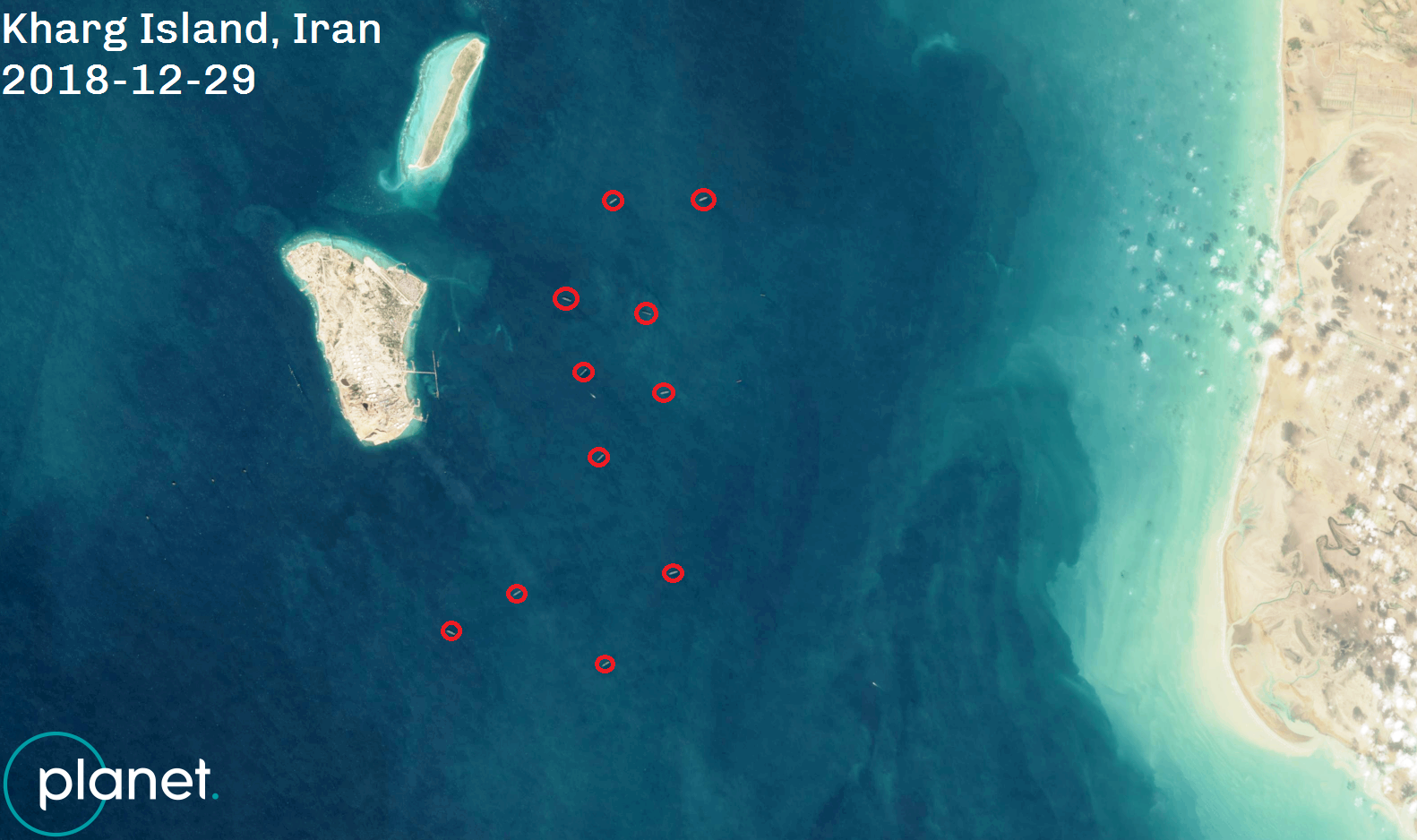 Looking out of region, we saw a lot of VLCC's pop up in the Strait of Malacca off the coast of Malaysia just like during November. The reason for this is because AIS is enforced there and Singapore due to the extremely dense and busy shipping lanes.
Although we have a few examples we can show, the most interesting is the VLCC called HORSE. On November 8th, she departed Kharg Island for Ningbo, China with roughly 1.85 million barrels of crude oil. Roughly two weeks after her cloaked departure, her AIS transponder was switched back on in the Strait of Malacca. She then proceeded to Ningbo to deliver the oil on December 2nd, 2018. Afterwards, she sailed back to the Strait of Malacca to rendezvous (while AIS was offline at that particular spot) with a VLCC on December 20th, 2018 called TIAN YING ZUO, owned by the Bank of Kunlun; a Chinese bank which has gone back and forth on its position to work with Iran during sanctions. That VLCC then transferred 1.88 million barrels of oil to HORSE, which in turn transported it to China's northern port of Caofeidan; arriving there on January 4th, 2019.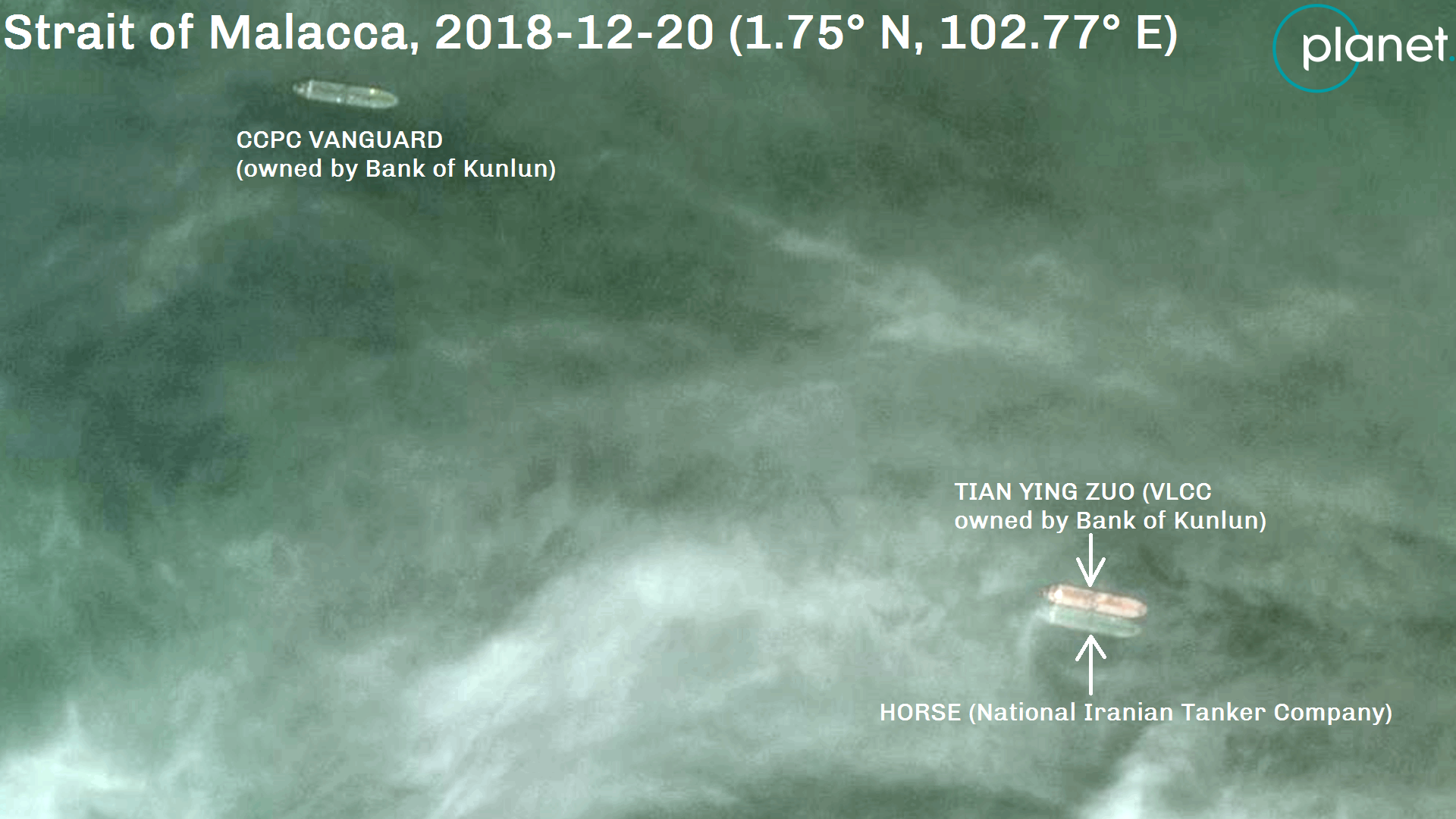 Now that the two tankers have parted ways, we see that the TIAN YING ZUO has swapped roles with HORSE and is en route to the Middle East to pick up oil directly.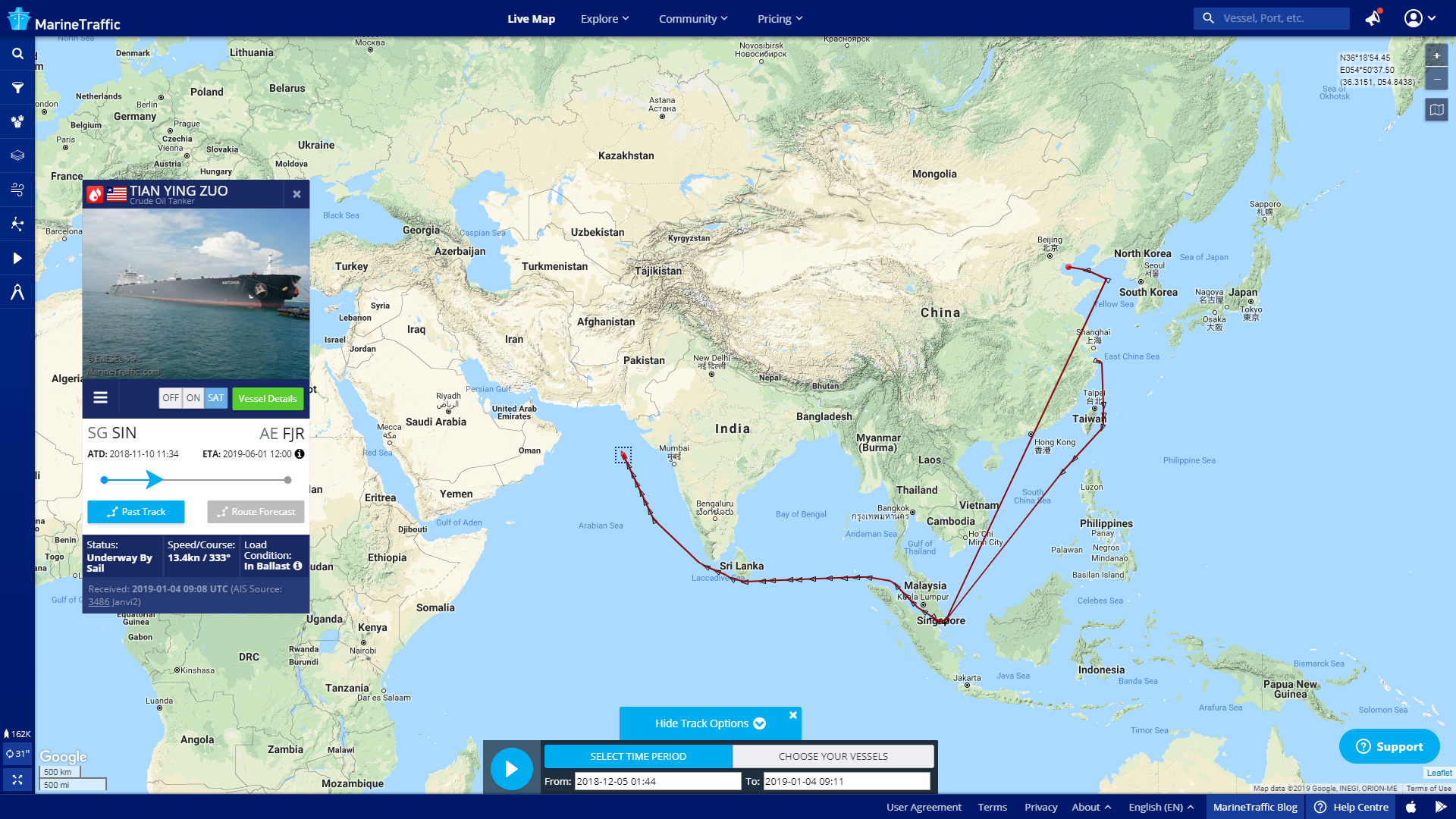 UPDATE 2019-01-12: The TIAN YING ZUO has been spotted on the eastern jetty of Kharg Island on the morning of January 12th, 2019. She is loading oil for departure most likely tomorrow.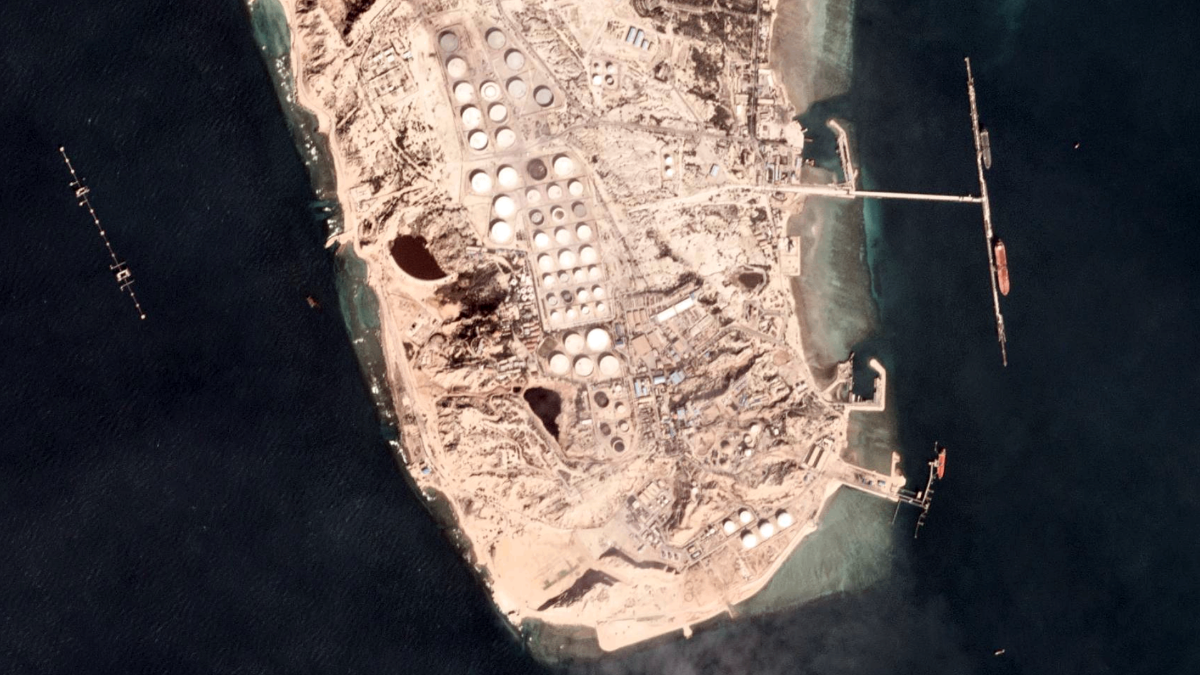 UPDATE 2019-01-15: We have now been able to calculate Iran's crude oil production for the month of December 2018, and arrived to 2,737,667 barrels per day, which is down 3.64% from month prior, and down by nearly a third from the pre-sanctions average. We also reviewed the storage change in Dalian, China to see how many barrels have departed from bonded storage since sanctions waivers were implemented. We found two storage tanks that were first filled between late September and the beginning of November and then saw that they depleted between early November and early January. The total amount would be close to 1.258 million barrels, or 21Kbpd over a 61 day period. We checked the traffic, and did not see these barrels depart for the other regional nations that were given waivers; these being South Korea, Japan and Taiwan. This would imply that they were consumed domestically, which means that they would have to be added to China's official import records.