In regards to the vessel which was named as suspect in the press conference hosted by Israel's Ministry of Environmental Protection on 2021-03-03, we have concluded our own investigation of the Aframax-sized tanker, EMERALD (9231224). The vessel has a Panama flag, and according to the GISIS database at the International Maritime Organization (IMO is a UN body), the vessel is owned by a Emerald Marine Ltd since 2020-12-23. The company is registered in Marshall Islands, with 6208474 as its IMO company number. According to the IMO, there are no other vessels registered by that specific company.
It should be noted that we attempted to first try and identify the source of the oil spill, however instead of looking for potential suspects, we were waiting for a lab report stating the API grade and sulphur content of the oil contaminent that washed up on the beaches of the southeastern realm of the Mediterranean Sea, extending (to our best knowledge from media reports) between Sinai, Egypt and southern Lebanon, with highest concentration being on the shoreline of Israel and the Gaza Strip. By knowing the composition of the oil, it would allow us to work with a significantly shorter list of potential candidate vessels. The process of investigating oil spills is a complex one in its nature due to the heavy amount of traffic one finds in busy waterways.
Once the EMERALD was announced as the vessel in question, our scope of work was to back-track her steps and identify the origin of her cargo as well as identify where her cargo was delivered. We have not yet investigated whether or not the EMERALD was responsible for contaminating the waters of the Mediterranean in early February 2021.
2021-01-13: Spotted off the coast of Dubai, UAE at 25.57723° N, 55.02925° E (via Sentinel-2).
2021-01-14: Sailed halfway up the MEG (Middle East Gulf, as a politically-neutral name) and switched off her AIS transponder.
2021-01-15: Approached the Kharg Island anchorage at 29.11584° N, 50.41231° E (via Planet Labs).
2021-01-17: Sighted at the Kharg Island anchorage at 29.21673° N, 50.41201° E (via Sentinel-2). We believe the loading of her oil cargo had concluded on that morning as she was facing south instead of north. Her AIS transponder was switched back on the following day while sailing back south down the MEG.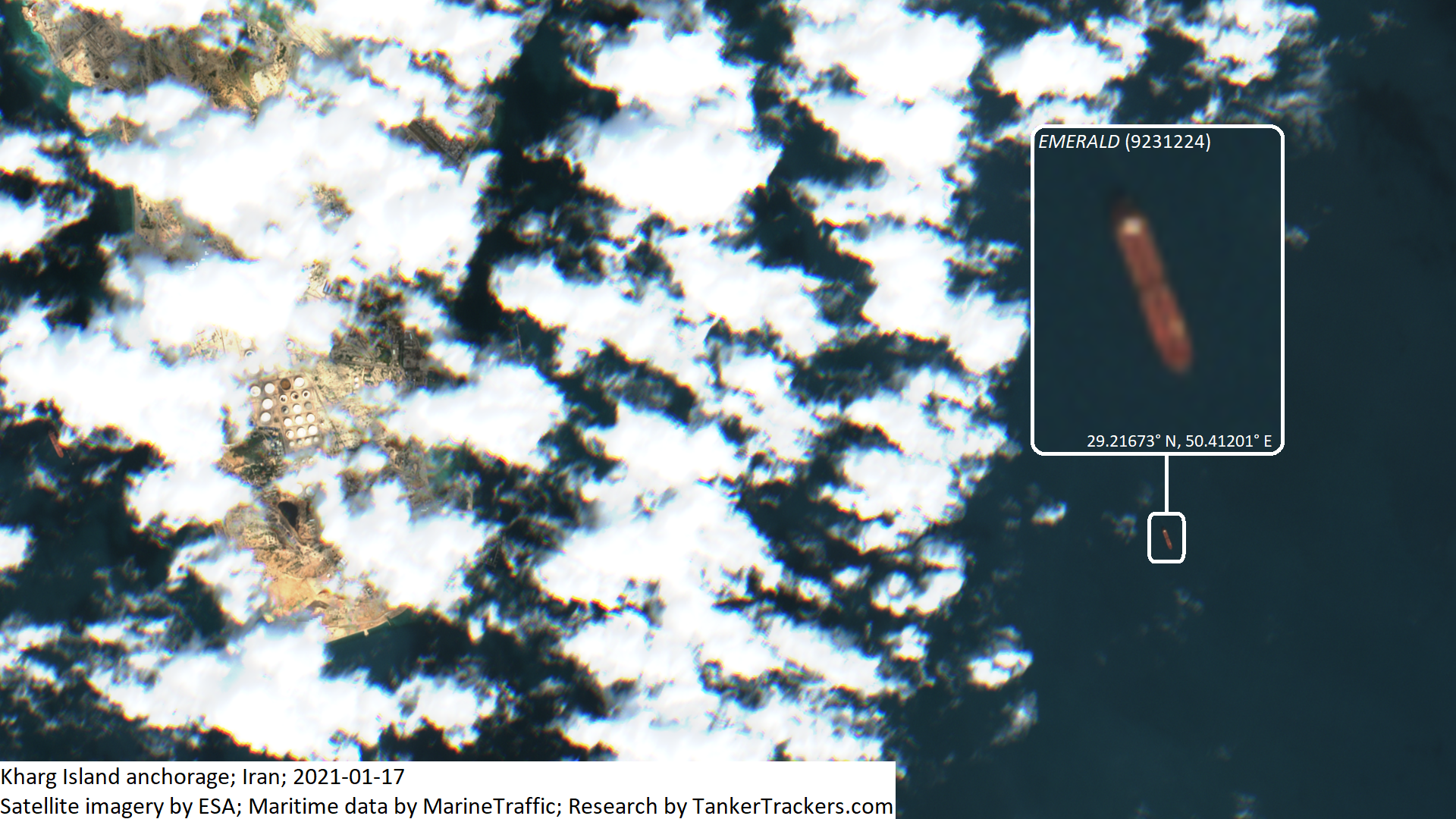 2021-02-01: Sailing up the Suez Canal at 30.12366° N, 32.57009° E (Planet Labs).
2021-02-02: Sailing up the east Med Sea, roughly west of Haifa, Israel at 33.4043° N, 33.76824° E (via Sentinel-2). According to the Ministry's press conference, it is prior to this point where it is suspected that she caused the spill.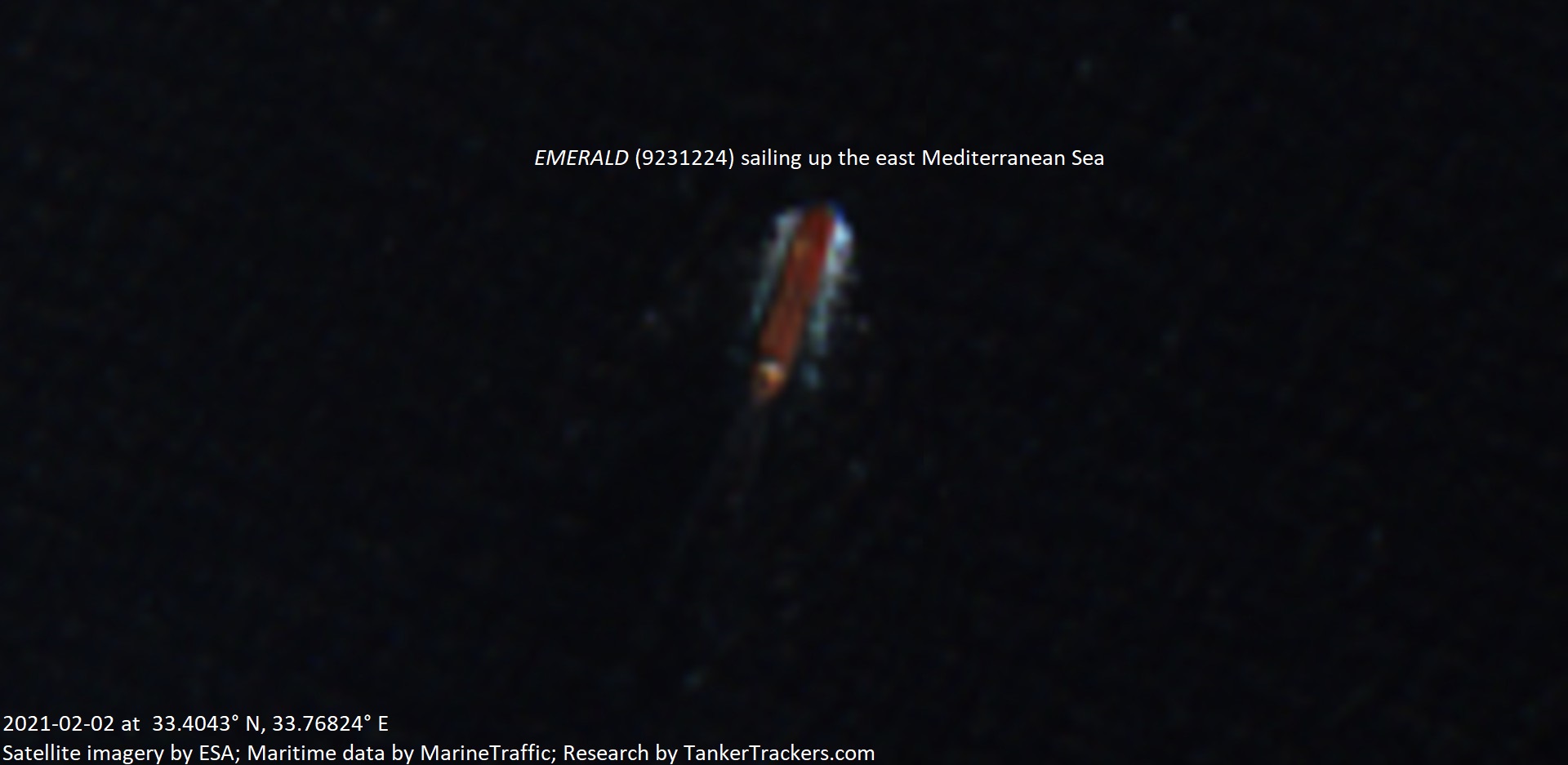 2021-02-09: Seen loitering northeast of Cyprus in international waters at 36.02785° N, 34.94272° E (via Sentinel-2).
2021-02-14: Engaged in an STS oil transfer of 700,000-750,000 Iranian crude oil barrels (depending on oil grade) with Iranian-flagged Suezmax tanker LOTUS (9203784) at 35.24659° N, 35.15890° E (via Sentinel-2). The LOTUS is used in two ways: As a Suezmax-sized tanker, she sails frequently to Iran to pick up 1 million barrels at a time and uses the Suez Canal for that. She is also used as a temporary floating storage vessel in order to manage any potential delivery delays due to issues with the SBM's at the Baniyas refinery. There have been purported instances of sabotage with the SBM underwater pipelines and vessels such as the DELBIN (ex TOUR2).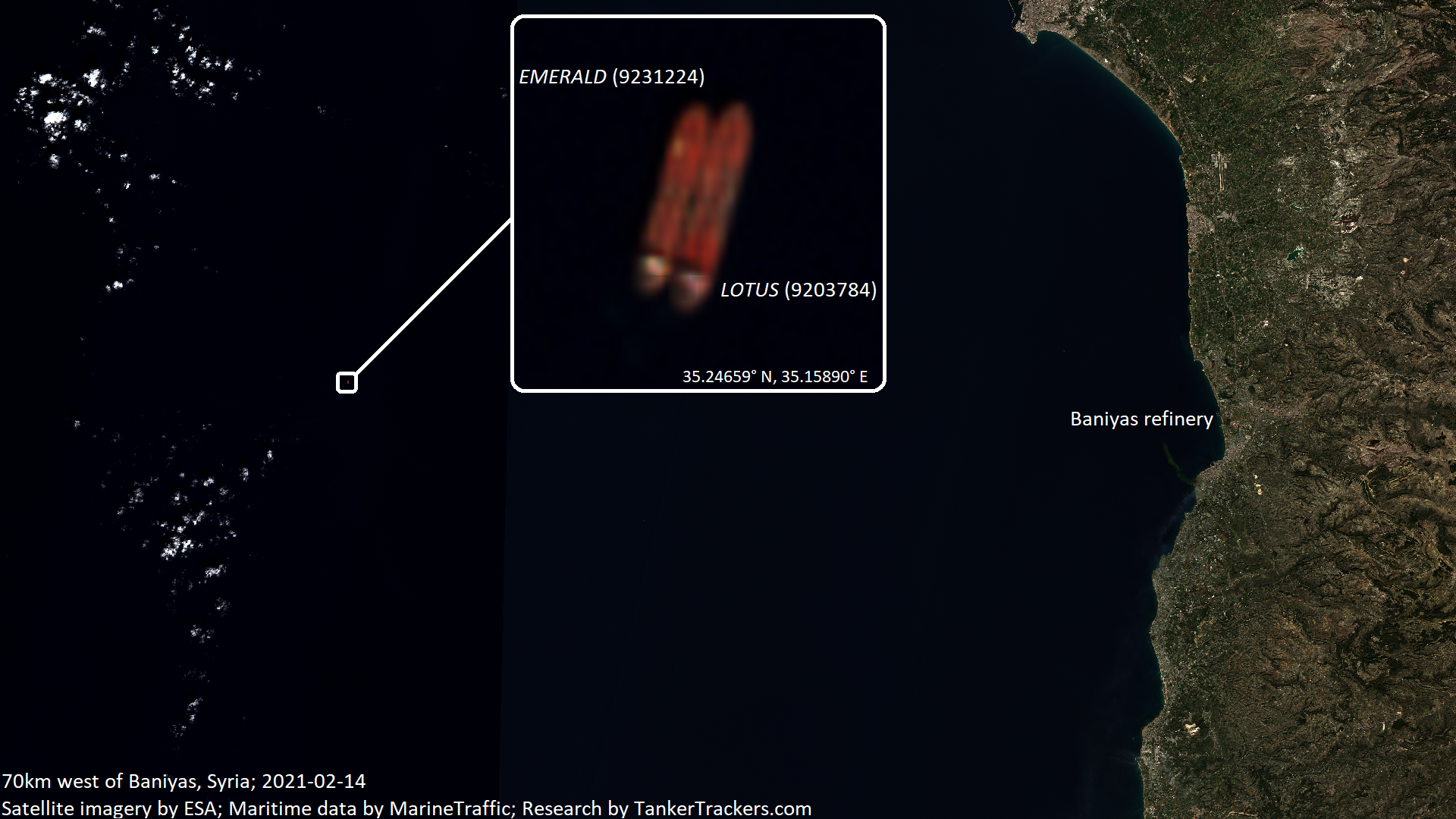 2021-02-22: LOTUS delivers the crude oil to Baniyas, Syria at 35.24582° N, 35.92160° E. (via Planet Labs)