So, how much oil is Iraq actually producing? This is a country which has been tricky to figure out over the years for a number of reasons, but if we use the data they provide each month via JODI Data along with satellite imagery from Planet Labs, we can easily conclude one fact: Iraq doesn't make a habit of storing its crude oil.
According to our database of identified, measured and catalogued storage tanks during this summer, Iraq has roughly 50 million barrels of storage space for crude oil in its nearly 300 storage tanks. The largest tank farms are located in the south of the country, where the vast majority of the production takes place. First, we have the FAO tank farm, which is home to 8 million barrels of storage space; accounting for 1/6th of the country's total capacity. When we review the imagery between January 2016 and October 2018, there isn't anything going into the storage tanks even though they've added more storage tanks during the time.
And when checked the second largest tank farm, the ZUBAIR 2 (5.8 million capacity), we see the same. They're simply not tucking anything away for a rainy day.
During 2016, the numbers out of JODI Data produced an implied storage build of nearly 80 million barrels, which simply isn't possible for a country that had less than 50 million in storage space at the time. Not only that, but ISIS was still in control of much of the fields up north. If you look at the graph, you can see that the blue line is above the red, meaning that they were overstating production at the time. Once Iraq had reclaimed those fields and agreed to an OPEC/NOPEC-coordinated production cut in late 2016, the country began posting storage changes of zero barrels for 14 of the 21 months thereafter.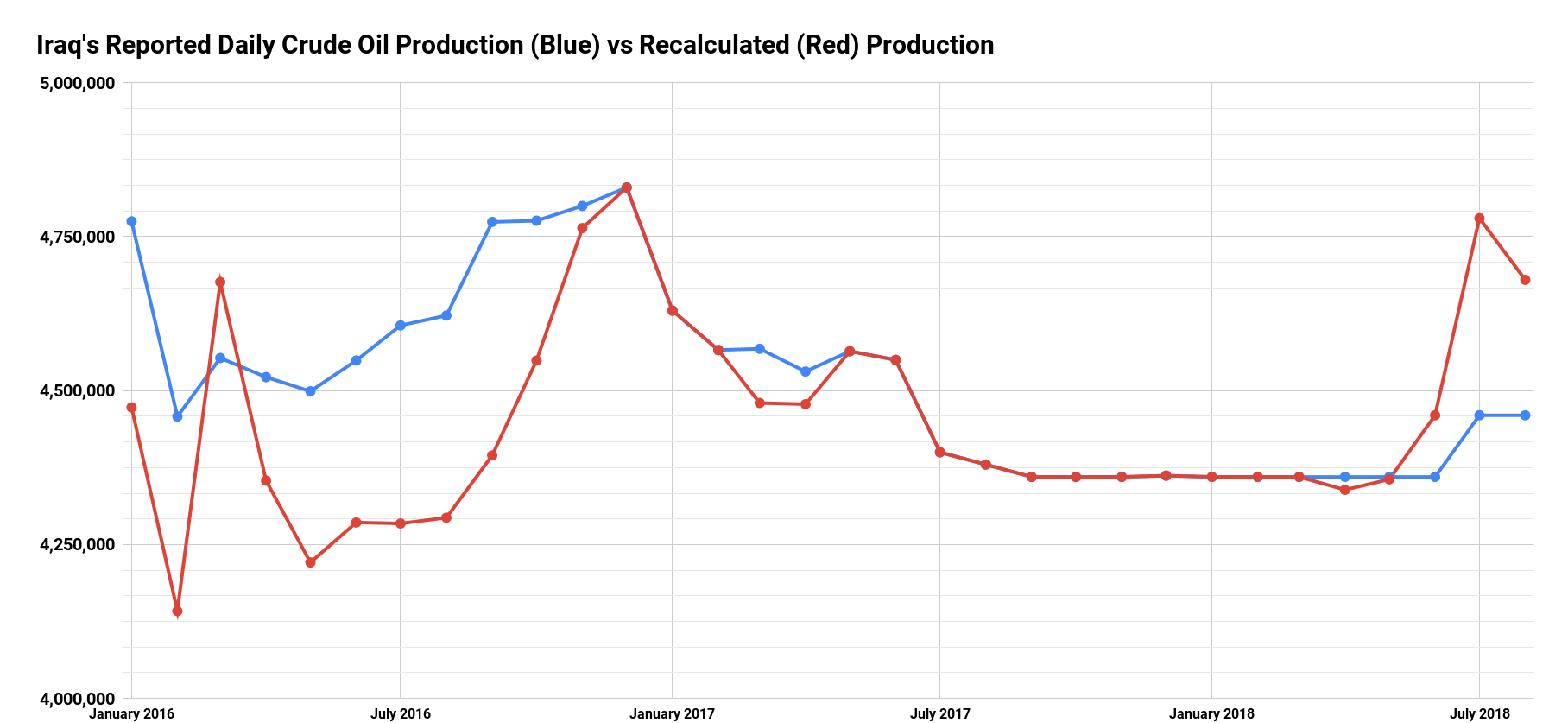 The latest entry into JODI Data was for August 2018, where production is supposedly still at 4.46 million barrels per day, up by only 100Kbpd since September 2017. Our calculation (based on removing inventory changes from production) shows that production peaked this year in July at 4.78 Mbpd and came down to 4.68 Mbpd in August.