Greetings Corporate Clients,
We offer corporations and organizations a full insight into the voyages we track. The list of countries we track crude oil and gas condensate exports from include Ecuador Gabon, Guyana, Iran, Iraq (north & south), Kuwait, Libya, Nigeria, Oman, Saudi Arabia, both Sudans, USA, Venezuela and Yemen. Our offering includes the vessel names, the ports of origin & destination, cargo types, barrel counts and even GPS coordinates for vessels sighted in Iran and Venezuela. In addition to which, we also provide hyperlinks to publicly-accessible data sources as a form of visual evidence.
We also track over 400 tankers which routinely manipulate their AIS position data, with the help of near-daily satellite imagery, shoreside photography and our growing contact network of photographers.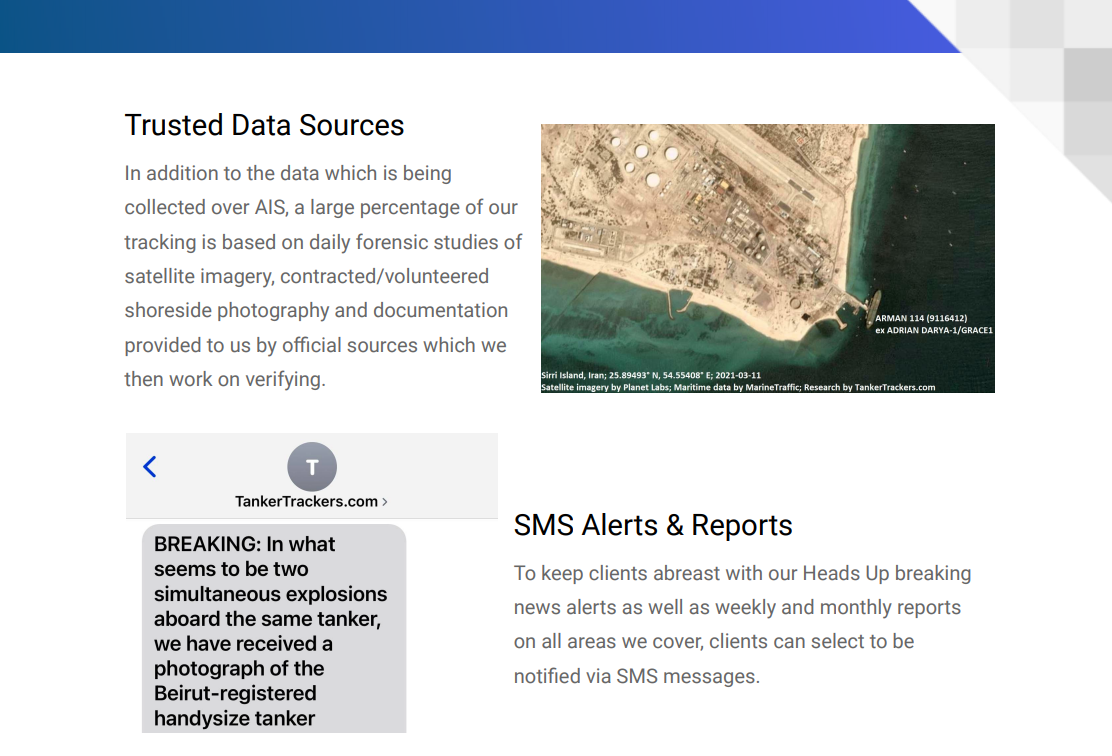 Corporate Access Data Portal
An annual corporate plan consists of an admin account along with two additional users, granting you with full access to our entire voyage data history. In addition to web access, there is also the possibility to download CSV files and connect your server to our API (Application Programming Interface). You will also be able to receive SMS alerts & reports of vessel sightings we make in Iran and Venezuela; which typically happen prior to or during loading of oil. This will provide you enough time to engage with vessel owners that are currently in breach of your agreement.
We also offer bespoke forensic investigation reports, which are typically used in legal courts and and settlements. They contain visual evidence (satellite imagery along with possibly anything else) along with AIS data of the events that transpired.

For more information, please see our Corporate Access Data Portal brochure and our KYC ("Know Your Customer") form. The latter is for our due diligence as our data is classed as sensitive.
Please email portmaster@tankertrackers.com in order to receive a quotation. We offer a hefty discount to non-profit organizations.
Looking forward to hearing from you,
TankerTrackers.com, Inc.