Iran is shipping gasoline to Venezuela.
We have identified no less than 5 Iranian-flagged oil/chem tankers transporting a combined total of most likely 220-240 million liters (58-63 million gallons) of gasoline to Venezuela. Venezuela sits atop the world's largest oil reserves and had the world's most cheapest gasoline prices up until refineries stopped processing due to a dilipatating infrastructure. Instead, Venezuela has had to import its fuel from abroad, and the prices have been astronomical; costing several dollars per liter, let alone gallon. From the world's cheapest to the world's most expensive practically overnight. This has created a great deal of frustration among the population as most can not afford to fill up their fuel tanks.
The vessels we have identified in the map below are the FORTUNE, PETUNIA, FOREST, FAXON and CLAVEL and they have departed from the multi-purpose port of Shaheed Rajaee, a terminal for the Bandar Abbas Refinery, capable of processing 350,000 barrels of mostly heavy crude oil along with light crude and gas condensates into a broad variety of refined products such as gasoline, heavy jet fuel, kerosene, LPG, sulfur, gas oil, fuel oil and asphalt.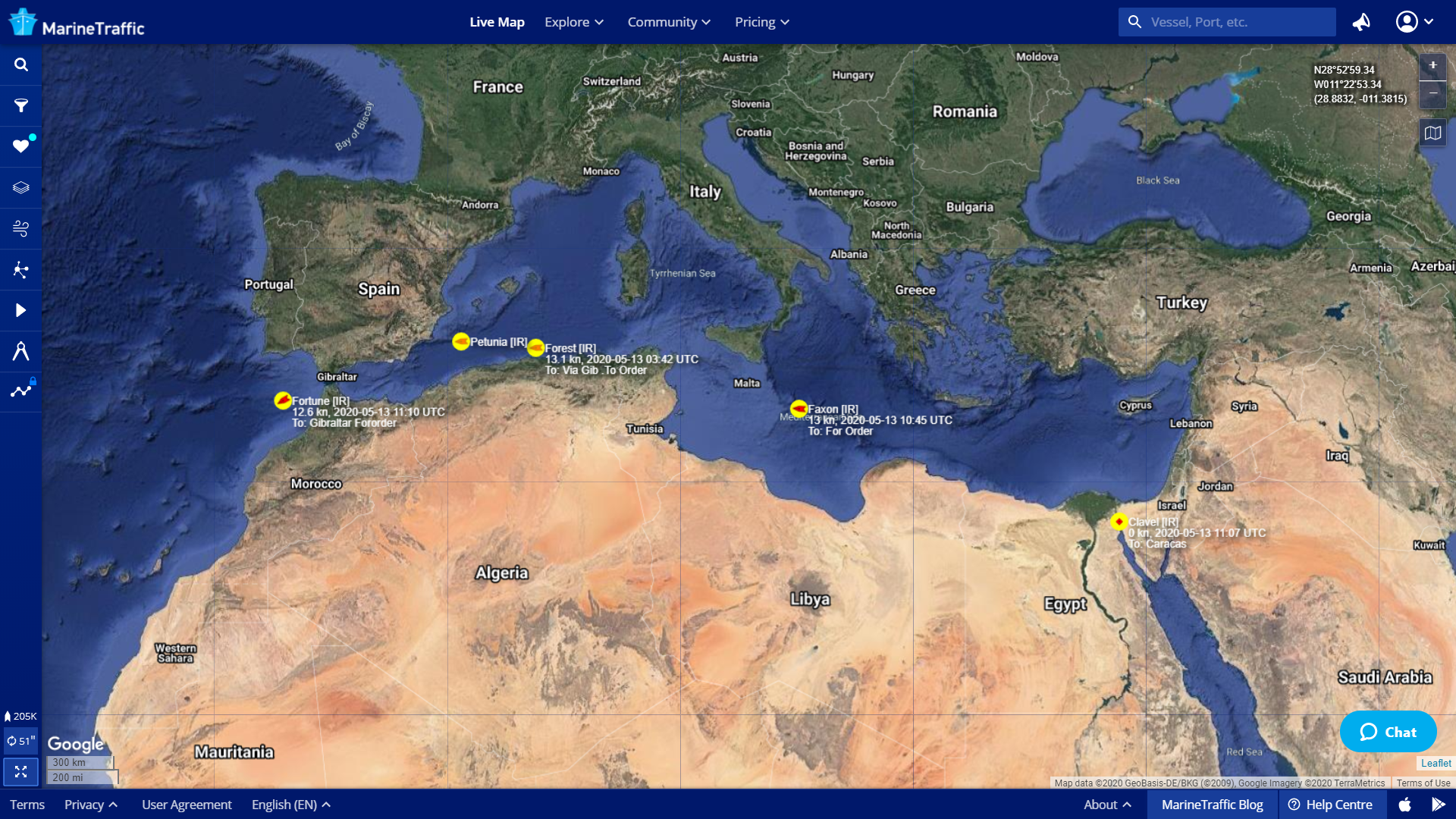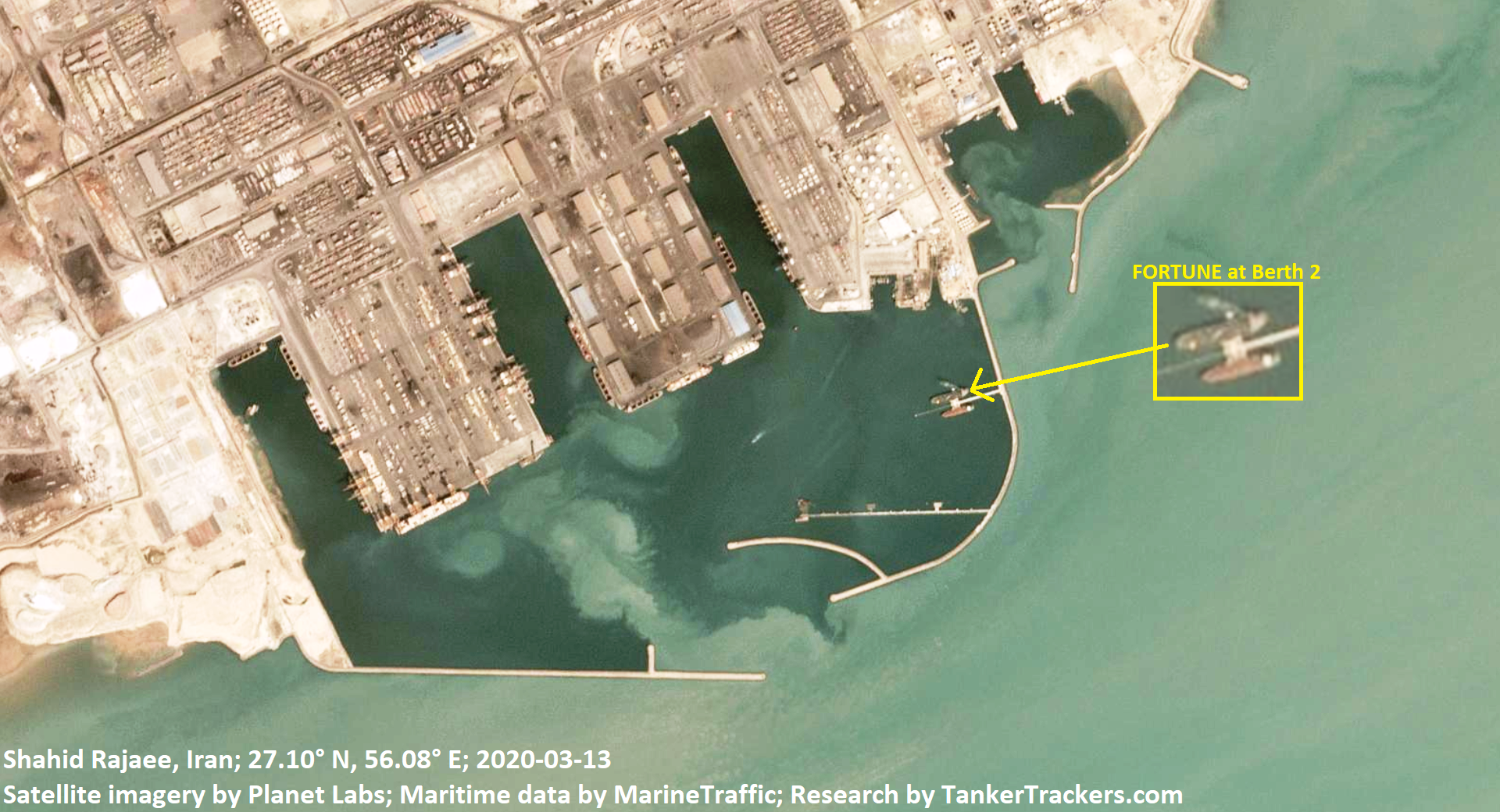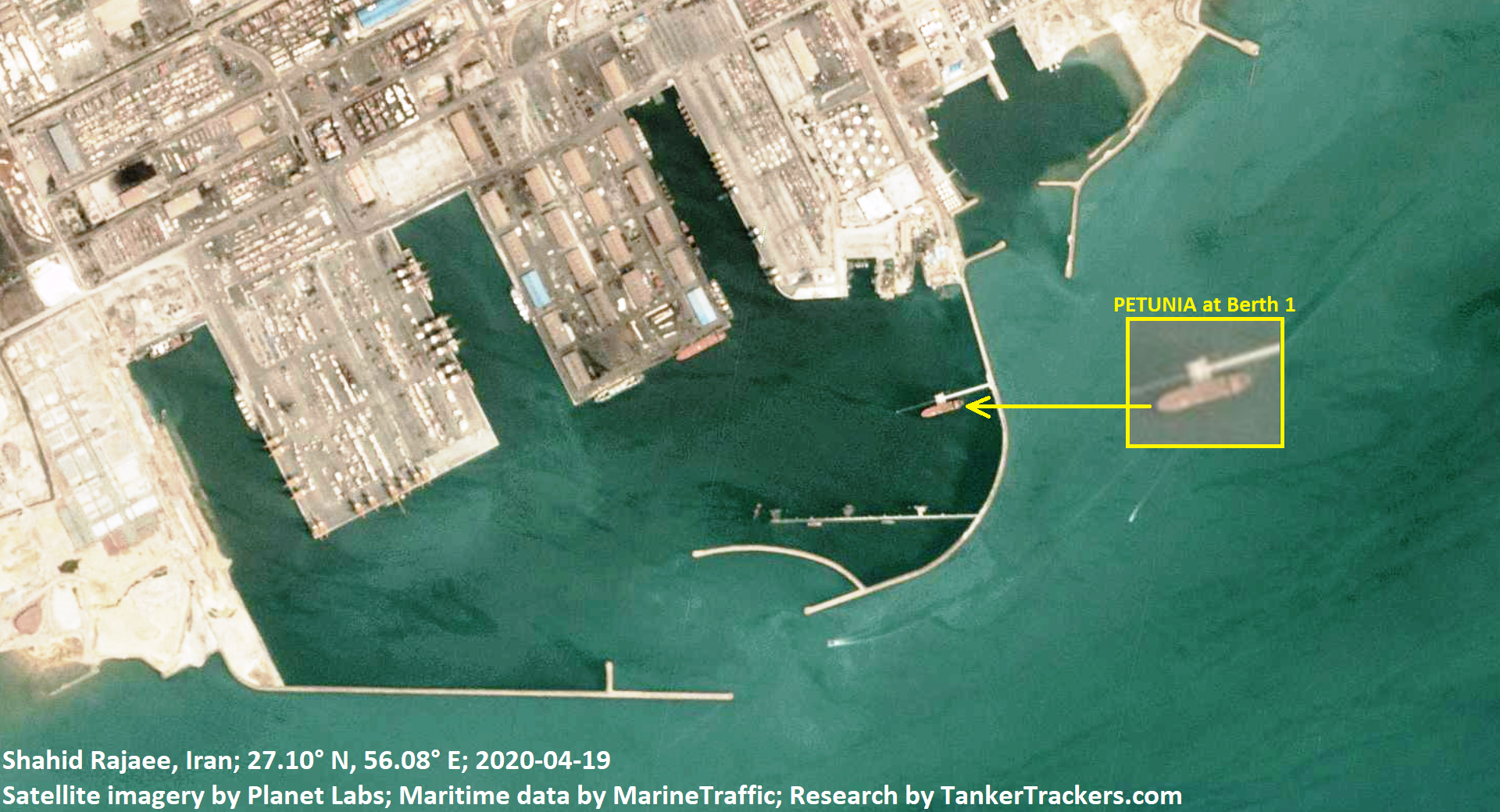 The CLAVEL is currently sitting south of the Suez Canal and is the only vessel within this flotilla that is now broadcasting "CARACAS" as its destination. The first vessel (FORTUNE) has changed course directly towards Venezuela after passing through the Strait of Gibraltar. It should take her around 11-12 days to arrive, according estimates by MarineTraffic's Voyage Planner feature.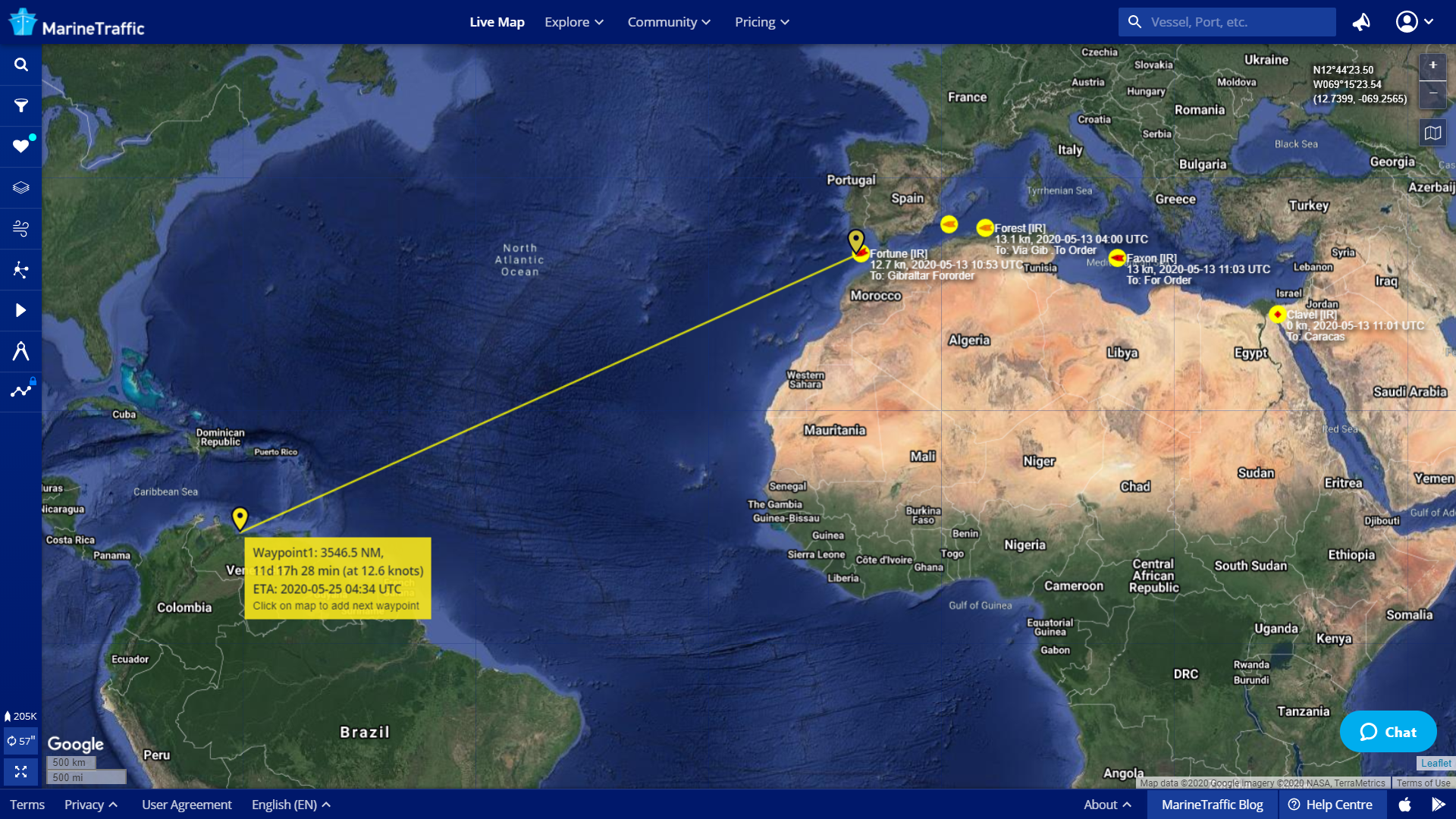 Just two days ago, TehranTimes published a story called Envoy calls report on shipping gold bars from Venezuela to Iran 'baseless' where it says:
The (Iranian) ambassador (in Venezuela) also rejected the presence of Iranian experts in Venezuelan refineries.

"To the present date, Iranian gasoline has not entered Venezuela. To date, the governments of the two countries have held talks on bilateral trade cooperation, but so far Iranian fuel has not entered Venezuela," he reiterated.

"In recent days, an average of 10 to 17 commercial flights have been made from Iran to Venezuela, for the immediate transfer of equipment needed to reactivate the Paraguaná Refinery Complex, which is now a priority in achieving comprehensive relations between our countries," he added.
UPDATED 2020-05-14: Last night, we saw that the CLAVEL had traversed the Suez Canal but then briefly broadcast a new destination: Rotterdam, Netherlands. An hour later however, it was changed back to Caracas. We also saw in that initial change that its draft level was way deeper than the vessel allows, but was later restored. In any case, all five tankers are still pinging over the AIS network, and we see that FORTUNE is in the Atlantic, with a clear trajectory towards Venezuela. The remaining four vessels are sailing westwards in the Med Sea towards the Strait of Gibraltar. We have also reviewed satellite imagery and SAR data of both the FORTUNE and the CLAVEL to see that these are still the same vessels that left Iran, and not another case of GPS-spoofing or placing a tanker's AIS transponder aboard a tugboat.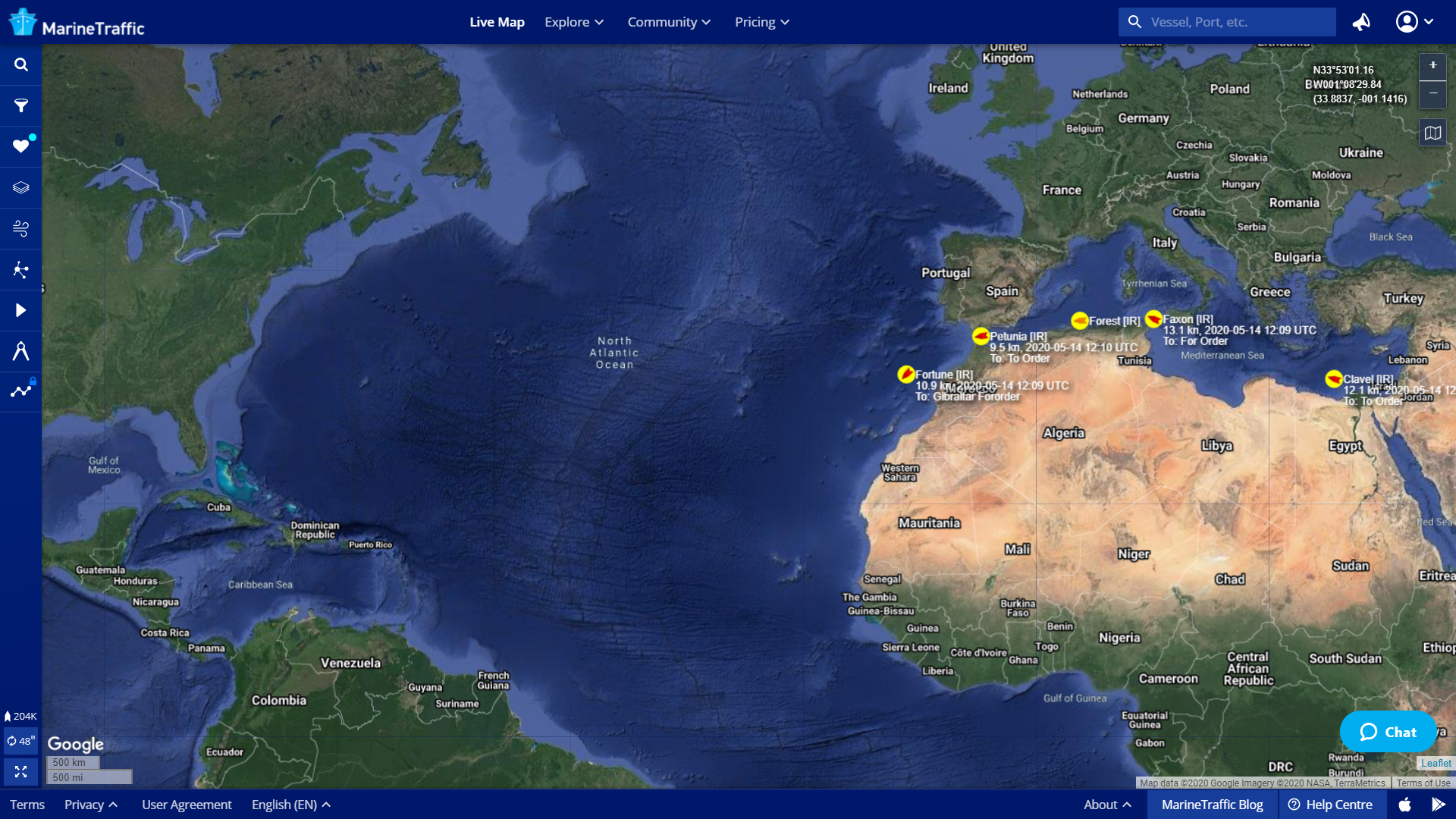 UPDATED 2020-05-15: The leading three tankers (FORTUNE, PETUNIA and FOREST) are now all in the Atlantic Ocean. The FORTUNE is projected to arrive in Caracas on May 27th according to MarineTraffic's Voyage Planning tool based on her current cruising speed of 12.2 knots per hour. We believe that this flotilla of Iranian-flagged vessels will completely avoid any territorial waters belonging to European colonies in order to avoid any international incidents such as the GRACE 1/ADRIAN DARYA-1 situation in Gibraltar last summer. In fact, it might not even end there, but they would most likely avoid sailing through anything other than international waters until they reach Venezuela. Now that conspiracy theories are brewing outside of this article, we would like to take the opportunity to remind our readers that an interference with these vessels will most likely result in a snap retalition in the Middle East, particularly now that Iran stepped up its naval activities in the Gulf of Oman and Strait of Hormuz.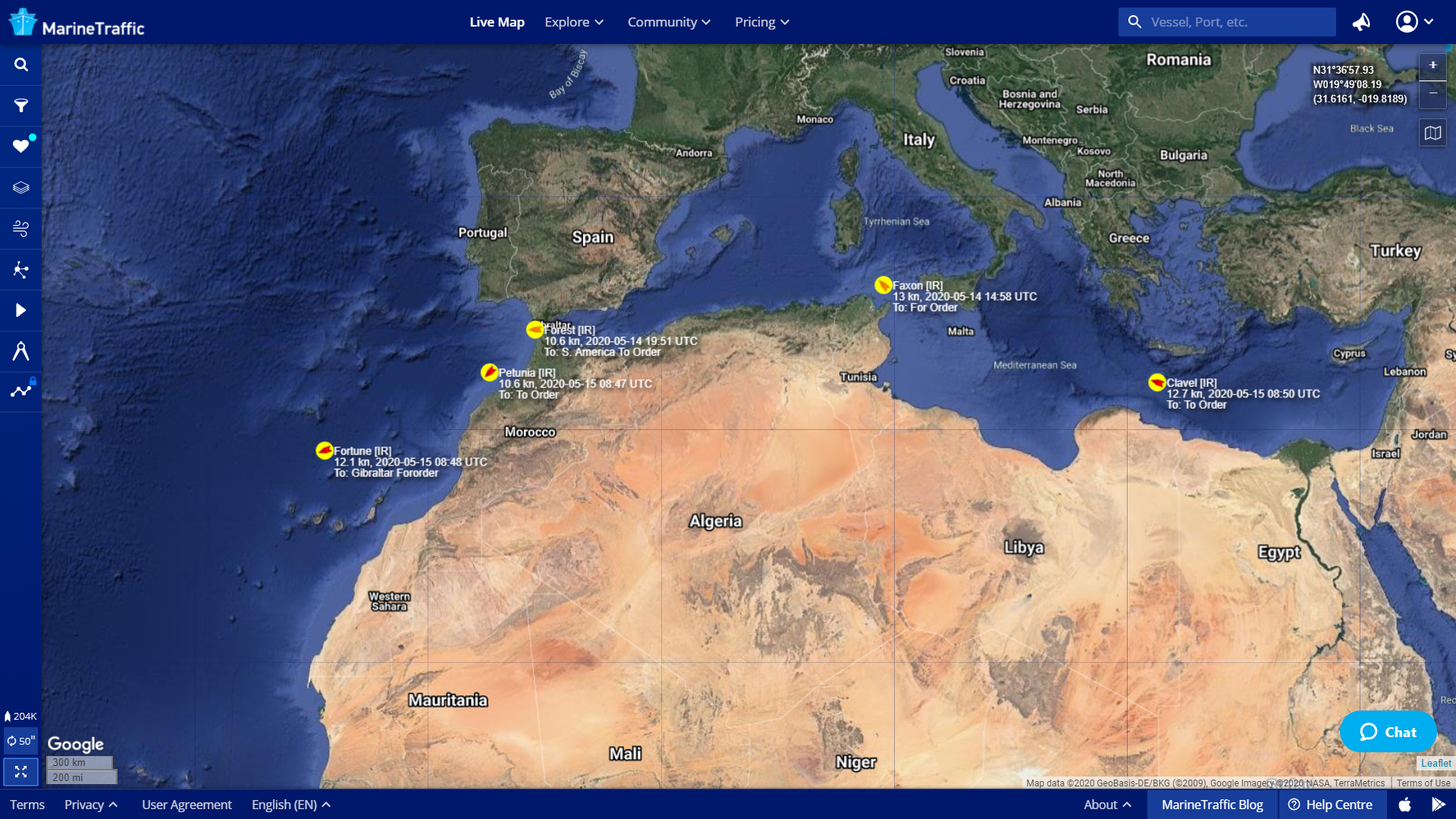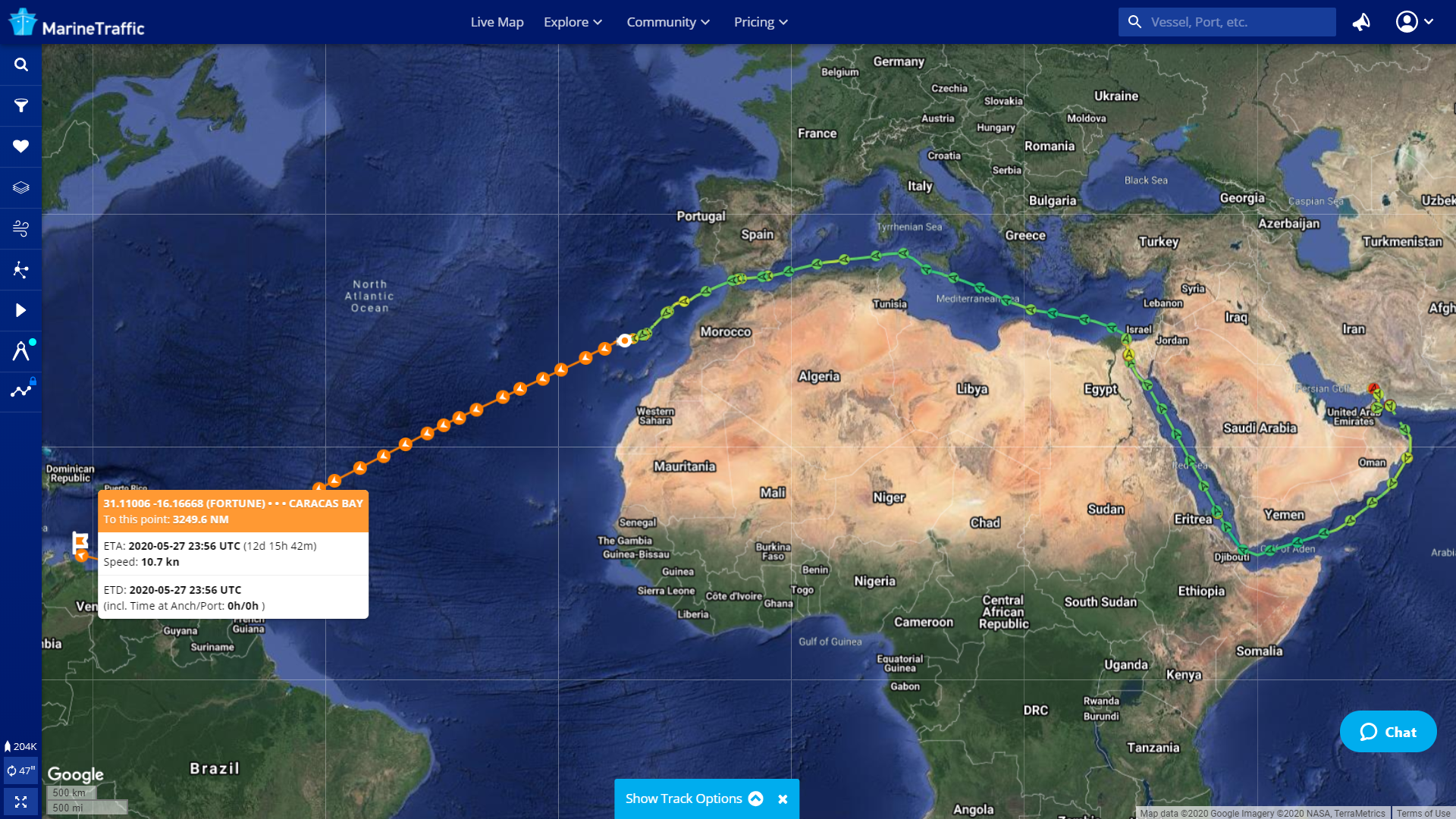 One observation we just made about the FORTUNE tanker is that on April 25th 2020, she passed by Iran's port of Jask, located in the Gulf of Oman. We believe that she may have possibly been boarded by maritime security officers given that a speedboat is showing trajectory towards her from the port area. This port contains navy vessels. If there are armed security guards aboard the vessel, then chances are that the vessel will avoid trespassing any national boundaries due to the fact that when the GRACE 1 was arrested in Gibraltar last year, no weapons were found aboard the Panama-flagged vessel at the time. The vessel was then re-flagged as Iranian and renamed in parallel with its crew change. The FORTUNE was briefly pinging over AIS while at Jask on April 25th, but the speedboat wasn't. Most other commercial/civilian vessels are pinging in Jask while navy vessels do not.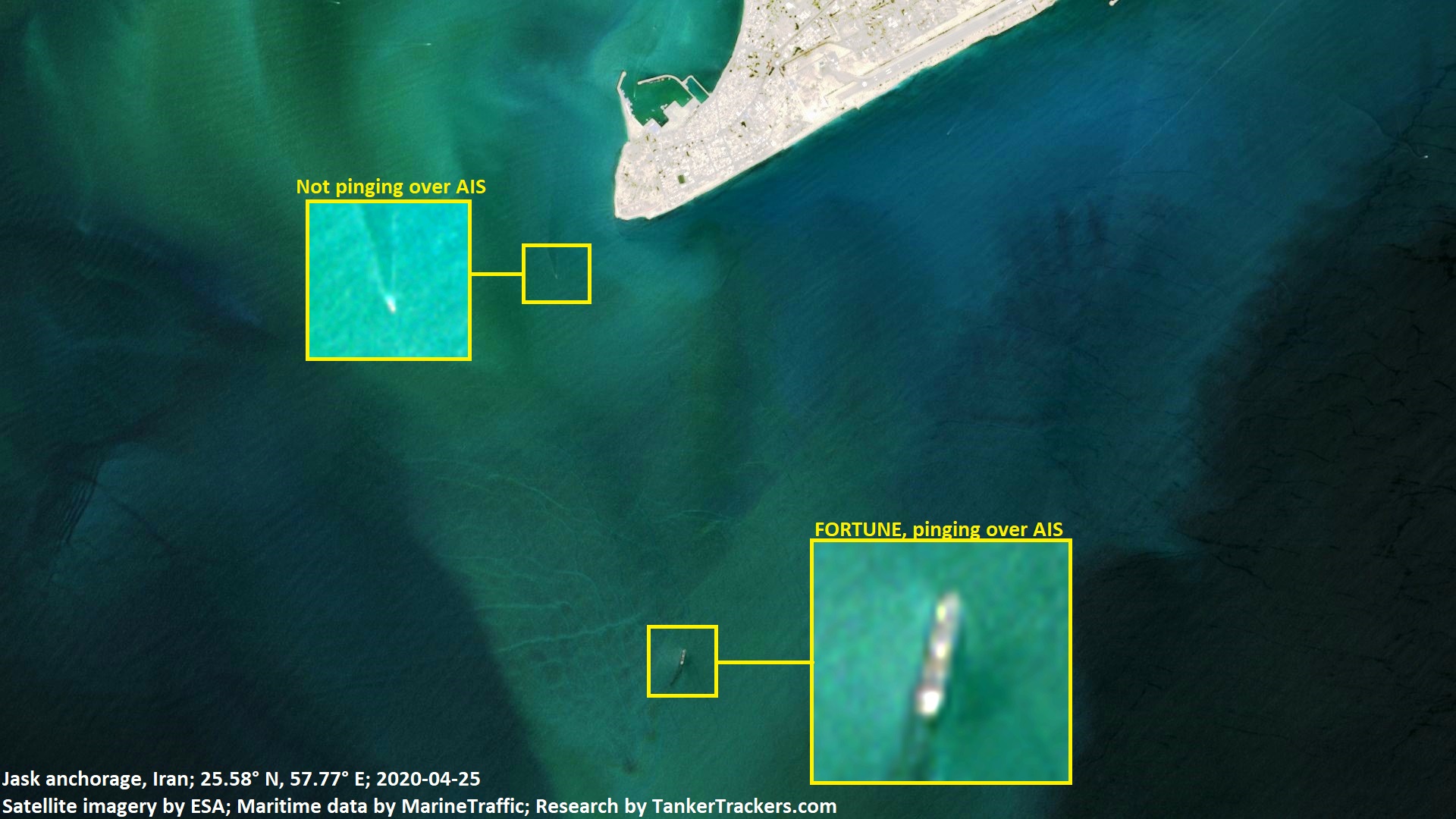 We also noted that the FORTUNE slowed down for an hour for what seems to be another routine inspection by the Iranian navy crew aboard the cargo class vessel SAVIZ, located in the southern end of the Red Sea between Yemen and Eritrea. This is standard operating procedure for NITC vessels when sailing through the Red Sea. The SAVIZ is under US secondary sanctions and has been in the headlines more than once.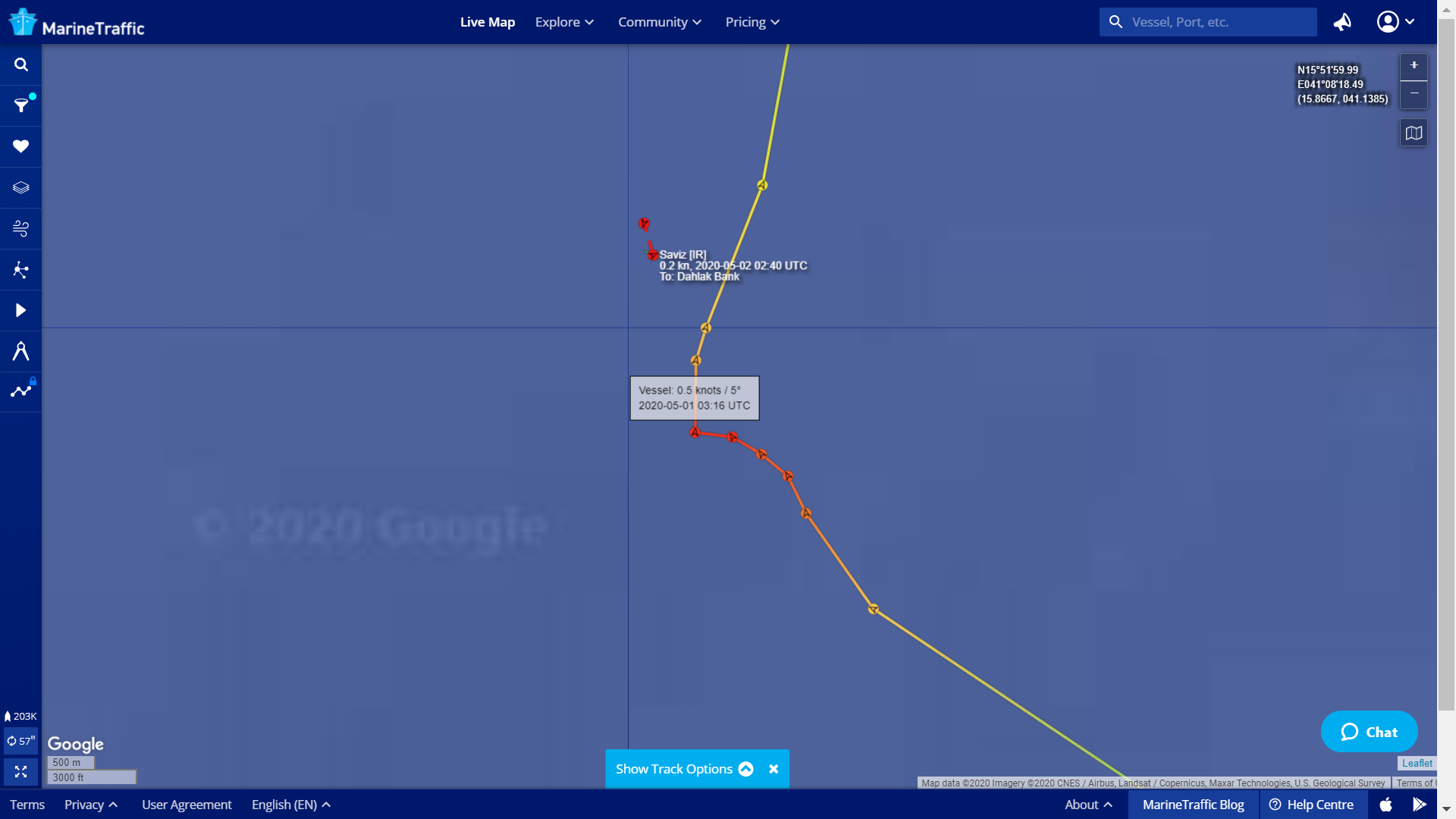 UPDATED 2020-05-16: The three tankers that are out in the Atlantic are now out of VHF terrestrial radio range of 72km, so all AIS readings are now done by satellite; which is what we subscribe to at MarineTraffic. We'd like to mention that all 5 vessels stopped by the SAVIZ in the Red Sea for most likely a security inspection/meeting. We also now note that FOREST is now broadcasting "S. America" as her destination without providing an ETA. None of the vessels provide an ETA at the moment, so we are using MarineTraffic's Voyage Planner for that; with initial indications being May 27th for the front-running FORTUNE's arrival.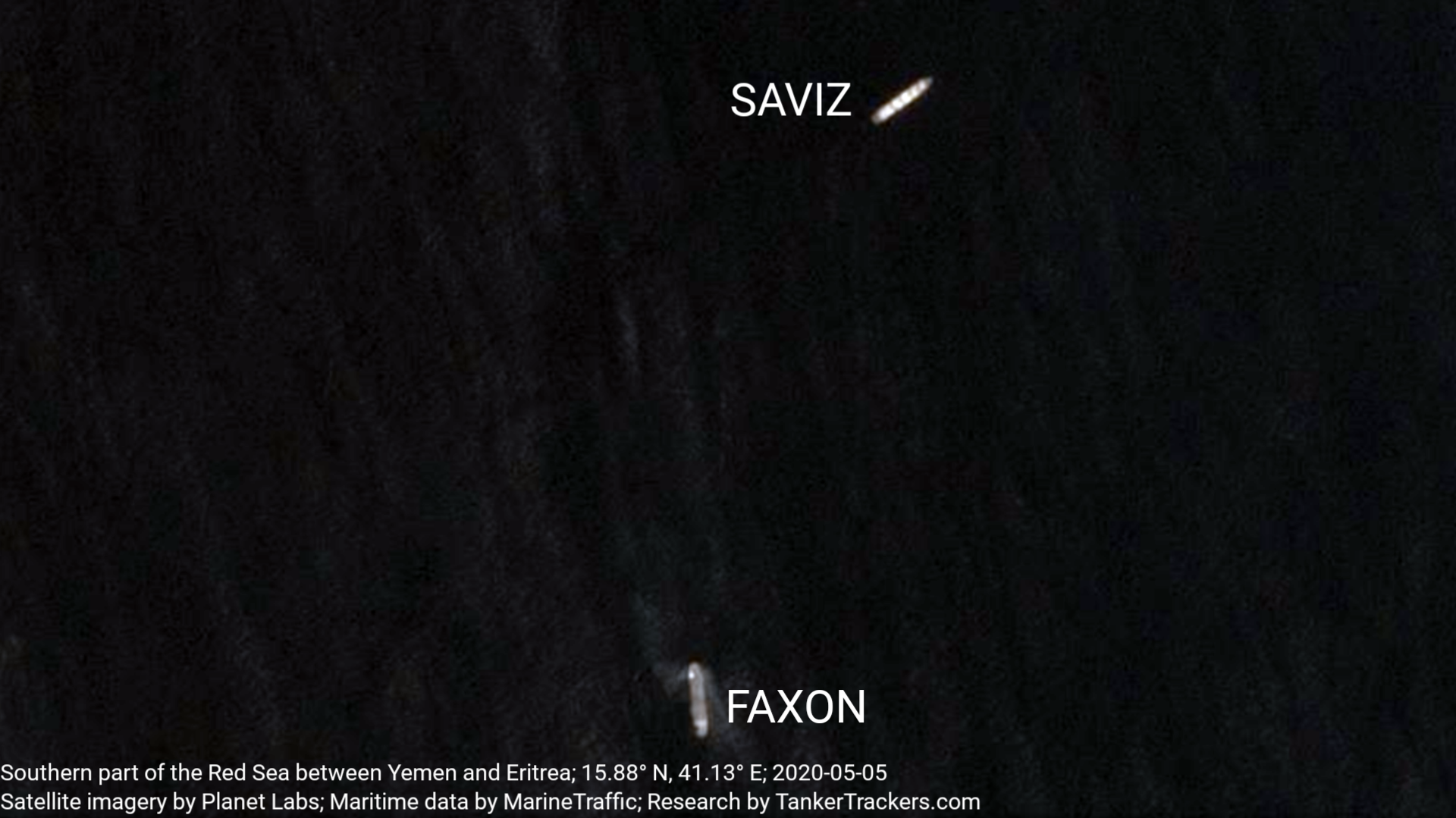 UPDATED 2020-05-17: We'd like to inform you that a very typical scenario we run into when tracking a major event like this is disinformation. There's unintended misinformation, but then there is intentional disinformation. We distance ourselves from both because we collect and analyze data rather than put something out as hearsay.
Take for example this tweet. We have removed the account's name. This person with a sizeable following is saying that the FORTUNE has been seized by the US navy. Most will look at this as a breaking news event, look at the size of this person's following, and be inclined to believe it; so they retweet it. That's how disinformation and misinformation breeds across social networks. Most will not go to any lengths to look it up, but because they already have a bias, it'll fit their narrative.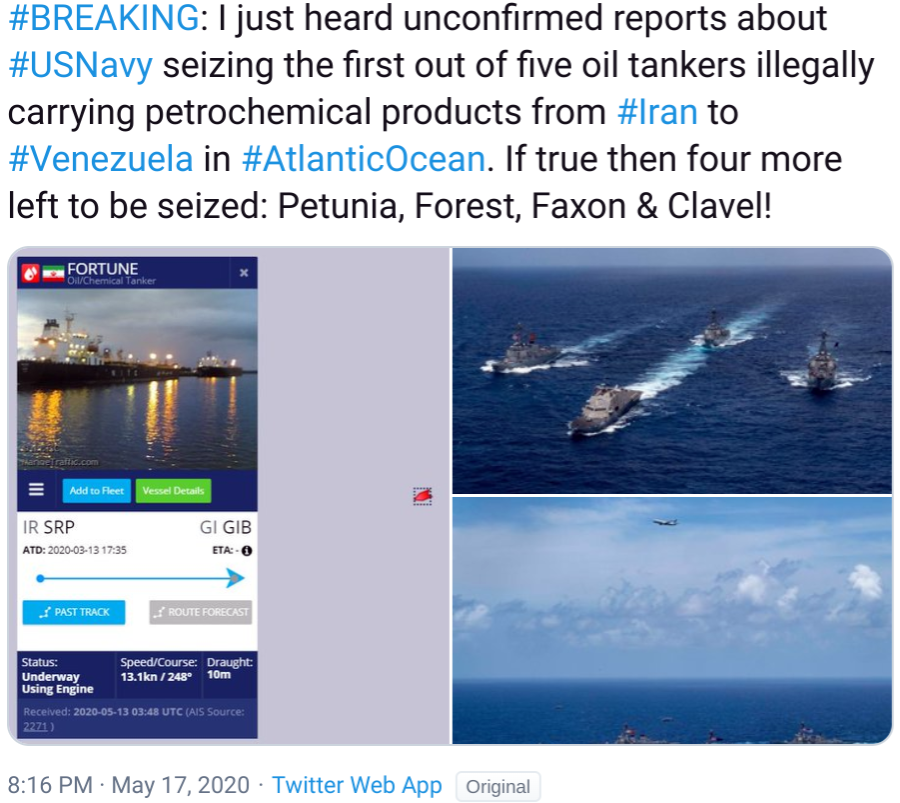 For us, it's easy to confirm because we have all the tools in the shed to verify what's going on. If one were to use the free version of MarineTraffic, one will only be able to see as far as the VHF radio network can provide for the AIS signals deriving from the tankers. That reach is typically 72km without radio amplification, right elevation of antennas and ideal weather.
If you look in the map below, the free version will show you that the vessel was last seen on May 13th when departing the Strait of Gibraltar. After that, the vessel is only trackable over Satellite-based AIS (SAT-AIS for short). Here we are, four days later, and lo and behold, she's still pinging and heading at a steady speed towards Venezuela.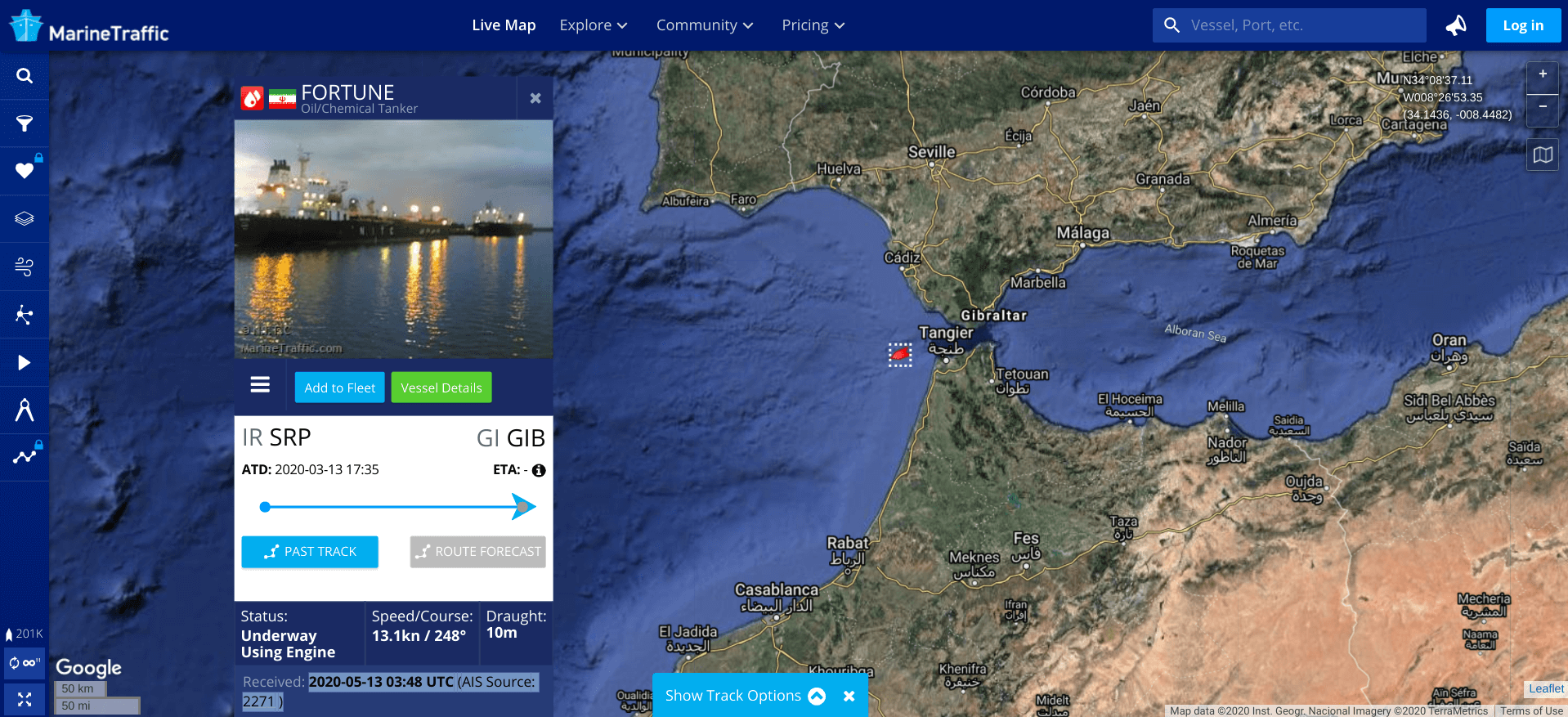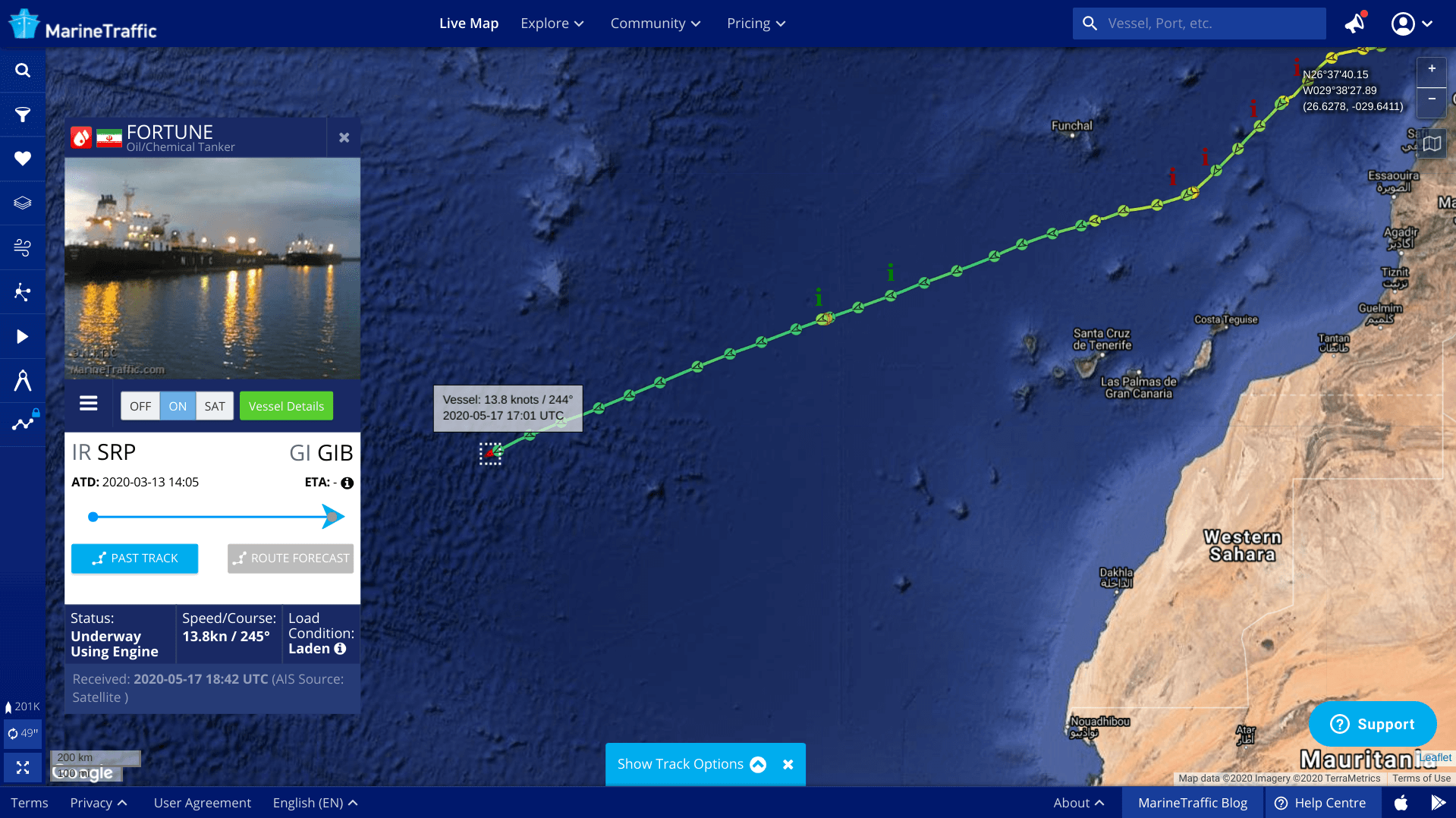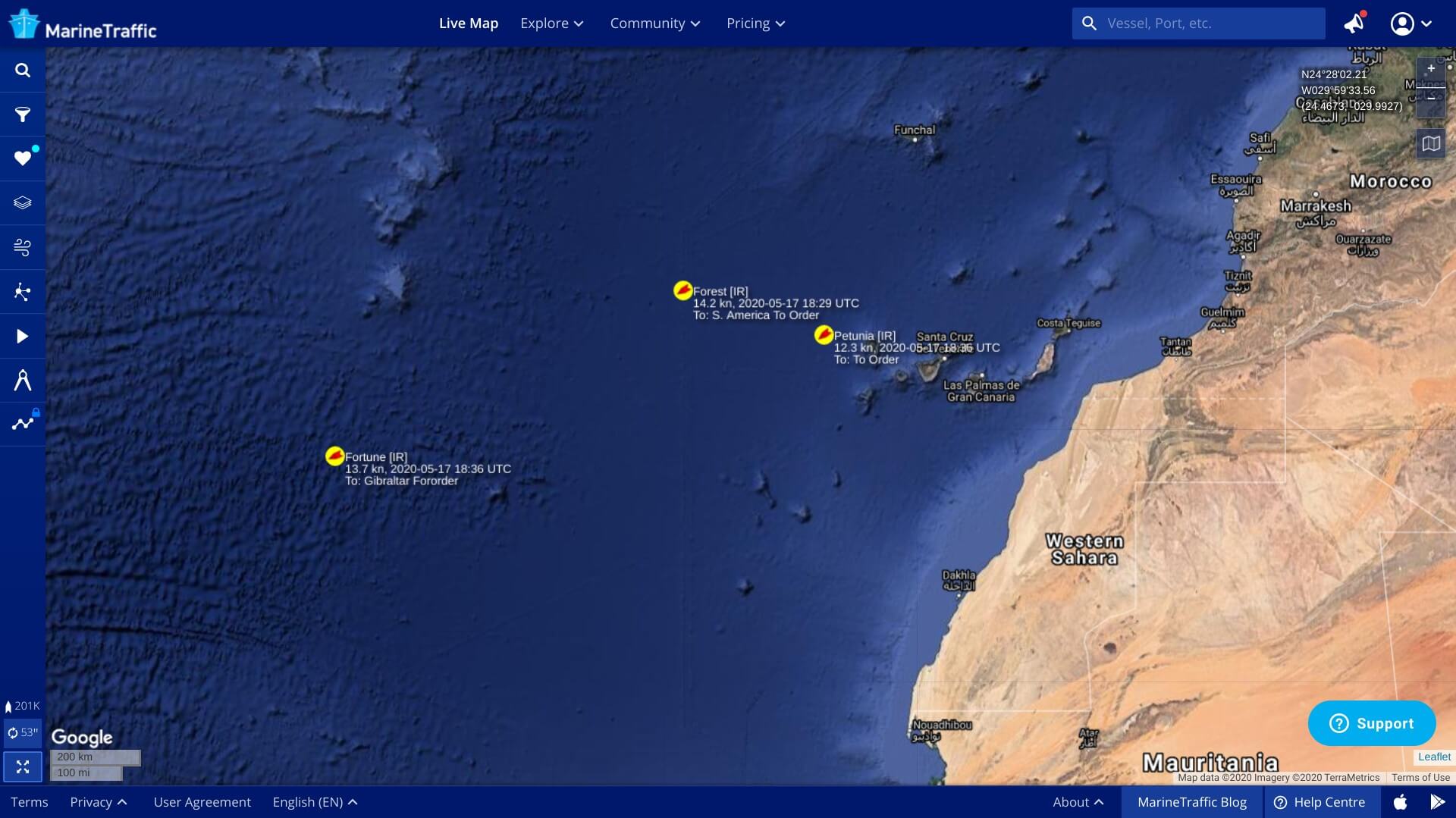 All in all, no issues so far. No navy arrest, and no reason for that to happen either. These 220-240 million liters of gasoline will benefit the population of Venezuela, and will likely be welcome by both sides of their political aisle due to the fact that Venezuela is now home to some of the world's most expensive gasoline. This transfer is for civilians purposes, from what we're able to gather so far. It would not benefit the United States to engage with these vessels because the optics would look bad when people are protesting against the government due to the shortage of gasoline. That's our honest analytical assessment, at least.
UPDATED 2020-05-19: Smooth sailing these past few days now from what we can see. The FORTUNE is about 60% across the Atlantic, and from our analysis of past tracks by vessels her size and speed, she might be in Caracas by May 25th, which is next Monday. The CLAVEL is currently sailing towards Gibraltar and about to enter the Atlantic Ocean in about 15 hours.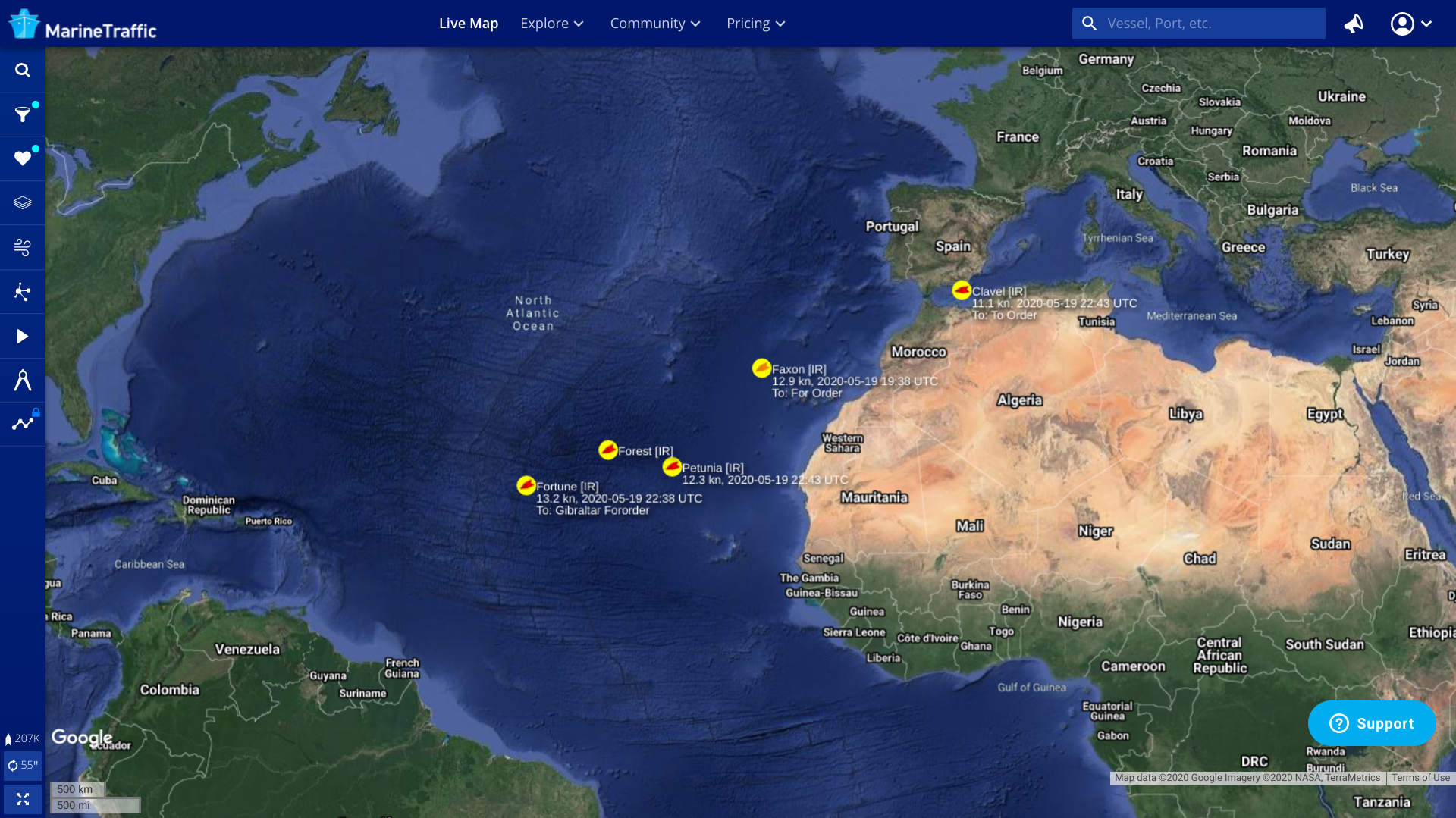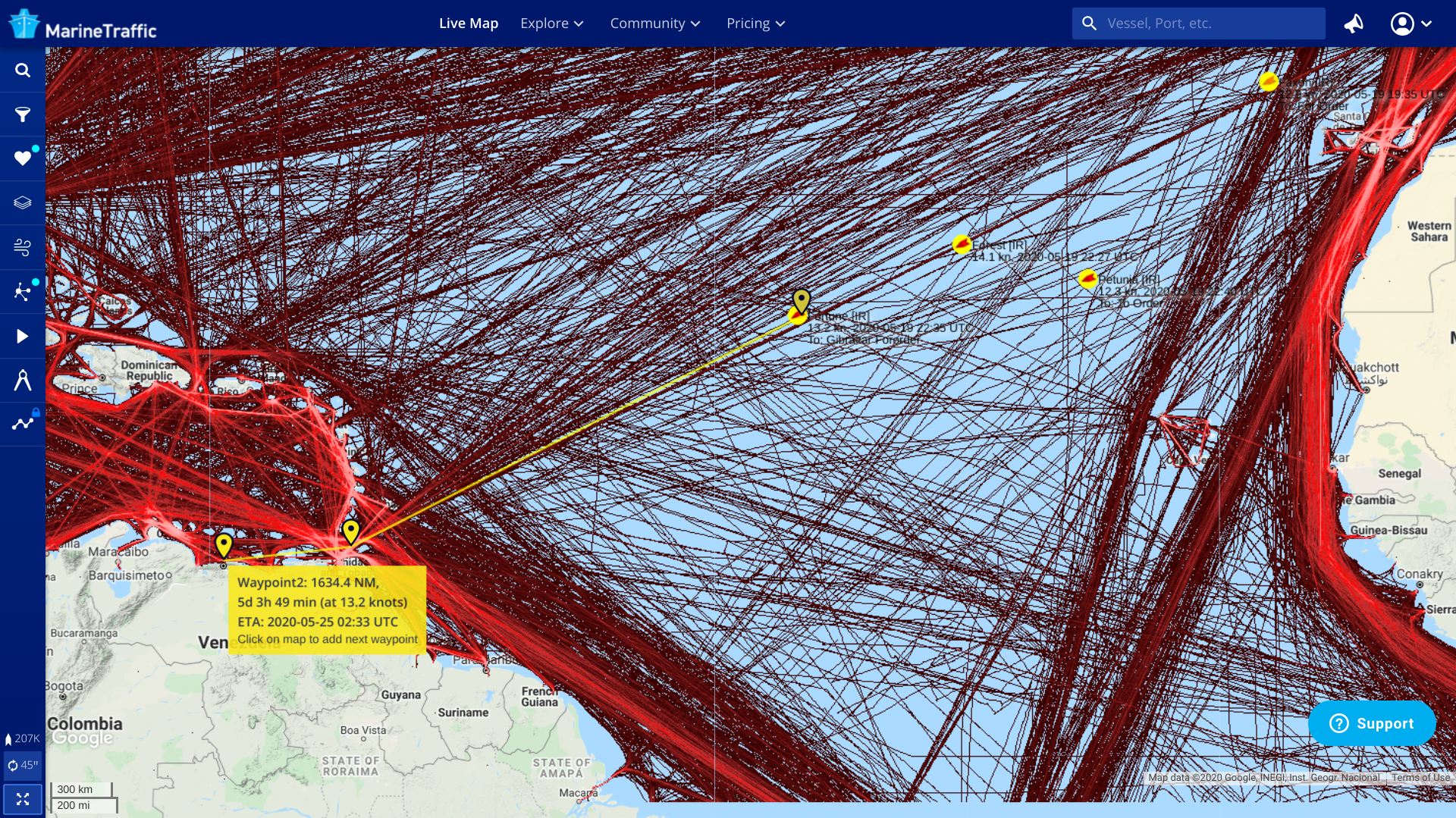 UPDATED 2020-05-20: All 5 tankers are now in the Atlantic Ocean. The CLAVEL is making her exit out of the Strait of Gibraltar's shipping lanes shortly. She is only 3.5 days behind FAXON, and also 12-13 days away from Caracas. That implies that she would possibly arrive on June 1st. The remaining tankers are proceeding southwest across the Atlantic without any issues so far.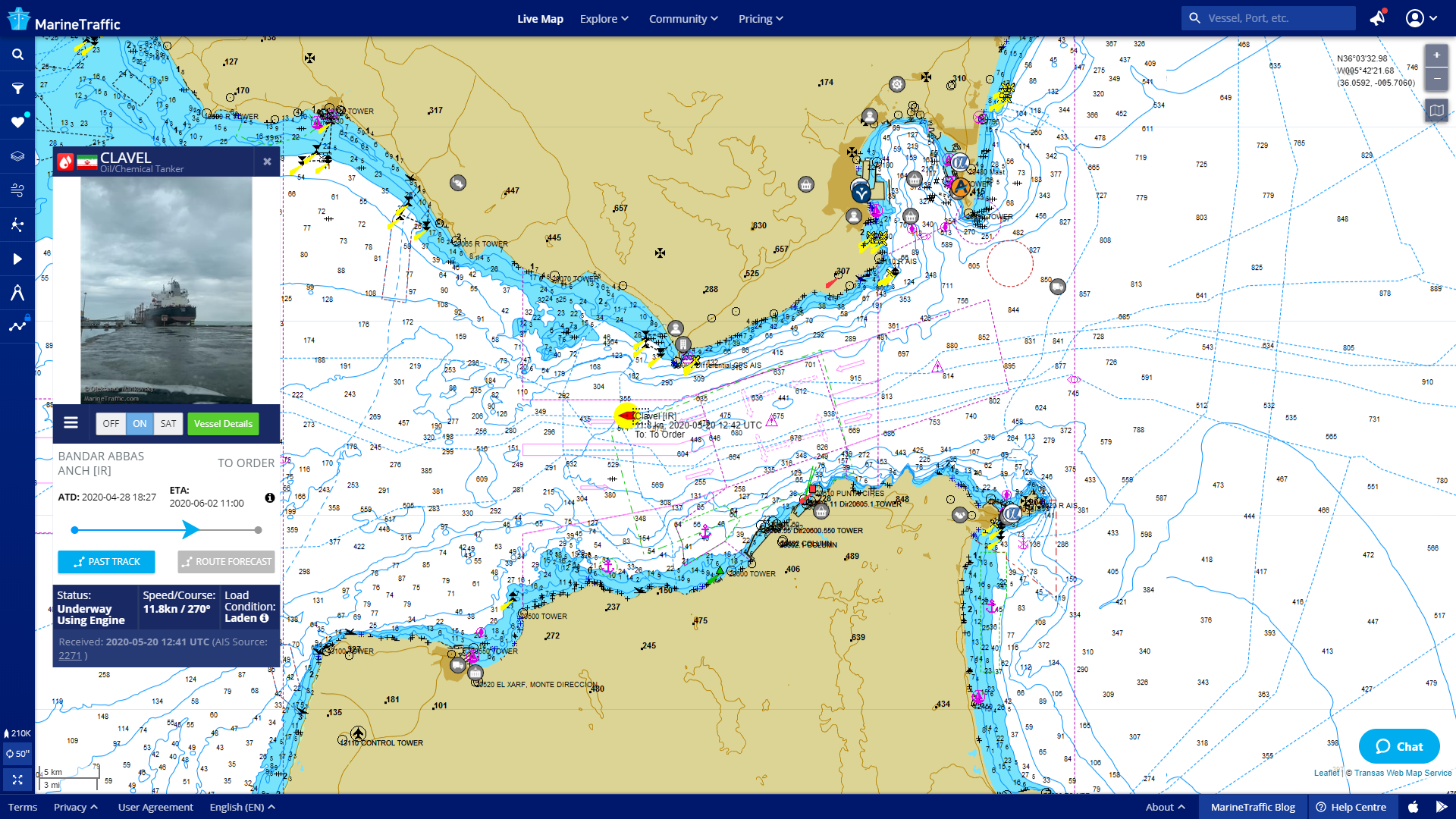 UPDATED 2020-05-21: OK, change of plan. Based on consultation with folks familiar with the infrastructure in Venezuela, the arrival of these tankers will most likely be at the actual major oil refineries/terminals. That removes Caracas as a destination. If we go for Puerto La Cruz, which is closest, then the arrival may likely happen on May 24th, which is on Sunday. FORTUNE is carrying around 43 million liters (11.3 million gallons) of gasoline according to our estimates. If we assume a 9% vehicle penetration rate (2.61 million cars) in a country of 29 million people, averaging at 50L per tank, then this single tanker alone could cover roughly 1/3rd of the country's vehicles.
Of the 5 vessels currently bringing in gasoline, the FORTUNE and FAXON have the same (yet least) amount while FOREST has slightly more. The PETUNIA and CLAVEL have substantially more; around 57-58 million liters respectively. All in all, our estimates show 244,240,848 liters, though we expect a negative adjustment of 5-10% depending on ballast seawater tanks that keep the vessels in balance. This is why why said originally 220-240 million liters. In any case, now that Venezuela's military has announced that they will provide a navy escort once the vessels enter the EEZ (Exclusive Economic Zone; 370km of distance from shore), we shall do our best to capture the rendezvous with hi-resolution satellite imagery. Below is a map of Venezuela's EEZ.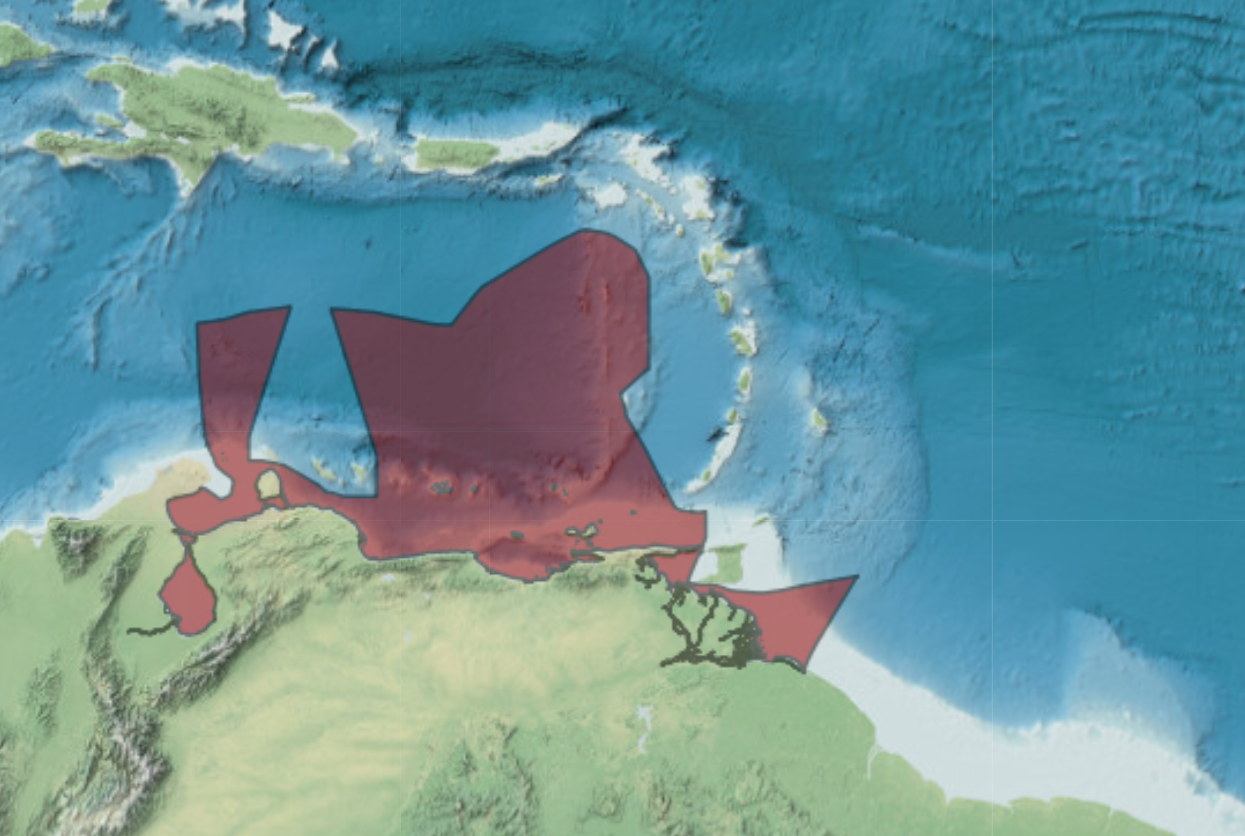 UPDATED 2020-05-22:
Based on new information gathered today by Reuters, it seems that the flotilla is carrying two types of gasoline. There's regular and there's alkylate. Logistically speaking, regular gasoline has a shelf-life of only 3 months before its chemical composition begins to deteriorate. That's 12 weeks and the voyage between Iran and Venezuela is around 5 weeks long. Alkylate gasoline can be stored for years, according to this product description.
If that's the case, then the likelist scenario to play out is for the three smaller tankers (FORTUNE, FOREST and FAXON) to target the major populated cities with regular gasoline while the larger PETUNIA and CLAVEL target the refineries in the east and west of the country in order to deliver to storage. We anticipate that there will be a lot of rationining until the government figures out if PDVSA can restore some domestic refining capacity or whether they'll have to import more gasoline again.
Here's a cargo summary, stated in barrels, liters and gallons:
| Tanker | Cargo | Barrels | Liters | Gallons |
| --- | --- | --- | --- | --- |
| FORTUNE | Gasoline | 268,924 | 42,758,855 | 11,295,694 |
| FOREST | Gasoline | 274,256 | 43,606,713 | 11,519,675 |
| PETUNIA | Alkylate | 365,856 | 58,171,172 | 15,367,198 |
| FAXON | Gasoline | 268,924 | 42,758,855 | 11,295,694 |
| CLAVEL | Alkylate | 358,146 | 56,945,253 | 15,043,344 |
| Total | | 1,536,106 | 244,240,848 | 64,521,606 |
Again, we'd like to remind readers that these are our estimates, and do expect there to be a negative margin of error by probably around 5% because of the small sizes of these vessels, which also have seawater compartments (ballast) for sake of balance.
According to today's map, the FORTUNE is roughly 2-3 days away, all depending on which port she is heading towards. The question is if she'll bring her cargo of fortune to Caracas first and be met with an air force jet salute now that there's an excess of jet fuel in the world given that flights are down some 90%.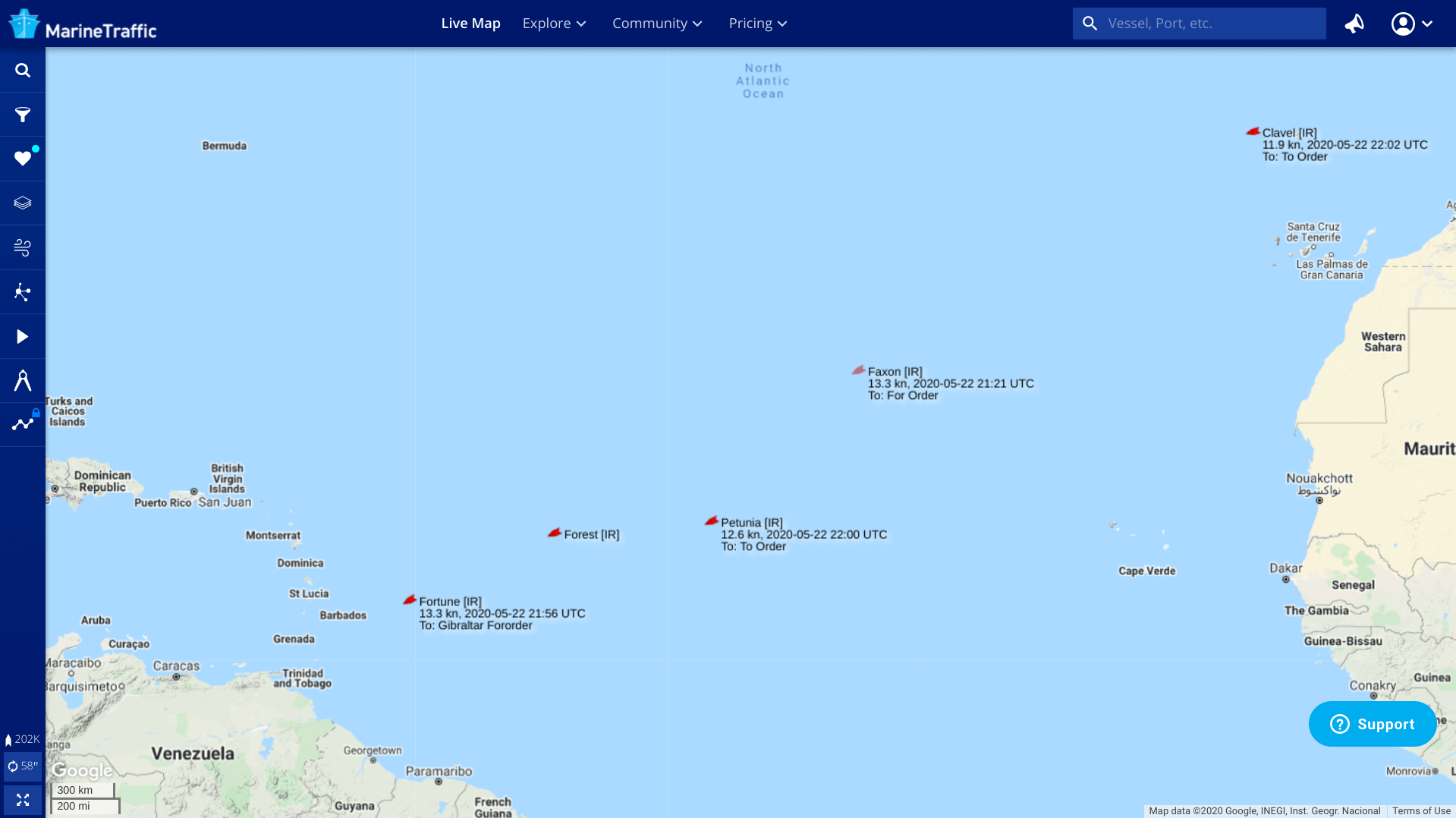 UPDATED 2020-05-23:
The AIS transponders aboard all five tankers have been on during the entire voyage so far and FORTUNE is about to enter Venezuela's territorial waters with a navy escort. It seems that she's sailing outside the normal course vessels of her size normally taken when arriving into the country. We can see from MarineTraffic's Density Map feature that she's not sailing in the expected trajectory westwards to the main ports, but aiming to reach the closest part of the country's EEZ maritime border.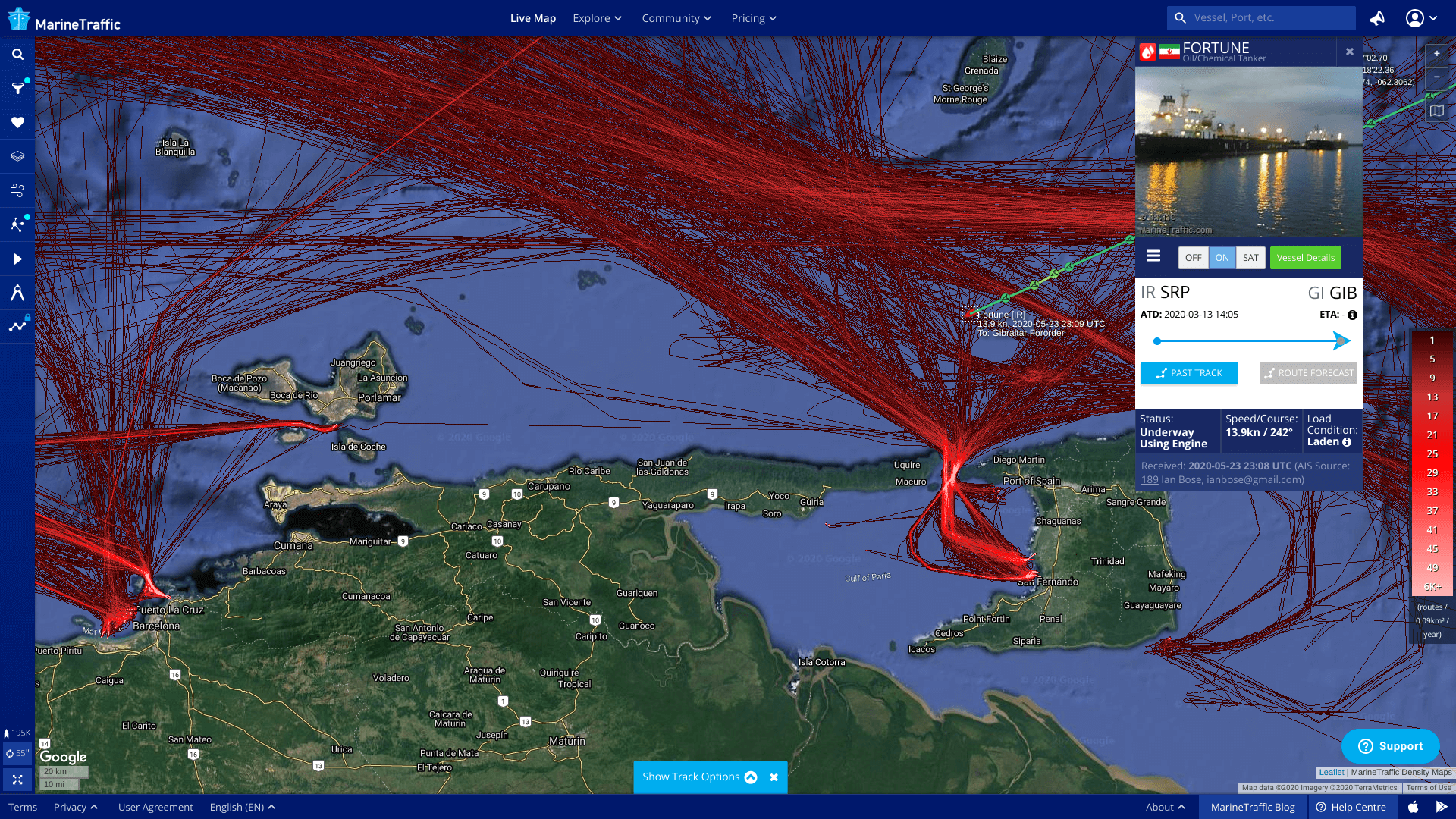 We were able to acquire a satellite photo of her today just northeast of Tobago island.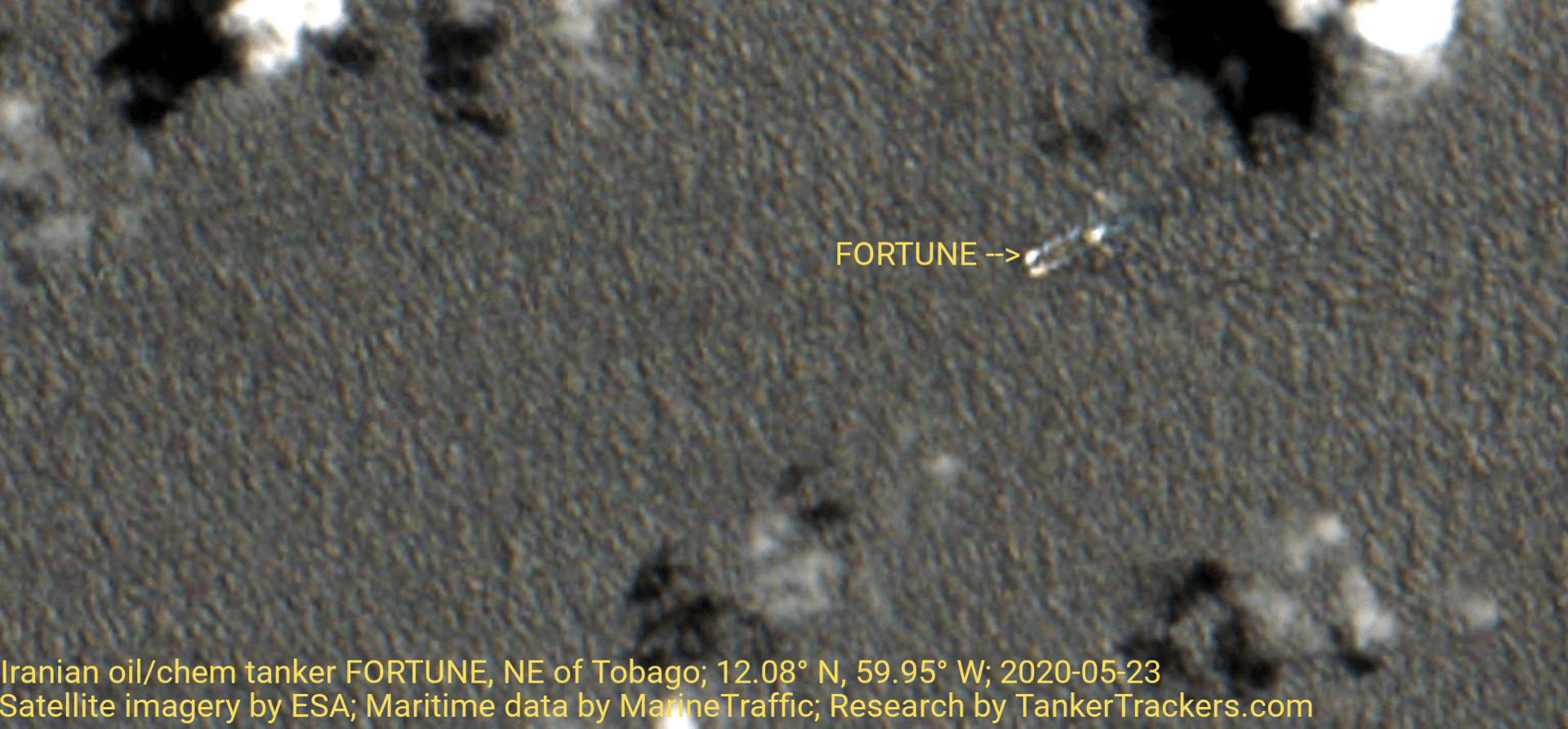 Elsewhere in this part of the world, we're seeing trace of an Iranian VLCC supertanker named STARLA heading empty from the Panama Canal towards USA via the Gulf of Mexico. We'd like to remind our readers that this is actually a spoof; a fake. This vessel is not in the Gulf of Mexico but most likely still in Iran. We know so because a vessel her size does not fit through the Panama Canal, which is the location she finally pinged from after being offline for a year. We posted a HEADS UP notice about this tanker the other day before quickly realizing we were duped. The vessel's simply not there. The timing however, is interesting. We are working with MarineTraffic to see what can be done about these spoofs as we see them quite a lot. A vessel like the SANAN will show that she's off the coast of Somalia, but imagery shows her in Syria.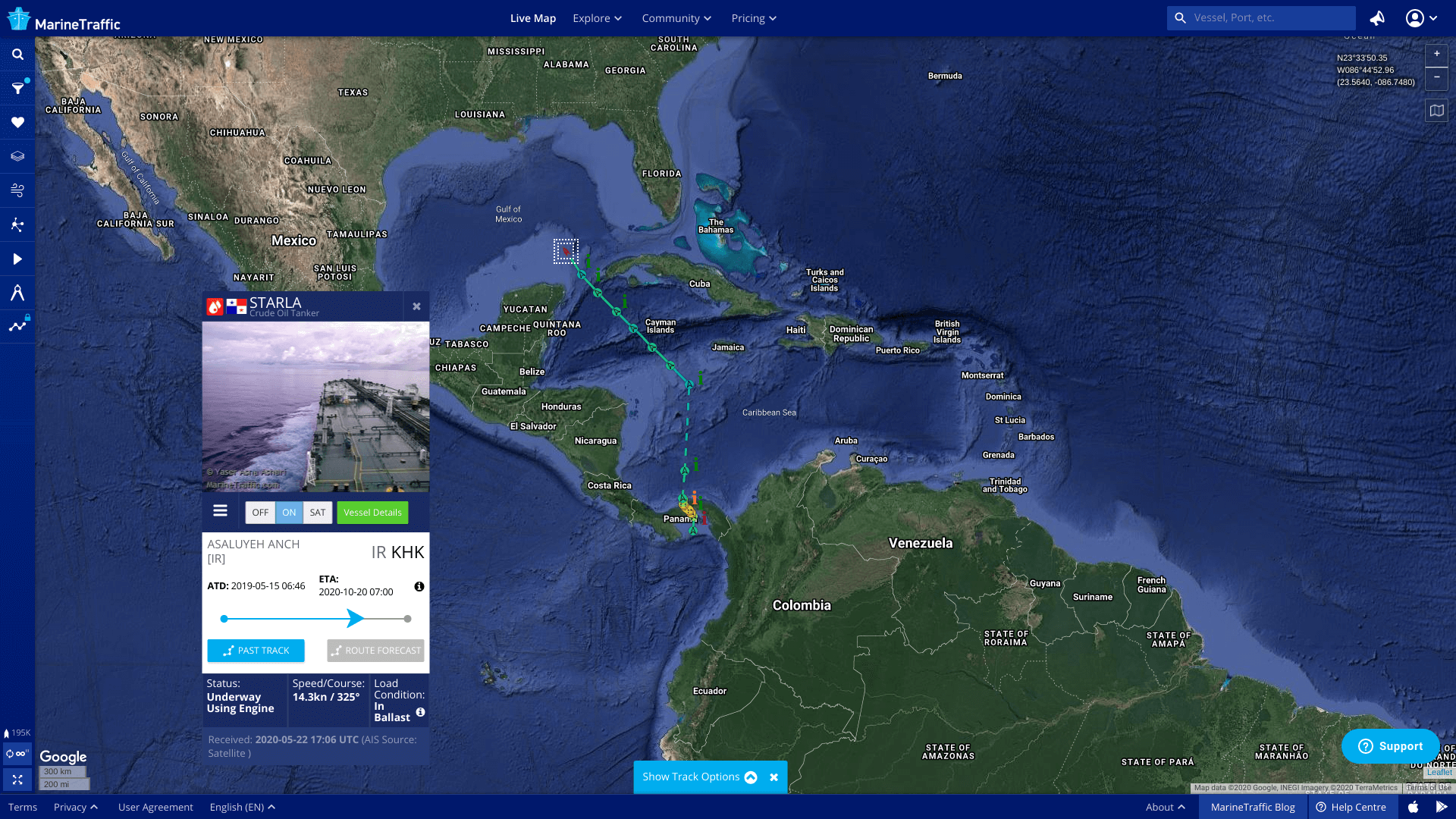 UPDATED 2020-05-24:
As we wait for satellite imagery to arrive, we can say that based on the angle of trajectory and past trace, that the FORTUNE will reach the port of El Palito, located west of Caracas. It contains a couple of jetties from where Handymax tankers such as her normally berth to export and import liquid cargo. Based on MarineTraffic's Voyage Planner, we're looking at an ETA of 13 hours from now, which is at around 11pm local time. Imagery of the mooring won't be available until tomorrow, at best. For now we're waiting to see if we can get a photo of the FORTUNE alongside her navy escort.
Stick around for a new update later today.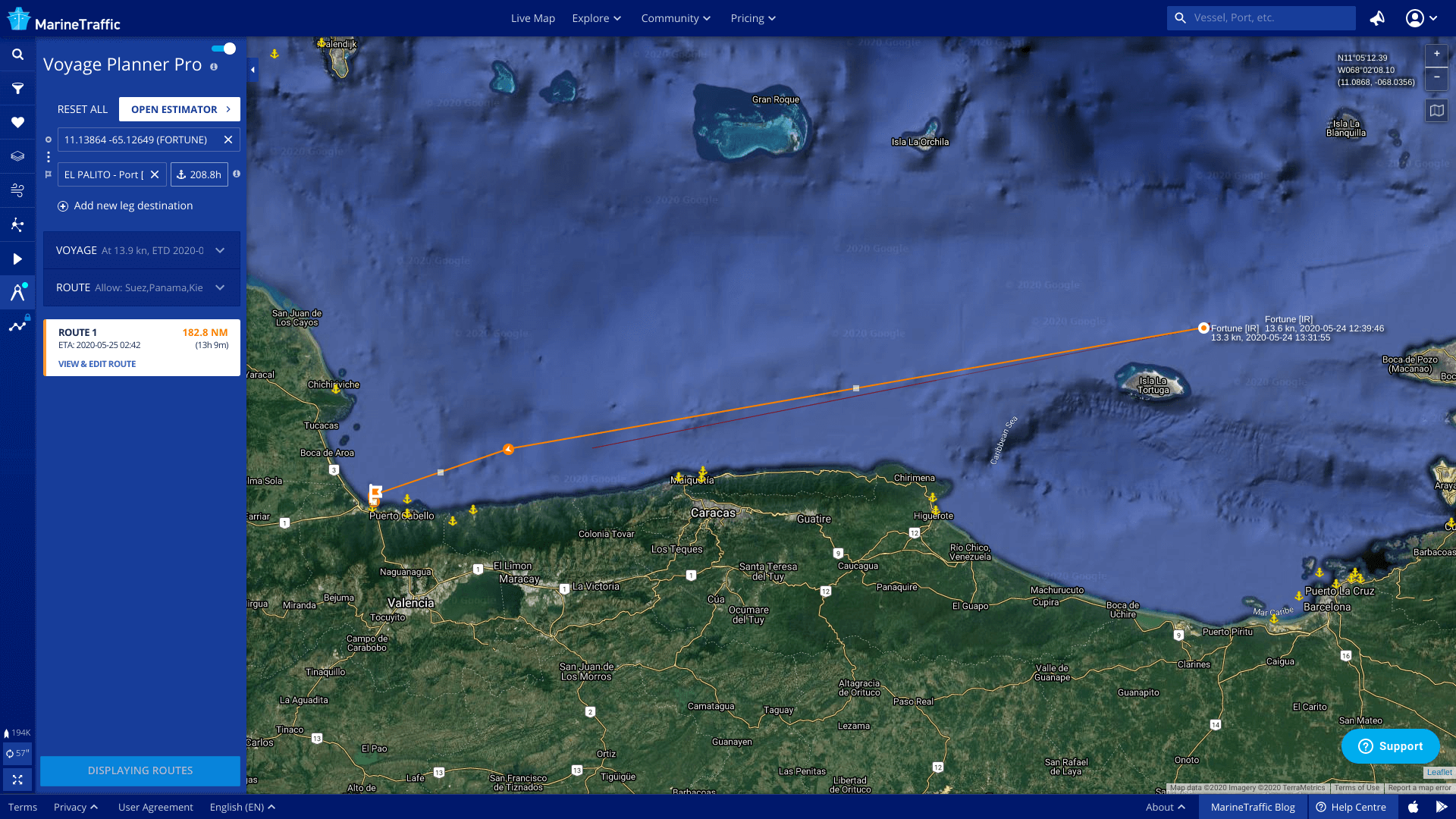 UPDATED 2020-05-25:
The FORTUNE arrived at El Palito as per our updated expectations yesterday. We fired off a tweet this morning about that, and another tweet showed up just now from a government official. She moored at berth 2 at 00:47 local time according to MarineTraffic and will most likely spend 2-3 days there, at least when we look at past year's data of how long Handysize tankers have spent when delivering liquid cargo. Given that FORTUNE is carrying around 43 million liters of gasoline, we estimate that she alone should be able to cover 1/3rd of Venezuela's vehicles, assuming 50L per gas tank average. El Palito is situated in a spot that makes it easier to distribute the fuel to the most populated cities in the country: Caracas (5.6 million people) and Maracay (1.3 million people) to the east along with Valencia (2.8 million people) nearby to the southeast. That's around 1/3rd of the country's population. The second largest city, Maracaibo (4.1 million people), is too far west and we think that it would be too big a security risk for PDVSA to truck the gasoline all the way there. It would also require far too many trucks and claim too much fuel in the process, even if they operate on diesel. Instead, the third vessel, a Handymax named PETUNIA, would probably be more ideal given she's carrying alkylate gasoline, which has a longer shelf-life as we mentioned earlier.
She could deliver it to Maracaibo, but we believe she will probably end up at the Paraguana refinery in Amuay instead because that is the more appropriate starting point for distribution given that they have storage and trucks. Also, we don't know how or if they're going to do anything else with the alkylate first before delivering it downstream to consumers. In the meantime, we see that the second Handysize tanker named FOREST is following FORTUNE's trajectory towards El Palito, however has taken a more confident route after the extra precautions FORTUNE took in regards to sticking close to the coastline after entering the EEZ. She was photographed this morning after crossing into territorial waters.
If we plan further ahead, then there's a chance that Handysize tanker FAXON (number 4 in the flotilla of 5) also arrives at El Palito while the fifth and final tanker, a Handymax called CLAVEL delivers akylate gasoline to the refinery in the east of the country, at Puerto La Cruz. It is not too far away from the José Terminal, where the majority of crude oil exports take place. We think the storage facility at Puerto José might be a bit risky given the water offers only 12 meters depth while the vessel is 11.8 meters deep in the water.
It's going to be a busy week!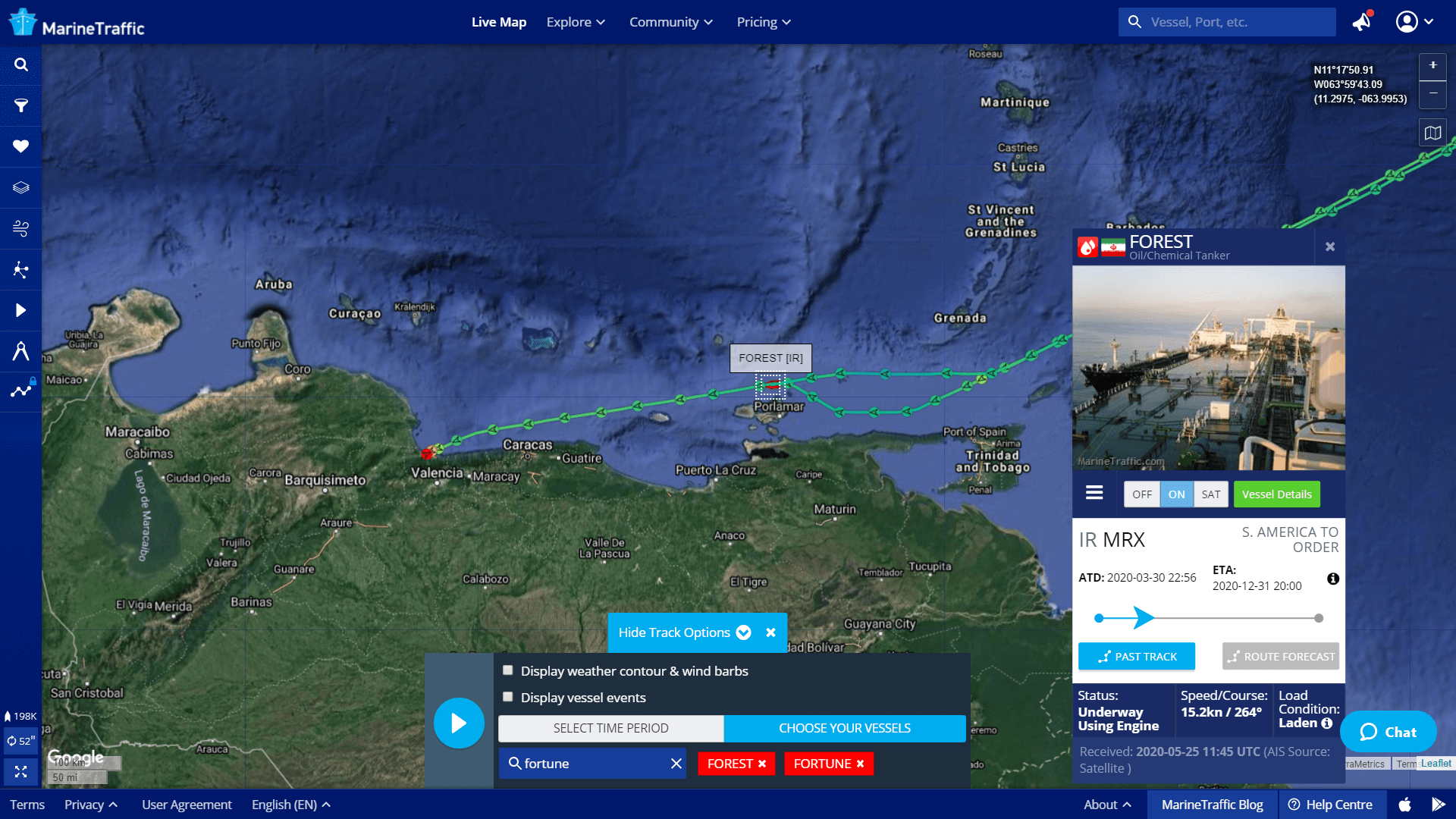 UPDATED 2020-05-26:
We now have a hi-resolution satellite photo captured by SkySat, belonging to Planet Labs. It shows that the FORTUNE is berthed right across the Cuban Panamax tanker named PETION. This tanker normally carries Venezuelan crude oil and fuel oil to Cuba, and is under US sanctions. Rumors suggest that this Iranian gasoline aboard the FORTUNE will end up in Cuba. We don't side with rumors, but we'll keep a close watch nonetheless. To some degree, it would make sense because even though Cuba imports crude oil and has four functioning refineries, they still have to import refined products, including gasoline. The country produces 50,000 barrels per day from its offshore fields to the north, facing Florida, however requires 146,000 barrels per day in terms of consumption. This means that they have to import the difference of 96,000 barrels per day; most of which comes from Venezuela. There is undoubtedly a gasoline shortage in Cuba as well, but they too have a lockdown due to COVID-19, so consumption should be less just like elsewhere in the world. Basically, Cuba is as dependent on Venezuela as Syria is on Iran right now for oil.
As for the FOREST, it looks like may have we lost that wager. :-) She's sailing further west, and we can see that she's also being escorted by a navy vessel called AB GUAICAMACUTO, which sailed in from the dock at Turiamo. Navy vessels worldwide have an erratic AIS history due to security reasons. They mostly only broadcast when there are many commercial vessels around.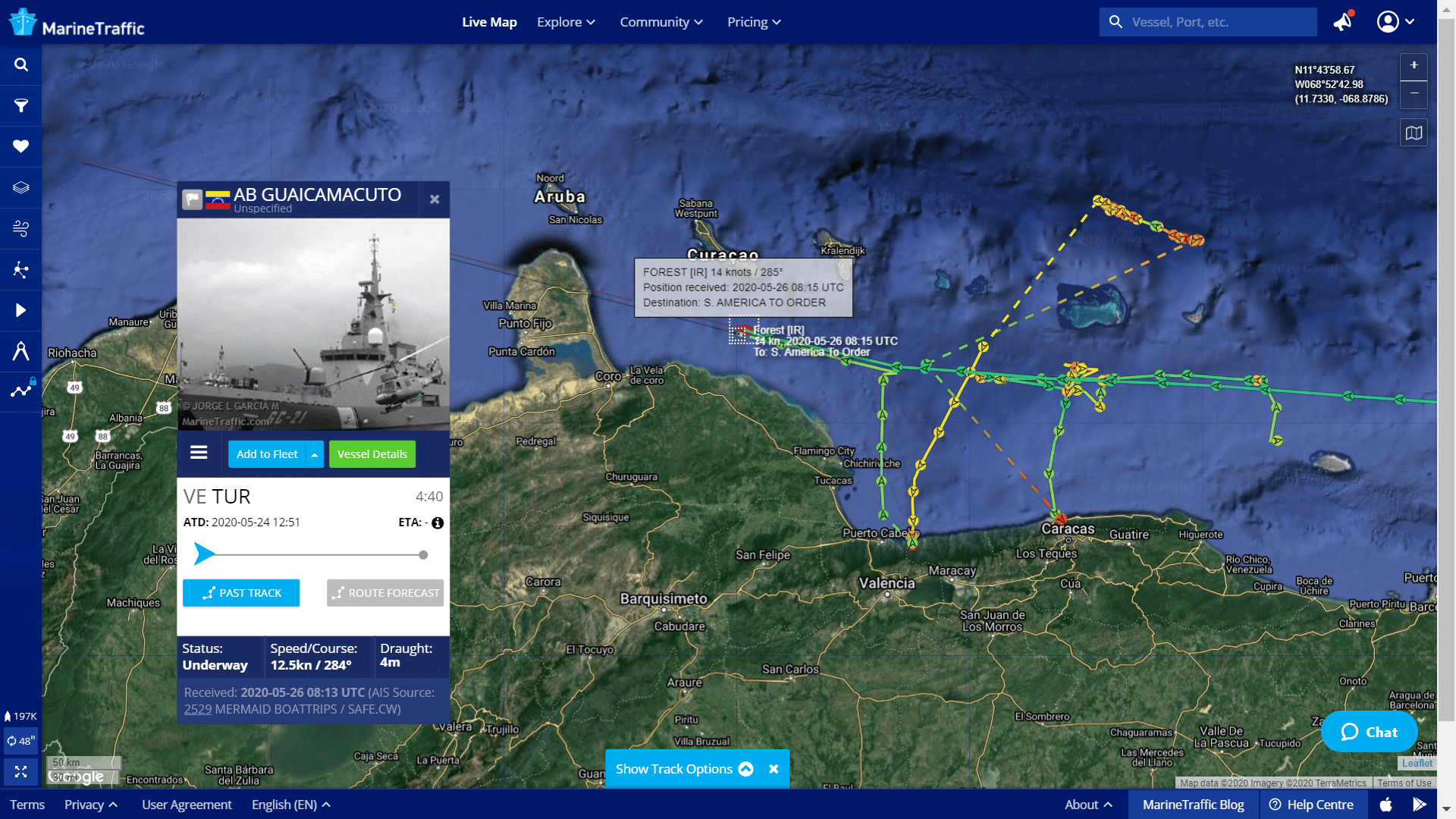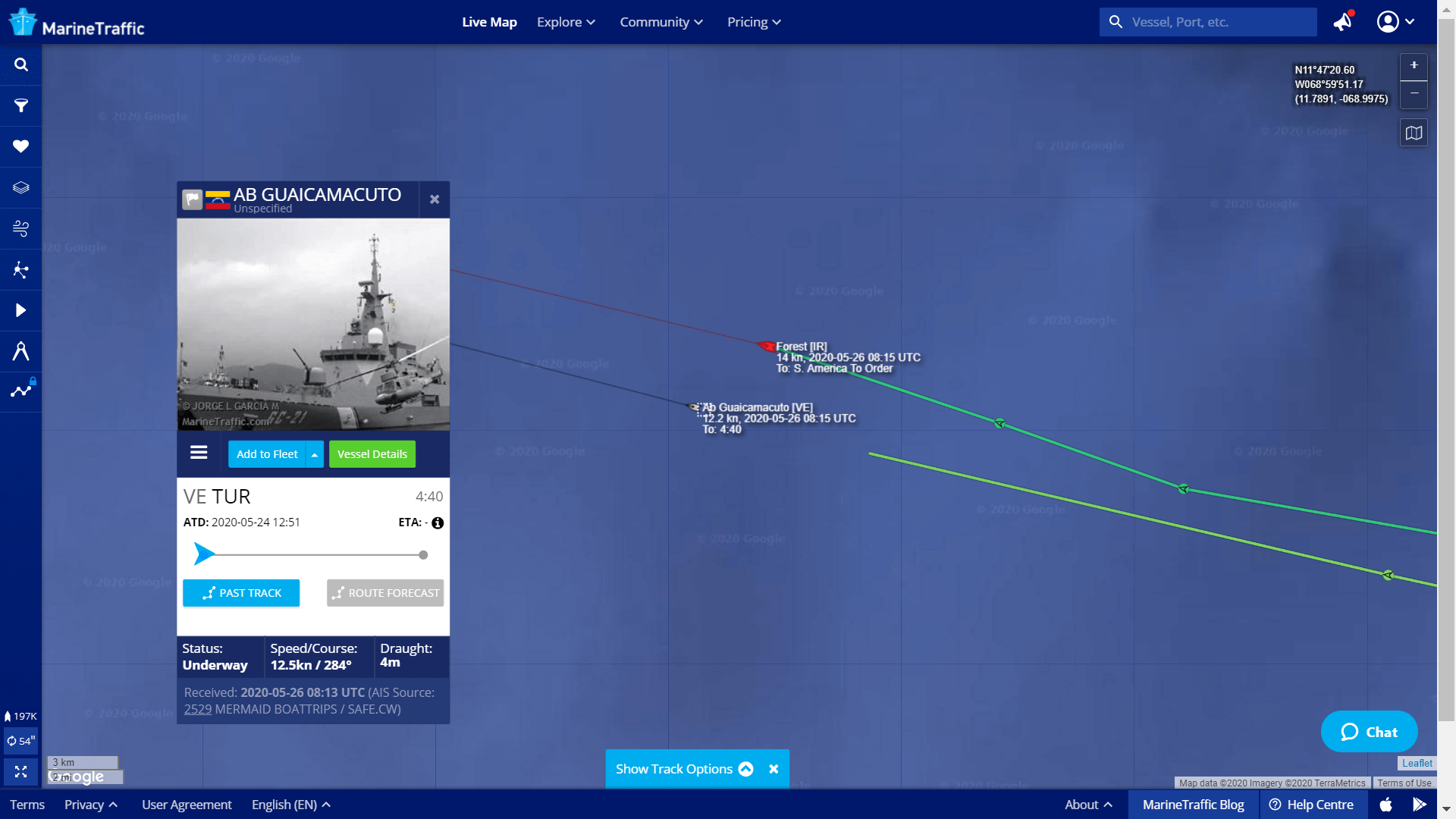 Next up is the PETUNIA. She should be in Venezuela's EEZ by tonight or the crack of dawn morning.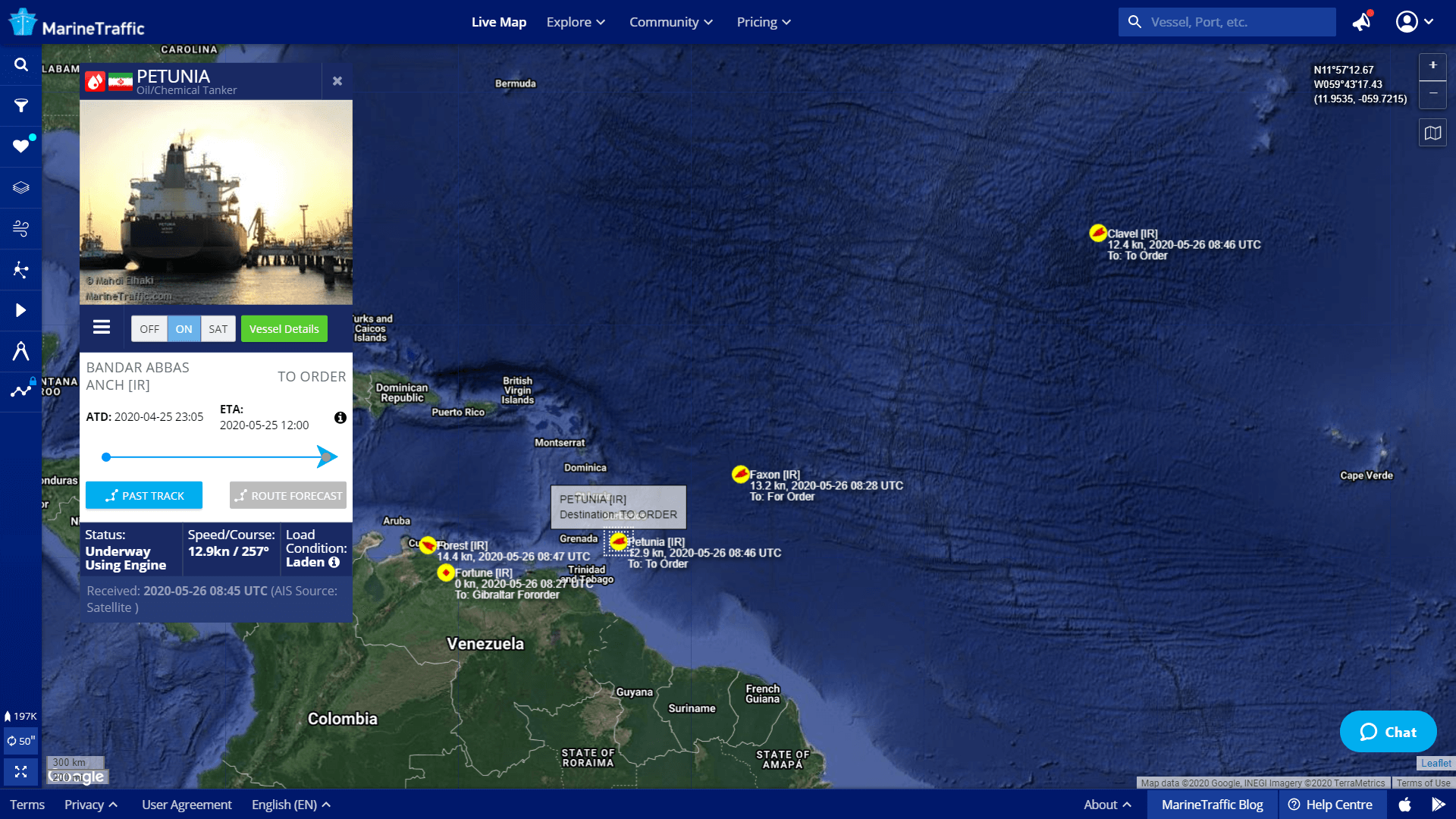 NEW UPDATE for 2020-05-26:
We see that FOREST sailed around that Paraguana peninsula in the west of the country towards the Punta Cardon refinery at Amuay, and was escorted by the AB GUAICAMACUTO navy vessel. FOREST is not currently pinging over AIS (ended 4h ago) after arriving at her destination. The navy vessel stopped pinging over 9h ago before sailing around the peninsula.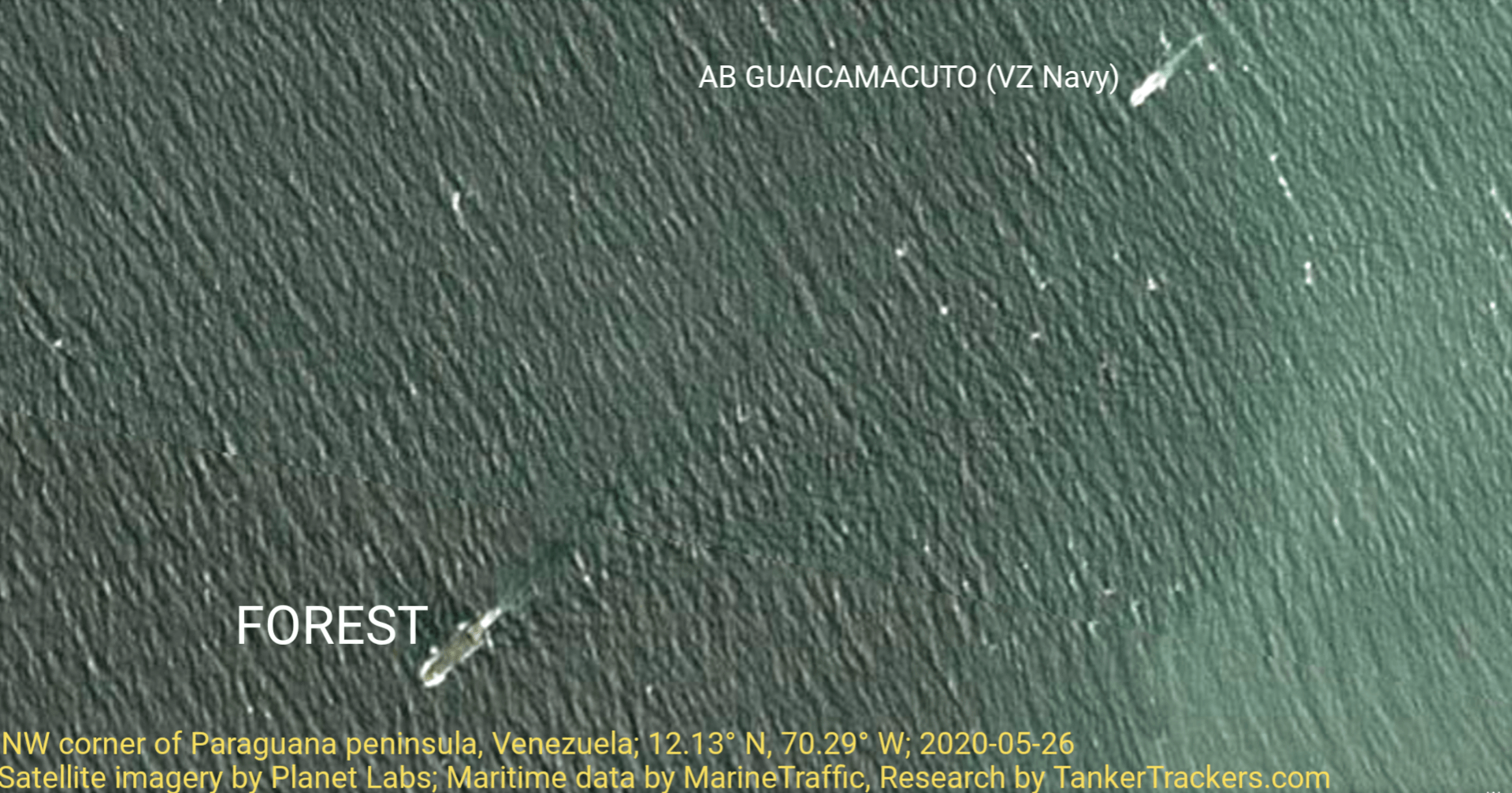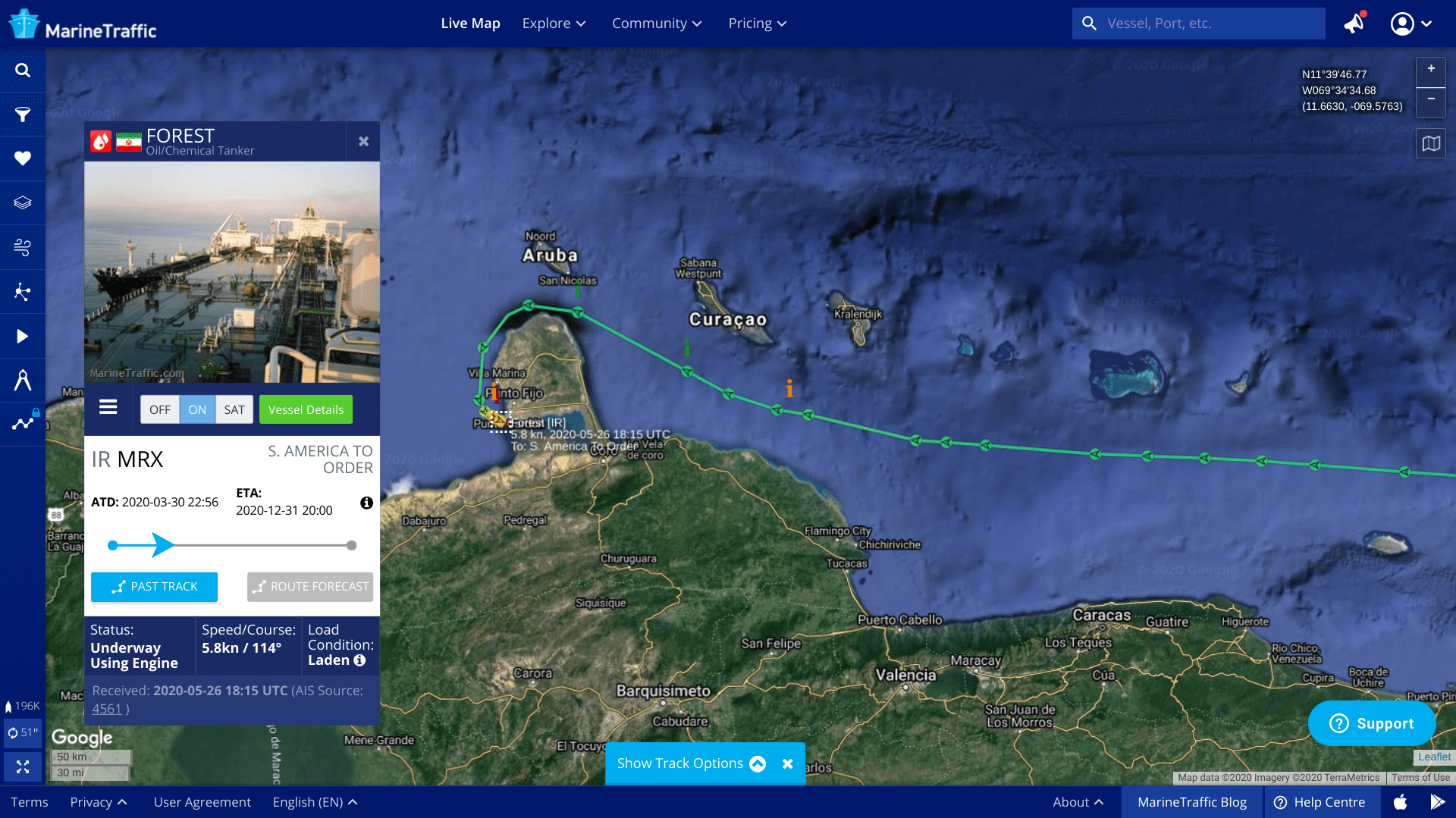 UPDATED 2020-05-27:
FOREST switched off her AIS transponder yesterday at 14:15 local time after arriving at the Punta Cardon refinery in Amuay. She was met by a mini parade of PDVSA employees. We were able to spot her in today's satellite imagery. She was moored alongside (what they call) the Mulle Verde/Green Jetty in order to deliver her cargo of gasoline.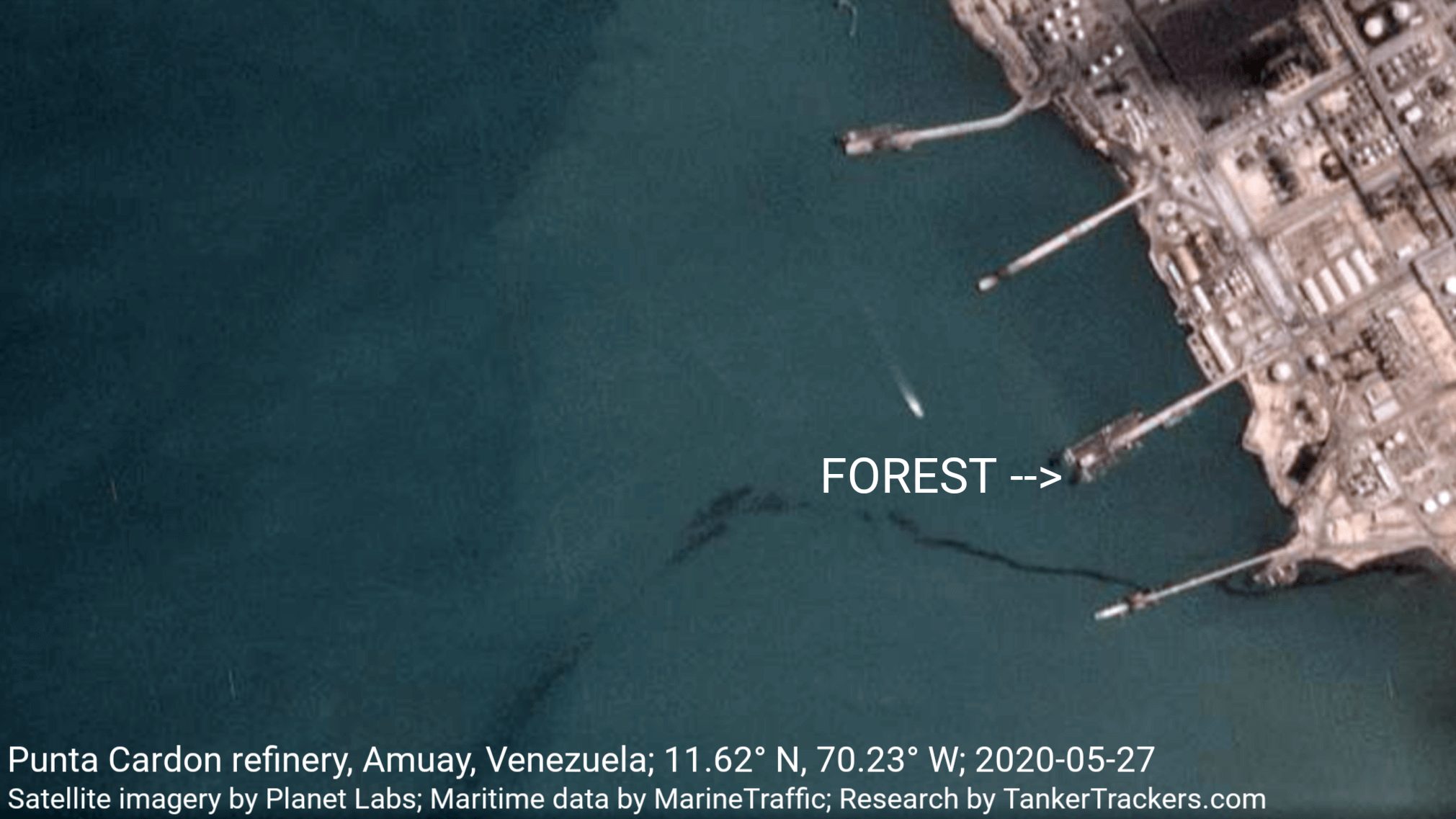 As for FORTUNE, she's still pinging from El Palito, and has been there for nearly 3 days now. We checked that Cuban Panamax tanker PETION across her, and she disembarked from the jetty to park in the anchorage. She's laden with more liquid cargo than the FORTUNE would have been able to provide her, so we do not suspect her of containg anything from FORTUNE. It seems that FORTUNE is still discharging her gasoline cargo to the refinery as the pumps might not be all that efficient given it takes normally 2-3 days as we mentioned previously.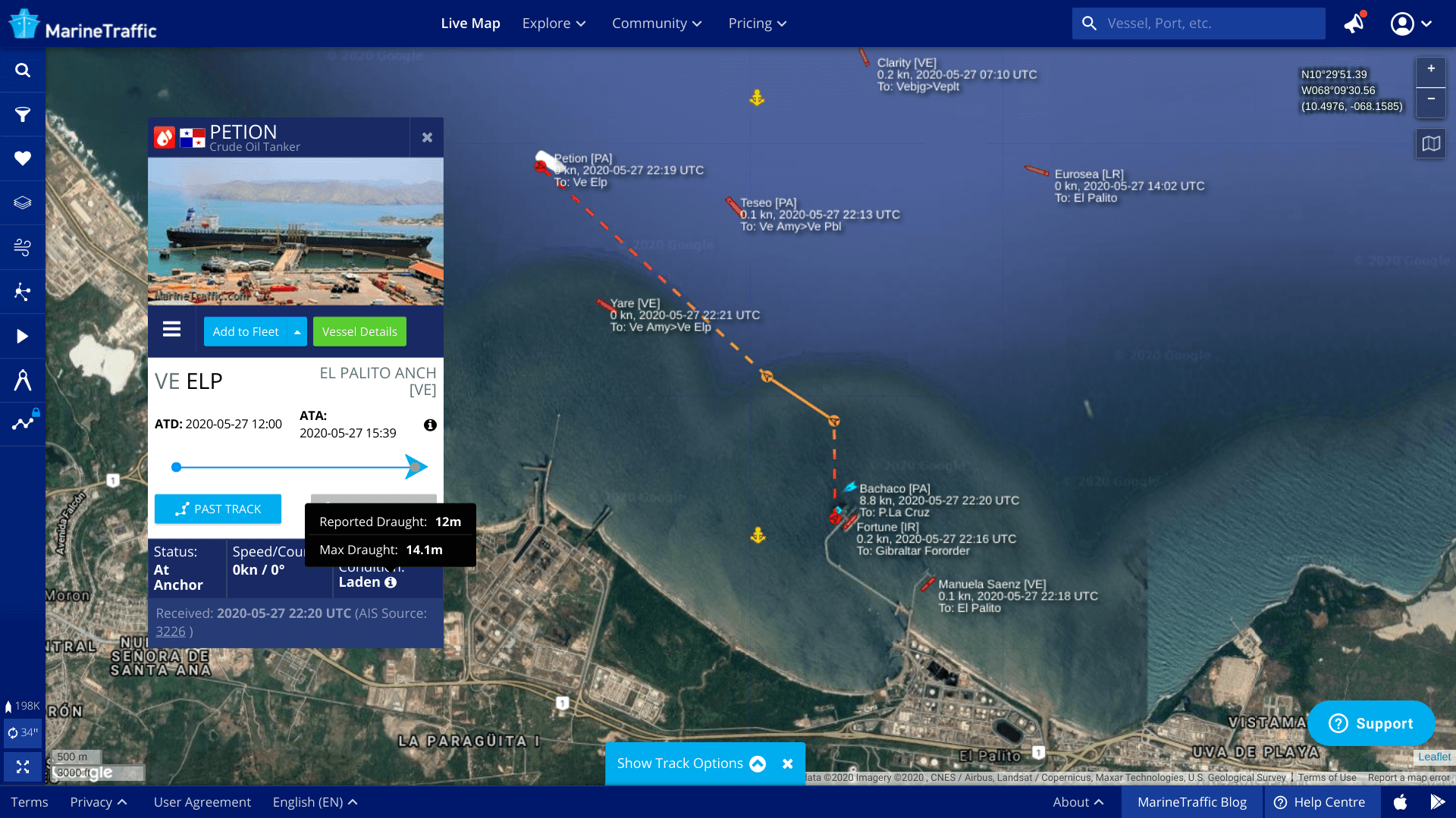 On the inbound, we have the PETUNIA. She's one of two Handymax tankers we suspect contains the longer shelf-life akylate gasoline, and is due to reach El Palito is less than 3 hours time at around 9 or 10pm local time. We also see that the fourth tanker, FAXON, is about to enter the EEZ. Quite well timed gaps between all of them so far, however the fifth and final one, CLAVEL, is still days behind.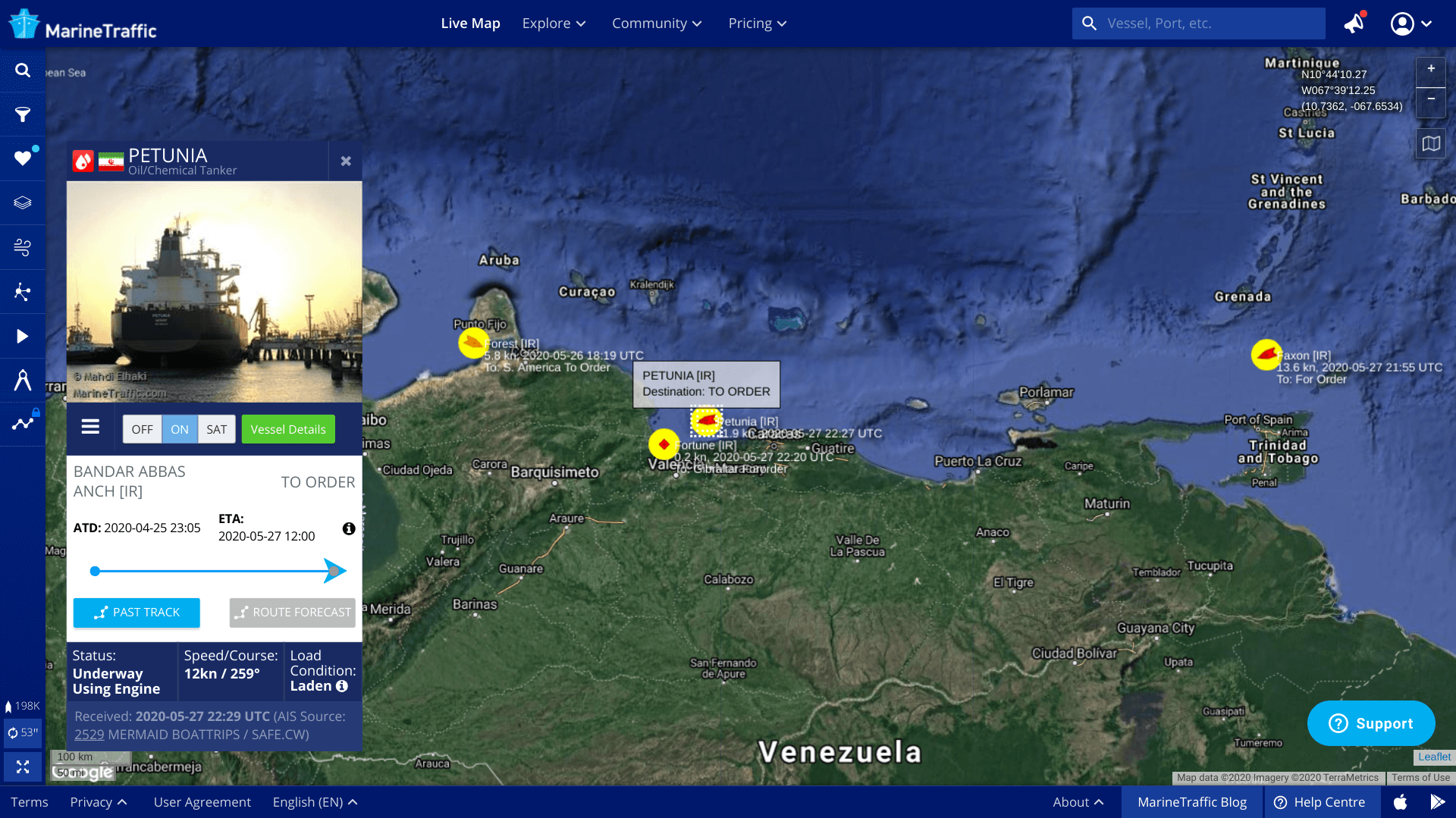 UPDATED 2020-05-28:
Tankers have been arriving very quickly this week, and they're spreading out to cover the key terminals and refineries. We see that PETUNIA (3rd tanker, a Handymax carrying alkylate gasoline) has moored at El Palito while FORTUNE relocated herself to the parallel jetty after concluding her delivery. The relocation was most likely due to the fact that once a tanker is emptied of liquid cargo, it rises higher above the waterline, and therefore can sit in shallower waters. This allowed FORTUNE to relocate while paving way for PETUNIA.
As for the Cuban-owned Panamax tanker, PETION; we have no reason to believe that FORTUNE supplied her any gasoline cargo. The reason for this is because the PETION is a much larger vessel and was moored for 6 days at the berth, which is a very long time. The reason for this seems to be mechanical due to a very dilapidated pump system and infrastructure. Check out the port calls we were able to gather for El Palito in regards to the crude oil tankers (which normally carry fuel oil to Cuba) as well as other products aboard oil/chem tankers. You can see in the "TIME AT PORT" column that these tankers take forever to fill. In Iran for example, a VLCC (2 million barrels) takes only 24h to load while a vessel with 1/5th that capacity takes nearly a week at El Palito.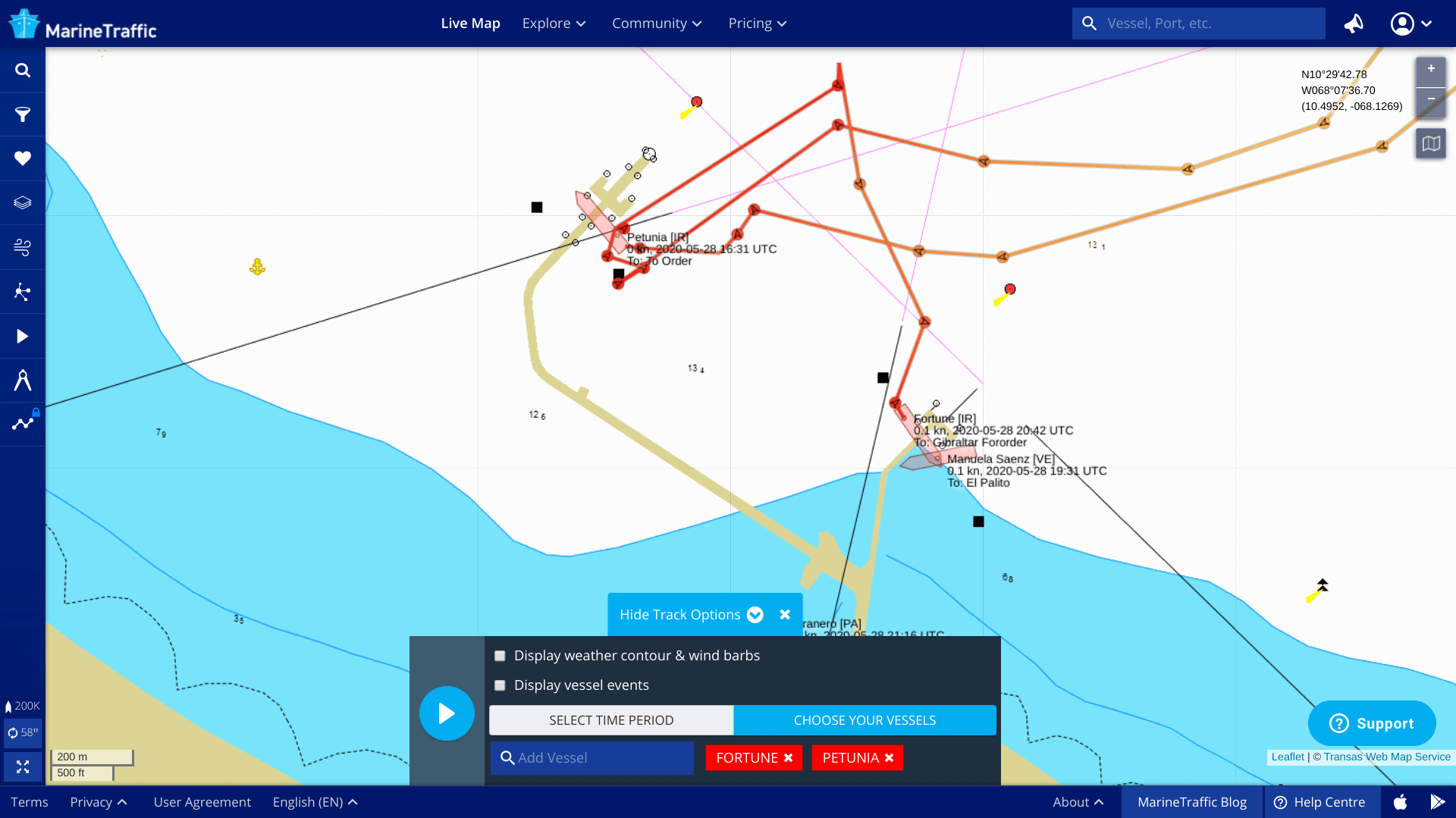 Further east, we see that the FAXON has arrived with her gasoline to the port of Puerto La Cruz in the east of the country after taking a very sharp south turn from the Caribbean. With so much gasoline spread across the country, it further signals us that this gasoline will be consumed within Venezuela. We haven't seen any STS (Ship-to-Ship) transfers anywhere, and the Iranian vessels have kept their transponders for most of their journey to the country.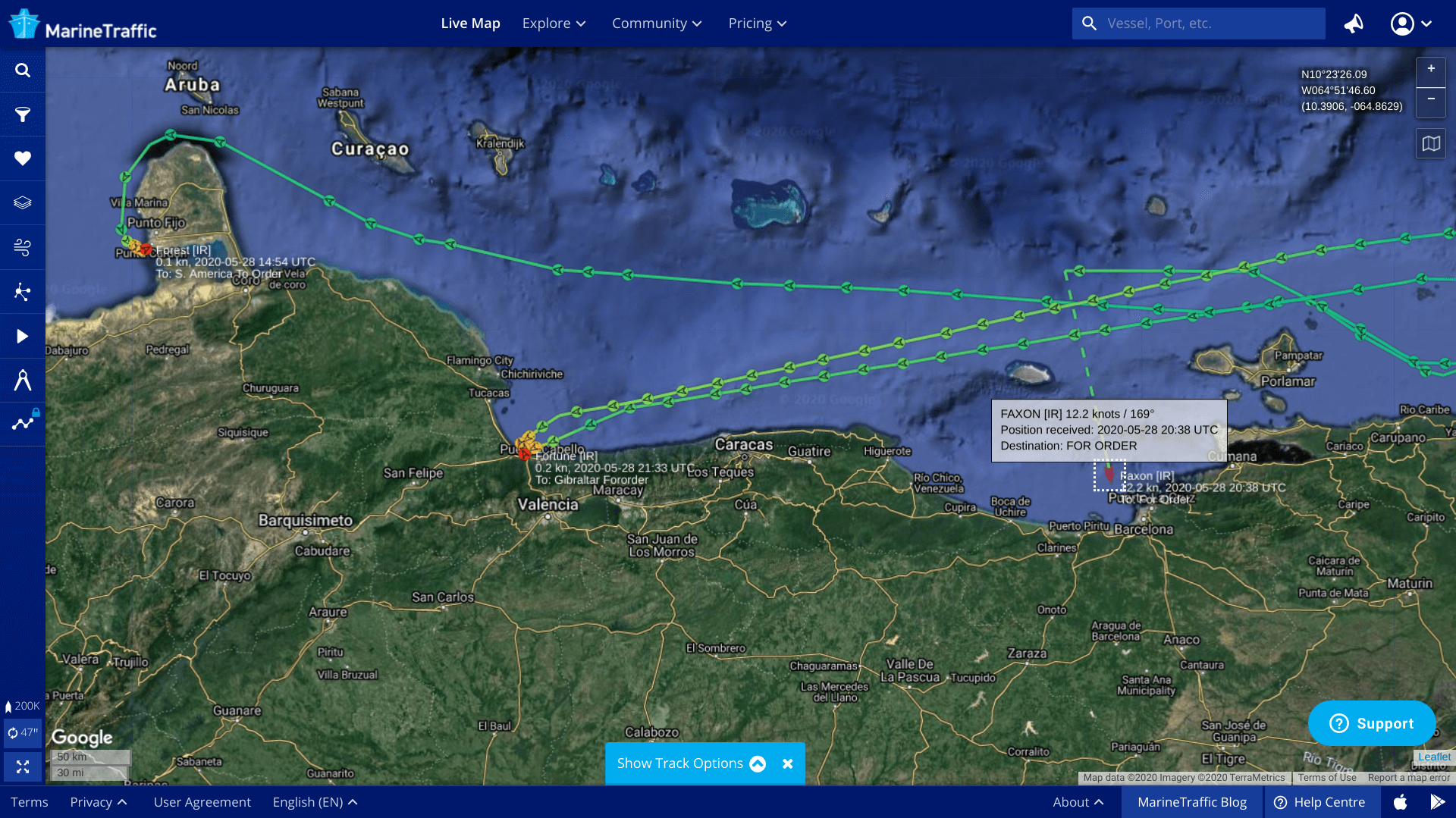 UPDATED 2020-05-29:
We'd like to begin today's update with this standalone article we just published regarding two extra tankers that were purportedly en route to Venezuela, laden with Iranian fuel. They are Greek-owned and Liberian-flagged. We did some analysis on them to see what they did and where in regards to that claim.
As for the four Iranian vessels currently in Venezuela, we see FAXON is at the berth of the refinery in Puerto La Cruz, as we suggested several days ago. None of the four vessels are indicating that they are now empty of cargo, and we would of course expect that FOREST (out west at the Punta Cardon refinery) would be done with the delivery if their pumps work better than the ones in El Palito which are currently receiving fuel from her and PETUNIA.
The thing we're mostly curious about now is what'll happen once all five tankers have completed their delivery? Will they sail together in a tight-knit formation to seek safety in numbers or will they depart independently? The other question is, will they head back via the Med Sea and Suez Canal or will they sail all the way around southern Africa? Or maybe split up? There's a lot of firsts when it comes to Iranian tankers, and we discover interesting moves each week. The CLAVEL is around 3-4 days away, depending on which port she ends up in.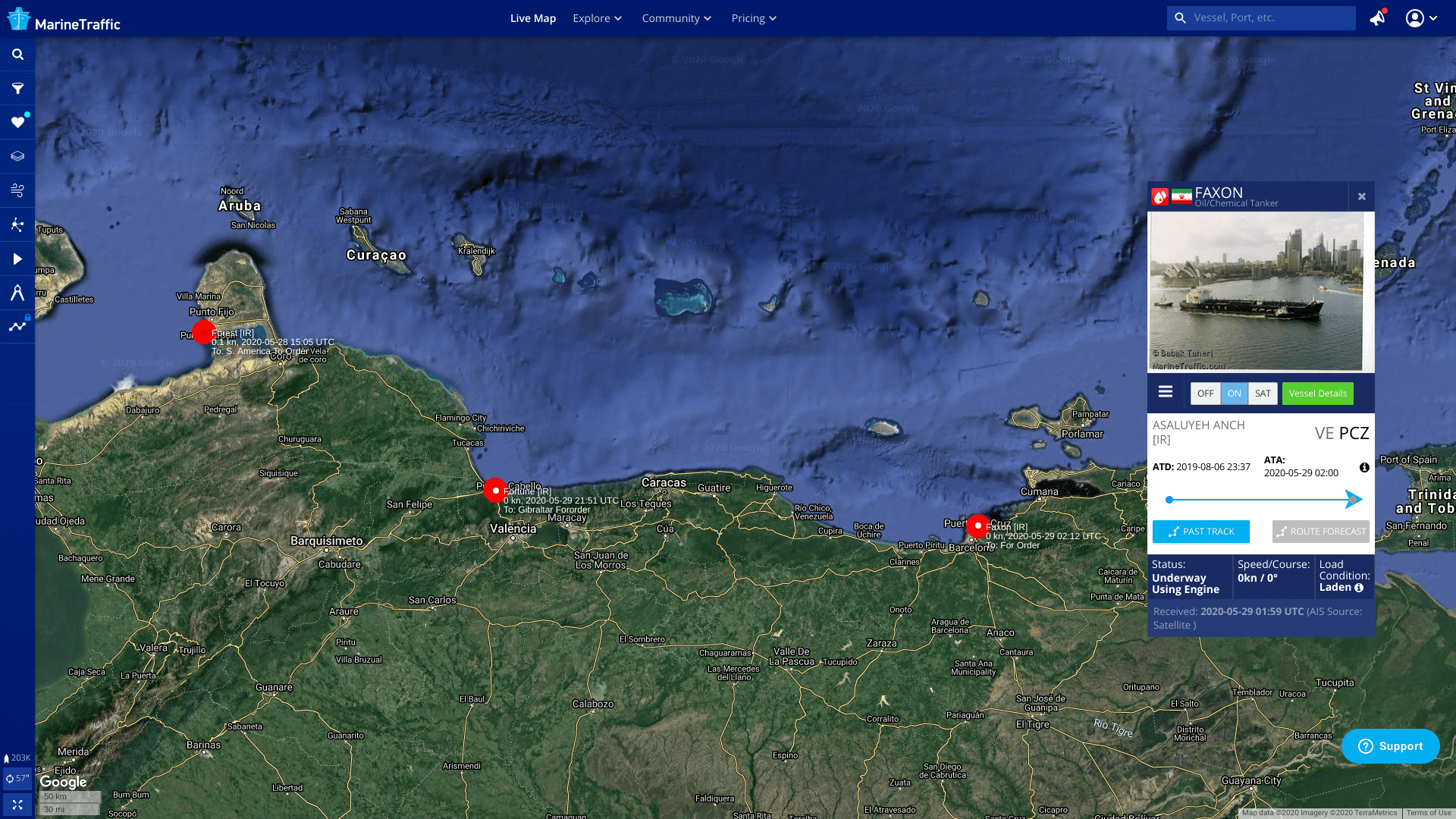 UPDATED 2020-05-30:
CORRECTED According to our sources in Venezuela, President Nicolas Maduro has today announced that the liter price of gasoline is set to the $0.025 with a max quota of 120 liters a month. Of the 1,800 gas stations throughout the country, only 200 will have access to this gasoline at the moment. Our understanding from sources is that the public transportation will fully subsidized.
Weather's been somewhat cloudy, particularly over El Palito, but FORTUNE has relocated to anchorage while PETUNIA is still discharging to the refinery. Over at the Punta Cardon refinery, the FOREST has left port and we caught sight of her there as she was being assisted by a tugboat in anchorage. Will be interesting if she meets up with the other tankers. We also caught sight of the FAXON at the Puerto La Cruz refinery further east. We're now just waiting for CLAVEL to reach the country. Our estimate yesterday was a bit conservative. It seems that she might reach a port within 36-48 hours.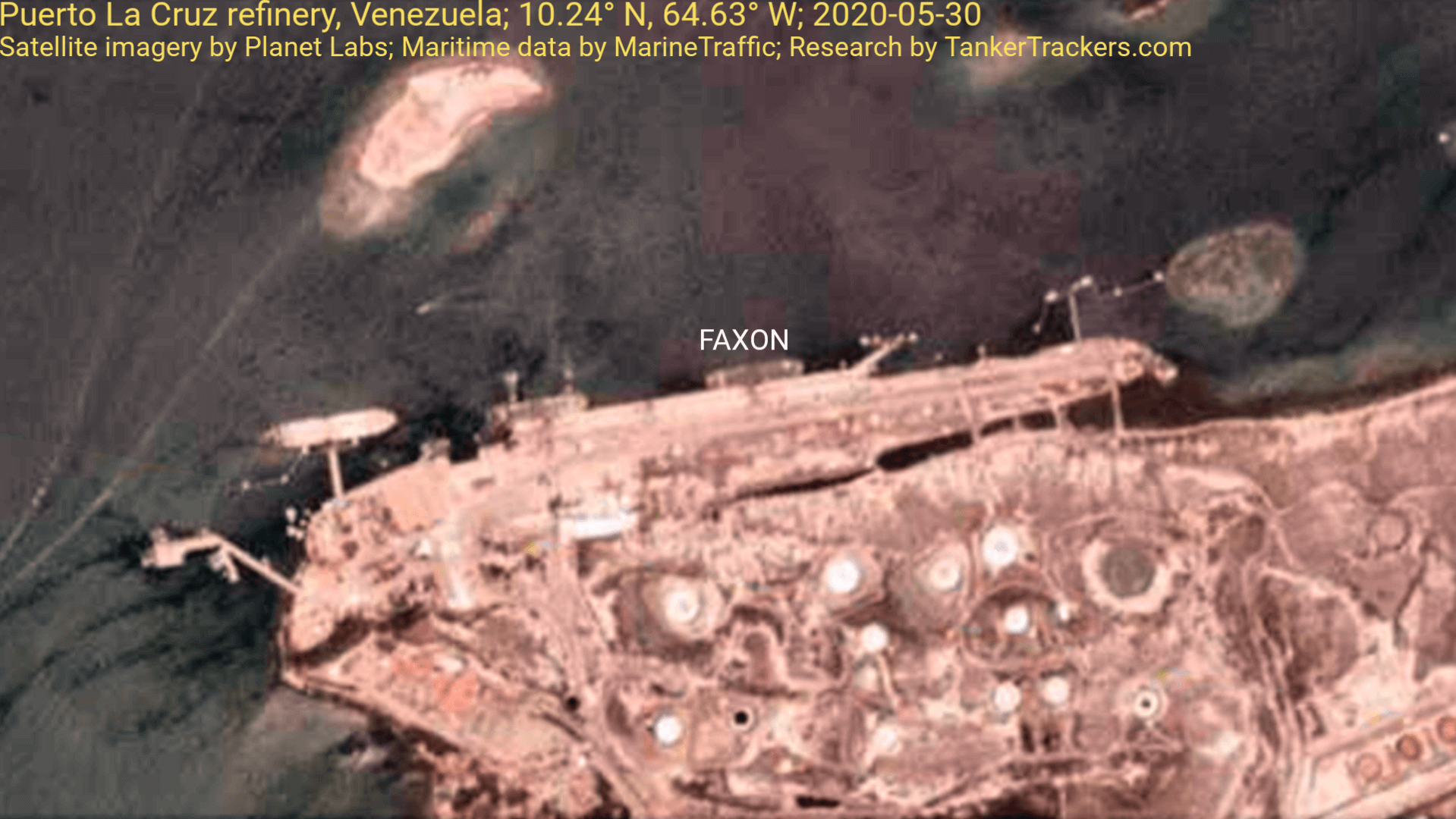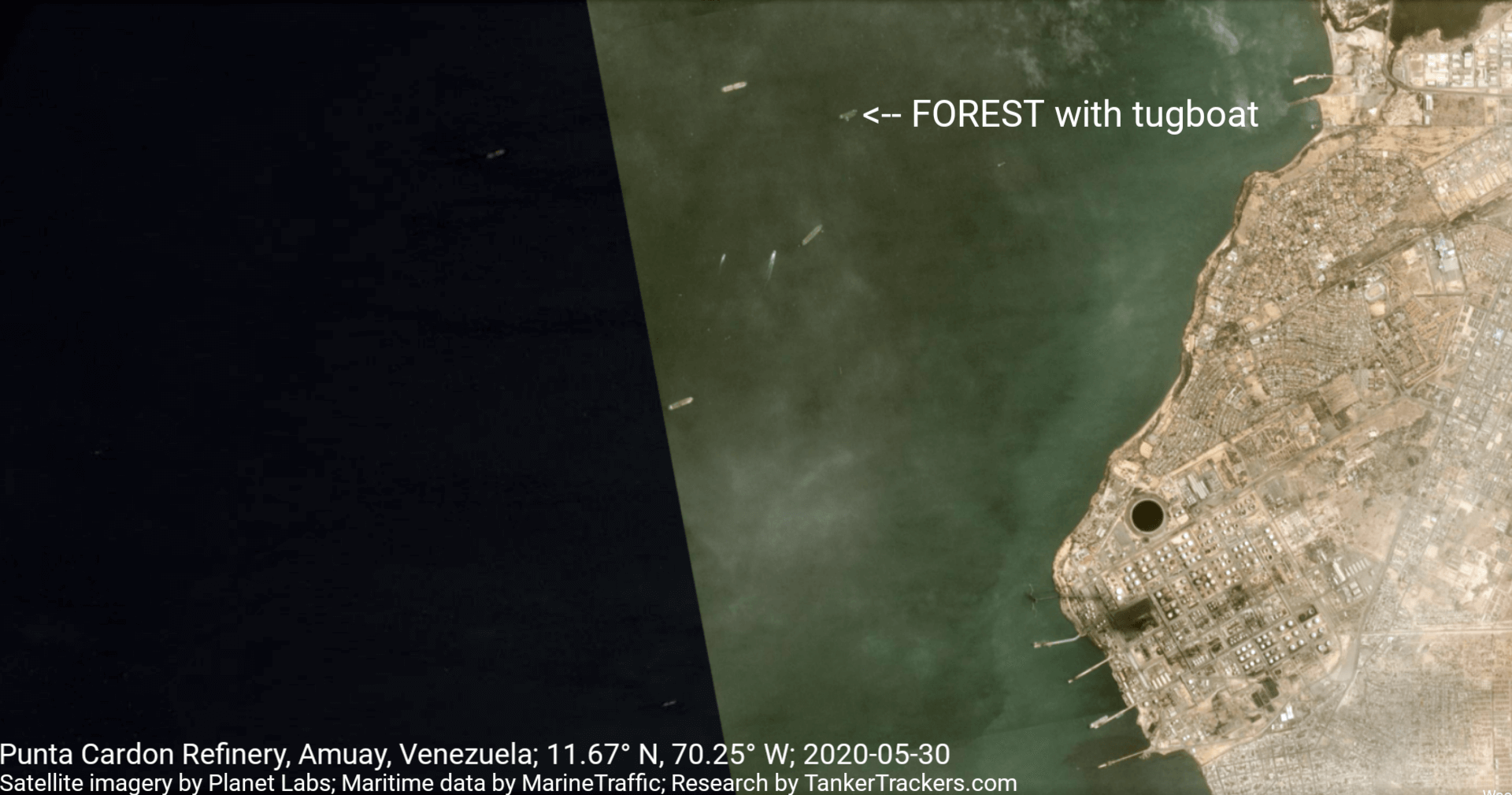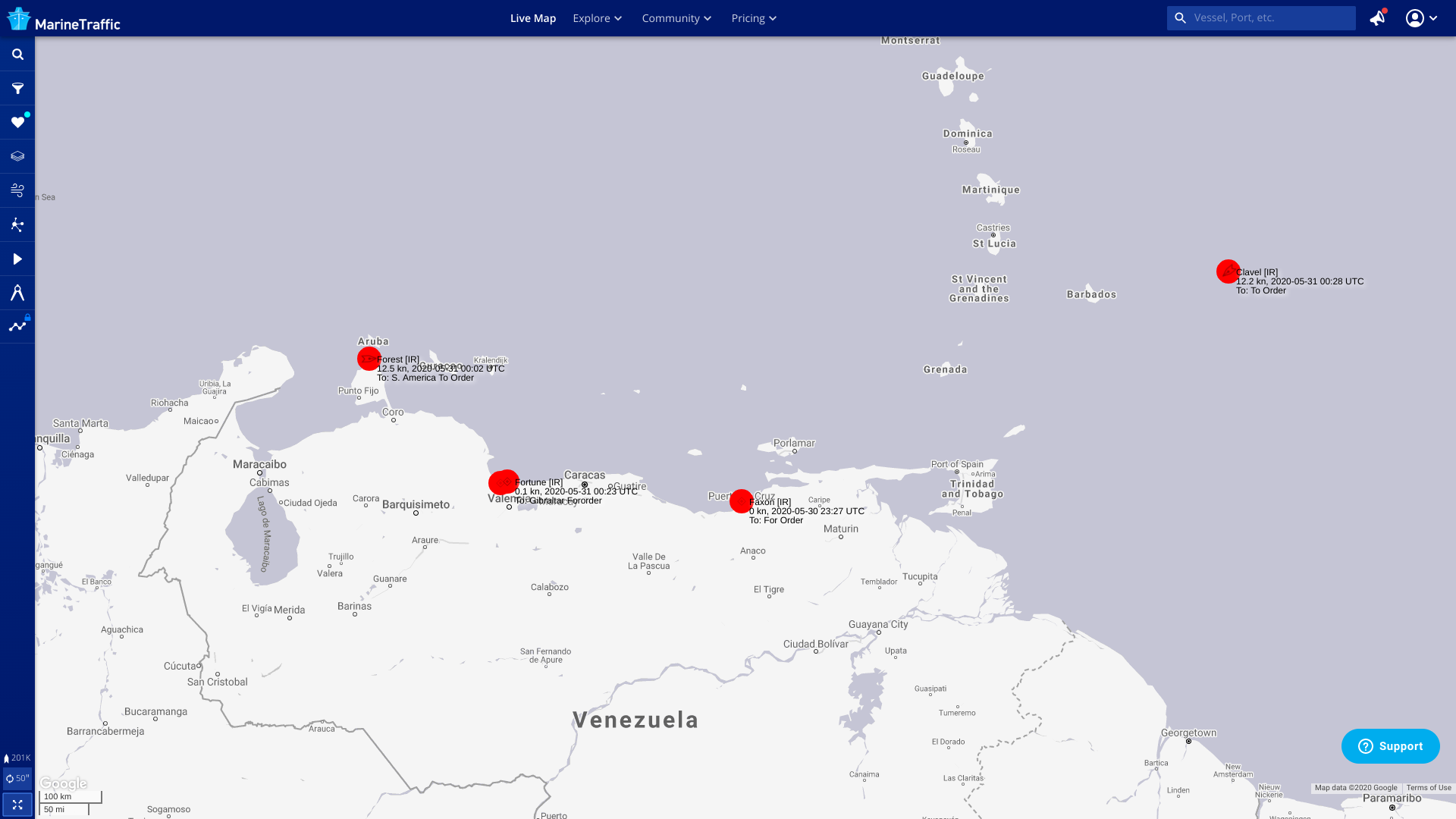 UPDATED 2020-06-01:
We took a blog break yesterday so we can bring you an interesting update. This is it. We now see two tankers depart Venezuela after having completed their respective deliveries. They are the FOREST (left Punta Cardon Refinery out west in Amuay) and FORTUNE (left El Palito). Both vessels have exited the EEZ area and facing northeast towards the Strait of Gibraltar. FORTUNE is reporting its ETA (Estimated Time Arrival) in "Gibraltar" (meaning Iran) as 2020-07-07, which is 5 weeks from now.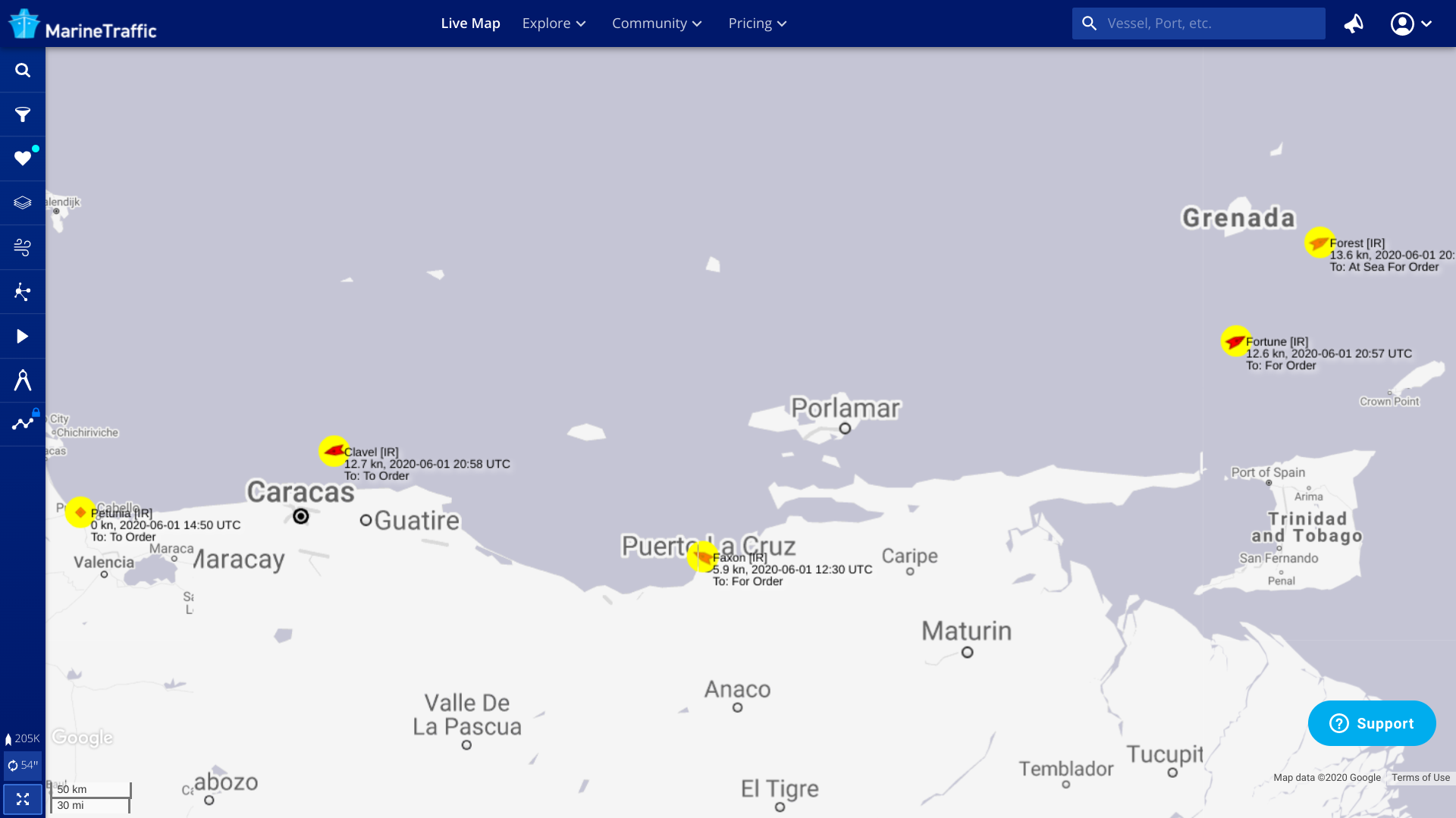 Meanwhile, the CLAVEL (fifth and final tanker) is now in Venezuelan waters and quickly approaching the port of El Palito where two other sister ships delivered gasoline and alkylate for the population concentrated inside and around Caracas. According to MarineTraffic's Voyage Planner, she should be tonight at 11pm local time, however the vessel is showing an ETA of 11am tomorrow morning, which means that she'll spend the night at anchorage before mooring at the berth. This is most likely because the berths are currently busy and vessels take a very long time to load/discharge due to the lack of decent pump capacity.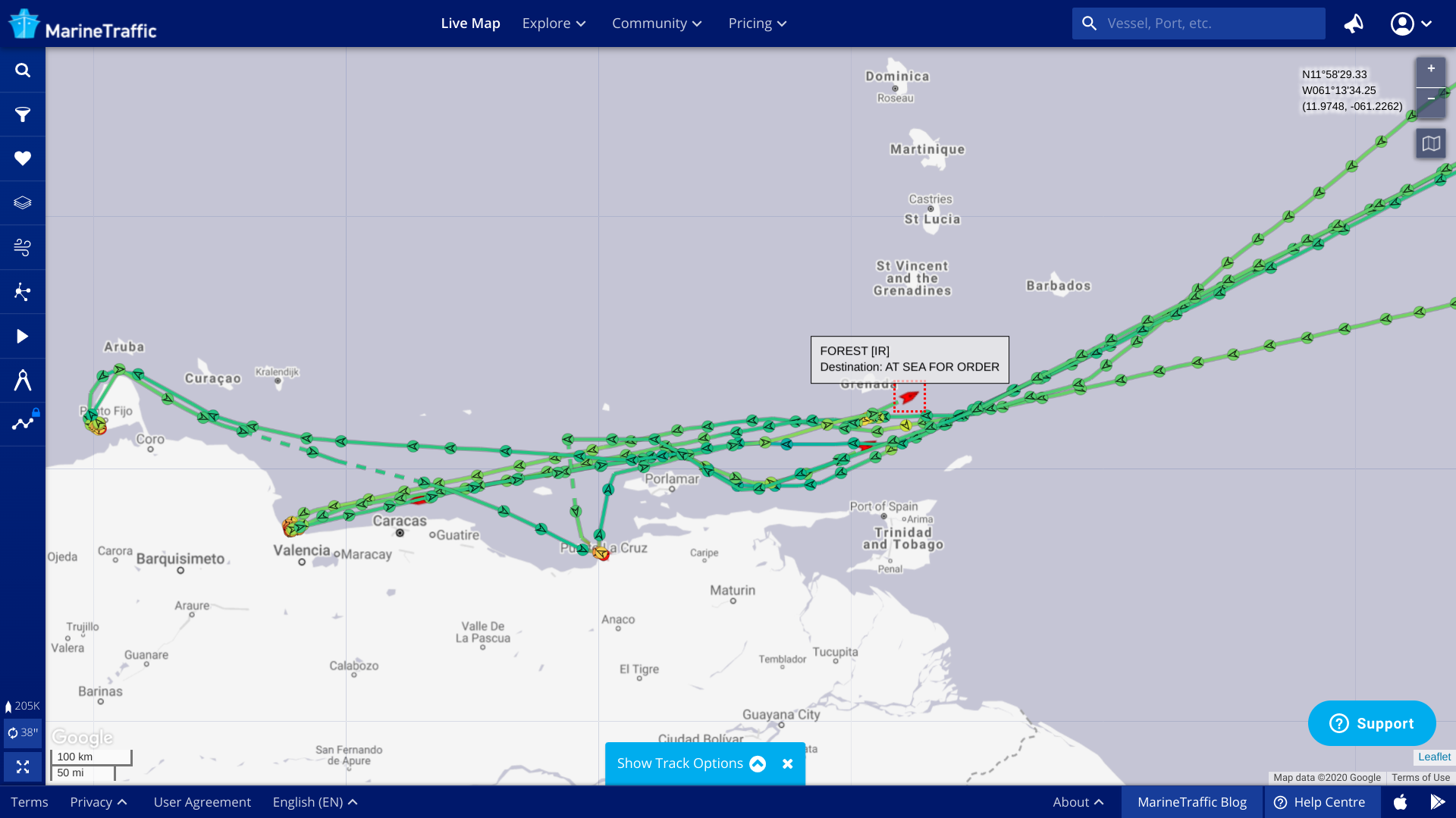 As all this happens, we can say that Venezuela's crude oil exports during May 2020 were at a new low for us; less than 400,000 barrels per day. More may pop up days or weeks from now, but we do not expect it to be significantly higher.
UPDATED 2020-06-03:
Four out of five vessels have now completed their task of supplying gasoline to Venezuela and are homebound for Iran. They whould begin arriving in Bandar Abbas as of the first week of July via the Suez Canal. The FOREST and FOREST are in the lead while FAXON and PETUNIA have also departed from their respective terminals of Puerto La Cruz and El Palito. CLAVEL arrived at El Palito yesterday as expected, and will spend the next 2-3 days discharging the gasoline.
UPDATED 2020-06-05:
The CLAVEL should be done soon in a day or two with her cargo discharge to the PDVSA refinery in El Palito. It took the other two tankers (FORTUNE and PETUNIA) approximately 4-5 days. According to MarineTraffic's Voyage Planner estimates, the lead vessel, FOREST, should reach the Strait of Gibraltar in around six days time on June 11th.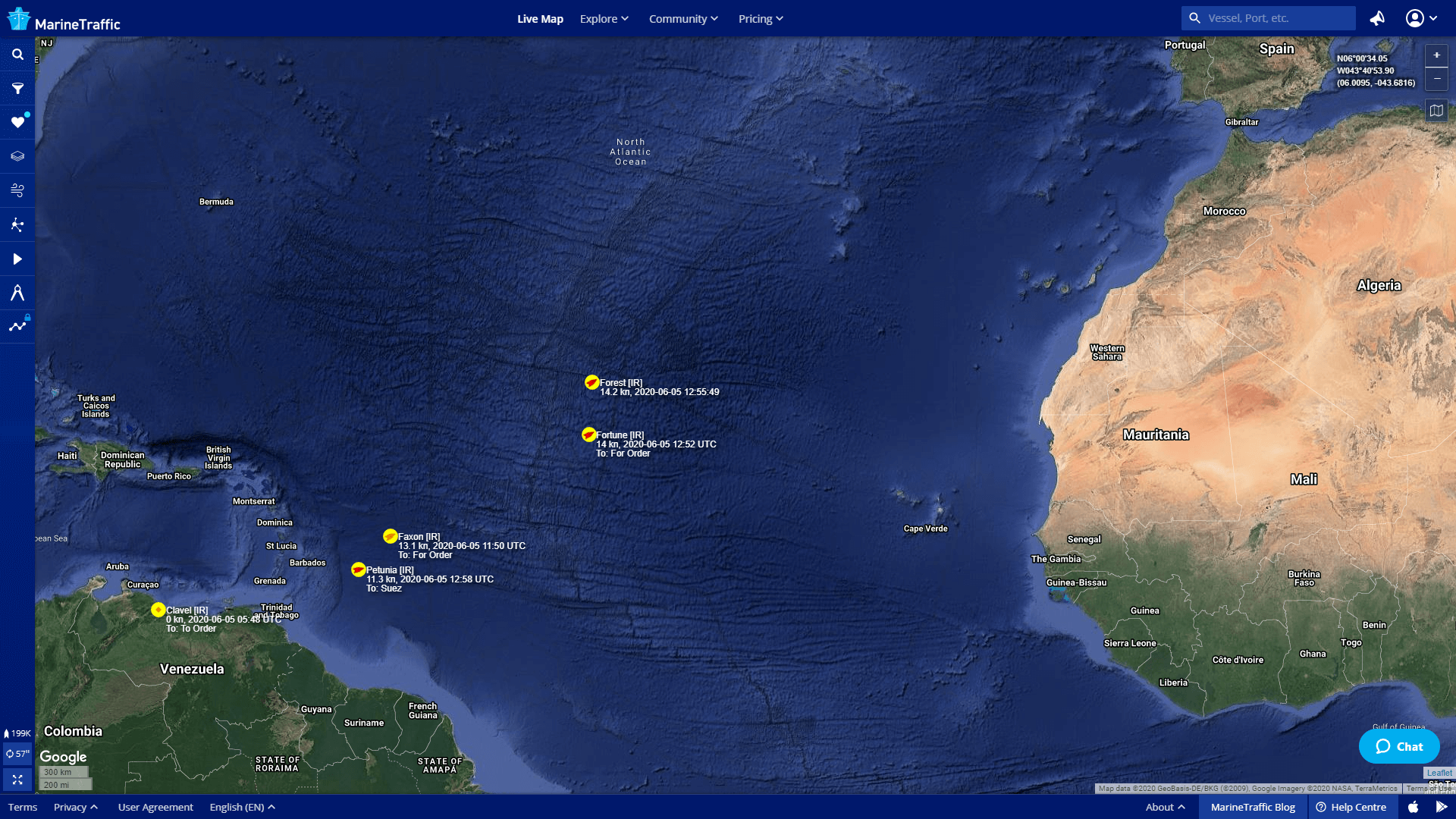 UPDATED 2020-06-10:
It's been nearly a week since our latest update, and there's now plenty more to report.
We see an Iranian cargo vessel called GOLSAN now out in the Atlantic Ocean. She left Iran's port of Shahid Rajaee (same port as where the gasoline came from) on 2020-05-17 and seems to have a west-by-southwest trajectory implying either Venezuela or Cuba. At this point, we do not believe she would be destined for Cuba because she would have to sail past Florida or alternatively take another route, however the reported ETA by the crew is 2020-06-22, which is 12 days from now, and that should be enough time to reach Venezuela. As for the cargo, this vessel is carrying containers from this dock. Given the nature of the port, it could well be spare parts for the refineries that need repairing in Venezuela.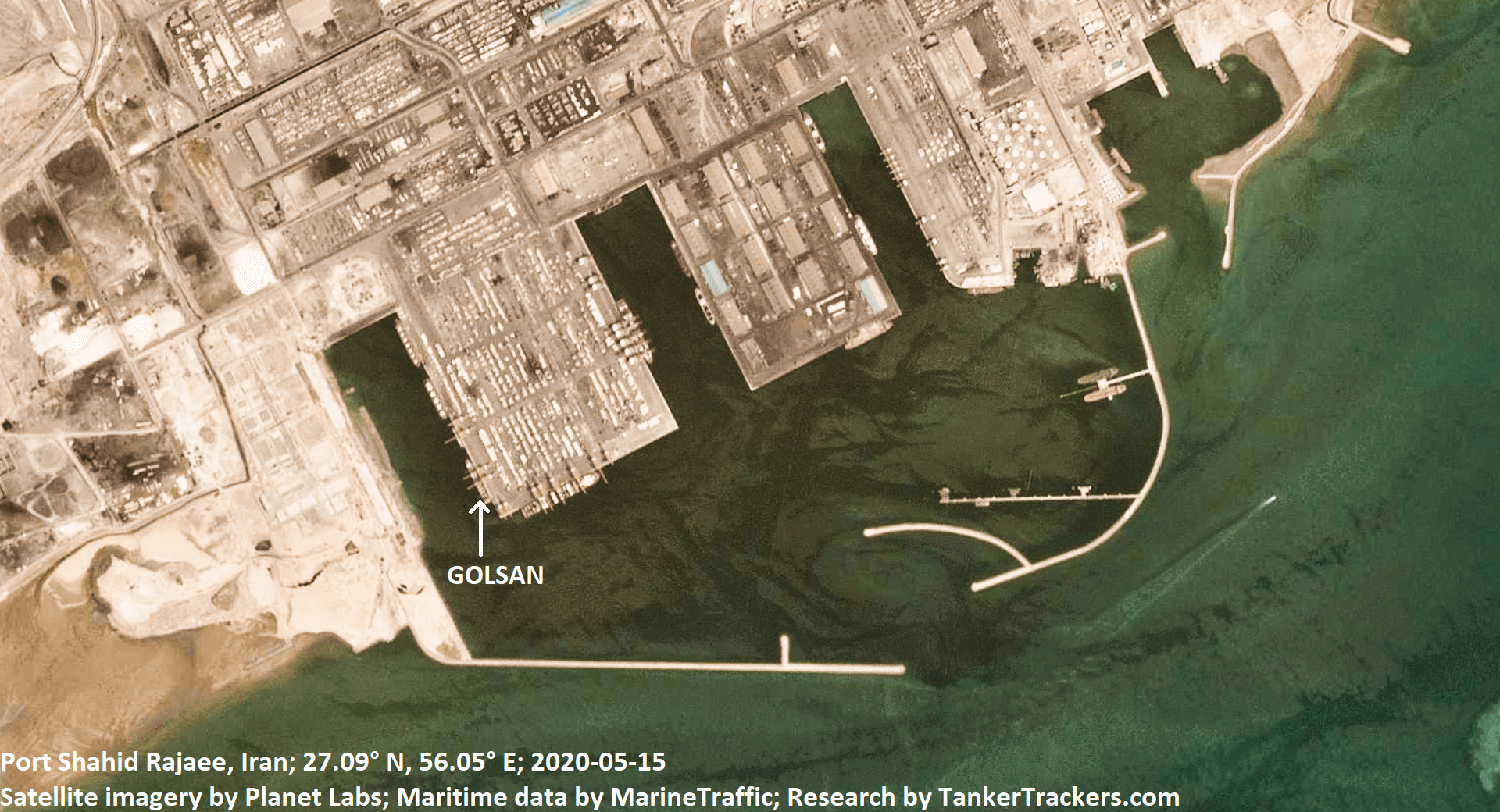 We can also see that the GOLSAN stopped by the purported Iranian navy intelligence cargo vessel SAVIZ in the southern end of the Red Sea on 2020-05-28 as all/most Iranian vessels do; once again most likely for a security inspection as we have previously reported.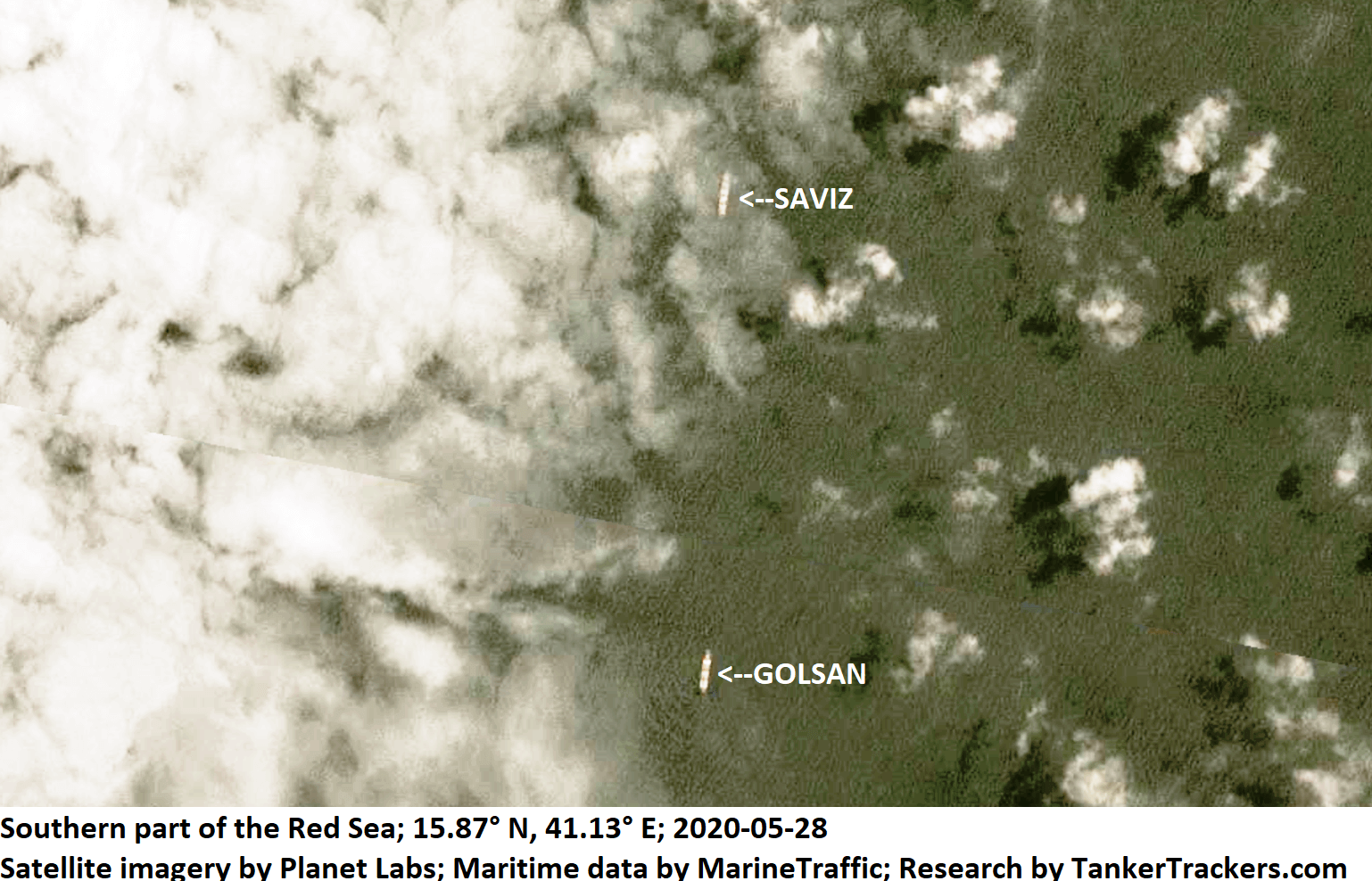 We have also ordered a hi-resolution 50cm/pixel Planet Labs SkySat photograph of the SAVIZ, dated 2020-06-04.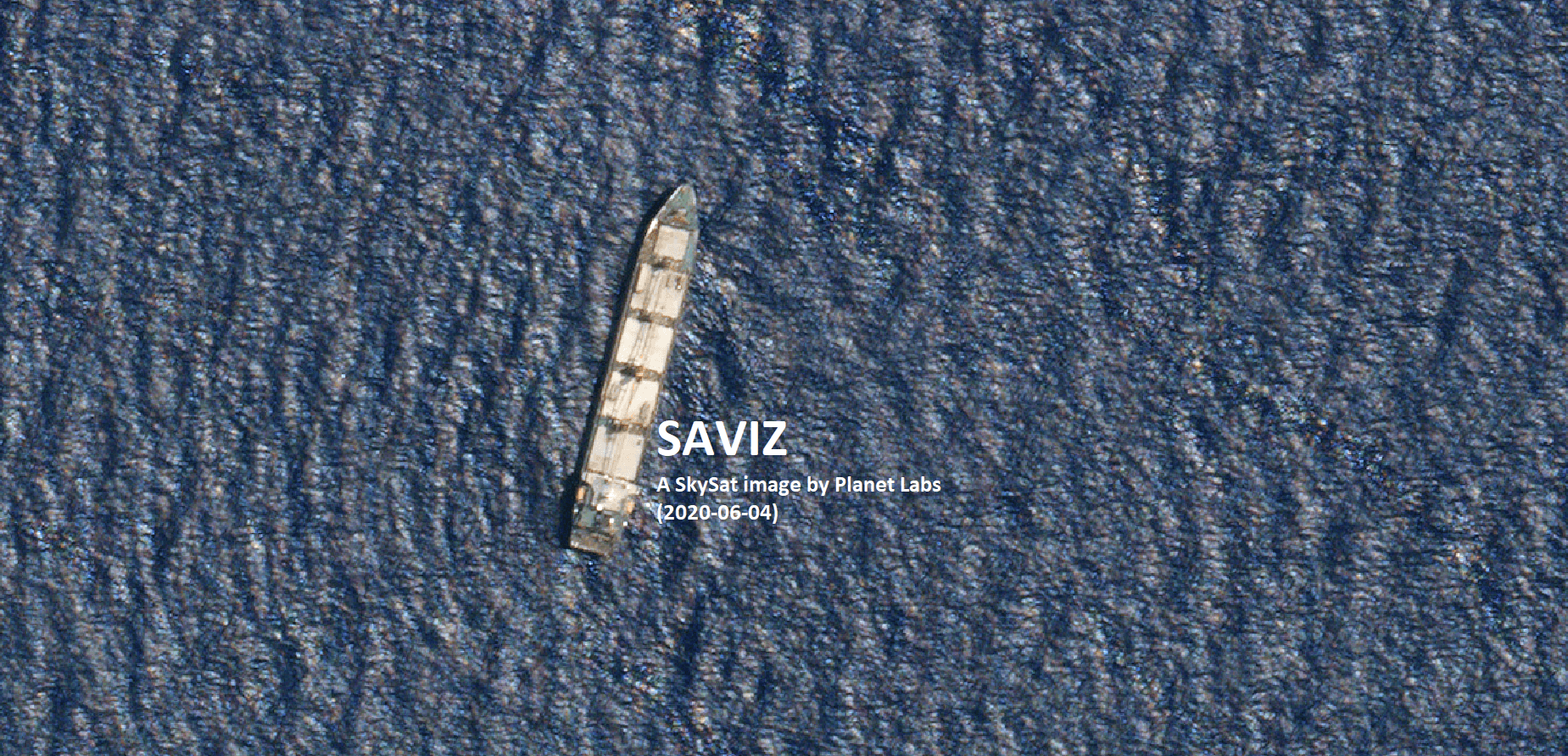 As for the tanker situation in Venezuela, it has been suggested in this Argus article that Cuba will pick up the Iranian gasoline that has arrived at El Palito. According to the article, three sources at Venezuela's PDVSA (national oil company) are saying that 100,000 barrels of gasoline (15.9 million liters) will be diverted to Cuba.
So, we are here to show you the vessel they are referring to; the CARLOTA C. Fully laden, this vessel can carry 16,906 tonnes of cargo (be it 22,848,459‬ liters of gasoline or 113,270 barrels of fuel oil) and for the most part this vessel transports fuel oil from El Palito to Cuba. Fuel oil is what Cuba's electrical power stations run on. You can see by her AIS traces (on the map) over the past year that she doesn't hide her activity even though the vessel is under US sanctions as the vessel only transports cargo between two countries that are already under US sanctions.
It is too soon to confirm what the vessel will end up carrying as we need to see which berth she arrives at in Cuba.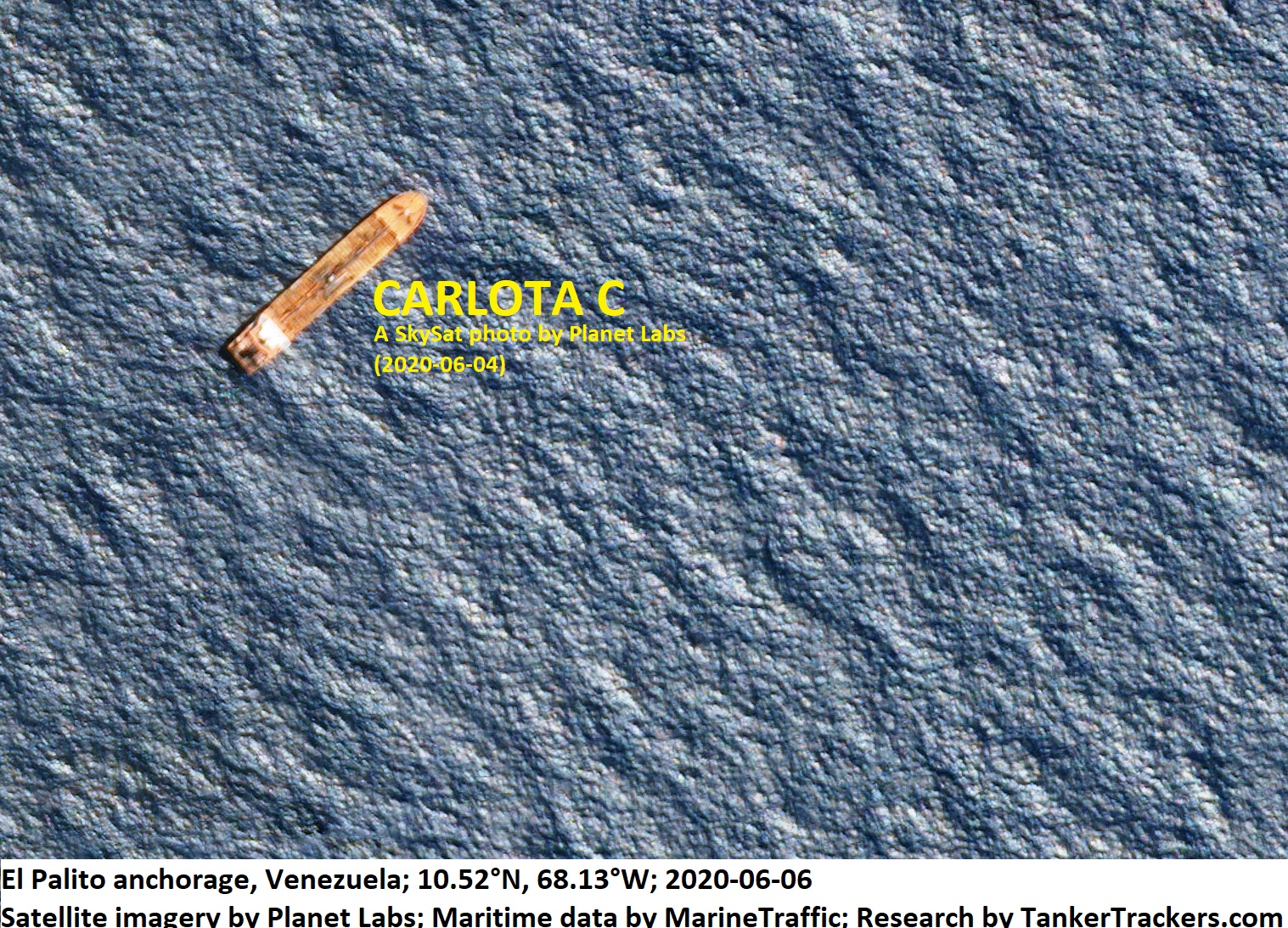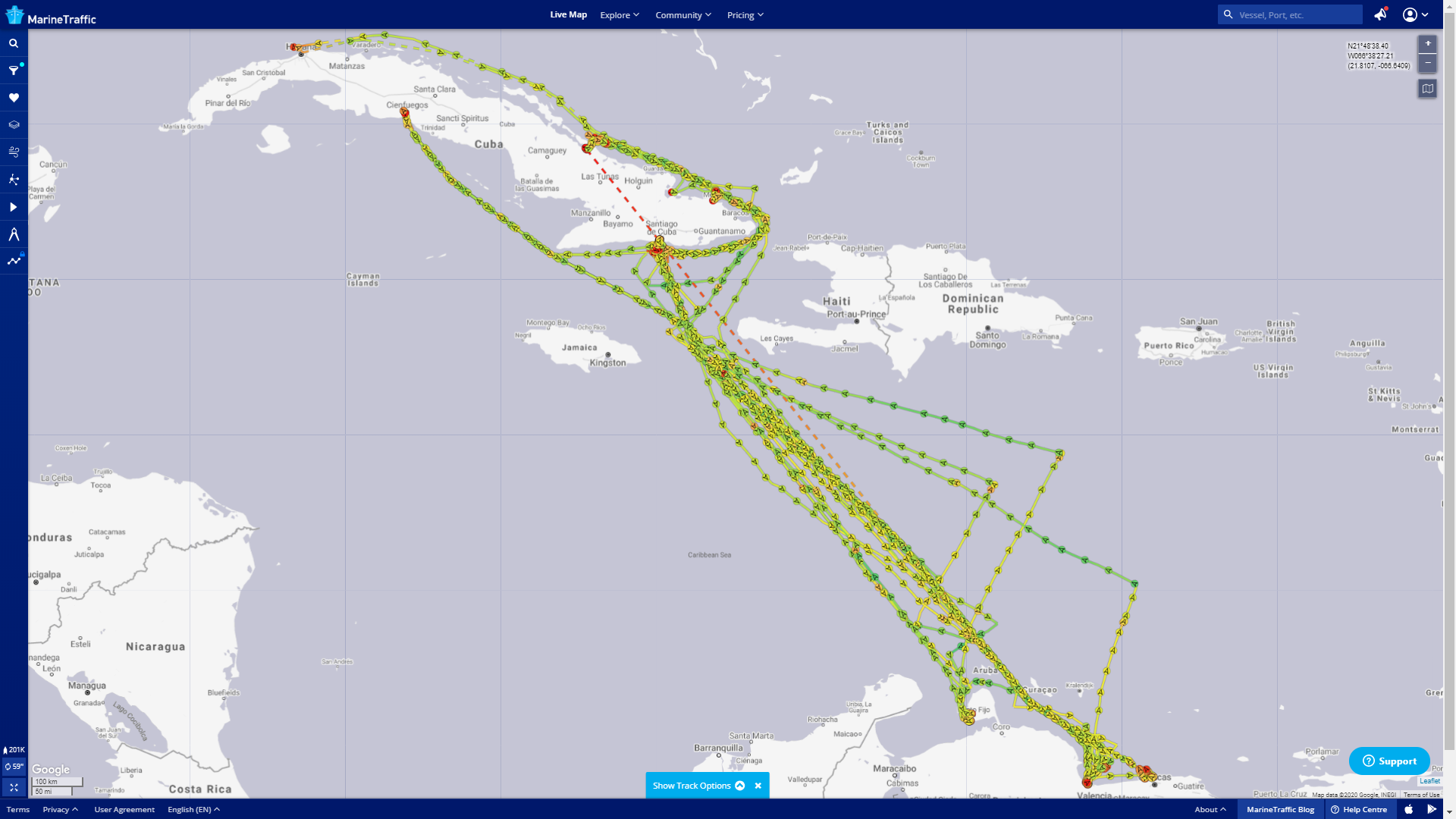 As for the five Iranian vessels, the first two are nearing the Strait of Gibraltar, with FOREST due to enter the strait in about a day from now. The CLAVEL however, is still at El Palito, even according our inspection of yesterday's Planet Labs satellite imagery.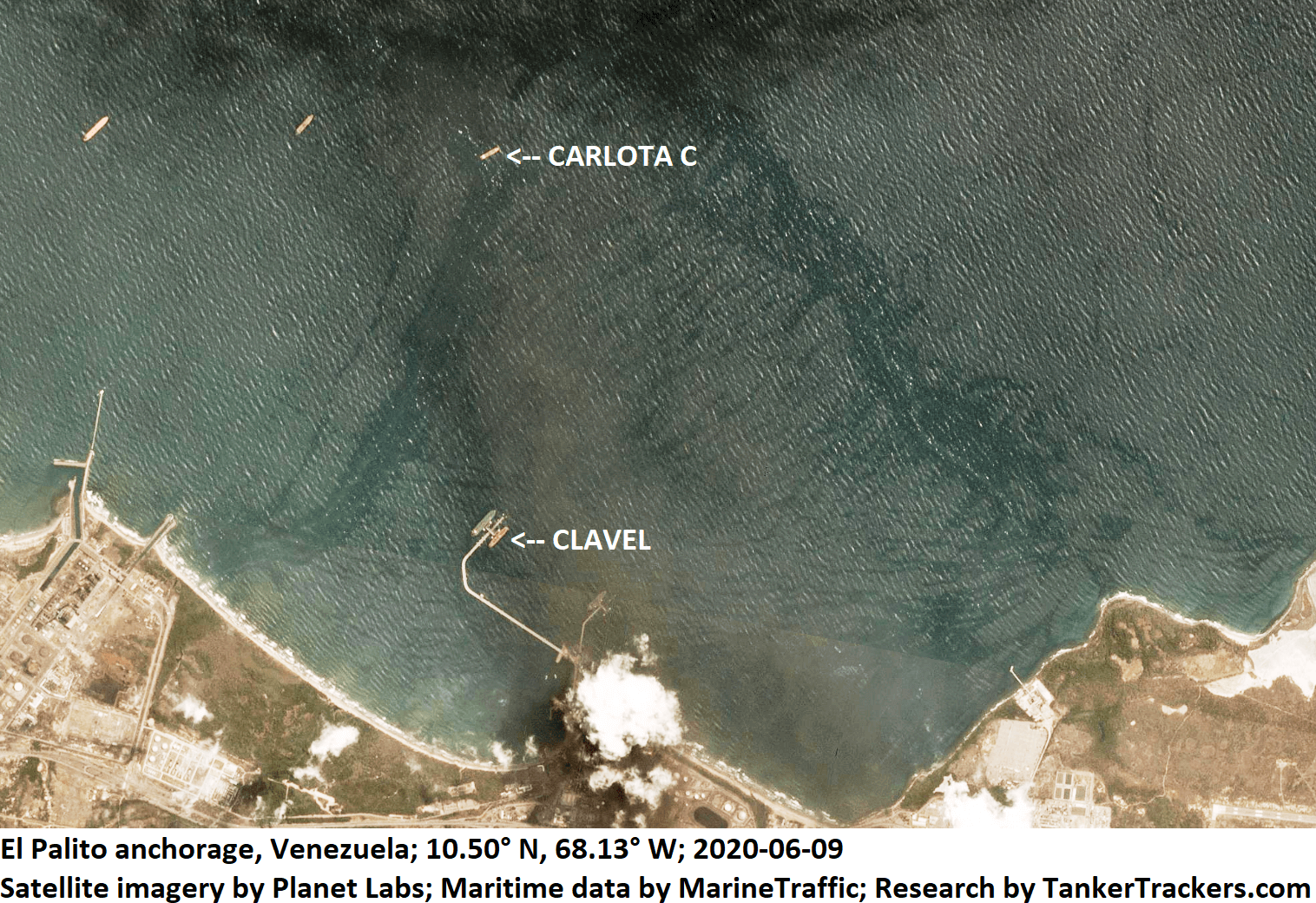 According to Argus (2020-06-02 report), Venezuela shall be asking for additional gasoline and refinery additives in the coming weeks as refinery repairs (covered by the $500M in the form of a 9T of gold transfer) will take time. At the same time, we tracked a record low amount of crude oil exports during May, and will see in a few days time (2020-06-16) how the first 14 days of June went.
NEW UPDATE (also 2020-06-10):
CLAVEL has now departed from the jetty at the El Palito refinery. She's reporting that she's empty of her alkylate gasoline cargo and is now situated at an anchorage east of the port. We believe she might be waiting for a navy escort, which would most likely come from a the tiny navy port of Turiamo, just like what the FOREST had on the inbound.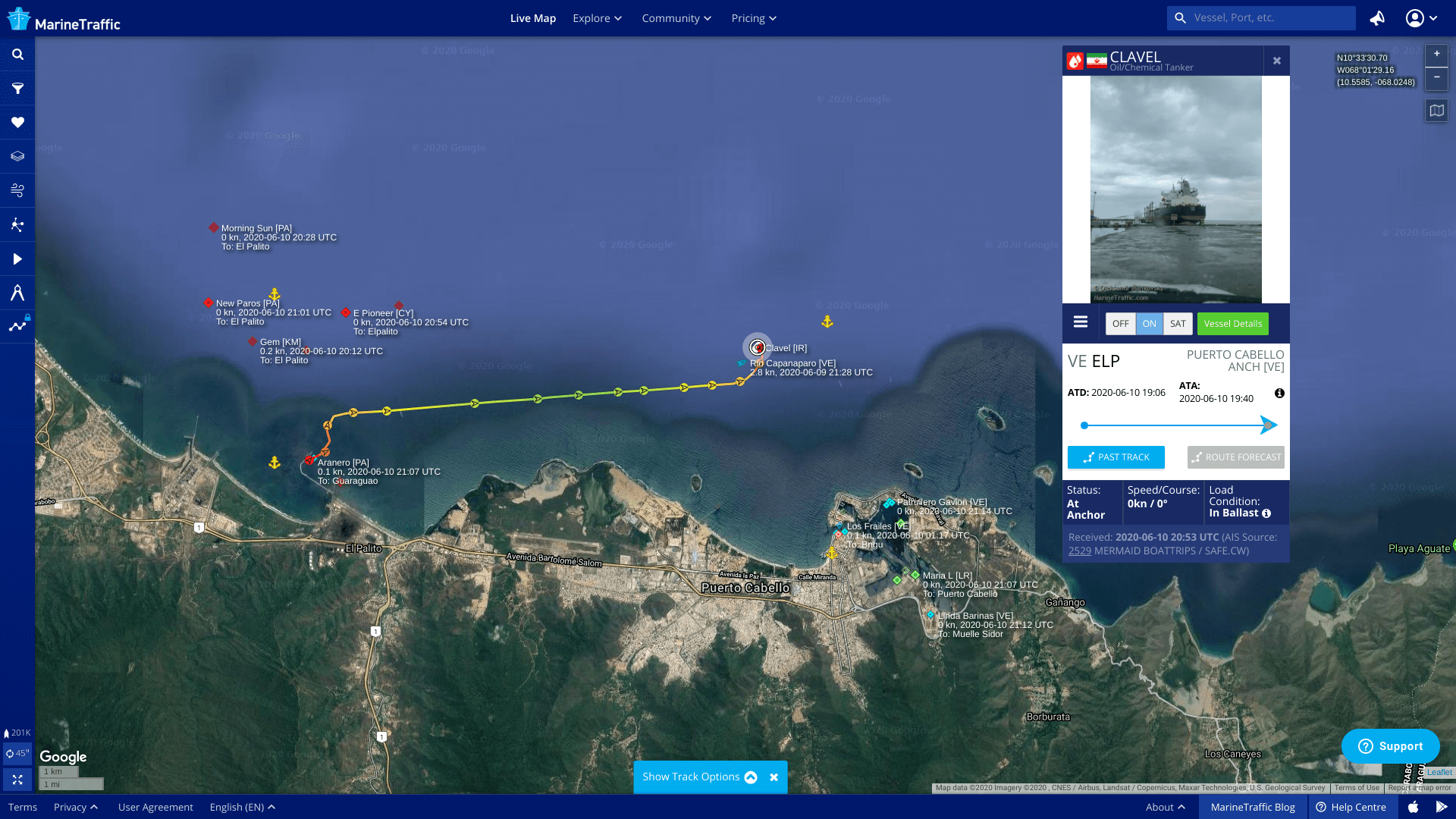 As for the Iranian cargo vessel GOLSAN, her AIS transponder last pinged around 13 hours ago (at 08:34 UTC) after making around 225 nautical miles of distance into the Atlantic Ocean. Let's see where/when she'll pop up next. It should gives us a clearer idea of forward trajectory.
UPDATED 2020-06-11:
The GOLSAN had a big data gap in her AIS transmission, but this is most likely due to a satellite AIS issue. She's currently pinging out her presence, and has sailed past both the FOREST and FORTUNE tankers. She has FAXON and PETUNIA ahead of her. The CLAVEL finally departed anchorage and is continuing to the Suez Canal according to her announced destination. Based on her draft level, it doesn't seem that this container carrier is carrying a lot of cargo. We'll see if we can task some high resolution imagery upon her arrival in Venezuela as the trajectory is definitely indicating the country as her destination.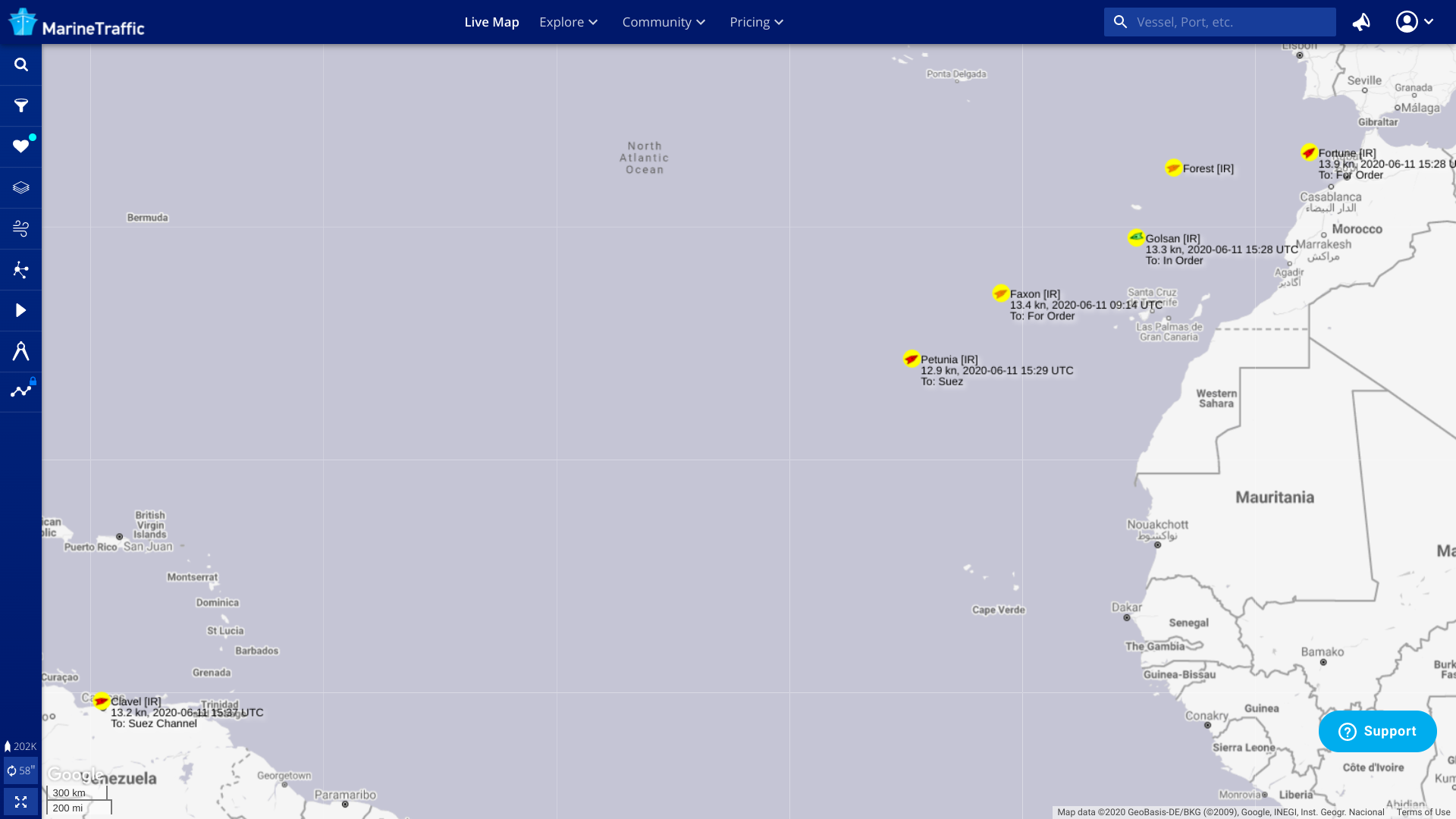 UPDATED 2020-06-15:
The GOLSAN will most likely reach Venezuela in about a week's time at this pace. The first two returning tankers are closing in on the Suez Canal, and should reach it within a couple of days time.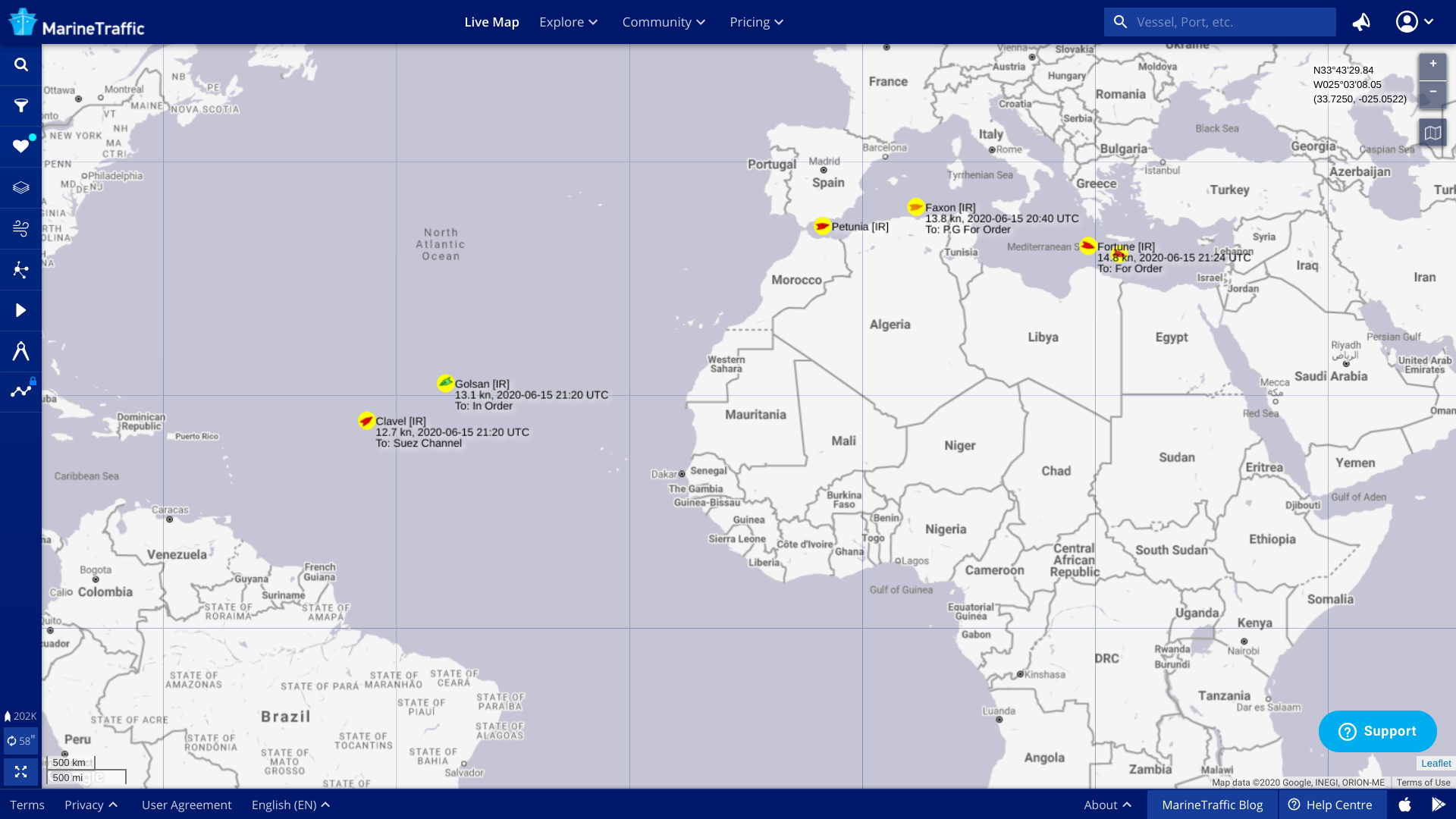 UPDATED 2020-06-18:
The GOLSAN is approaching Venezuela, and should reach within 3-4 days time. They even specified an ETA of 2020-06-22, which is 4 days from now. Will be interesting to see which port they end sailing to. We also see that both FORTUNE and FOREST have traversed the Suez Canal and are now in the Red Sea. They should reach Bandar Abbas in about 10 days or so. FAXON and PETUNIA are in the Med Sea, heading to the Suez Canal. Meanwhile, the CLAVEL just passed the mid-Atlantic a couple of days ago. We currently do not see any Iranian tankers heading back out to Venezuela yet.
UPDATED 2020-06-20:
The GOLSAN is now only a day away from reaching its destination, which still hasn't been set. According to the ETA, it would look like Puerto Cabello (just west of Caracas) would be a suitable candidate, but vessel trajectory shows as if she'll be continuing further west to Punta Guaranao near the refinery in Amuay. Either way, what's interesting is that the Iranian embassy in Venezuela tweeted today that this vessel will arrive tomorrow, bringing food to open the first Iranian supermarket in the country. If that's the case, then it must be an entire chain of them given the size of this ship, as she is capable of carrying 22,882 tonnes of cargo.
In the Red Sea however, we see that the FORTUNE and FOREST are now less than a day away from their rendezvous with the SAVIZ, which is still parked between Saudi Arabia and Eritrea. After that, it shouldn't take more than around 5-6 days to reach Bandar Abbas. Question is if those first two will remain in Iran or go for a 2nd delivery round back to Venezuela. Refining capacity still isn't suffice and restoration may drag out in time. We'll just have to see. Good to also mention that that these first two tankers are broadcasting "Iran" as destination while the third one (FAXON) is broadcasting "P.G. for order", meaning along the lines of "Persian Gulf for now". These destination changes happened before the vessels entered the Suez Canal.
UPDATED 2020-06-21:
The GOLSAN arrived earlier today at the La Guaira port just north of Caracas. She's docked on the east berth at the TEC terminal, which is a Specialized Container Terminal. According to media coverage, the cargo aboard the vessel is food that is intended to fill up a store in Caracas that is part of a chain of defunct stores which Iran has purchased. The brand has been renamed from Salva Foods to Megasis.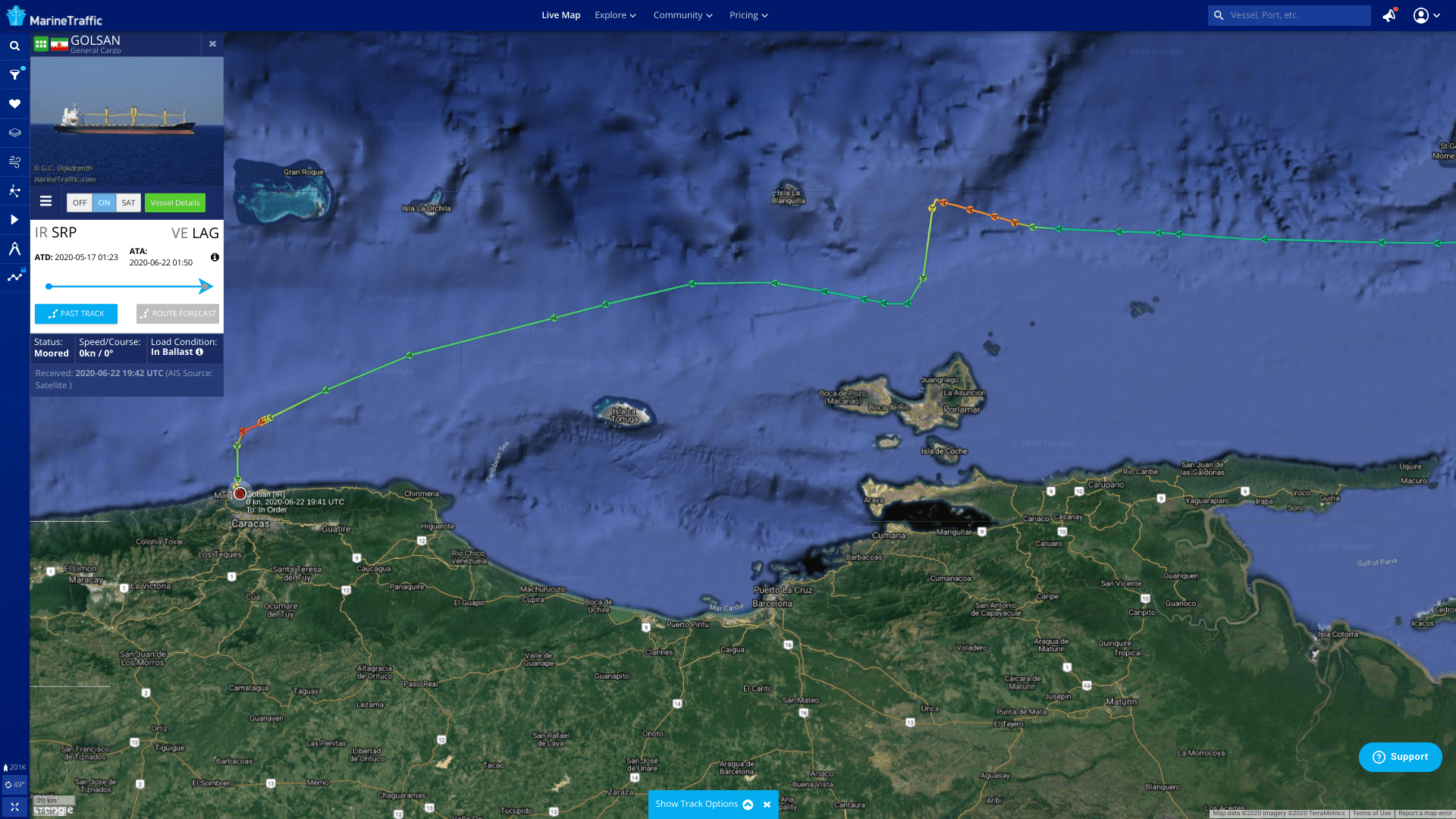 Elsewhere, we see that four of the five homebound tankers are now in the Red Sea. Both the FORTUNE and FOREST met up with the SAVIZ as expected, and after them comes the FAXON and PETUNIA. The fifth tanker, CLAVEL, is about a day away from entering the Strait of Gibraltar from the Atlantic Ocean.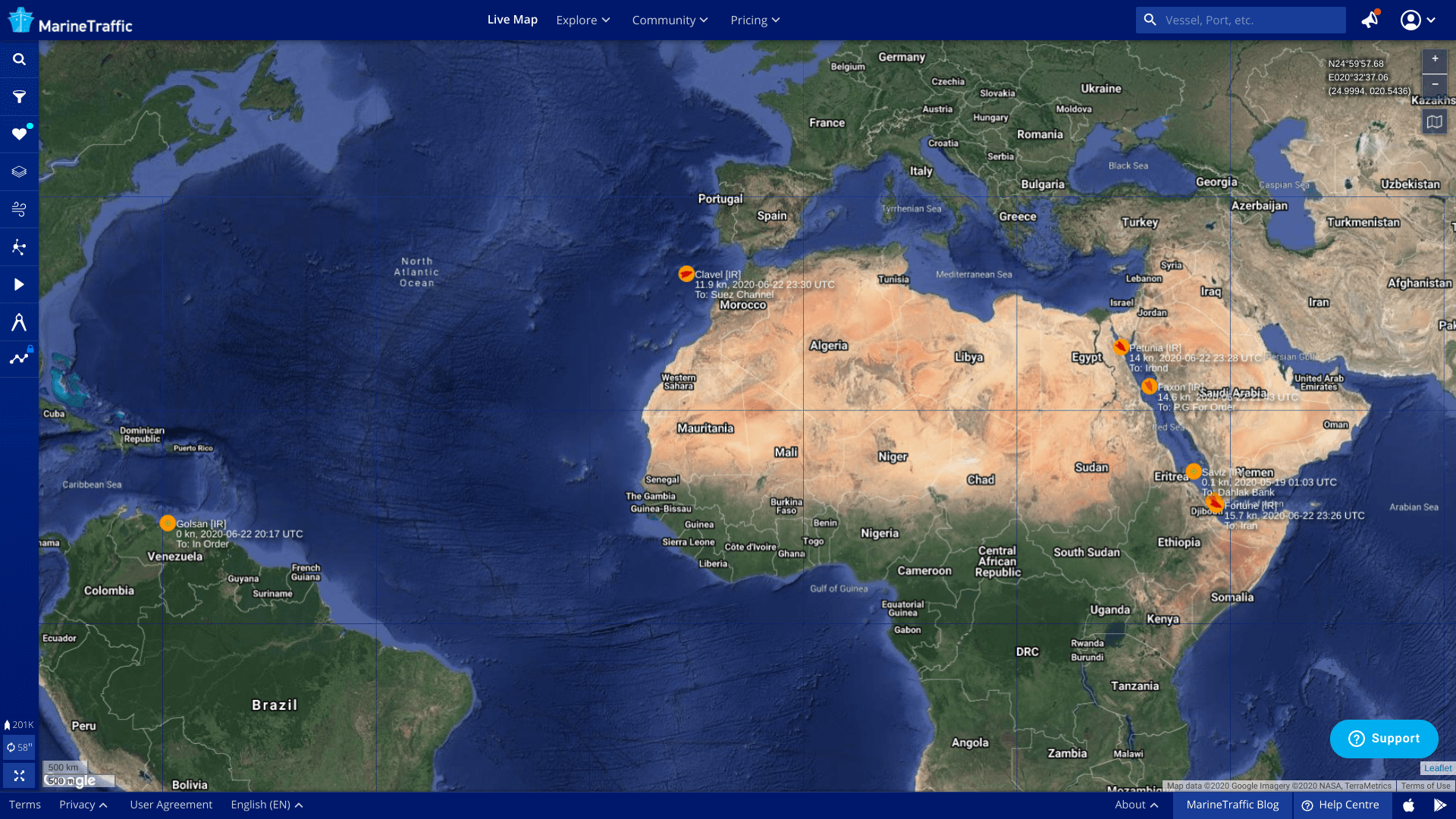 UPDATED 2020-06-27:
The GOLSAN has left the port of La Guaira on 2020-06-24, but is floating in anchorage for now. Meanwhile, we see that FORTUNE has finally reached Iran after 27 days out at sea. She arrived in Jask this morning, where they'll probably change out the crew. According to the Fars News Agency, Iran is likely to continue exporting gasoline to Venezuela as refinery reparations will take time. Iran emphasized that the gasoline was not free and that it was sold at market price.
We thank you very much for following our Live Blog, but we're now ending our coverage of these transfers.
Thank you!
/TT