Other chapters can be found here: One, Two, Three, Five
December 3rd, 2019
We still haven't figured out which non-Iranian Suezmax delivered to Baniyas over the past week due to poor weather. Today however, we see that both the SAFOORA and the SINOPA are discharging at their respective SBM's. Although November looked slim in terms of deliveries, it was actually fairly strong when you add on top of it the first three days of December, as we have to look at the barrel per day average over a longer period of time.
For example, when we look at the August 8th 2018 through January 1st 2019 range, the average was 53,382 bpd. Then during Q1 2019 we saw a very effective regime of US sanctions that prevented all crude oil deliveries until May 5th 2019; after which point the average landed at 94,387 bpd when including today. That covers roughly 2/3rd's of Syria's requirements, however they also get the occasional deliveries of fuel, as we have seen in the past.
The AD1 is keeping her distance off the coast of Jablah, and acting as a floating storage in the event of any shortages. The Handymax called UPMAN picks up around 300K barrels at a time whenever needed.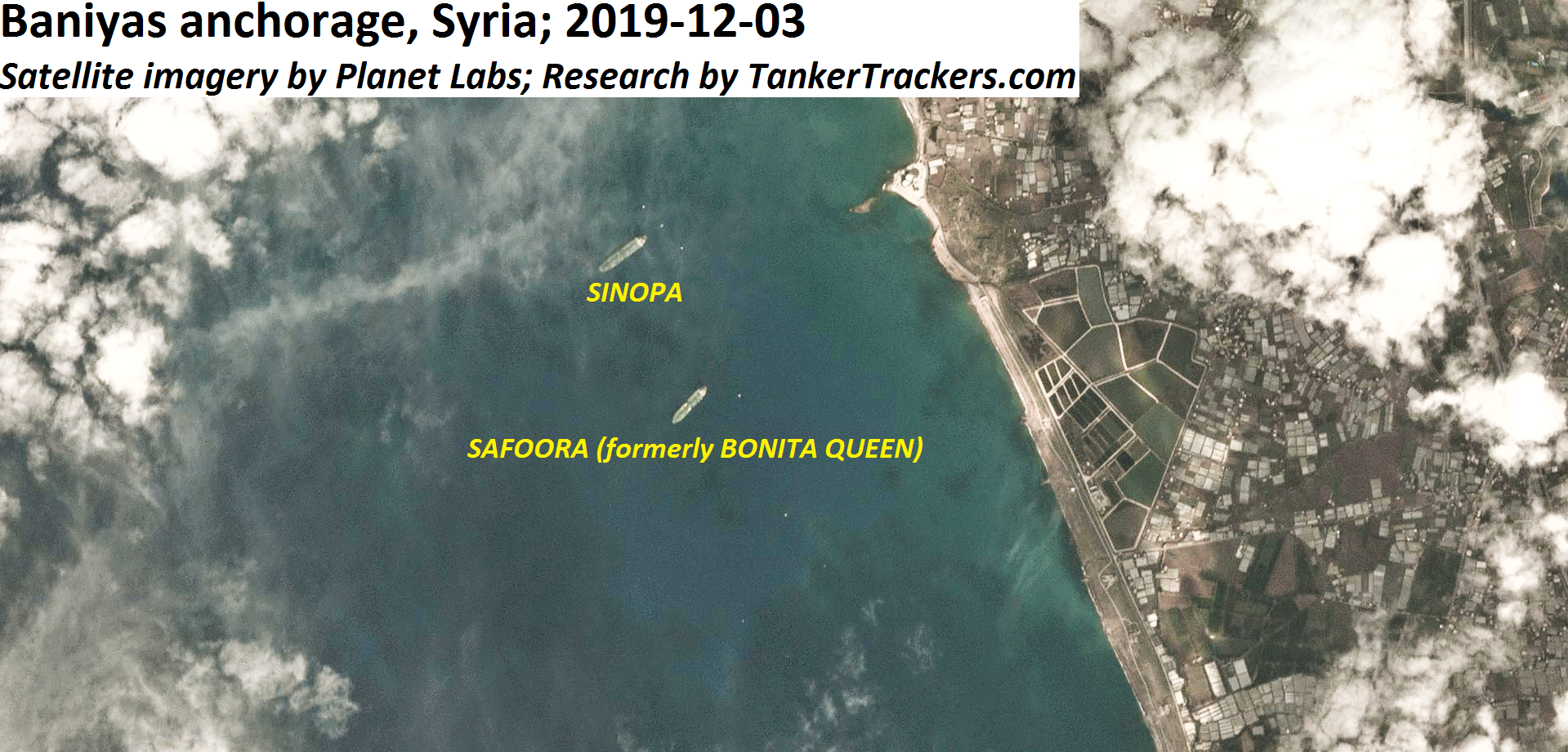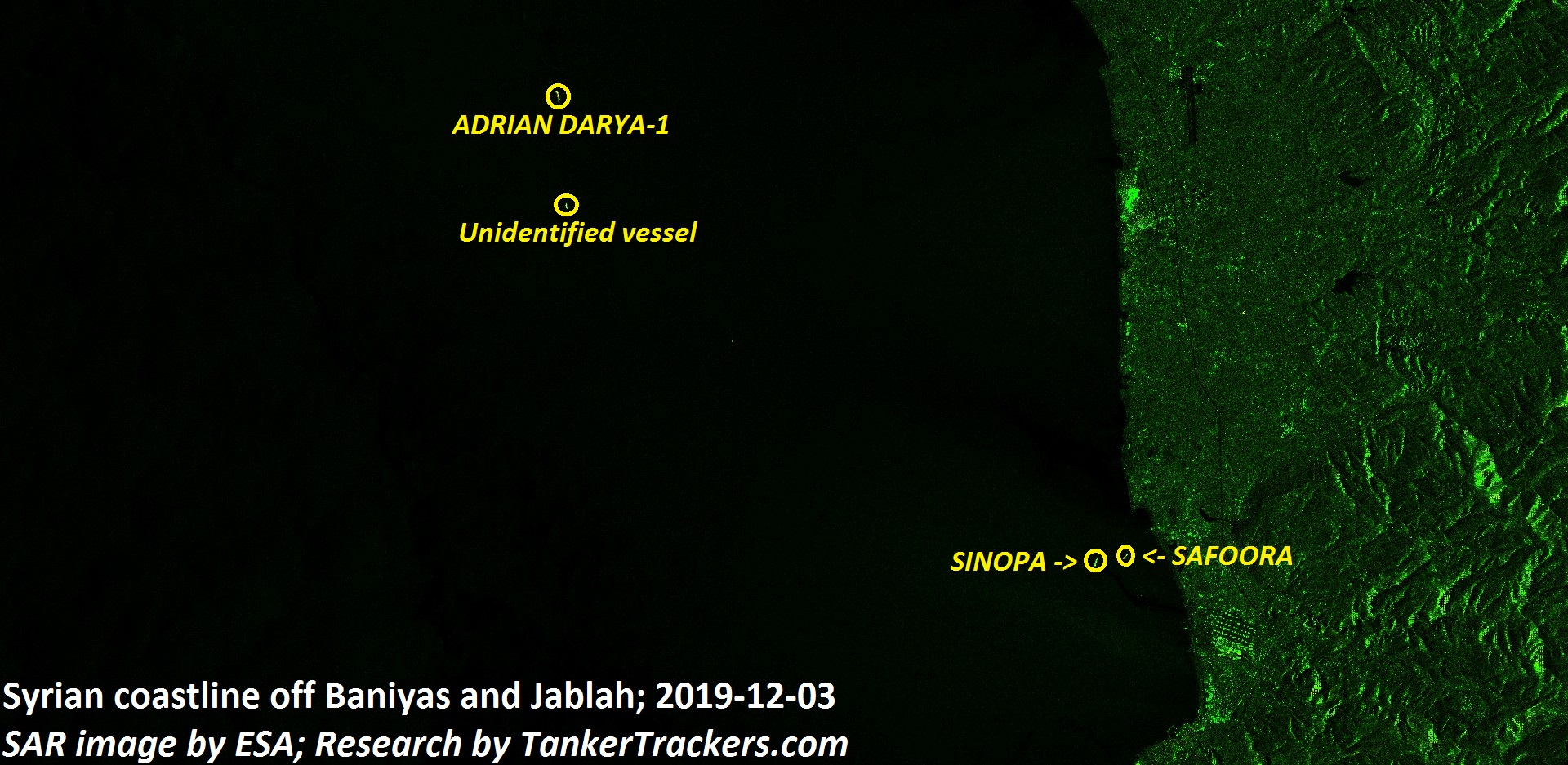 December 4th, 2019
Some good news along with some alarming news. First, the good news: We've managed to verify the identity of the vessel that popped up in Baniyas last week; November 26th. The vessel is SARAK (Iranian flag), which we have seen in Baniyas back in September. The concerning thing is that her AIS was switched off when traversing the Suez Canal on the northbound between the Red and Med seas. This is particularly alarming because it calls into question whether the Suez Canal authorities are enforcing the use of AIS for navigational safety purposes. We backtracked the imagery and saw that SARAK was last sighted off the anchorage at Kharg Island on October 31st 2019, receiving oil from the SABITI. Yes, that SABITI, the one that was spilling oil throughout the southern half of the Red Sea after being purportedly attacked, blowing holes in its hull. This means that the oil which SABITI was intending to deliver to Syria during October managed to reach Syria by the end of November.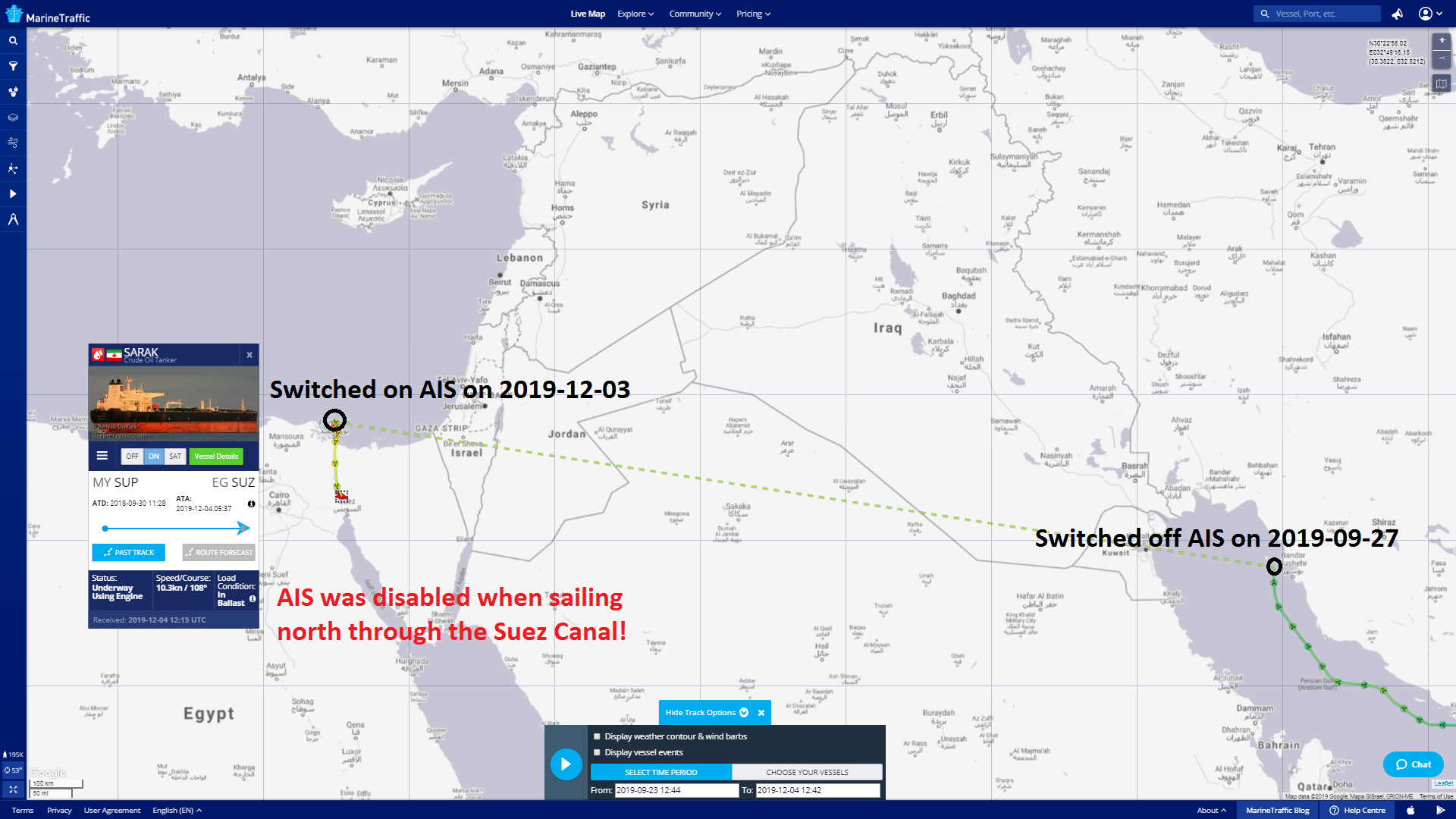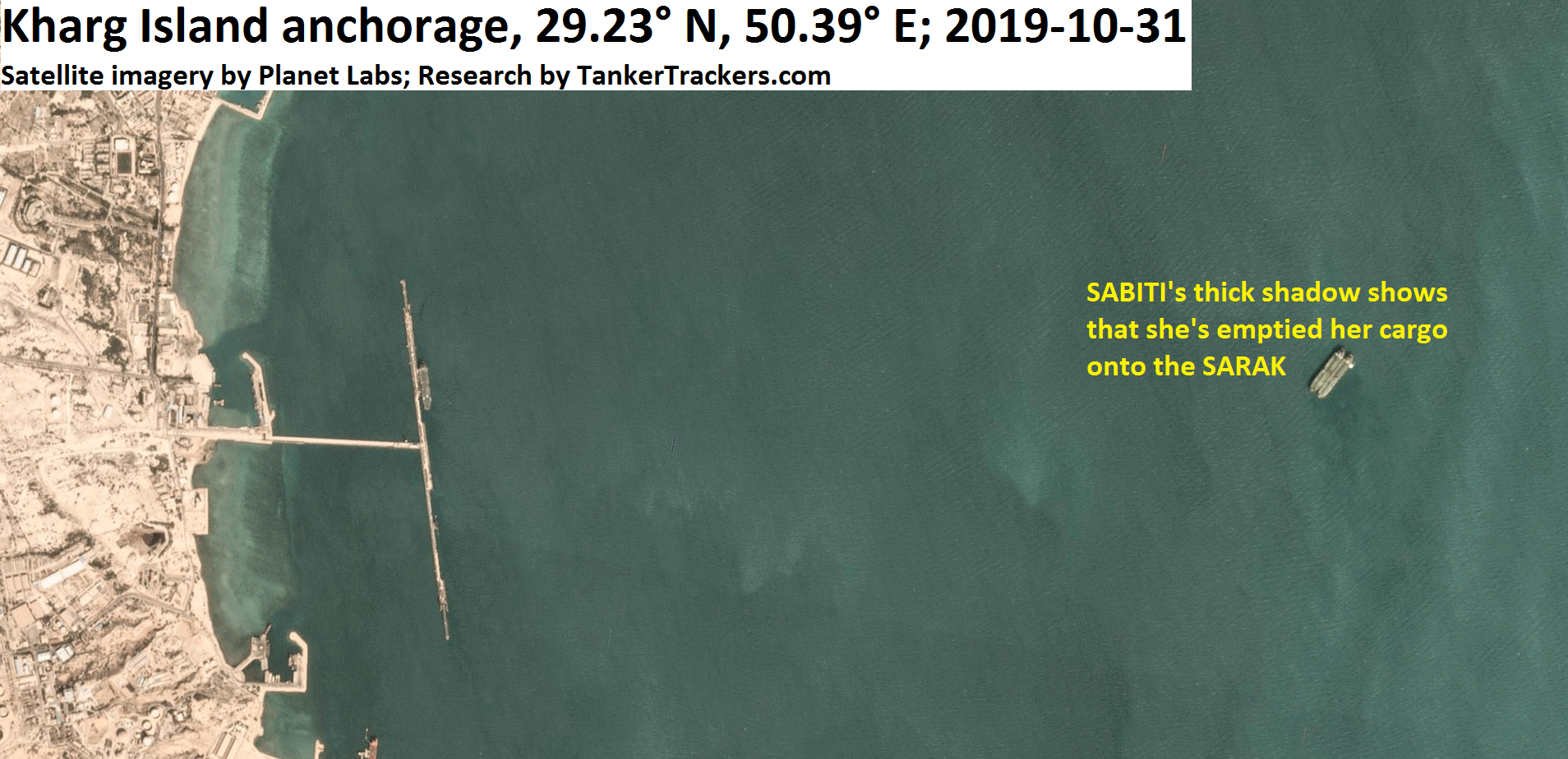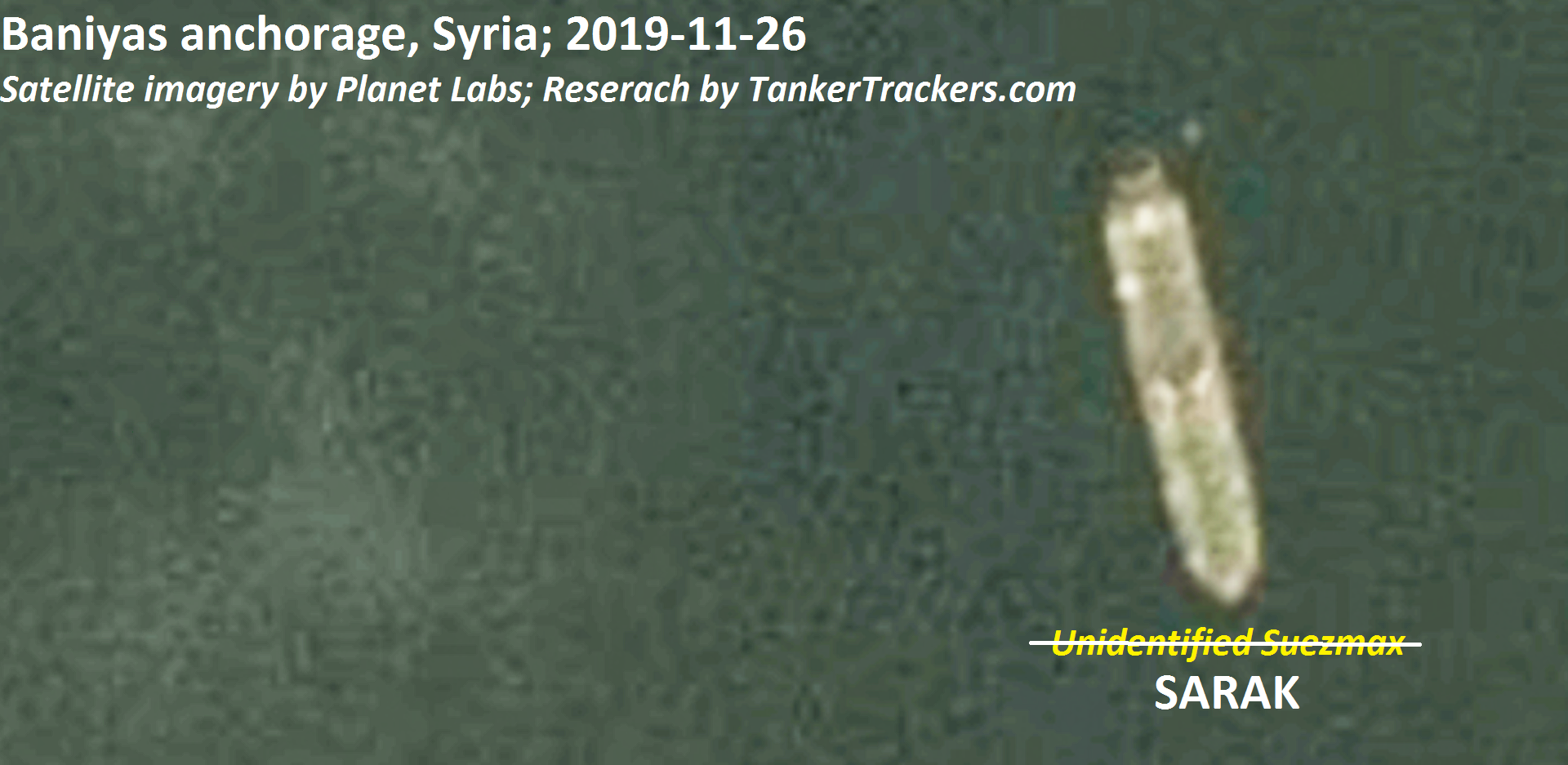 December 18th, 2019
We have several interesting observations, one of which we TOTALLY didn't expect. Let's begin with that one first:
An Iranian VLCC called DIAMOND II has FINALLY re-appeared back on the AIS map after a year of absence! The vessel was sailing down the Red Sea and had switched on her AIS transponder on December 14th, 2019 at not too far south of the Iranian "spy ship" (according to the Saudis) called SAVIZ. From there, she sailed through the Strait of Bab Al-Mandeb and continued east up the Gulf of Aden, where she is currently broadcasting "BASRA" (Iraq) as destination. In all honesty, we have no idea what this vessel was doing or where she went, but towards the end of October 2019, we received an anonymous tip that she was last sighted east of Gibraltar (before they lost track), implying that she sailed all the way around Africa. We're going to take a closer look at the Suez Canal once again to see which date this vessel possibly traversed it. What's really concerning is that the Suez authorities are allowing these vessels to use the canal with their AIS transponders switched off when in fact the rules require them to be on as of 15 nautical miles distance. This is the second known case after the SARAK. The DIAMOND II is currently broadcasting that she's empty of cargo, but we haven't seen a true color photo of her just yet; only a SAR image confirming a VLCC-sized vessel.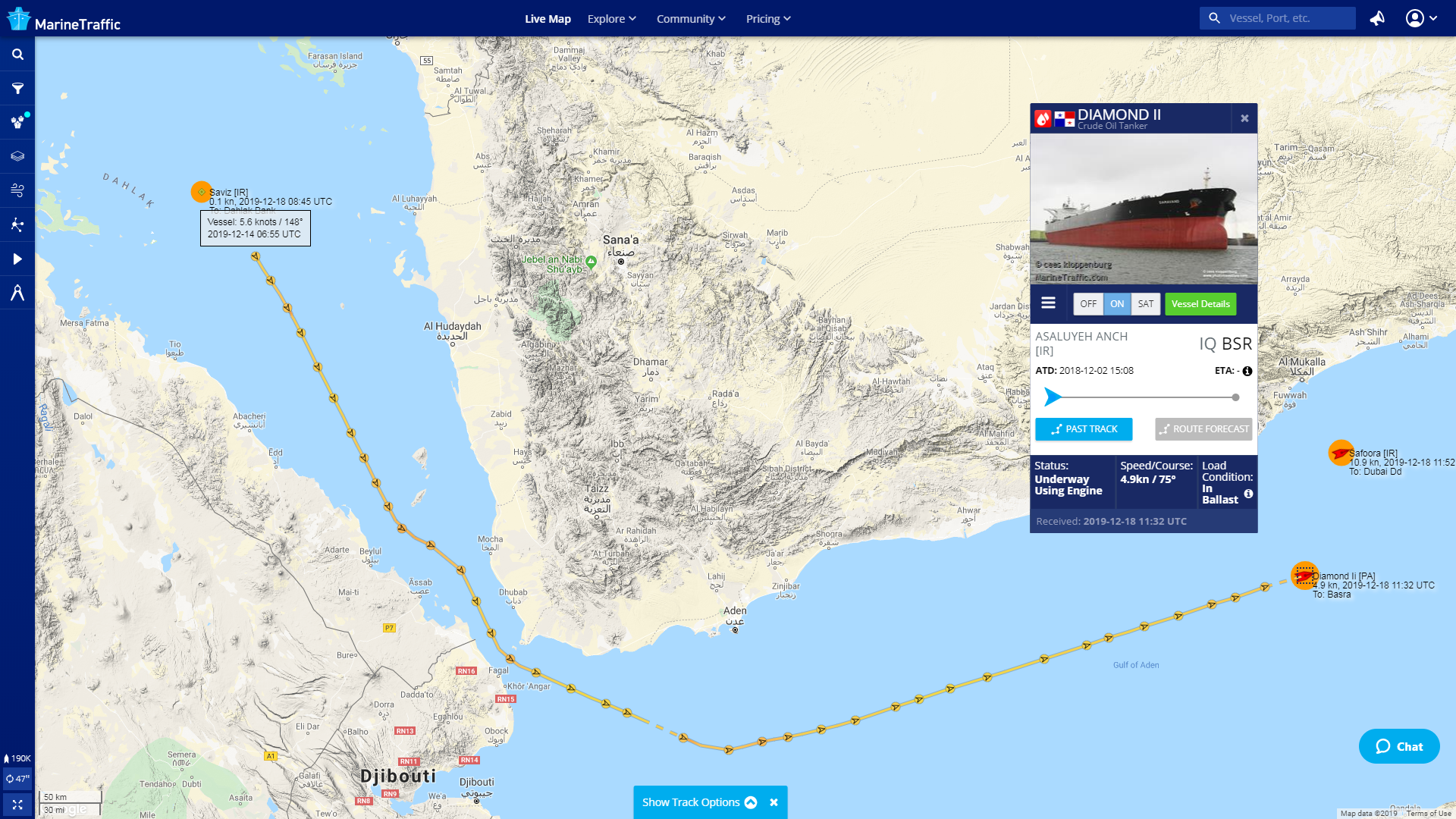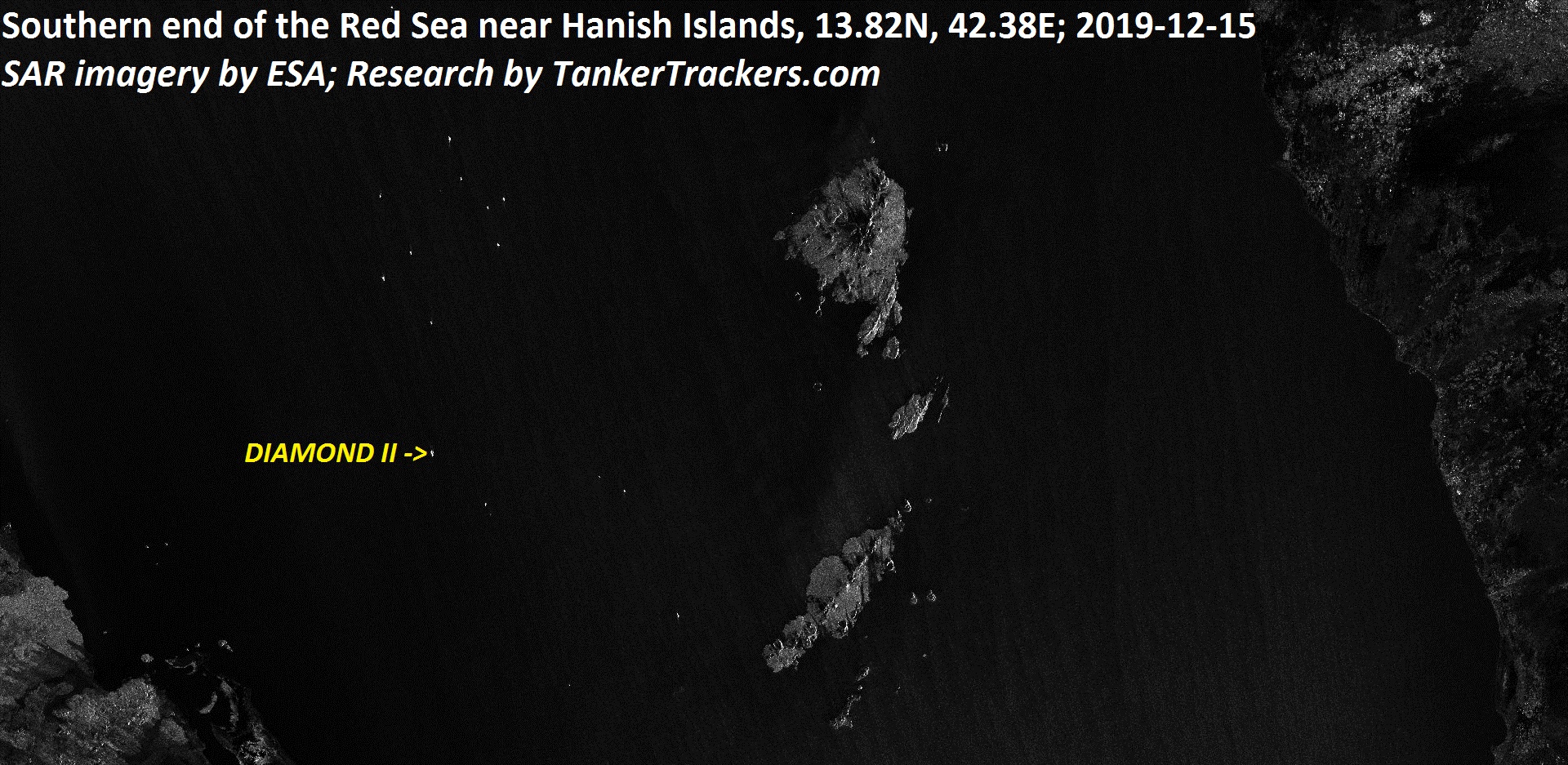 Speaking of SARAK and SAVIZ, we spotted them both together on December 13th, 2019. The SARAK is headbound back for Iran and vessels going north or south tend to make a stop by the SAVIZ. We believe the Iranian navy carry out inspections of tankers to see that they're not laden with any explosive mines given what happened to the SABITI. It is fairly evident that after the series of previous incidents this year with NITC tankers, that they're now switching off their AIS transponders during most of their time in the Red Sea. The same can now be said about the Syrian-owned SANDRO, which is currently (presumably) en route to Iran. Her transponder went offline only a day after coming out of the Suez Canal. She's still offline but broadcasting Jeddah, Saudi Arabia as her destination. Other empty vessels currently still offline in the Red Sea are the SINOPA and JASMINE.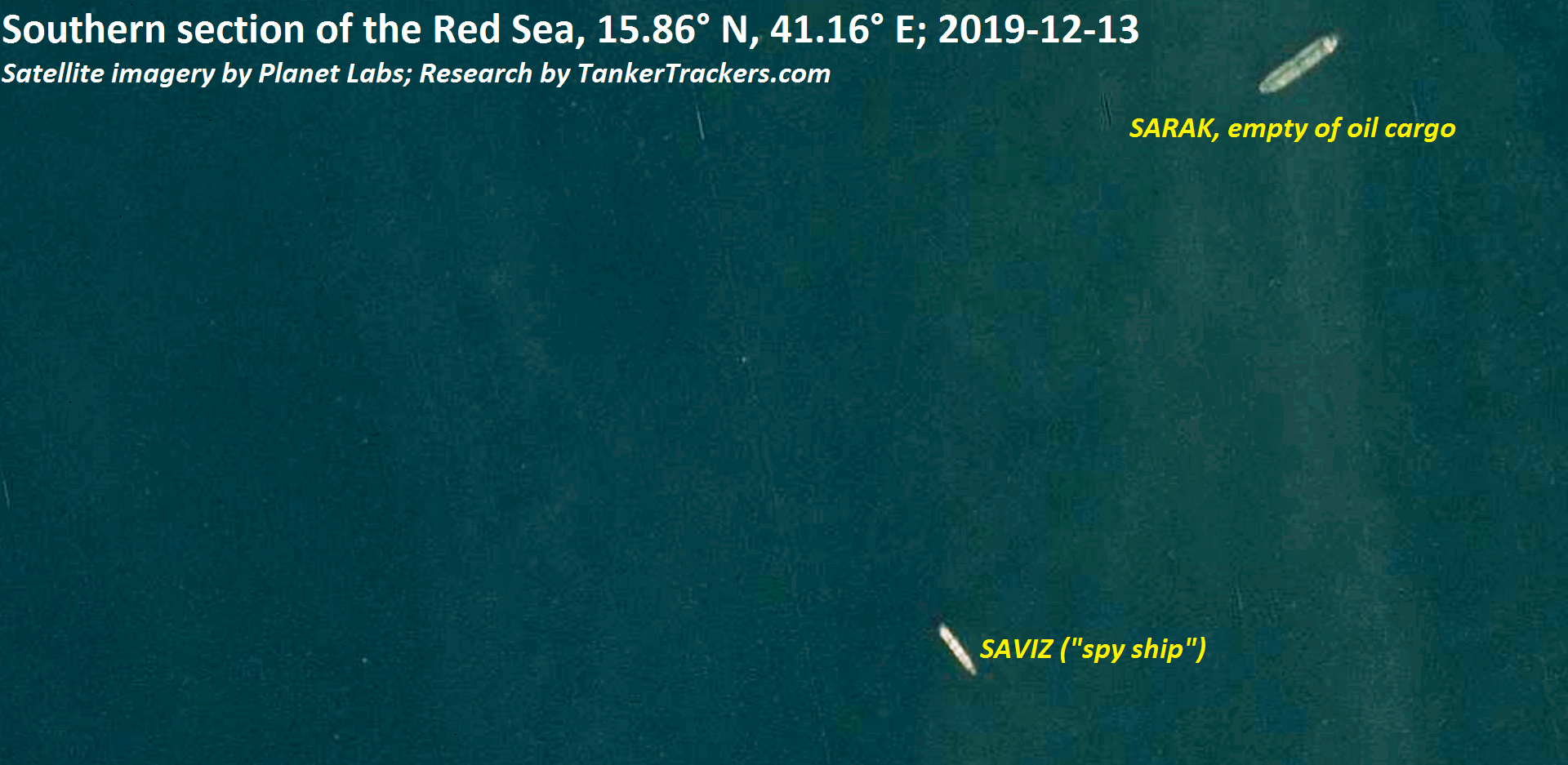 The ADRIAN DARYA-1 seems to be empty as of yesterday, for the second time! With the assistance of UPMAN, she's managed to deliver her remaning million barrel cargo in small amounts in order to compensate any inbound delays from Iran. Here are a few photos of that.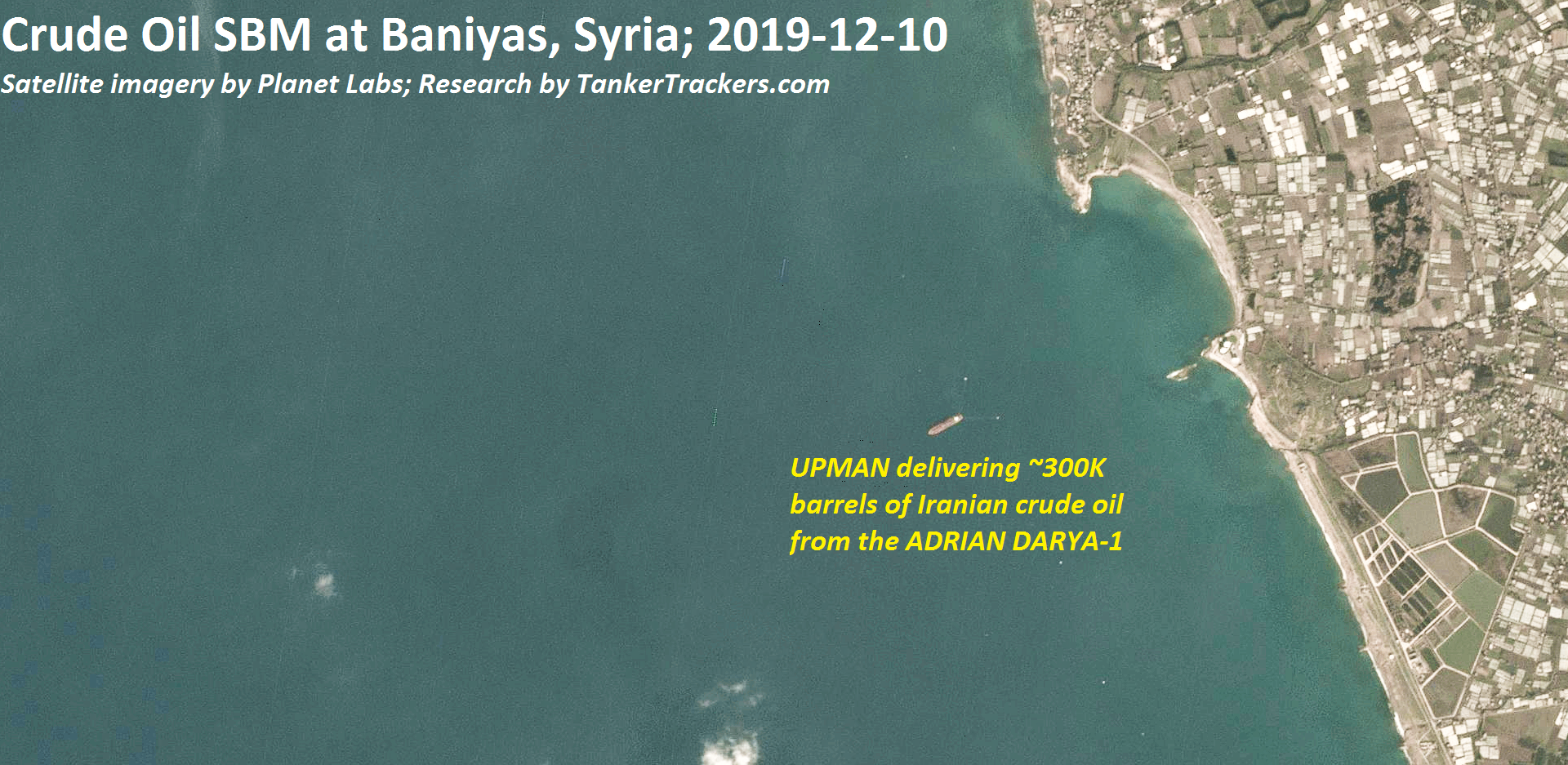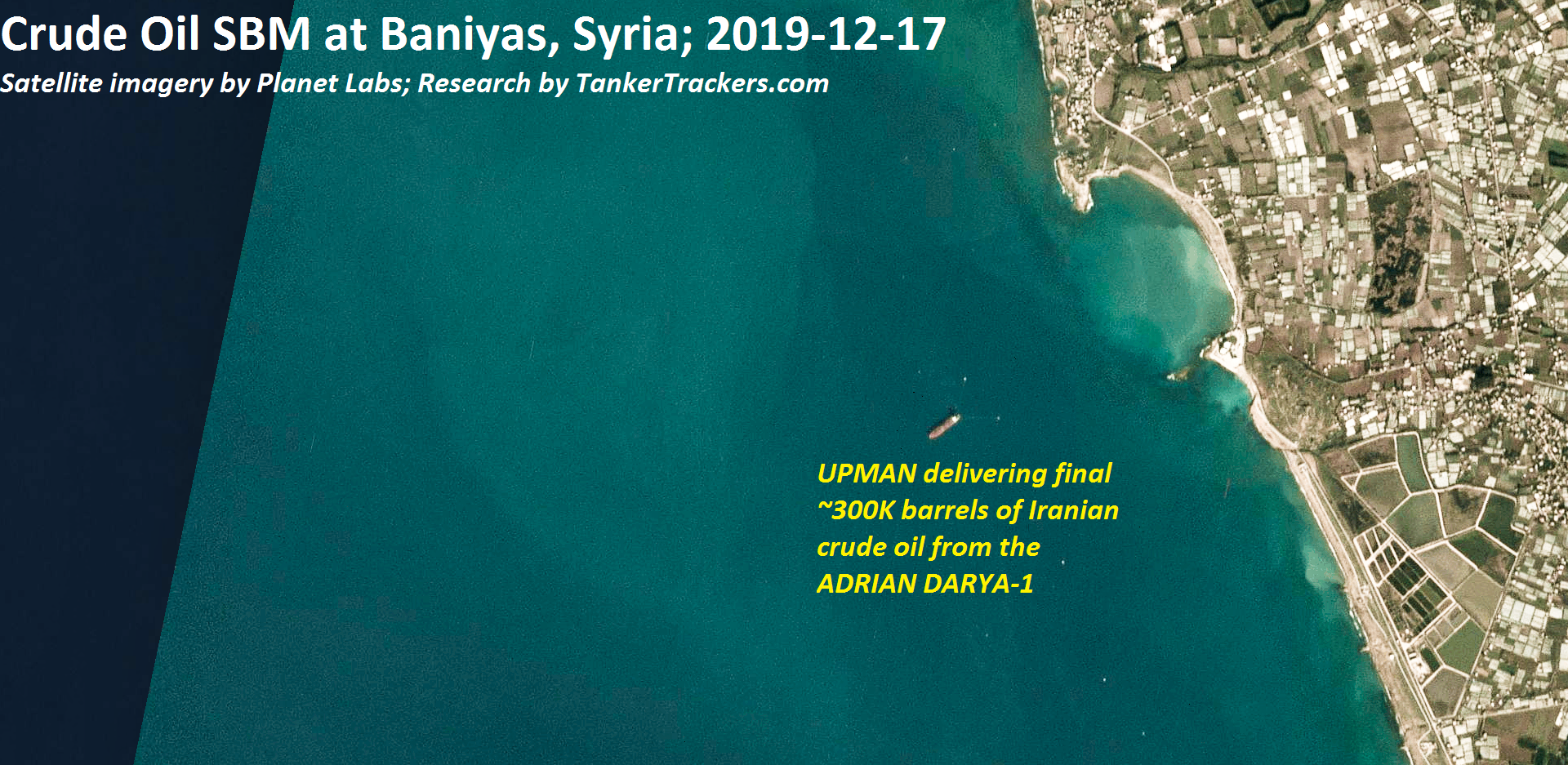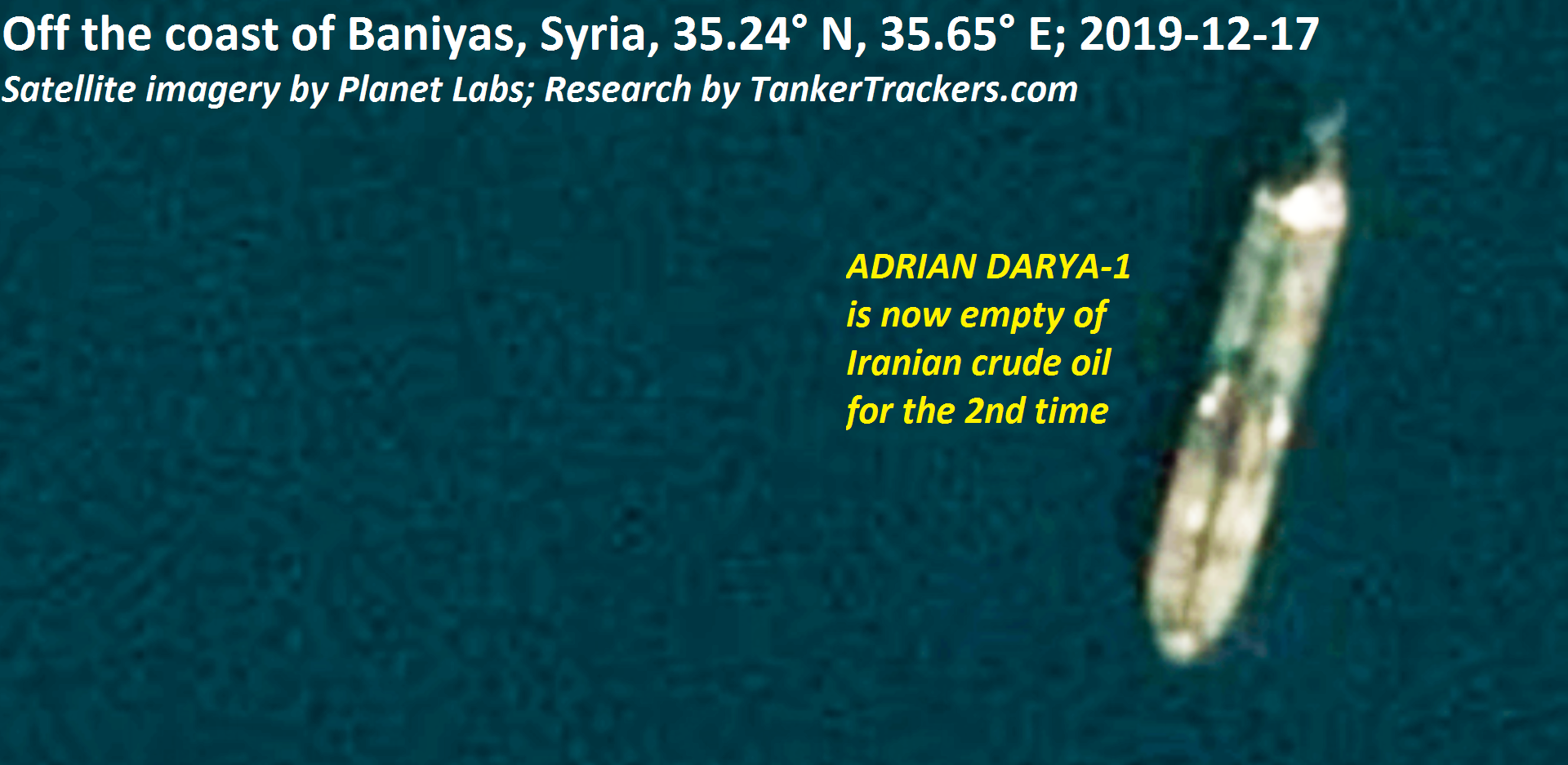 Is this saga finally over? Quite unlikely given there's so many things going on in not just the East Med, but the Red Sea as well! Going forth, we believe the AD1 will likely continue to act as an FSO (Floating Storage Offload) vessel while SANDRO replaces her role by fetching oil from Iran. Iran will likely attempt to continue delivering 3 million barrels a month (100Kbpd) in order to satisfy most of Syria's demand. The concern however, is how the Suez Canal is now allowing AIS transponders to be switched off during transit. From a maritime safety perspective, that's fairly dangerous as we have seen in the past.
Please note that the graph below was updated on 2019-01-03: