Other chapters can be found here: One, Two, Four, Five
November 1st, 2019
Based on today's Planet Labs satellite imagery, it seems that the ADRIAN DARYA-1 may have finally departed Syria sometime over the past 48 hours or so since we last had imagery. Two days ago on October 30th, the Iranian Handymax tanker called DEVREZ arrived via the Suez Canal. Though her AIS data presence in Iran hasn't been available since May 2019, she was most likely coming in from her usual loading terminal, Bandar Abbas; carrying around 350,000 barrels of gasoil. Gasoil is used for heating, and the nights are getting colder now as they approach winter. We also noticed that the Iranian-flagged (yet Syrian-owned via Lebanon) Handymax called JASMINE is no longer there either, and the same goes for the SANDRO Suezmax, though they might both be either west or south of the satellite tiles we were able to attain today. It will be interesting to see if the AD1 will traverse the Suez Canal in a day or two.
November 3rd, 2019
It looks like the ADRIAN DARYA-1 saga is still not over. The vessel headed northwest of Baniyas to 35.31° N, 35.75° E, just 15.8km west of Sukas, Syria. We have reviewed both SAR and true color satellite imagery and saw that the she met up with the local Suezmax called SANDRO. Now, what's interesting about SANDRO is that she has picked up small amounts of oil over many months from vessels that were having issues delivering oil to the Baniyas refinery via the SBM (Single Buoy Mooring) spots off the coast of the Baniyas refinery. It seems like SANDRO has been fully laden and an STS between these two vessels over a period of two days will result in the AD1 becoming half full again with Iranian crude oil. If that's the case, then what's the plan thereafter? We'll have to wait and see.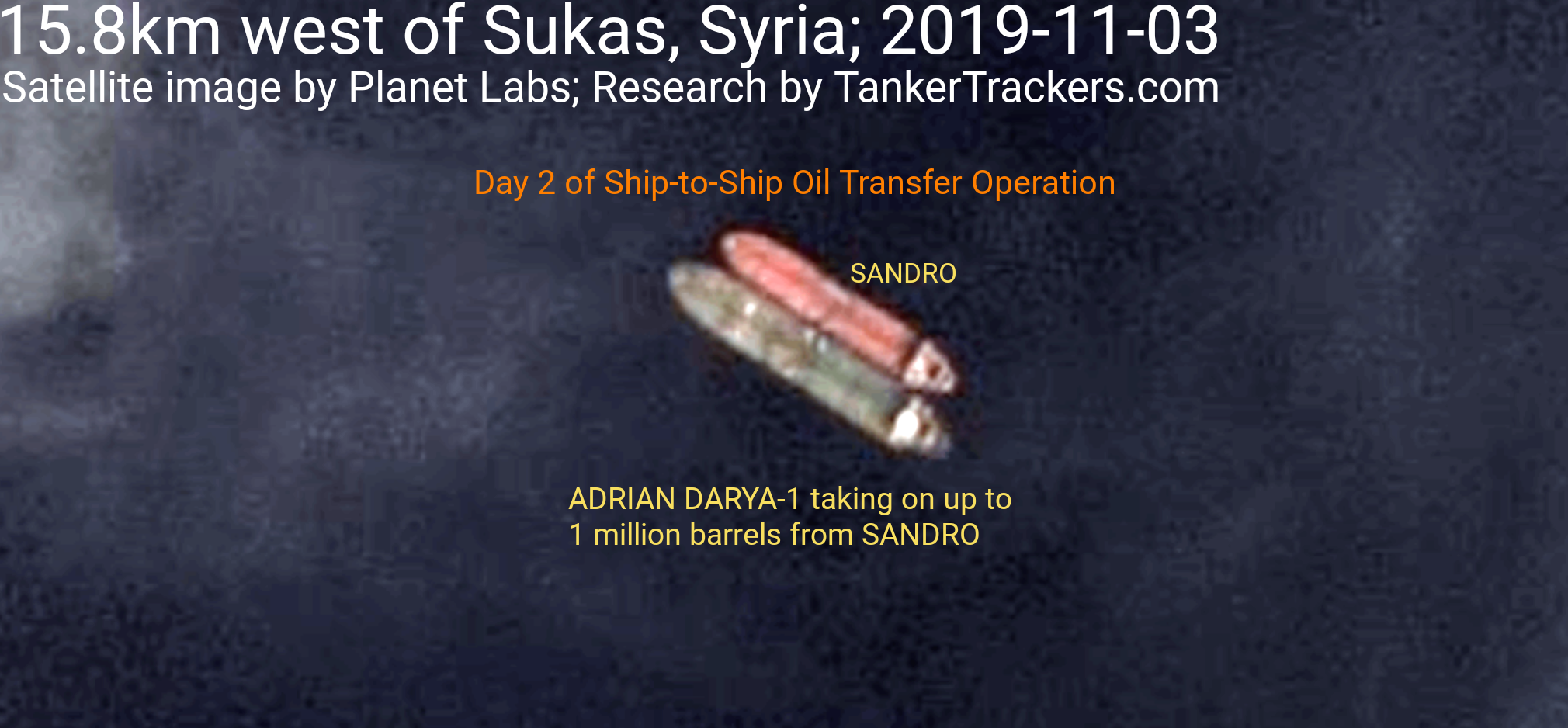 November 11th, 2019
Well, this is an interesting update! The ADRIAN DARYA-1 was captured by Planet Labs satellite imagery on November 7th, and from what we could gather from the shadow length, she is now holding anywhere between 1-1.1 million barrels of Iranian crude after her STS with SANDRO. As for SANDRO, she is back online again after 5 months and 1 week! Her new name is LOTUS and she's now waving the Iranian flag. And in her proximity is her smaller sister ship, the Iranian-flagged Handymax, JASMINE. She came back online yesterday (November 10th) after being offline for exactly half a year. Both vessels are now floating idle north of the Suez Canal and both understand that free passage is more or less guaranteed given that they're both waving Iranian flags. Last year's arrest (by the Egyptian Navy) of the SEA SHARK happened much in the same way as it did for the GRACE 1, where both vessels were carrying oil towards Syria and were flying the flag of Panama.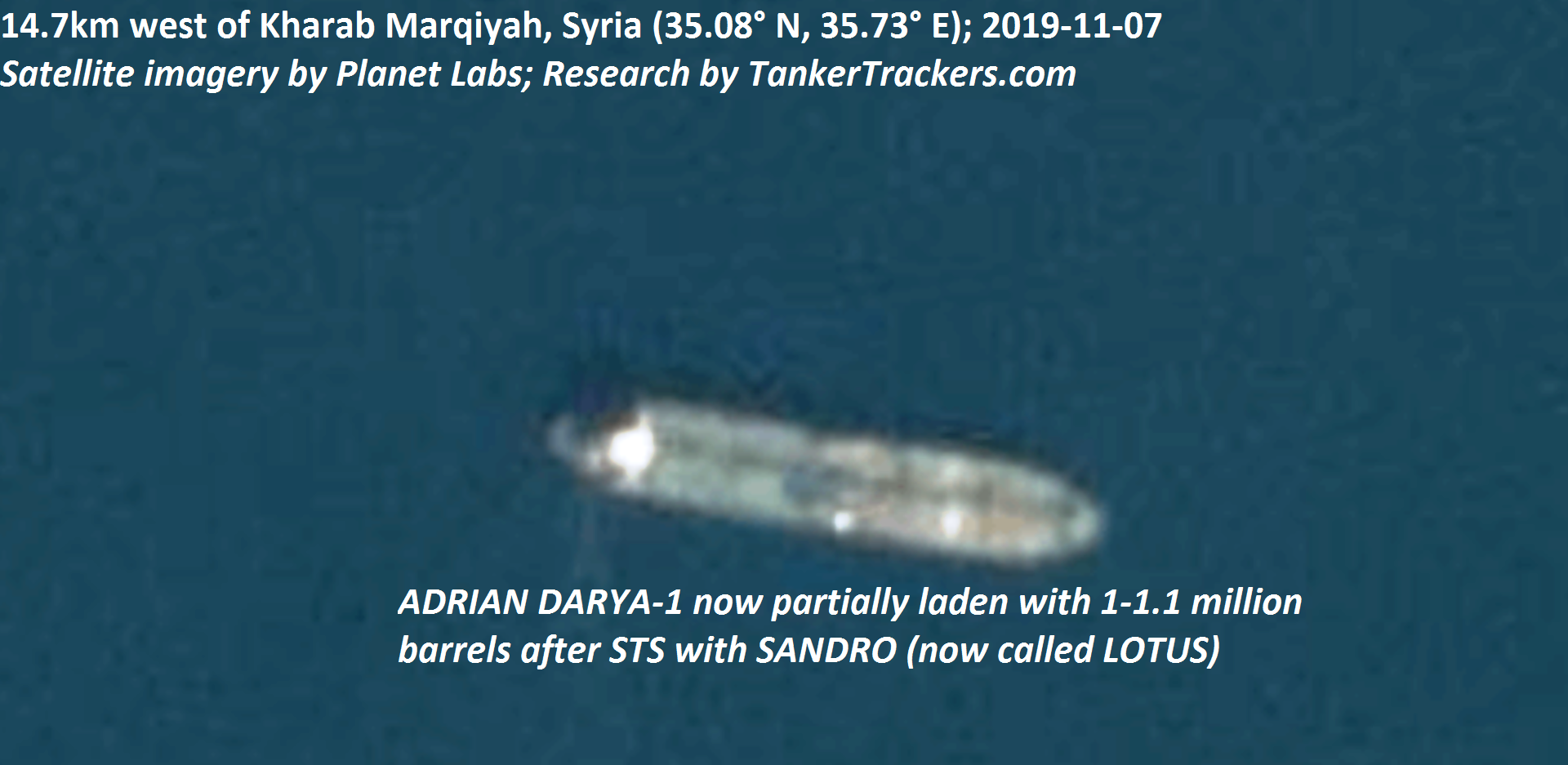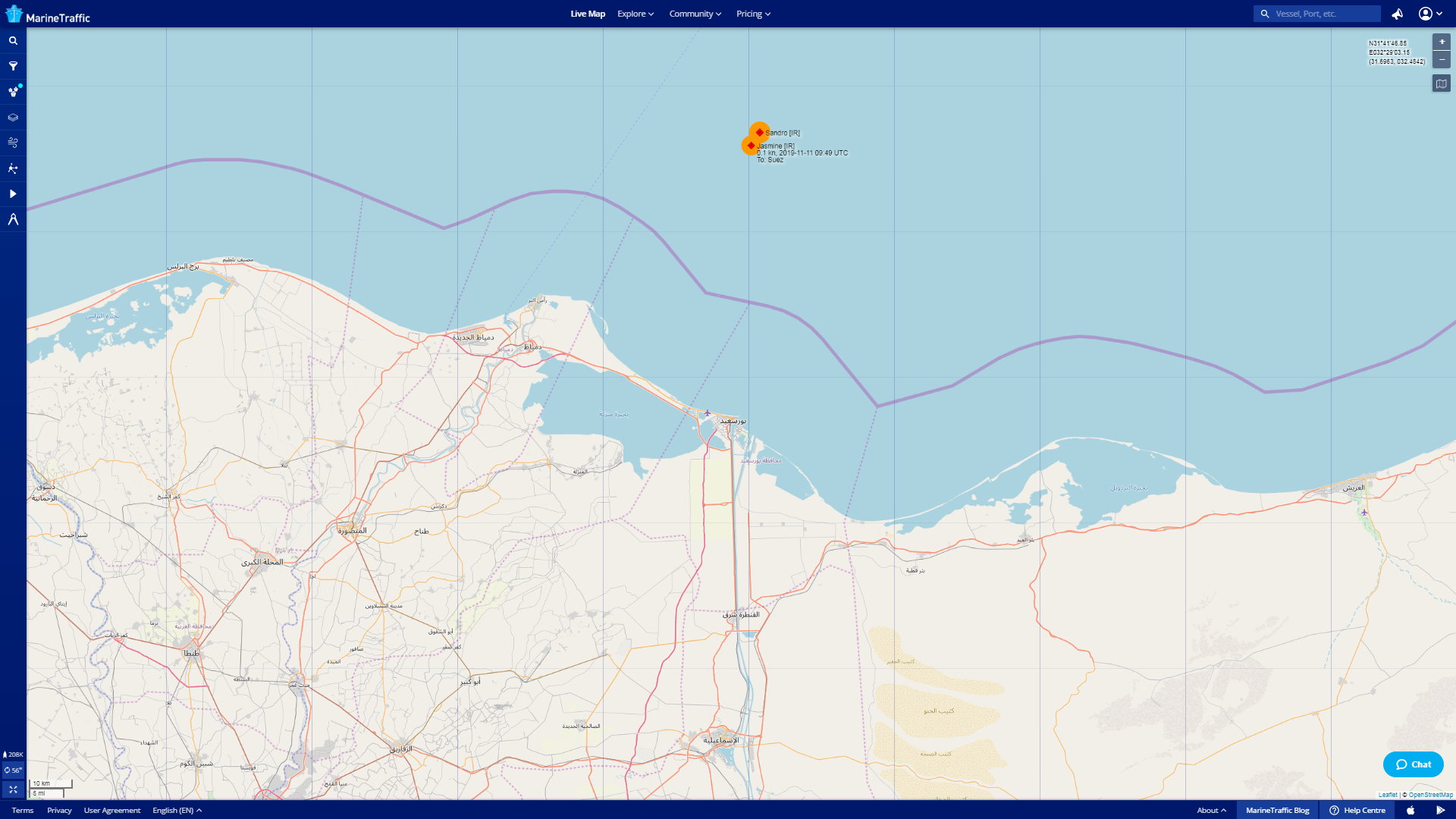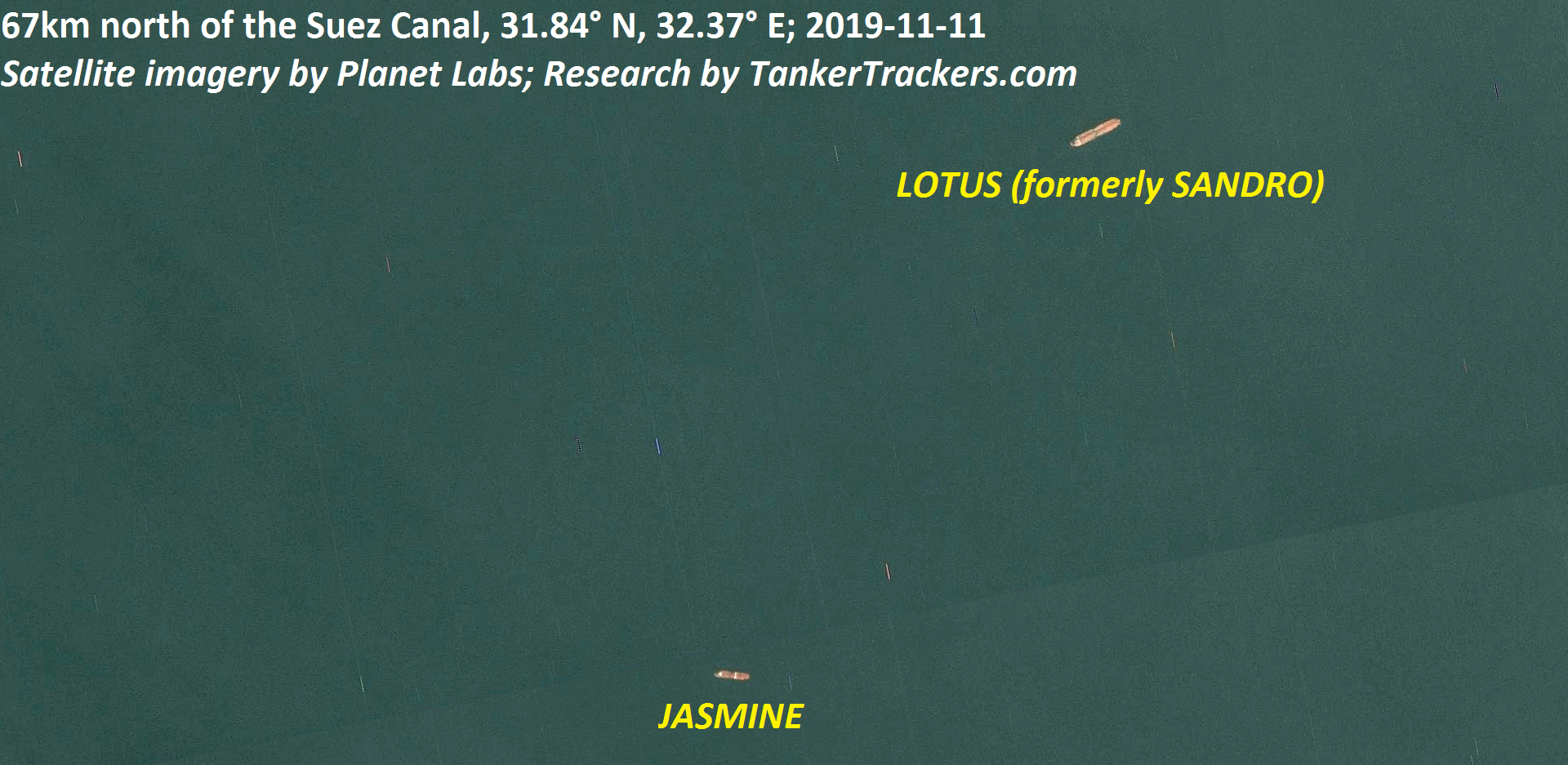 November 27th, 2019
More than two weeks have passed since anything interesting has happened, but we can see that the AD1 is back to supplying the UPMAN with some of the oil the AD1 received from SANDRO before she departed empty towards the north of Port Said. However, what's REALLY ODD is that a new vessel popped up in the anchorage of Baniyas yesterday. This vessel seems to be a Suezmax but is not familiar to us at all. We have no visual record of her and our extensive database search on MarineTraffic shows up without much to go with. A completely mysterious vessel for now. A UFO of sorts; Unidentified Floating Object. What we can say is that this vessel seems to have arrived in the area on November 21st before entering anchorage, at least when we examined the available SAR imagery. The vessel came in from the northwest, hinting either Turkey or the Black Sea (Russia) as possible source.
This vessel does not seem to be Iranian. Given the fact that the weather is poor, we'll have to rely on SAR imagery over the next couple of days, if available. We'll want to confirm which of the SBM's she'll tether to in order to figure out what type of cargo she's carrying; be it crude oil or refined product such as gasoline/diesel or whatnot.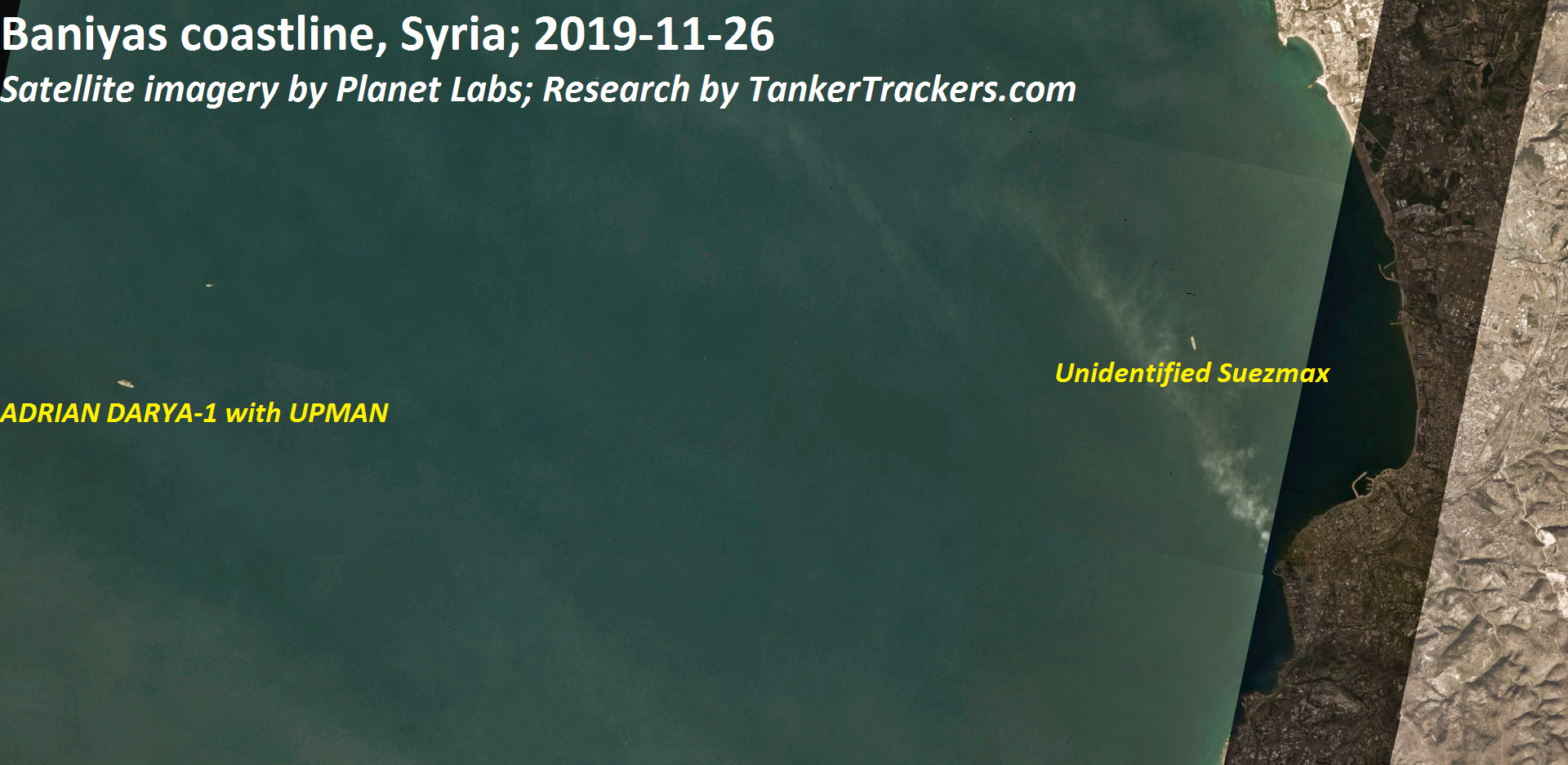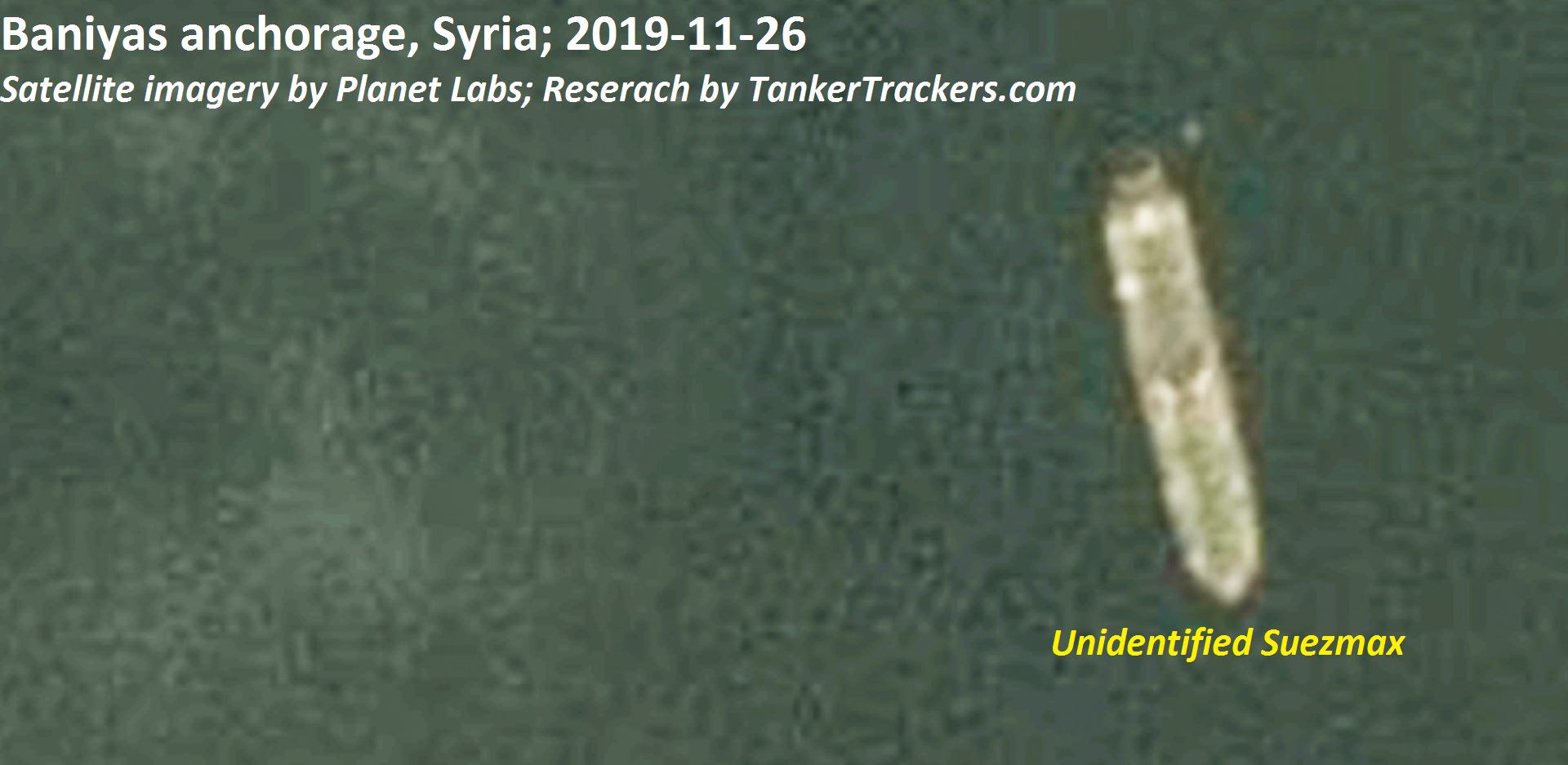 We can say however that the Iranian-flagged Aframax SAFOORA (formerly BONITA QUEEN) is now navigating her way through the Suez Canal with over 600K barrels of crude oil for Syria. She should arrive by the weekend. This is oil that originally left Kharg Island in Iran during August but didn't leave the country (she was anchored off Larak Island) until November. They changed the flag and name just to avoid the possibility of an arrest.