Other chapters can be found here: One, Three, Four, Five
October 4th, 2019:
Some imagery has been made available publicly while we wait for our own imagery sources to come in. Let's have a study of what's available.
On October 1st, 2019 we saw the AD1 sit in an STS (Ship-to-Ship) formation with the smaller Iranian-flagged (yet Syrian-owned/Lebanese-registered) handymax vessel, the JASMINE. We said we'd wait for a confirmation of oil transfer before announcing it. On October 2nd, this image appeared in the media. It was captured by MAXAR that morning.
From what we can see, the AD1 has transferred oil to the JASMINE, but from what we can tell, it isn't much. The JASMINE can hold roughly 340K barrels of this light crude oil, but judging from the elevation of the AD1 (see the brick-colored hull above the waterline), it seems to be only about half a meter above water. This means that the AD1 has only discharged roughly 100,000 barrels of crude oil and still has another 2 million barrels aboard.
Additional images have now surfaced from an open-source imagery Twitter account called Aurora Intel which show the AD1 this morning (October 4th) resting alone in the anchorage of Baniyas. Again, we can see the hull is only slightly above water. In the other image, we can see that JASMINE has tethered herself to the Baniyas SBM discharge point some 7km further north. That vessel is showing plenty of hull in comparison to the AD1, meaning she is mostly empty.
ADRIAN DARYA-1, sighted alone today.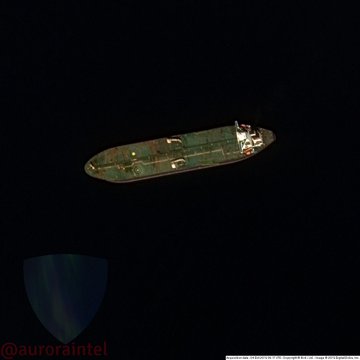 JASMINE positioned at the SBM in Baniyas.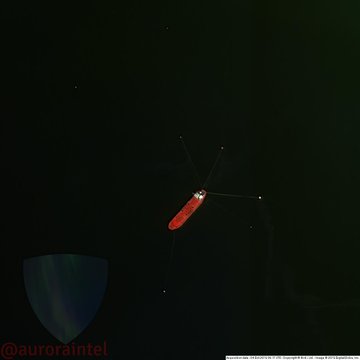 Our present analysis is that this is a charade, given that there's plenty of media and intelligence surveillance placed on this vessel. Had they moved a million barrels onto (for example) the Suezmax called SANDRO and delivered the entire amount via the SBM, then that would have been a concrete form of action. Instead, they simply removed the icing off the proverbial cake in order to provoke a reaction or show folks back home a sign of success after nearly 6 months out at sea.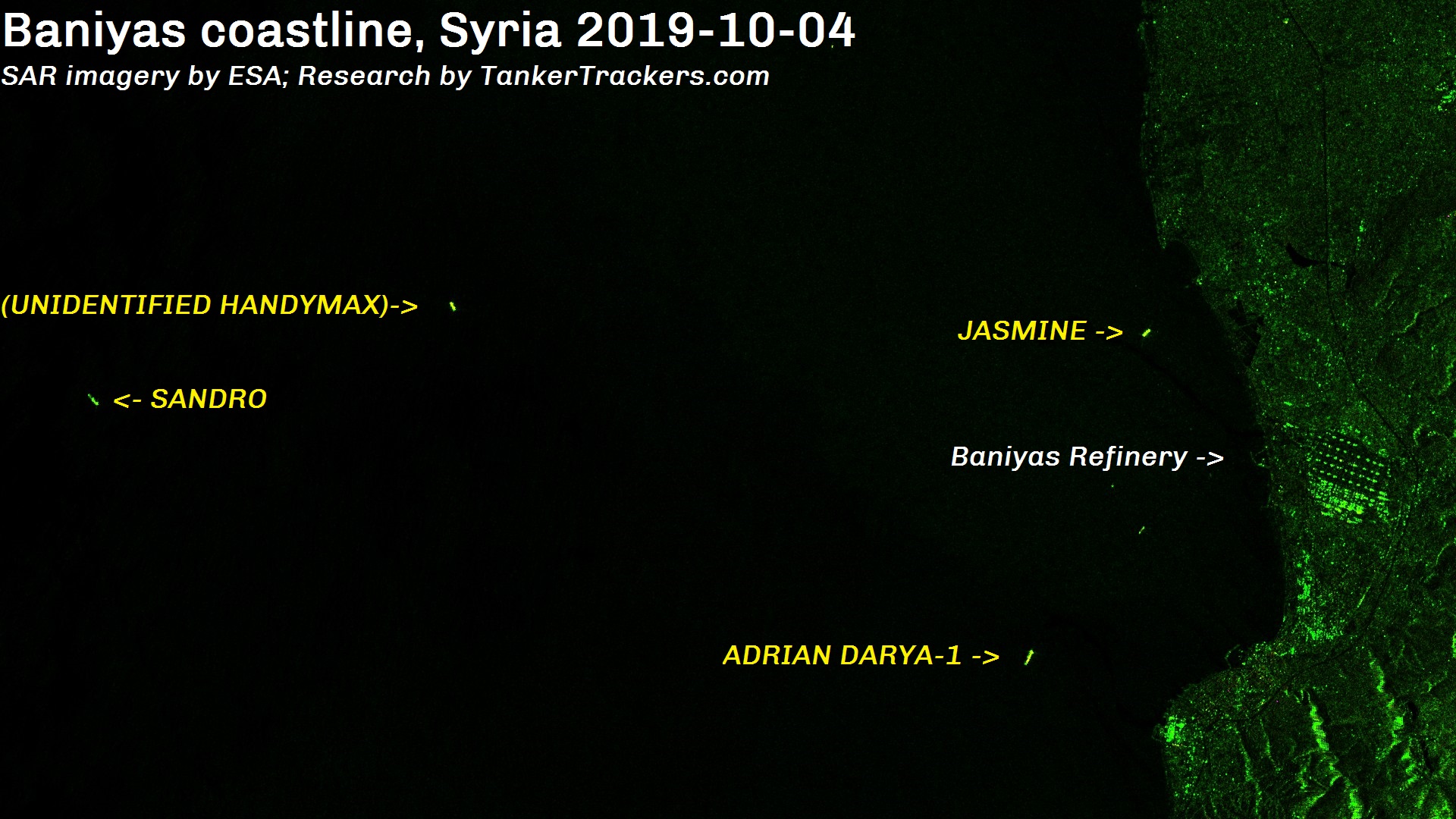 October 5th, 2019:
We believe we have identified the other Handymax-sized tanker that has entered the immediate Baniyas area. Based on the same dimensions, visual characteristics and latest AIS position (2019-05-02, exactly a week prior to JASMINE going offline), the vessel is suspected to be the UPMAN, and a quick Google search will show that she's on the US Department of Treasury's OFAC Sanction list as KADER. That name was replaced in April 2019. The UPMAN and JASMINE are the only two Handymax tankers that are currently offline in the east Med Sea, and they are nearly identical. Here's what we know about the UPMAN: She is owned by a Pearl Shipping & Trading Ltd (Beirut, Lebanon) and her latest Flag of Convenience was that of Togo, according to the IMO. From what we can tell, she hasn't picked up anything yet. At present, there aren't any tankers (carrying Iranian oil) in or near the Suez Canal which are in transit towards Syria.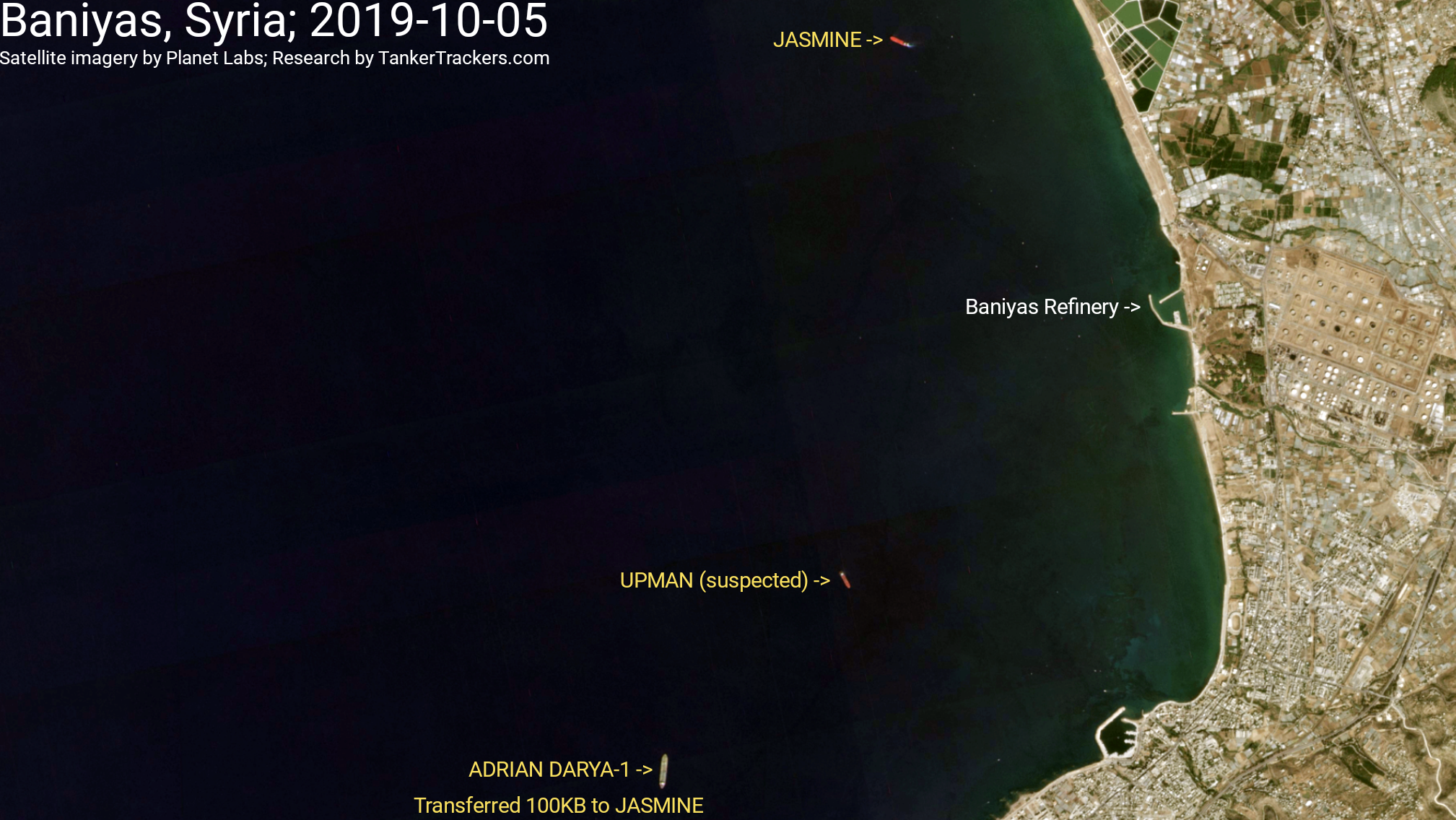 October 8th, 2019:
We've had no luck the past two days with imagery of any kind, be it true color or SAR (Synthetic Aperture Radio), so we're sure that we've missed a couple of transfers. Today, we have a mostly clear Planet Labs image captured at 11:05am local time. It shows a shadow which indicating that the vessel has buoyed a few meters higher in the water since September 28th, 2019. We believe that her new draft depth is 17.7 meters vs the original 22.1 or 22.0 meters meters prior to her first STS. If that's the case, then she has potentially shed close to 700K barrels. If this is accurate (hard to be 100% at this resolution), then she is nearing the allowed maximum draft depth in order to traverse the Suez Canal given that with her beam width of 58 meters, she can have a maximum depth of 17.32 meters in order to use the canal. And speaking of the Suez Canal, we have just received a MarineTraffic alert that the Iranian Suezmax tanker SINOPA will reach the canal from the Red Sea on October 12th with a million barrels of crude oil that completed loading at Kharg Island on September 2nd or 3rd, 2019. That would play well into the timing of deliveries, which is on average a million barrels every ten days or so. You can see our stats here.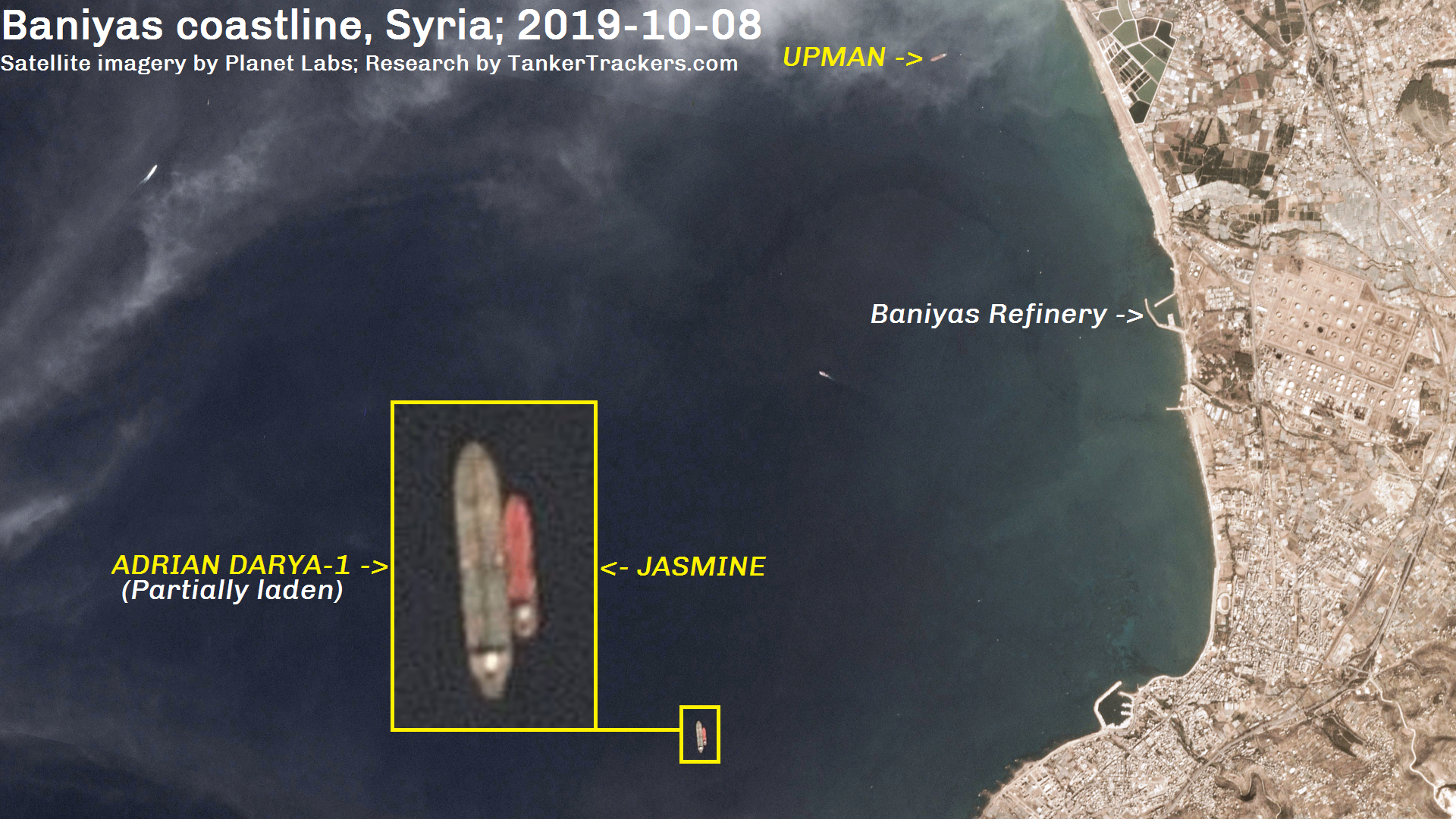 October 10th, 2019:
Yesterday's Planet Labs true color imagery was delayed but it came through today. It shows an increasingly thicker shadow, and based on the time the photo was captured, we were able to calculate a draft depth level of 15.6 meters, meaning that she is now only half full, carrying only 1.08 million barrels. The two Handymax tankers (JASMINE and UPMAN) are taking turns receiving oil via STS and then delivering 300-340K parcels to the SBM delivery point north of Baniyas. However, it seems that UPMAN is doing most of the lifting in terms of barrels. Yesterday's session seems to have been with UPMAN. Though true color imagery hasn't arrived yet today, we can see yet another STS session via SAR (Synthetic-Aperture Radio) imagery captured by the European Space Agency. Given the position of all three vessels, we believe that the vessel north of the pair is JASMINE while the AD1 is tethered to the UPMAN again. After this STS, we're potentially looking at only 700K barrels aboard the ADRIAN DARYA-1.
As for the Iranian-flagged Suezmax SINOPA, she is pinging from the middle of the Red Sea today, where it seems that she is floating idle at the moment. She may be waiting for further instructions. If the ADRIAN DARYA-1 discharges her entire load in Syria and SINOPA does the same anytime soon, then that's yet another 3 million barrels a month (or 100Kbpd) Iran has been able to delivery since May 2019.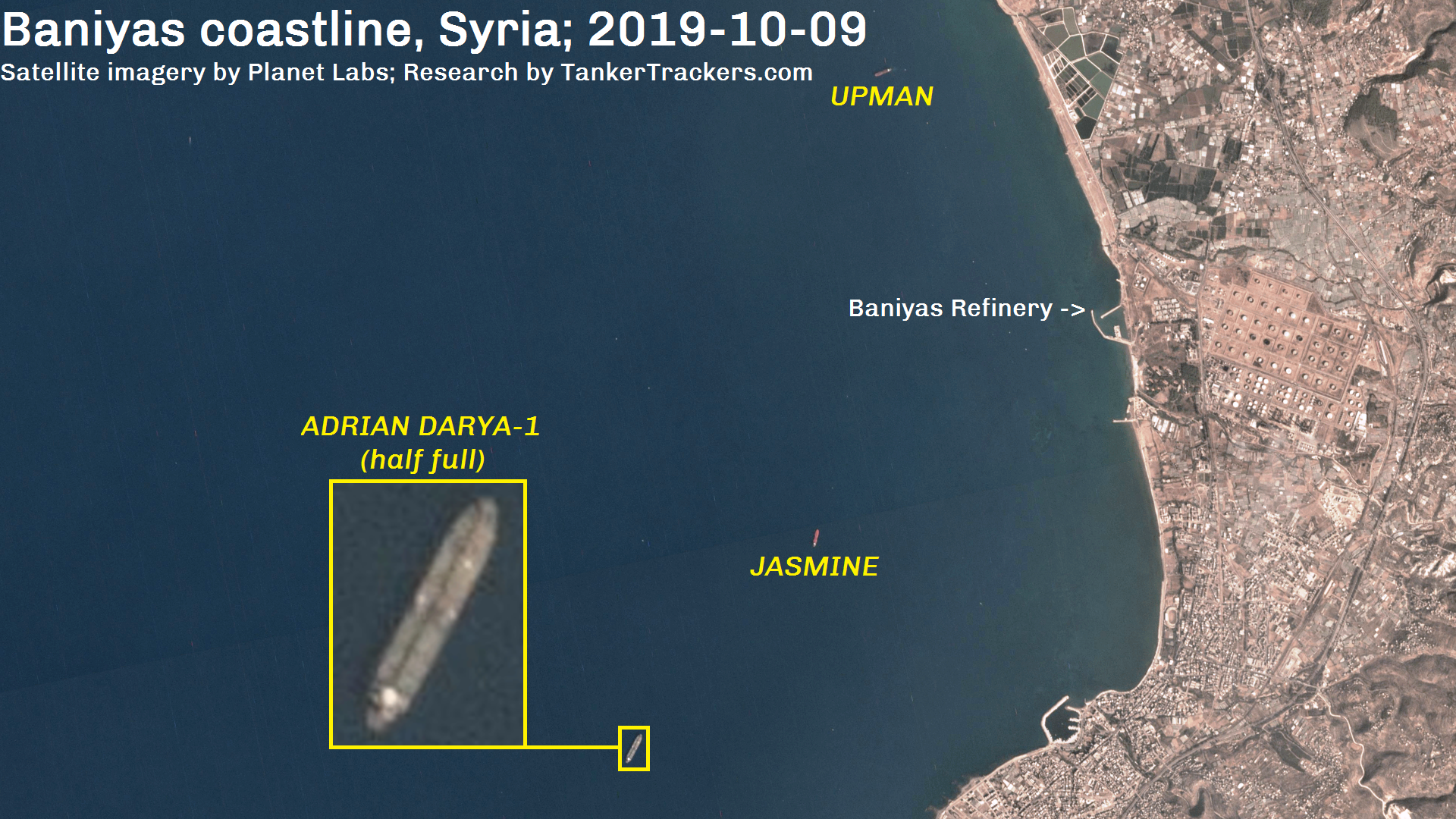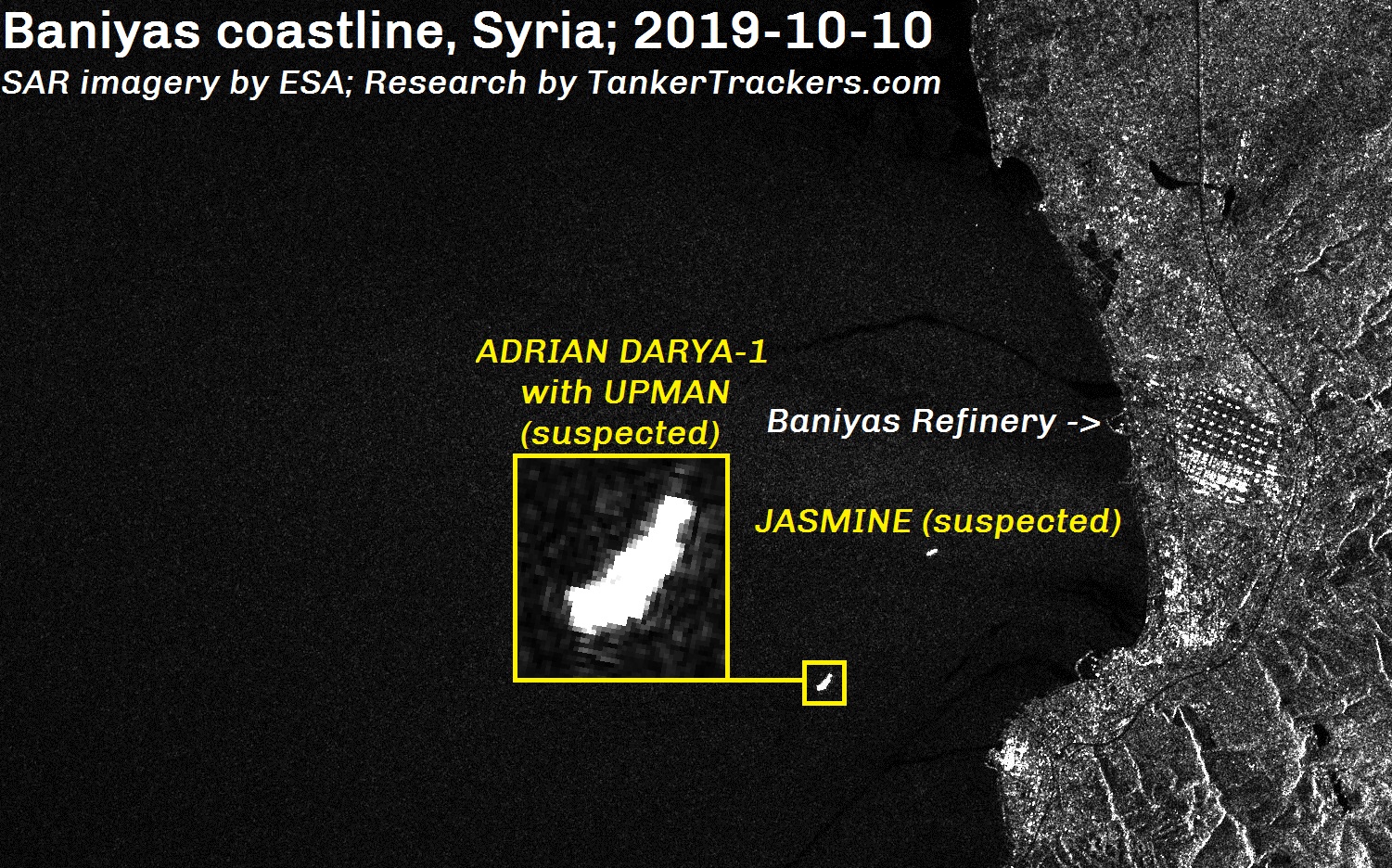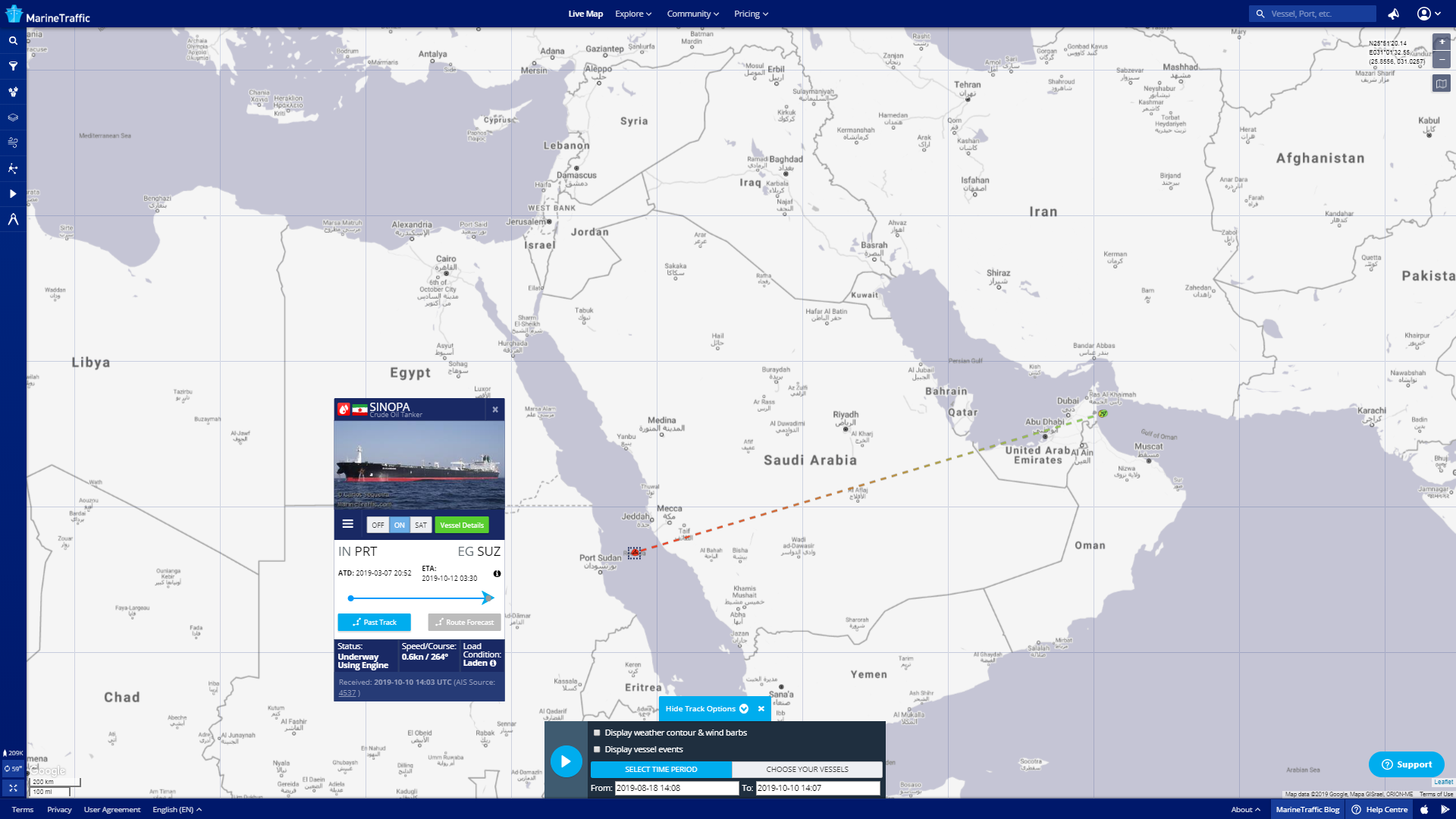 October 11th, 2019:
Today we're seeing yet another STS session via European Space Agency's SAR imagery as true color imagery isn't available. It seems that AD1 is back in contact with JASMINE while UPMAN is making a new delivery round to the SBM for the Baniyas refinery. This should imply that there's now less than 400K barrels left aboard once this STS is finalized. Given the news that the SABITI (please see thread) had allegedly been attacked by Saudi missiles (according to Iranian state media) in the Red Sea earlier today, that vessel would have brought in an additional 1 million barrels to Syria. However, there is a backup vessel which sailed in parallel, and that would be the SINOPA. She is also carrying a million barrels towards Syria, and is projected to reach the south anchorage of the Suez Canal on October 13th. This vessel has been offline for the past 18 hours, but should re-appear once she reaches the canal. From everything we can see, the SABITI is sailing back south towards the Persian Gulf (according to her AIS) at a decent speed of 10 knots per hour. Yesterday however, she slowed down to under 1kn/h within megaphone shouting distance of (what we suspect to be) the SINOPA. Had these two vessels both arrived in Syria during October, then that would have resulted in 4 million barrels for the month; a new peak. Given that there's now a new conflict in northern Syria due to Turkey trying to establish a security zone, Damascus will need every drop of oil if they are to push back such an offensive after objecting to it.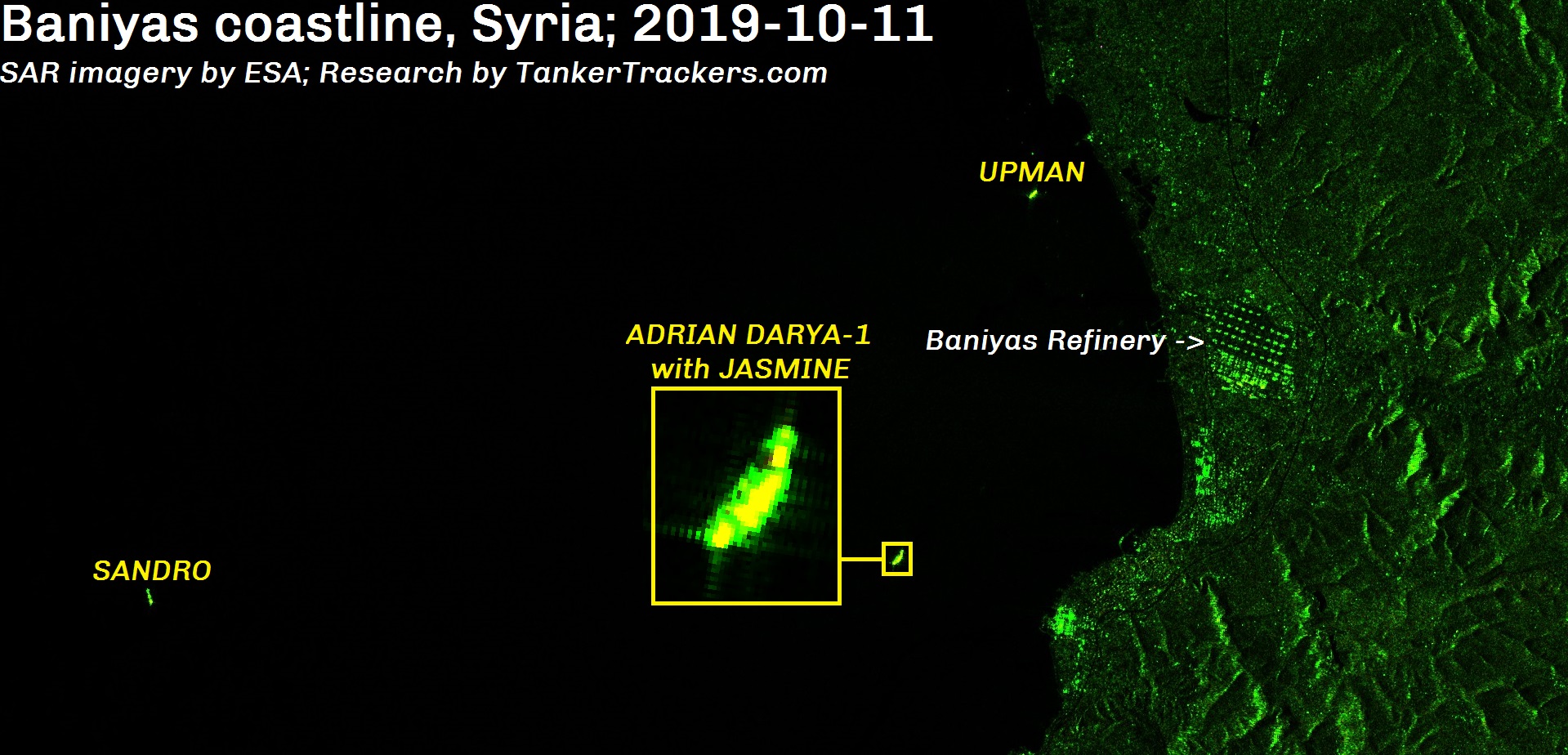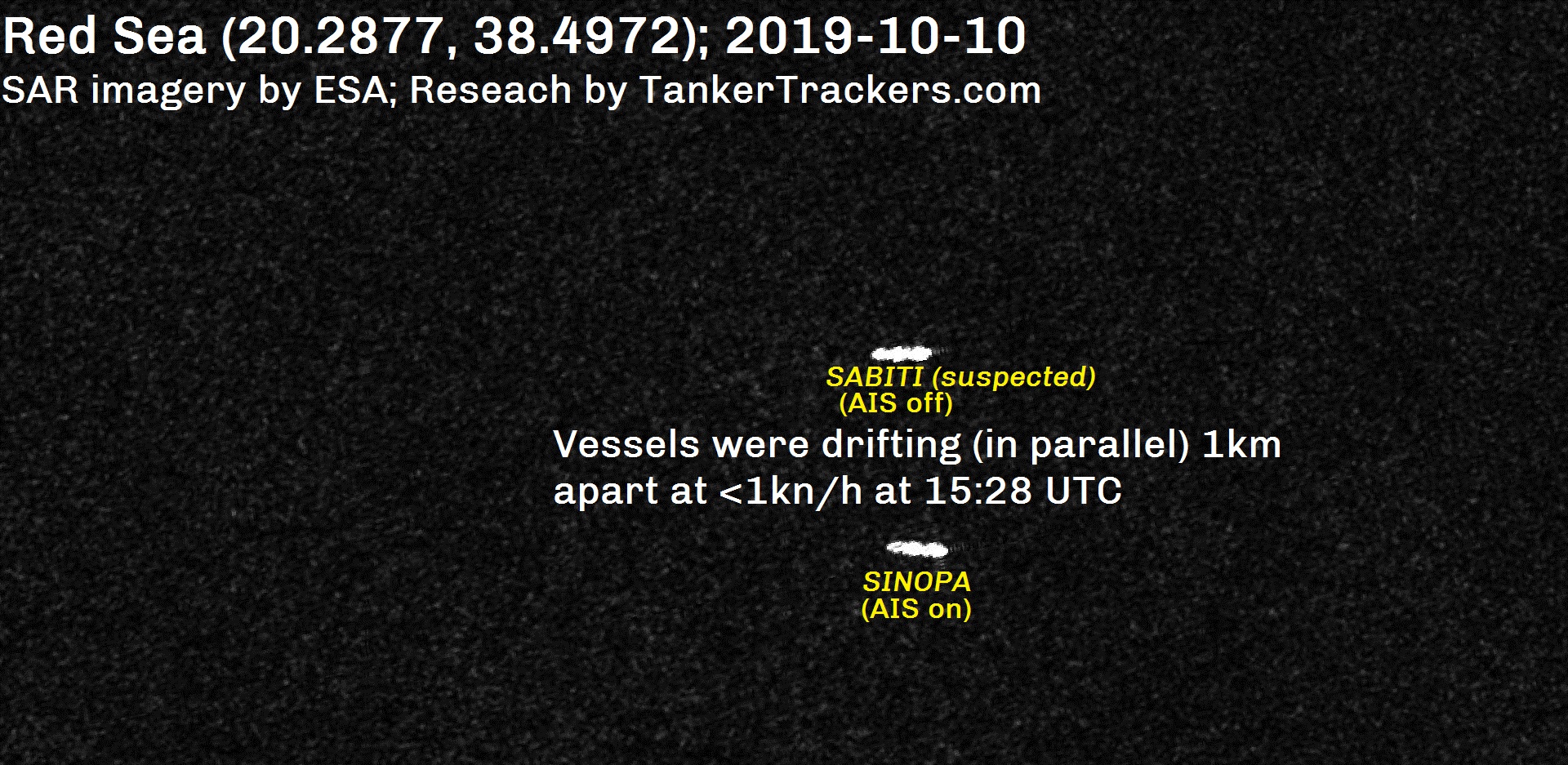 October 13th, 2019:
The ADRIAN DARYA-1 is now mostly empty of her crude oil cargo. We had no imagery over the past couple of days again, but can see a very thick shadow along her starboard bow (front-right) section facing her smaller sister ship, the JASMINE. We calculate that the AD1's draft depth level is now only 10.9 meters vs her original 22.1 meters. Whatever amount possibly remains is negligable and may be slightly topped up with ballast (seawater for keeping the vessel in balance) now that she is mostly empty. We will keep watch on her because she will end up broadcasting her load condition (laden vs empty) once the crew switch the AIS transponder back on. At that point, there will likely be a new flurry of media coverage on this story. As we pointed out previously, the Iranian Suezmax tanker SINOPA, is currently located in the Gulf of Suez, en route to Syria via the Suez Canal. Her AIS transponder was switched back on earlier today as expected. The SINOPA sailed alongside the SABITI, which suffered a loss of barrels after something happened to her draft hull. We are still gathering as much data and imagery in order to wrap up a comprehensive report of events.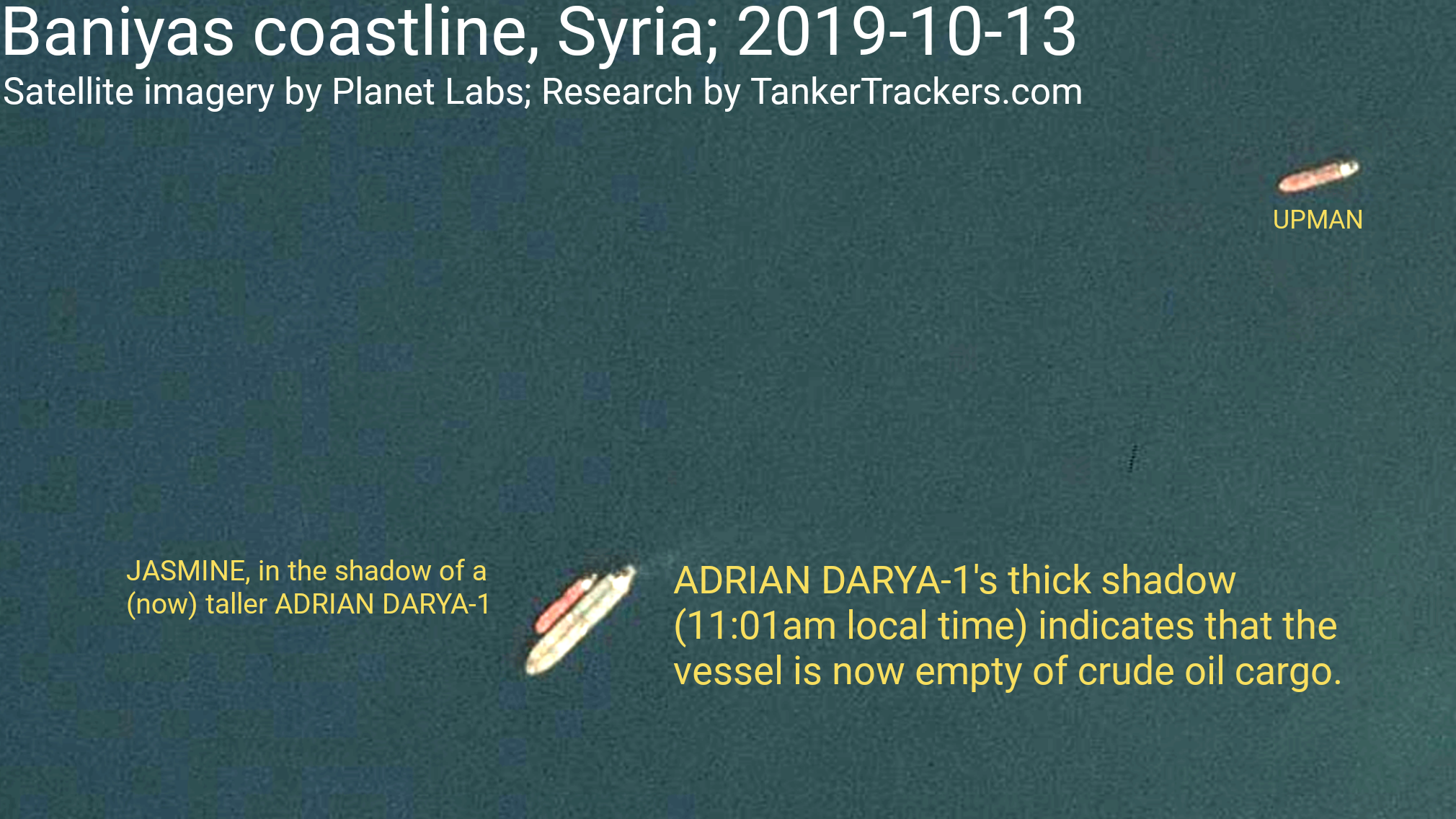 The SABITI rendezvoused with an (alleged) Iranian IRGC navy intel vessel called the SAVIZ, which has been on anchored for over a year in the southern end of the Red Sea, not too far away from Saudi Arabia. The merchant cargo vessel is under US sanctions and believed to be used in staging assaults on vessels by Yemen's Houthi rebels. Rendezvous with SAVIZ by Iranian tankers have become routine since the regional tanker tussle began nearly half a year ago. There is a possibility that they swap guards or carry out security inspections. The SABITI spent around 14 hours in her presence before continuing onwards to the Persian Gulf.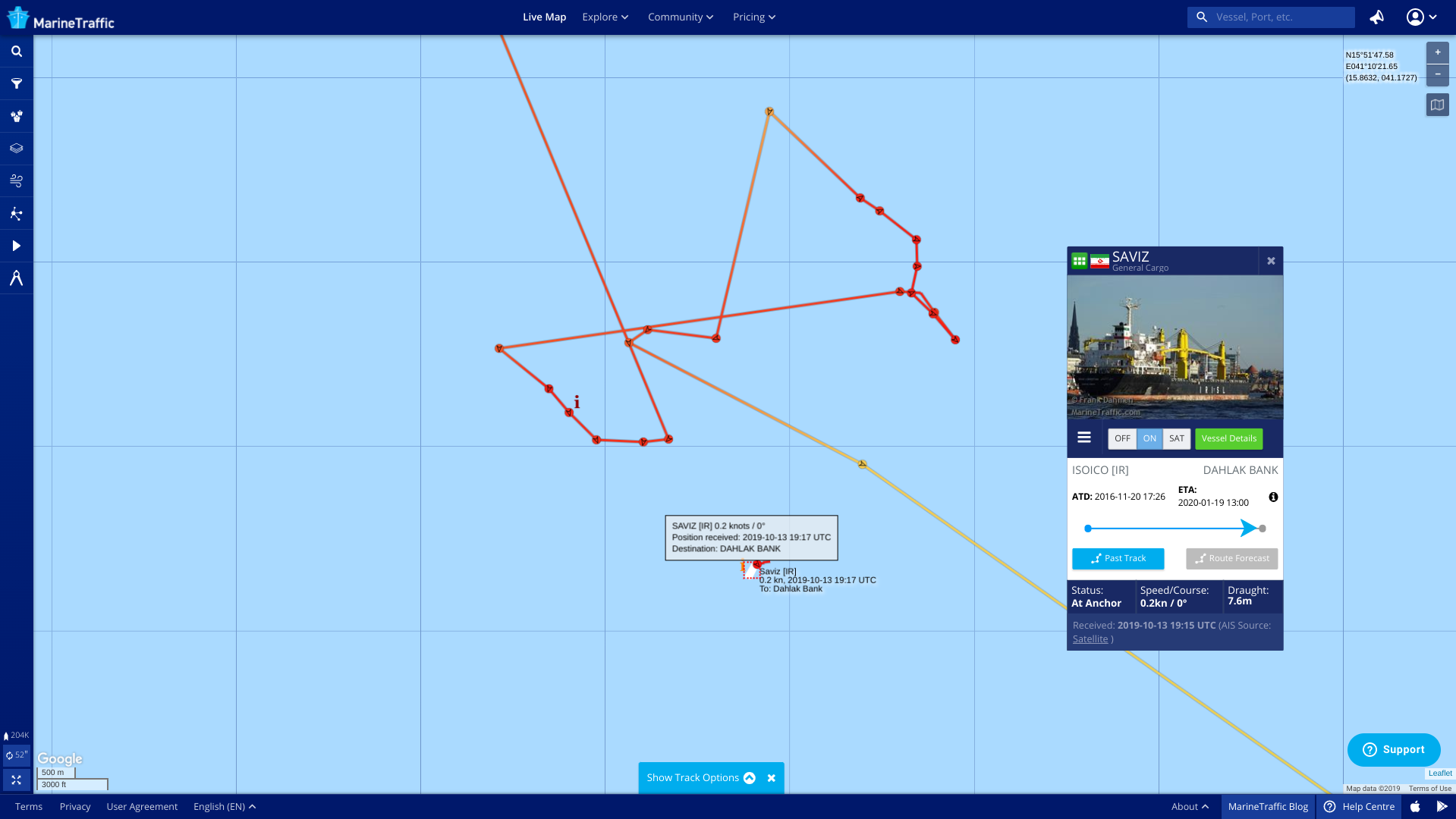 You can actually see the oil spill trail leading up to the SAVIZ's position earlier this afternoon. This means that contrary to Tehran's statements, the SABITI is still spilling oil! A video was published today by maritime tracking service Fleetmon, showing the SABITI leaking from two holes on the starboard bow. Original video and photos available on Alarabiya.. What's particularly alarming is the SABITI's draft level. It seems that she is higher above the stated depth level; looking as if she lost approximately 100,000 barrels of oil cargo.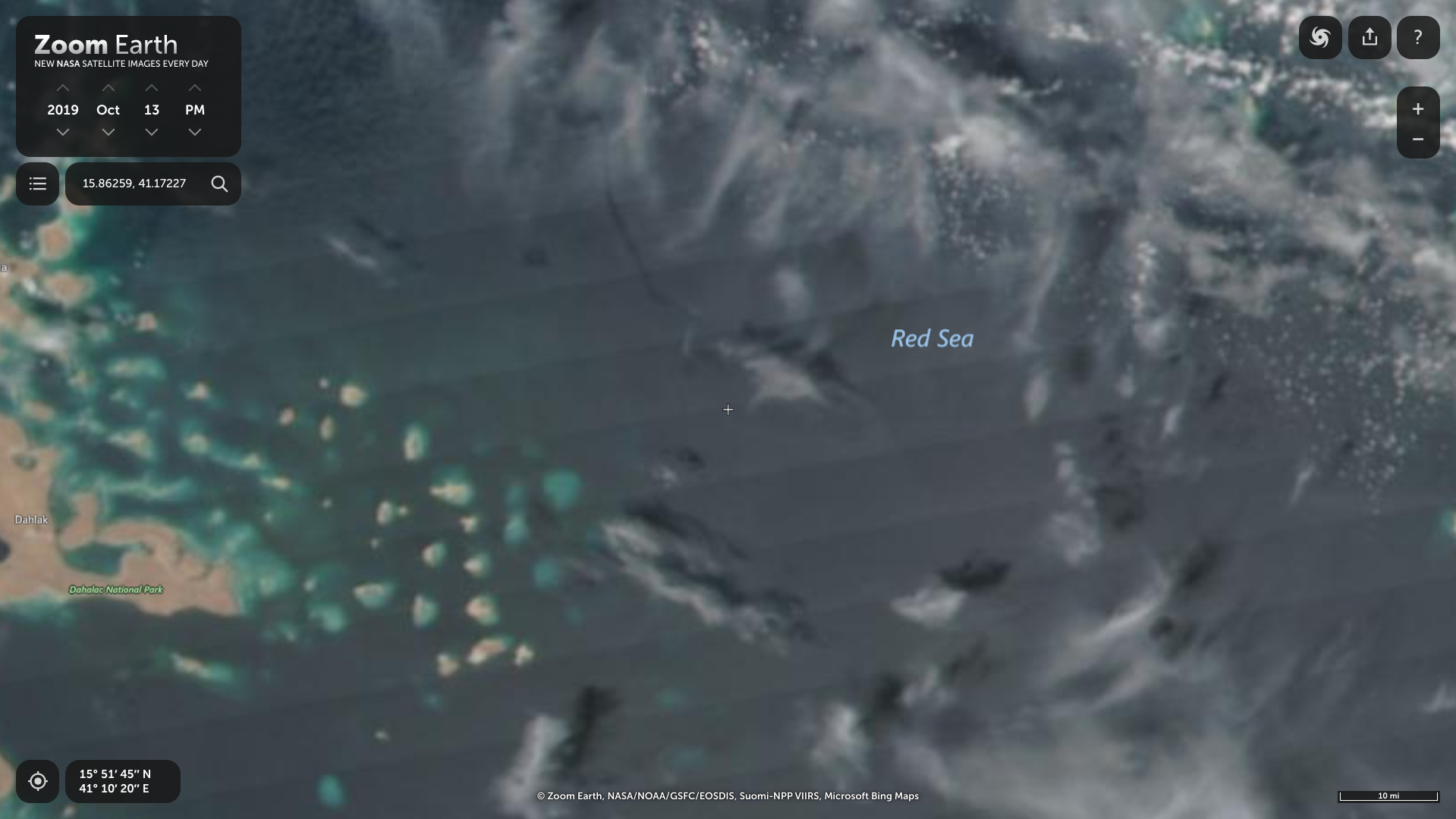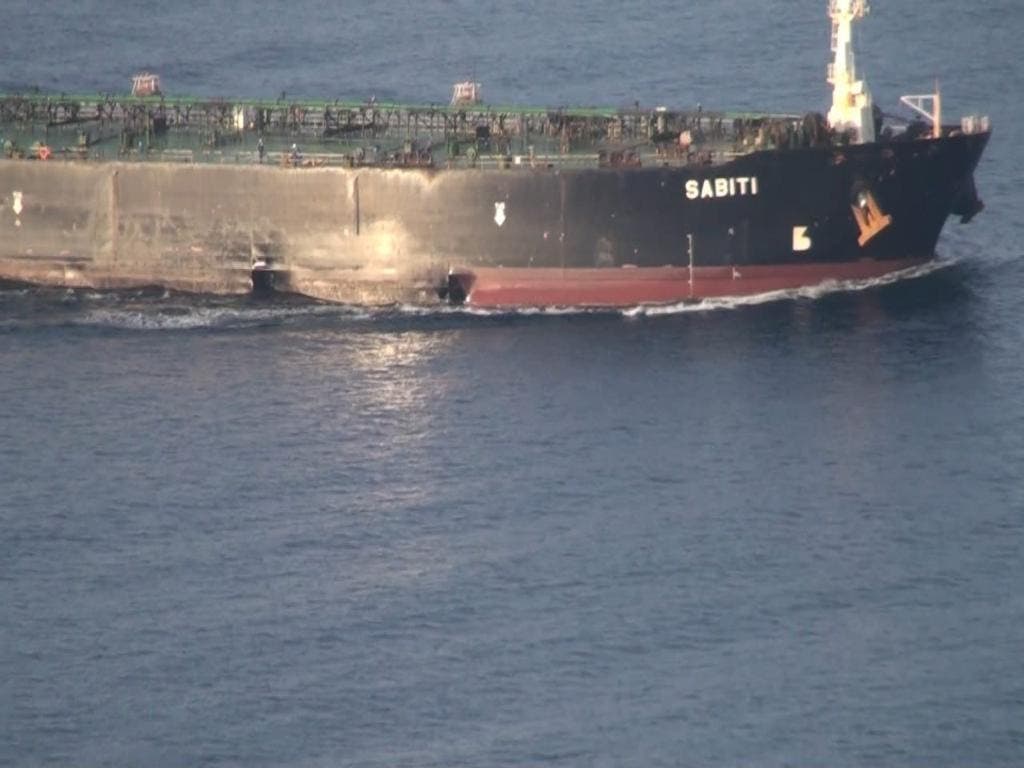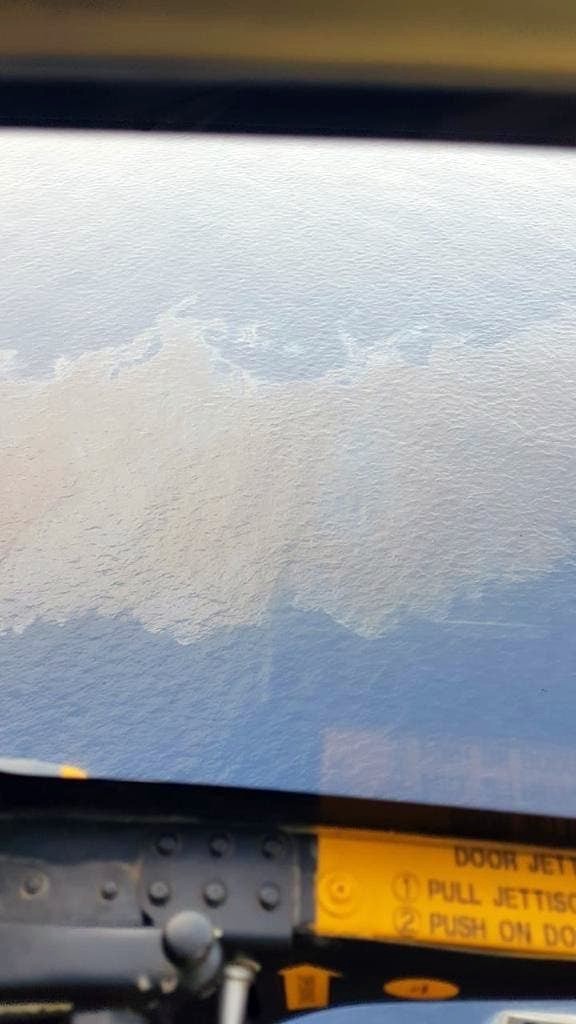 October 19th, 2019:
The ADRIAN DARYA-1 is empty. There were a couple of brief STS sessions, all doing the same; delivering to the Baniyas SBM. Today, the Iranian Suezmax tanker SINOPA arrived off the coast of Baniyas, and if the delivery is completed this month then it would result in 101Kbpd in imports from Iran.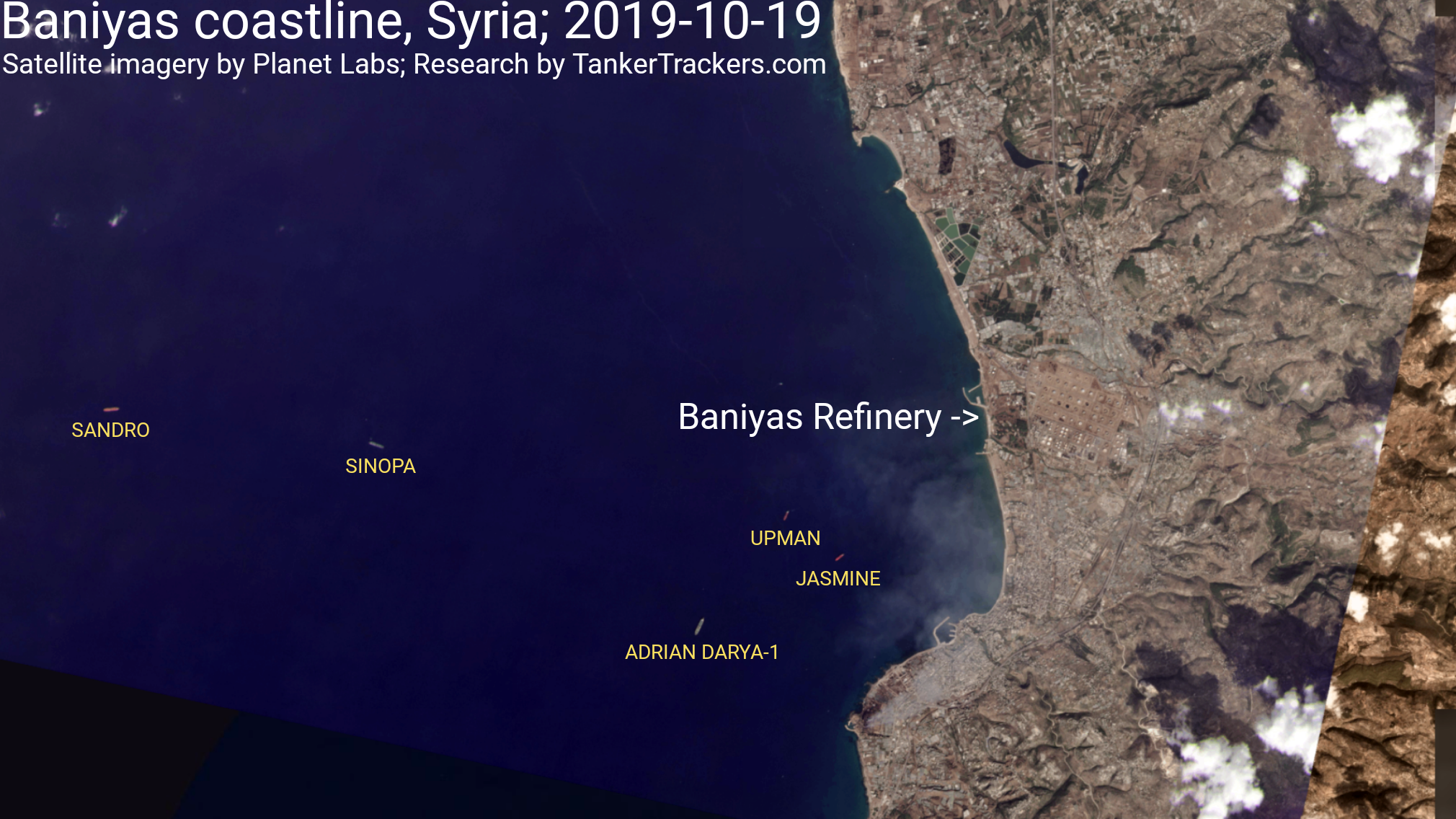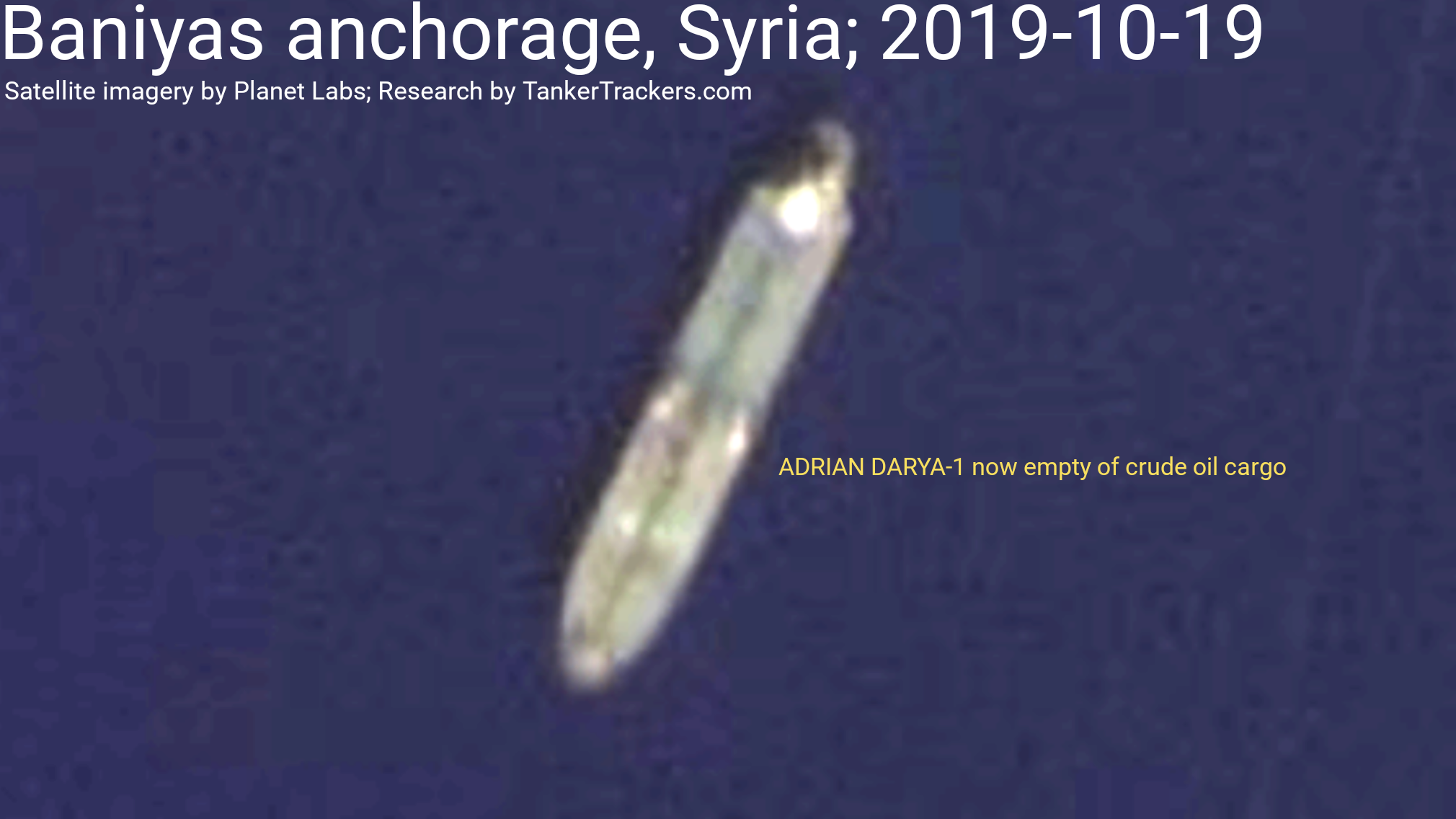 We also see that the two Handymax vessels (UPMAN and JASMINE) are laying idle and as is the local Suezmax, SANDRO.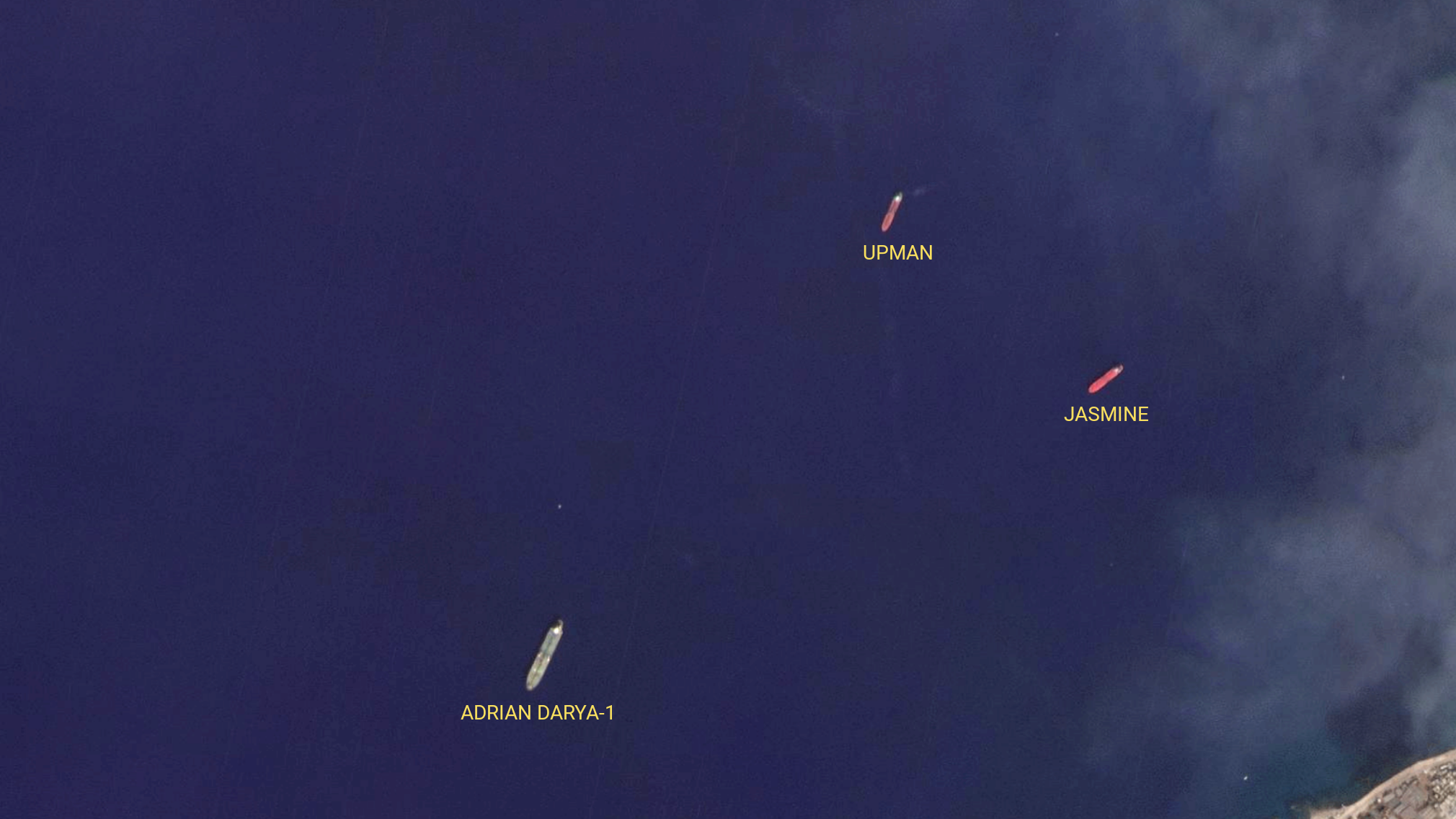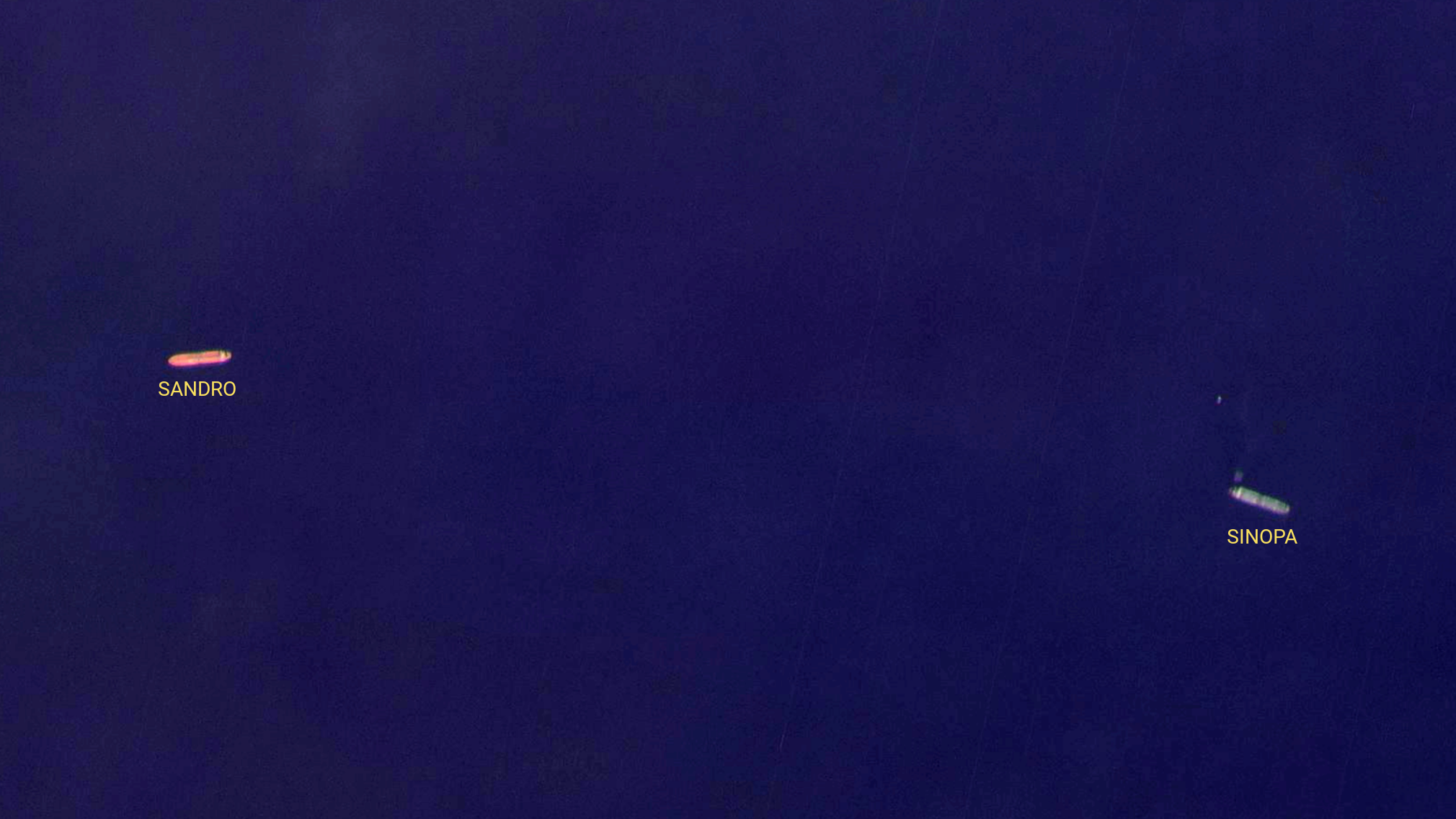 More interestingly though, is that today we also spotted an Iranian VLCC that has been offline for more than a year! Her name is NASHA and seems to be sailing back from (what seems to be) the Gulf of Aden. We're not entirely sure where she went, but if she's the vessel we believe we saw leave Kharg on October 6th, then she might have made it as far as the southern end of the Red Sea, possibly for STS. We'll have to do a complete scan of the southern end of the Arabian peninsula.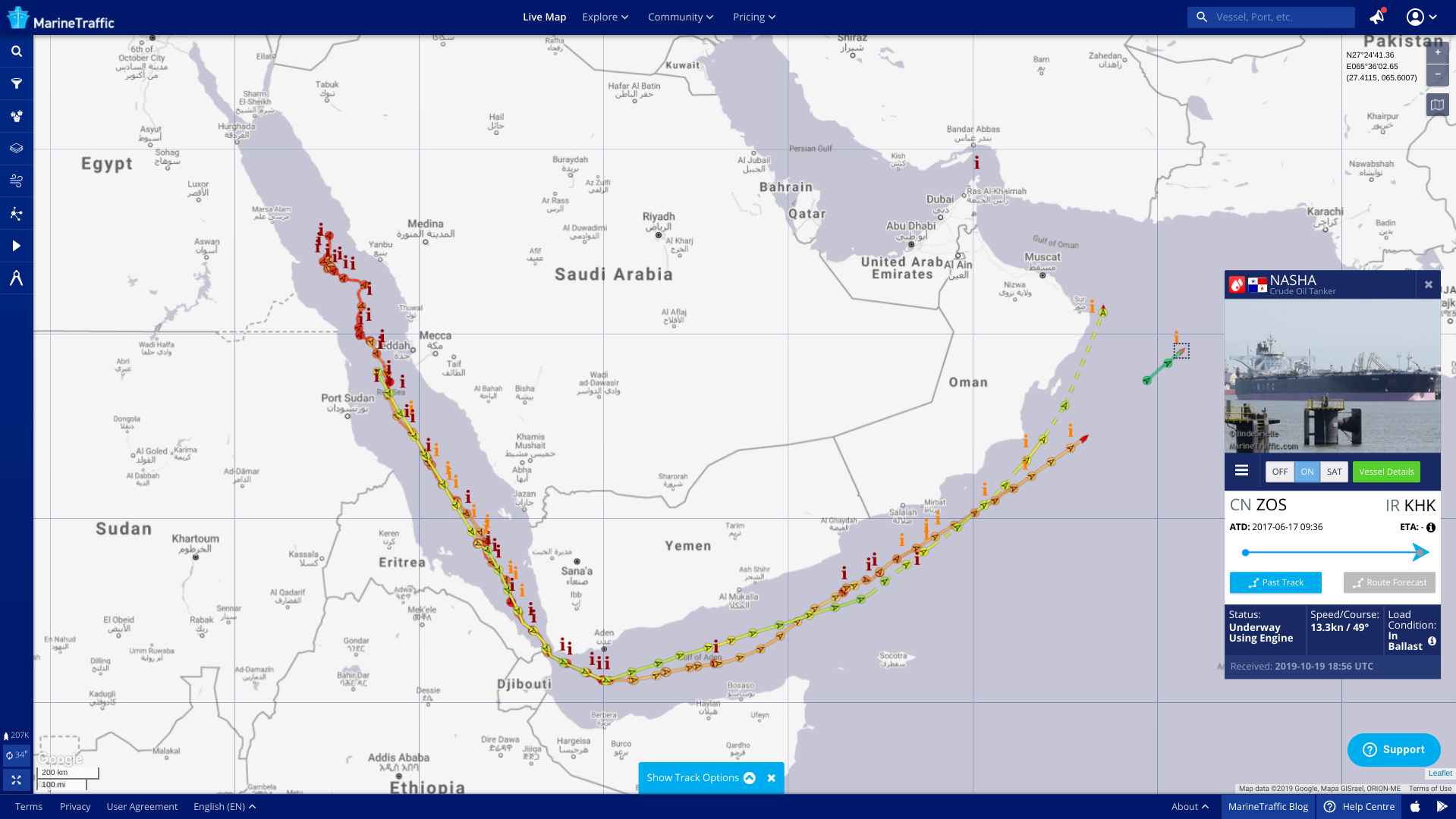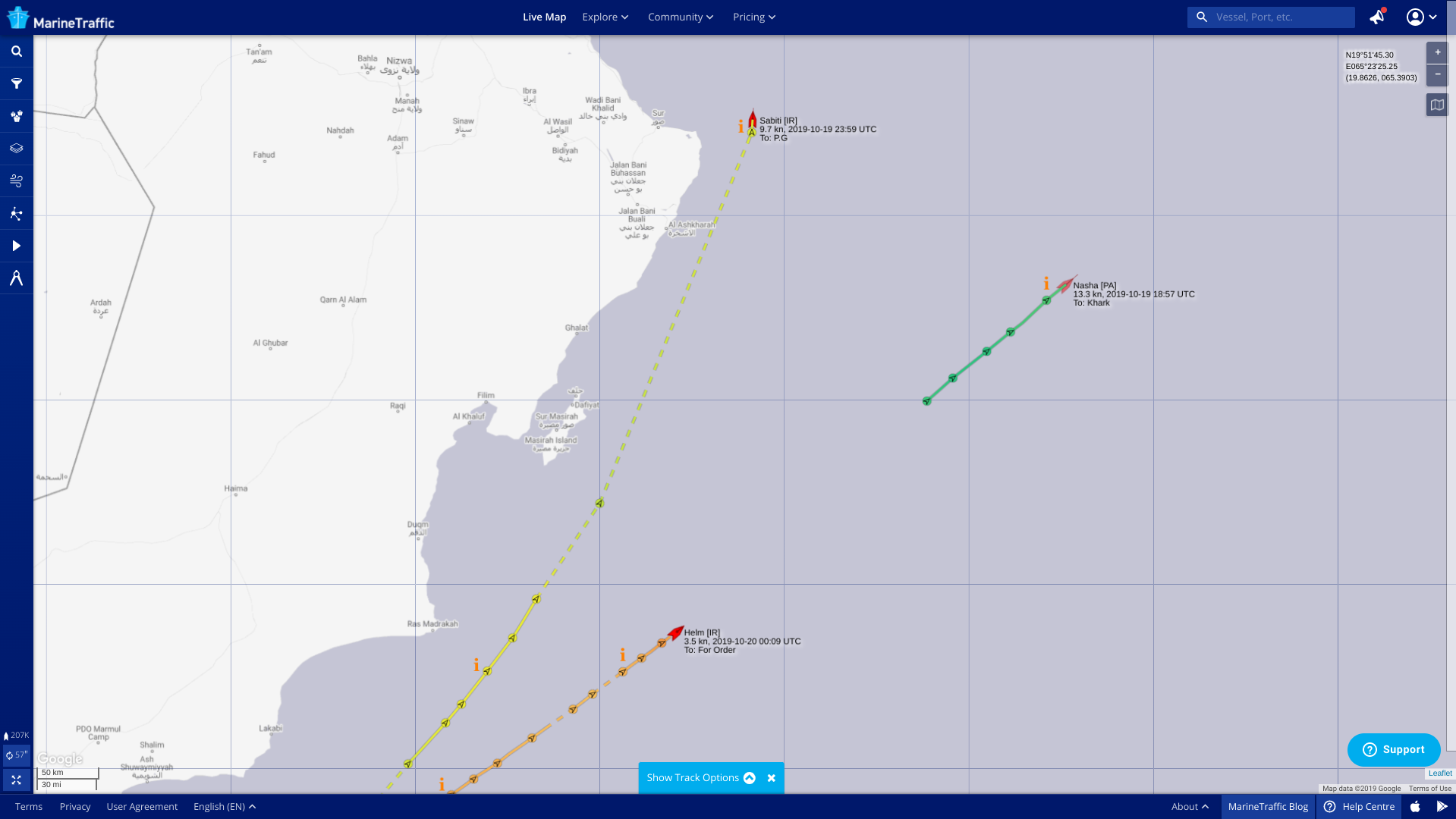 The SABITI will reach Iran in a couple of days, and we'll see if she's still spilling oil. The HELM however, is still being tugged all the way back to Iran and will take longer to arrive. The NITC has definitely experienced a number of vessels losses this past year, but if we were to also include the SANCHI from January 2018 (which sank after burning for a week off the coast of China), then they have 6-7 million barrels of LESS shipping capacity at the moment. However, we do believe they may have added on some capacity recently as of summer. We receieved a tip (and a photo we were able to verify) about an Aframax tanker (730K barrel capacity) currently still parked in the navy port of Shahid Bahonar near Bandar Abbas, Iran. The vessel's name is BETA, and has a very spotty AIS track history. Operates almost entirely in the digital dark. The vessel appeared in satellite imagery on July 29th, 2019 at that port and has been there since. There hasn't been any mention in the media in regards to whether or not she was seized by the IRGC during the summer, but she is registered under Al Buhaira International Shipping, UAE, according to the IMO. We have yet to see what she may do next.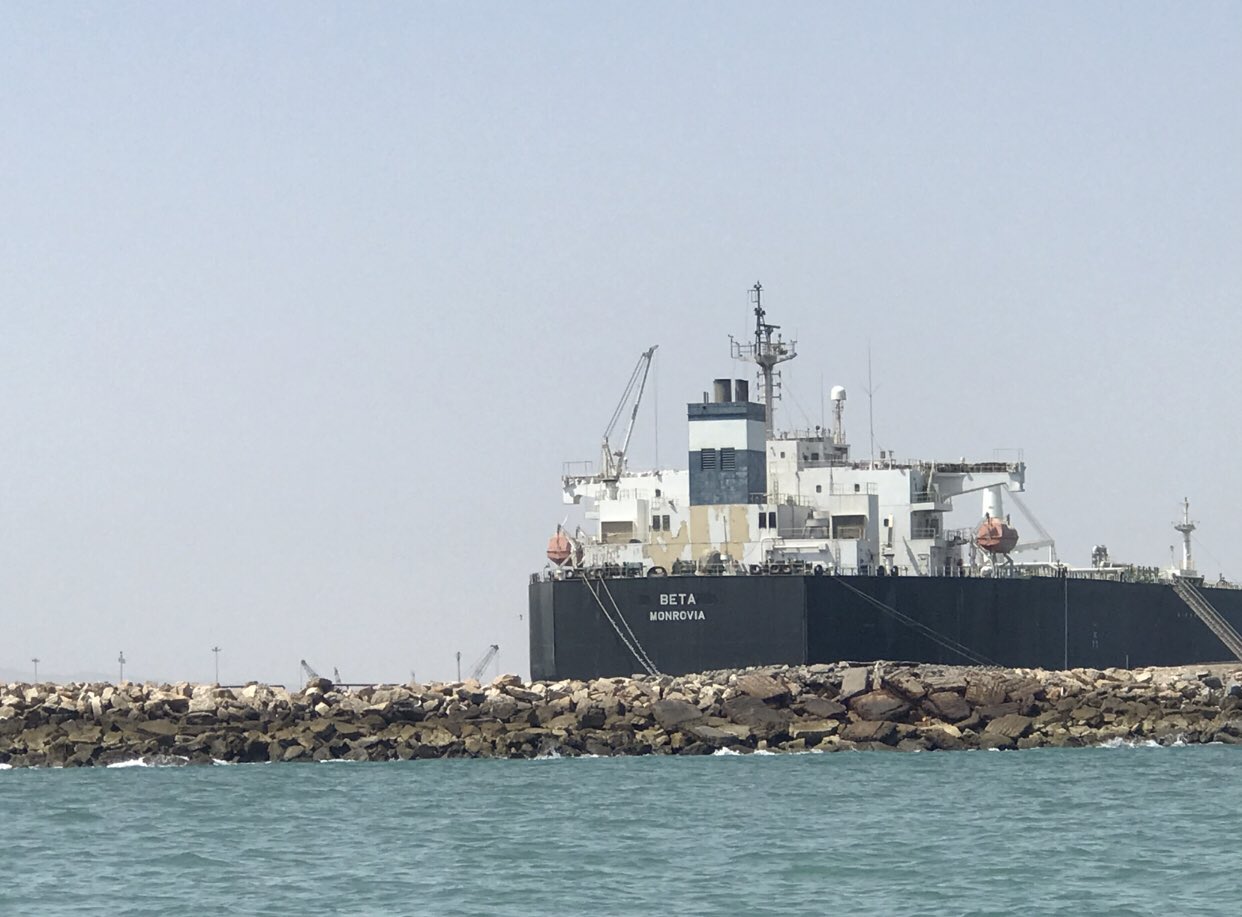 October 21st, 2019:
Today we saw the SINOPA at the SBM delivery point north of Baniyas. It seems that she's almost empty at this point as indicated by her thick shadow. We did not have any imagery yesterday (October 20th), but it seems that she may have started her discharge process either yesterday or on the 19th, when she arrived. The ADRIAN DARYA-1 is still anchored empty off the coast and keeping her AIS transponder off (49 days!), along with all the other three vessels in this satellite image. We've also included a graph showing Syria's imports of Iranian crude oil. The numbers are still high, and would most likely have been even higher had the SABITI arrived. Speaking of which, SABITI is now only 2 days away from reaching Kharg Island in Iran in order to discharge her remaining cargo after the incident in the Red Sea. After the discharge, she is reportedly due to head back south to Bandar Abbas and enter a drydock for inspection/repairs.